July 20th, 2014
Brain running all over the place. It's almost still Saturday, so I should post. Or something. Legs have pretty bruises, from practice, where our resident woodwoorker brought new toys for everyone to try. "Wicked sticks" of two different thicknesses, a variety of lengths, and solid wooden handles. We had a lot of fun testing them out. I was told I should teach a class on how to not scream. There's a gag-rule in place at our weekly venue, but we rarely pull out the gags. Reminds me of a comment from last weekend, a friend was talking about being shushed without being given a reason. I take shushing as a challenge, myself. Still having trouble with my hands though. He kept having to order me to stop touching him. My instinct to touch, if not stop, incoming hands has grown stronger and needs to be stamped down again.
We played CAH tonight, and my brain was being too rational. Fortunately, it was a very loud and rambuncious group, so my logical comments did not make it through the noise. And because we played CAH, my mind was thinking about sex a lot, too. Which, on the drive home, turned into "conversations that must be had before sex with a new partner." Don't ask me why, it was after 1am. Things like: What is your definition of Sex, Total number of sexual partners, When were you last tested for STDs, What is your STD history, What are your thoughts on Birth Control/sexual barriers. Cuz, someday, I might actually have another partner again. (Yes, it's after 2am now, brain needs sleep.)
Birthday this week, yay!
Good night.
February 13th, 2014
What would you like?
Sideways or face-down?
Or do you want to float?
I can float face-down.
Clothes off to get them out of your way?
Sure.
Stripped down to a black bra, red fishnet stockings and shiny black boots.
He pulls out the hemp that we had learned is really 5mm that day. Two hanks for the hip harness. There is so much going on, noise and light and people, it takes me a bit to focus down into the rope as he ties. We are in a corner though, so it's not so bad.
Tight around my hips, through the crotch, down to the thighs. The smell of help reaches my nose, my fingers hooked on a carabiner above my head to keep steady. The biner slide in on the backs of my thighs, only a little pinching.
Then he's up for the chest harness. Wraps above and below the breasts, hooked into the ring. Now the lift line and I'm up, leveled out, tied off. Run fingers through one spot to smooth the skin. He grabs the cloth and supports my head, over my eyes. Darkness and floating. I feel like I'm spinning, but I can't tell how fast. Arms pulled up to cross behind my back. I float there, sinking in.
A couple light snaps of a dragon tail, but then he's gone again, taking care of the engineer. And I disappear for a little while. Gone into the ropes and the darkness and the slow spinning.
And he is back with the sting. There's some dragon tail, but it's not long before he pulls out the new toy. The rhino cock. Beating my inner thighs while I squeal and twist. He smacks a breast and my hands come down protectively. Back to my thighs, and my hands go away. Another breast hit and they return. So tender in this position. He pinches a nipple and I all but yank his hand away.
What are you doing? Protecting your nipples?
That too.
My chest is starting to hurt from all the twisting and writhing, it feels better to have my arms down. I arch my back to take some more pressure off. But every smack comes with a twist and a howl.
Are you about done?
Soon.
A few more strikes, but then he's onto something new.
I hear the clink of chain – fear and anticipation run high.
Nipple clamps, first one, and a scream and then the other, more screams.
Okay, but can I come down now?
No.
Please?
Not yet.
I breathe into the pain and arch my back to help my chest. And he adds weight to the clamps, Eliciting whimpers and screams. More weight. He wants to get it all the way to the floor.
He pulls the blindfold off and I can see all the metal bits he's attached to the clamps – forceps and flesh clips and another set of nipple clamps, all the way down.
He gets up and lets down my legs so I can stand. But oh, we are not done yet. He yanks on the line attached to my nipples, adjusts a few things for stability and then hooks it up to the top of the suspension beam. His eyes light up and he grabs a water bottle, resting it on the clamped nipples.
Then he starts to untie, and it falls off. He replaces it, but it slides off again fairly quickly. This time he returns with the stun gun, which he sets upright on the floor in front of me. A meaningful look and the water bottle is replaced once more.
Don't drop it.
I stare hard at the water bottle, gauging the levelness of the water. Focusing solely on keeping the water inside from moving. Keep it balanced. He returns to untying, pulling and yanking, but I growl and glare at the water. Keeping it steady while he works.
He gets to the chest harness and I panic a bit. He is only a little careful, but I am more. It does not fall. I am still glaring at it when he comes around and picks up the stun gun. He puts it right above my mound.
It didn't fall!
You're right, it didn't fall.
He moves behind me and yanks me back. I scream and tears fall as the whole line of metal attached to my nipples falls to the ground. Leaning against his chest crying for a moment until he steps back and grabs the still-attached clamps. Oh gods no.
He's grinning and nodding.
Ready?
No.
1, 2, 3.
Squealing orgasm.
1, 2, 3.
And another, the pain isn't nearly as bad as the fall a moment ago.
Breathing, happy, hugs and kisses.
Thank you, sir.
October 19th, 2013
He wore his kilt! Finally! In public even. And he looked awesome. I wore my old prom dress, bright red, sleeveless and down to my ankles, with black thigh-high stockings and the old red heels. The engineer in a pretty sprarkly blue dress finished out our trio. I wore mine because he promised to cut it off, I'd been trying to plan that kind of scene for years, and it was worth the wait.
I was sitting with a group, to the side of the stage when he came over, big knife in hand. He grabbed some fabric in my lap and sliced it down through the hem. I must have move, because his finger slipped over the hilt and he cut himself on the back corner of the blade. Not bad enough to stop the scene, mentions of the first aid kit were made, but he dragged me up and out to the middle of the stage.
Circling like a shark, he grabbed bits of cloth and slice through. A shoulder strap fell to the floor, the other was sliced, but still lay across my shoulder, keeping the dress in place. Back cleared, the knife tip made a few light passes on skin. Delicious. Down to the skirt again. Stockings, too? Whatever you want. And the knife slid through nylon and tore through elastic. Bit by bit, the dress and stockings were shredded. Until it finally slid to the floor, and was tossed aside.
Still circling, he spoke to the crowd of another thing he loved about his big knife. Smack across my ass. Yelping and he continued to smack. Spinning because I had nothing to brace against, he kept circling for a bit. Then grabbed hold, braced himself and pulled me over his knee. I flailed and squirmed and squealed, trying to find balance and he paddled my ass. Finally giving up and slumping over his knee, he paddled harder, til I slid to the floor.
Kneeling now. He continued to circle, and I lose continuity. He cut loose a bit of remaining stocking, grabbed me around the throat a moment and then tied it round my right breast. Then beat on it with the knife while I screamed. Smacked my inner thighs a few times for good measure, too.
He tore up my dress with his hands, making a long strip and gagged me with it. Holding me still, he drug the knife across my back, in slow stripes. I whimpered after he finished each one, afraid to move while the blade touched me. Then he pulled me backwards, held me tight and cut the gagging strips away.
He was up again, grabbing bits of the dress, circling around behind. Nervous, but not moving, I waited. He tried snapping a piece, like a whip, but it was too light and not shaped right. So he knotted it instead, and it made a nice bludgeon. Far heavier than I thought that dress could become. He beat my back while I arched happily into it. Then around to my thighs. More screaming and squirming. Ow! Wooden floor hurts the top of my feet.
There was also the kicking. Booted feet, kicking my thighs further apart, kicking my crotch and my inner thighs. He pointed down at his boot once, and I kissed it and then moved forward to kneel on it, not sure which he intended. Then there was more kicking, and grinding of the boot heel into my thigh.
He grabbed me by the hair and dragged me to the wall, pulling me up, he had to give a verbal command to get me to my feet. Then he pinned me to the wall, spanking my ass while I yelped and writhed. 1. 2. 3. Orgasming in sudden stillness. I barely mumbled Thank you, Sir, before I was tossed back to the ground.
Kneeling again, dizzy and breathless. He knelt behind me, grabbing me tight, and I think there were a few more scratches across my back. Then he bent my head back and kissed me. I smiled up at him and kissed him again. So happy.
I cleaned up and discovered I had put the bodice with garter straps in the wrong bag, put on my red fishnet thigh-highs anyway, and wandered for a bit. He asked if I needed anything, and I said when I got cold, I'd probably want to borrow his jacket. He gave me his black button-up shirt instead. Perfect. About the time he started negotiating with the engineer for her scene, he tossed me into the circle shackles to keep my buzz going all night long.
Edit: There was also face slapping during this scene, but I still can't remember where it fit into the rest, not that the last few paragraphs are in very good order, but still. I kinda lose my brain when he slaps me, right down into subspace in an instant. So very, very tasty and lovely, but it wreaks havoc on my memory and sense of time.
July 18th, 2013
Had a great night last night. There was some passing around of the stun gun because one of the girls wanted it, but didn't want to do it to herself. Had my shoulders rubbed and some snuggles from a friend. Then was the demo bottom for him and his girl, while my boyfriend took random shots to show them what to do. He, of course, was using the rubber floggers to pound into me. It was the girl's first time flogging, but she was gaining accuracy by the end. The guy is already pretty accurate, but my small back was a challenge. Then my boyfriend decided to six-count with the rubbers, and I shrunk away, grumbling that he can't do that when I'm not allowed to scream. He let them go back to practicing until they were both tired out.
There was some chatting and he asked me how my back was. I said it was alright, and he asked if I wanted some more. I said sure, he said he wasn't going to be nice, and I asked if he had a gag in the tubs. He came back with a Japanese washcloth which he knotted up and a leather strap to hold it in place. I choked a bit and he backed off one knot then strapped me in. I slowed my breathing, bit in and confirmed I could spit it out when I needed to.
Then up on the wall, and out came the rubber floggers again, well, off my arms, really, because he had me holding them from earlier that night (don't let them fall). He was having a lot of fun with the tips last night. I screamed and swore into the gag, pounding the wall, stomping my feet, spinning in circles to see his grinning face and shining eyes, and dropping to the ground. Always to climb back up and put my face back to the wall. Well, almost always, once, I turned and had him hit my breasts for a few strikes, just to give my back a break. Tears fell, I ran headlong into pain space and there was some growling, and breathing. Sometimes I'd end up on the ground and he'd just keep swinging. I'd try to keep my back to him until I could get up again. Eventually, he told me to stop turning around and I curled up on one foot, the other against my chest, and breathed through the pain, til he tipped me something fierce and I started stomping my feet again.
I choked on the gag a few times, collapsing to my knee and spitting it out to catch my breath. I didn't have any panic moments this time, only some choking. Crying and breathing on the ground, he asked my if I was done, I said no, and stood up again, and he got out the dragontail.
I turned to face him, eyes wide, hands behind my back. Oh really? I nodded, my back was so tender already. He took about five or six shots at my breasts before he really nailed a nipple and I screamed and turned around again. He was stuck on tips, still. Getting the super sting of just the tip. I screamed and cried, jumped and pounded, collapsed and bounced back up. He found a new favorite, super painful spot – hitting as close to the armpit as you possibly can from the back. Fucking hell, that hurts! A few stray snaps to the ass, the arms, the calves, the thighs and shins, as I spun dropped and danced around to the strikes.
I collapsed to a little sitting ball, and he tapped my forehead and I rolled back flat to the ground. He snapped my thighs a few times, whipping my skirt up higher and higher. I hardly responded. You done? I nodded and grabbed his ankle for physical contact while I lay there, just breathing and floating. He pulled my skirt down a bit and let me relax for a minute or two. When I let go, he picked up the stun gun, and I suddenly felt stabby metal bits in my legs. I writhed and squirmed, pushing it away time after time, until he pinned me a bit more and zapped me a few times while I screamed into the gag. I covered myself back up this time, relaxed for a few minutes until I started choking on the gag again. Somehow, I'd maintained a hold of on of the rubber sets of floggers this whole time, so I sat up cradling them. You alright? Yes. Happy grinning floating the whole rest of the night. Back all beautifully marked and tingly still today.
September 17th, 2012
He has a lot of boxes, has been tormenting us with the thought of 18s all weekend. We set up the massage table to sit on, he gets a bench in front of us. Sitting side by side, naked, she's still blind. He picks up a box with three boxes inside: 22s, 20s, 18s. Asks her to pick. She points at the 20s. He grins and sets the box down. Alcohol pads, I turn my head and start twitching, he wipes down my left thigh and her right. Thigh? Yep. Then the iodine, painting a wide swath yellow. Two each, he tells us. 25, 22, 20, and 18. I don't know about that, we'll see. I've only ever done two before. I just don't know.
Her first. I close my eyes as he pops the first cap, kicking my foot against his bench. She screams a bit, and then it's my turn. Her hand on my back. Did you orgasm? What? I look at him. I counted to three. I… no, sorry, Sir. Pay attention, are you ready? Yes, sir. I close my eyes again.
Breathe in. 1. Breathe out.
Breathe in. 2. Breathe out.
Breathe in. 3.
Freeze. Pain, screaming, orgasm. Thank you, Sir. Gasping. Tears.
And he's counting for her again. Breathe in. 3. Good job.
Small orgasm numbs the pain. Thank you, Sir. I calm a little as he returns to me.
Breathe in. 1. Breathe out.
Breathe in. 2. Breathe out.
Breathe in. 3.
Less pain this time, squealing, orgasm. Thank you, Sir.
Time for the 22s.
Panic, fear, adrenaline, shaking, please put your hand back. Her hand on my back.
He counts her third. I orgasm, thank you, Sir.
You ready?
I shake my head, try to get a grip. Deep breath and settle.
Breathe in. 1. Breathe out.
Breathe in. 2. Breathe out.
Breathe in. 3.
Screaming pain, orgasming, shaking, oh yeah, breathing. Thank you, Sir. Crying.
You can cry all you want.
I know, Sir.
Counts her fourth in.
Orgasm, twitching, thank you, Sir.
You ready? Sobbing, breathing, settling to be still. I look at him, so happy.
Breathe in. 1.
Breathe in. 2.
Breathe in. 3.
Pain. Screaming. Orgasm. Gasping. Thank you, Sir.
Time for the 20s. Oh god.
He runs his finger over the needles, it feels funny.
He jokes a bit, I can't remember the words.
Can I swear at you, if I call you Sir?
No.
I'm not sure how I haven't sworn yet, but I know it's coming. Twice as many already as ever before. He does her next one, and she screams louder than any of the others.
Not helping.
Good job.
Thank you, Sir. It sounds funny, me thanking him for my orgasm after he tells her she's done a good job.
Are you ready?
Breathe, settle. Stop kicking. Squeeze her hand.
Breathe in. 1.
Breathe in. 2.
Breathe in. 3.
Scream. Gasp. Thank you, Sir. Fuck me. Ow. Tears.
Back to her for number six.
Good job.
Thank you, Sir. Still sounds odd.
Deep breaths, look at his eyes, glance down at my thigh, back to his eyes. So happy.
You okay?
Yes, Sir. How in the hell am I okay. I'm they don't hurt once they're in. Too much adrenaline and endorphins to freak out. Remembering to breathe.
Ready? He pops the cap, I squeeze my eyes shut, grab her hand.
Breathe in. 1.
Breathe in. 2.
Breathe in. 3.
Screaming, Why do they hurt three times? Hold my breath and writhe through the orgasm. Thank you, Sir.
Time for 18s. Oh god, oh god, oh god.
She's never even done them before. Me first? Oh gods no. No, he'll do her first, he wants to see how they push and drag. Oh god, stop talking about dragging.
She takes her hand away to brace herself. And screams a lot.
Thank you, Sir. Oh god, that sounded horrible.
You're not going to give up on me now?
No, Sir. Kicking the bench. Breath, relax. Oh god.
Ready?
I close my eyes and look away. Grab her hand.
Breathe in. 1.
Breathe in. 2.
Breathe in. 3.
Scream, scream, scream. Oh god that hurts. Ow, ow, ow. I don't think I remembered to orgasm. It didn't stop hurting. I tapped my foot. Breathing. Fuck me.
Her last one went better, thank you, sir, orgasm bringing the pain back down. And then it was my turn again. Needle number eight, on my god, was I seriously doing this? I couldn't stop now. Just one more needle.
Breathe in. 1.
Breathe in. 2.
Breathe in. 3.
Screaming, gasping, orgasm. Thank you, Sir.
Runs his finger over them, feels funny. I look down. Not too bad, all capped. The caps had kept falling while I twitched, but I don't remember when exactly. He took the caps off, wanted pictures. Of our legs, then us snuggled together. She got her eyes back so she could see.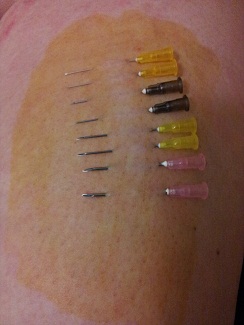 Then he pulls out his TENs. Could we last or did we want the needles out. Once in they were fine. How was it fine? Ah adrenaline. Floaty happy. TENs was lovely, happy tingly TENs, writhing, moaning happily. Gods, I love TENs. All the way up to the top. I get distracted, poke my arm with three of the needles. Gives me gauze, hold it on.
Time to take them out. She hates this part. Stings a bit, but it's not nearly as bad as in. Breathe through them, one by one. Oh god, they're bleeding. It's dripping. He wipes them up, cleans the table. Gauze, hold it tight. She clots much faster. I made it. We both did it. Her first time with 18s, my first time with so many needles and three of those gauges. So proud of us. I show off the marks to everyone who will look the next day. So happy and proud. Incredible scene.
April 5th, 2012
Last night he was run down when he got to practice. We snuggled and hugged and he pinched a bit a little. Someone nearby doing a suspension caught his attention, and he was handed the big dragon tail to show his aim. Cracked him once and then turned on us. They were both out in the open, toy on the floor and the engineer sitting on a spanking bench. I was behind her, laying across the other end of the bench, hemmed in by another bench and the stocks. Not safe, but a more challenging target.
He took up that challenge, hitting my arm, my thigh, my calf. I screamed along with the rest of them swearing and sliding off the bench a few times. Moving to stand between the bench and stocks so I'd be more stable. He took up the new target of my nipples, having already found theirs repeatedly.
He was bouncing and smiling and happy. Hearing our screams, practicing his already very good aim. It energized him to play like that. To give us all something we wanted, with a toy he really enjoys that all of us have to submit to. The dragon tail is not one we eagerly ask for, but it is one we can enjoy, for him.
After a while, he gets the engineer to turn around and the toy as well, offering him their backs and asses. There's not another bench for me, so I slip between them, watching their faces and enjoying their screams, while I twitch and the sharp snaps and watch him fill of joy. They scream and cry and crumble, until he is done. Then he pulls us all into a hug, to cycle the love and energy all around.
The three of us girls decided he really should not have one of his own – dear gods they hurt. And that he really should have one of his own – it makes such good scenes. My preference would be a signal whip, I really miss that, but the dragon tail has its own place with fear and pain and fun. I'd love for him to have both.
Now, I didn't get hit much last night, enough for a few nice marks, not nearly as much as the other two. But I've had a lot of experience with it over the last couple years. And I wanted to share with you, my experiences with it:
I was asked last night, why do I let him do certain things to me. Aside from the obvious, because I like those things, because I do not always "Like" the particular thing (Dragon's Tails, for instance) though I like the result, I answered because it makes him Happy. The smile on his face, the joy in his eyes, the glow of happiness that radiates off of him in waves.
Previously Hard Limits that have been pushed to Soft Limits
Dragon Tails
Snap!
Dragon tail. Scream. He moves around the table, snapping thighs, belly, breasts. My arms are still up around my head. I flatten out, but rock with each snap. Grabbing at the table for a moment before falling flat again. Legs curling up and back down. Tears come, filling the blindfold.
Toes up!
I straighten my legs, feet out, whimpering, crying. Screaming as he snaps the sole of my foot, curling up and forcing myself to flatten out. Shaking, crying, screaming, writhing.
A different sensation. Slapping my belly and thighs. The screaming stops, I sink into the more solid continuous pain, coming out for a vibrating yell.
More snapping, screaming, crying and then…
Stand up. Move it.
On my feet, blood rushing out of my head.
On your knees.
Down I go, back up, head down, knees spread, palms up. He circles snapping thighs, arms, breasts, long strokes on my back. I arch and squeal, and return to position. Head throbbing, but slowly calming.
Last night, I asked him to flog me. I wanted some stress relief from the week to purge and prepare me for the convention we are attending this weekend. He started with the thin tailed rubber flogs, moved on to a dragon tail, Uncle, a quirt, slapping, smacking, punching, drumming, caning, an electric flyswatter and a taser. He took me into object space and attacked me mentally as well. I was in tears nearly the entire scene. It was wonderful and painful and incredible and brutal.
When he was done, when he had broken me down to the single thought of "maintain the position," he picked me up and carried me to the bed. He took care of me with a blanket and two women to stroke me. He left me in object space for a while, before he asked for his girlfriend back, and I served and took care of our things. Afterward, we talked about the scene on the drive home.
One year ago, I would not have taken half the beating, and probably none of the electricity. One year ago, I would be a tired, worn out, droppy mess today. But as I write this, I am about to head to a hotel for a weekend long convention and I am feeling great.
He used his hands, the heavy flogs, the really big deerskin flog(mmm… oh how I've missed that one), some slappers and paddles and a cane, the dragon tail, the stun gun and the electric fly swatter and a leather strap – on my back, my ass, my legs, my breasts, my feet, my arms, my crotch. It was a heavy scene, but not a full throttle flogging. He let me react to the hits – scream, jerk, fall, twitch – however I wanted to. He waited for me to return to position. I love that, I love holding myself on the cross, and getting back up to offer my body to him again and again.
It means single tails and dragon tails and stun guns and violet wands.
Intense Sensation – Over the knee spanking, bare asses spanking, slaps, flogging, dragon tails, single tails, paddles, cricket bats, canes, wicked sticks, violet wands, TENs Units, stun guns, stingers, flyswatters, biting, pinches, pokes, pressure points, forceps, nipple clamps, Leatherman tool, clothes pins, fire, fear.
He, toy and I played a bit. Seeing if I could keep a rubber mallet type thing going on her ass while he smacked us both with various things. Dragon tails kissing our flesh as we squealed. An electric flyswatter that had us whimpering before he even got near. A wicked stick. A paddle. Even the cricket bat that I immediately knelt up to receive. Then the order to snuggle while he had a conversation elsewhere.
Had a good time at practice, and learned a few lessons. Let me share them with you.
The correct answer to "Do you think I can hit your nose with this Dragon Tail?" is "Yes, I do, but please don't." instead of nodding and standing very still, hoping he'll just snap it in front of you a few times.
Dragon Tail strikes to the mouth a) hurt like hell, b) are scary, and c) leave the area feeling indented. The first two made me cry instantly, the third was a very odd sensation.
The clothespin zippers being replaced by a dragontail or single tail. The crack makes me twitch even when it's used on someone else.
I got to be a demo bottom for a very long flogging lesson, spiced up with a dragon tail and a couple big plastic clamps.
March 22nd, 2012
"Now for what I want."
"Yes, Sir." She gripped the cross legs behind her thighs and grinned back at him.
Crack Snap Crack.
He landed a hit on each nipple and a teasing mid-air snap in front of her nose. She squealed and tensed trying to remain perfectly still. Clenching her hands on the boards lest she reflexively cover herself.
Crack Crack.
Crack Crack.
She let out her breath in a scream when he finished, barely able to keep her hands down, as he laid two lines across each breast. Bright red kisses pointing to her nipples. Mumbling curses as she caught her breath, gazing up at his giddiness.
Crack.
She howled and bounced on one leg as he caught her thigh.
Crack.
He stopped her bouncing with a strike to the other leg.
She gasped and half-glared, half-grinned up at him.
Then she saw the light bulb and he turned to get a different toy.
"Close your eyes."
"Yes, Sir."
Her breath quickened as she strained to hear a hint of what he was getting. She could tell where he was, but there were so many toys there, and he was being careful.
She felt him return, closer than before, and he wasted no time.
Thwap!
She yelped as rubber floggers slammed down on her breasts.
Thwap. Thwap.
She groaned into the hits, keeping her eyes closed and her chin up to avoid the falls.
Thwap. Thwap. Thwap!
Left. Right. Both. She gasped and moaned at the hits.
The he picked up a beat. And the rocked together. Single hits per beat. Double. And then triple. Six-count to the beat of the music. She started with a groan, building into a moan and ending with a scream.
He pulled back down. Double and then single hits per beat. Quarter notes on her chest. Pounding out gasps and moans.
"Can… I… Open… My… Eyes… Sir?" She managed between gasps.
His response was to pick up speed again until she screamed and tried to collapse, but there was nowhere to go. Pausing for a moment, he answered.
"Yes."
"Thank you, Sir." She managed through ragged gasps, and she opened her eyes to see his glowing face before her. Tears filling her eyes, but her smile matching his.
He returned to simple beats, staring into her eyes now. They moved together, breathed together, energy flowing free and joyful between them.
A new song came on, and he picked up the pace. Not too fast, but fast enough to send her humming into space.
Thwap gasp. Thwap moan. Thwap gasp. Thwap moan.
Into six count, her head fell back, eyes closed, hardly remembering to breathe in as it all came out in a long, moaning growl, fingers digging into the wooden cross.
Thwap!
A downbeat to end the song and she nearly falls, but he is there, hand in her hair, holding her up, kissing her.
"Good girl."
"Thank you, Sir."
"You're welcome." He pulls her off the cross and against his chest.
"I love you, Sir." She wraps her arms around him.
"I love you, too." He kisses her forehead and leads her off to blankets and cuddles.
March 22nd, 2012
"Do you want it?"
"Yes, Sir." She knelt before him, eyes on his boots.
"Do you really want it?"
"Yes, Sir." She resisted the urge to look up at him, biting her lower lip to keep still.
"I want you to be sure. There's no going back. Is this really what you want?"
"Yes, Sir. Please, Sir." Her heart pounded in her chest.
"Good girl, thank you." How she loved to hear those words. "Go get it."
She rose smoothly to her feet, wincing at tingling, but not hesitating. Slipping past him, she went to the trunk and found the single tail. Bringing it back to him, she knelt and held it out to him.
"Good girl." He took it from her. "Up," swatted her on the thigh as she rose again, "and over to the cross." Chasing her with the tip as she went.
She wrapped her arms around the cross and braced her feet slightly apart. He snapped her inner thighs to spread them more. Her heart pounding, she concentrated on breathing slowly. The whip scared her, but she wanted it and so did he.
Crack.
She jumped at the sound by her ear.
Crack.
She twitched the other direction.
He was testing her, teasing her. She tightened her grip on the cross.
Crack.
He laid a line on her shoulder blade. She squealed and almost didn't jump at the next strike.
Crack.
On her other shoulder. Another squeak of pain.
Crack Crack Crack.
Three strips in quick succession on her ass. She jumped and screamed and held tight to the cross. Gasping for breath.
She could feel his grin behind her.
Crack.
She hopped on one leg.
Crack.
He snapped the other one. She bounced and then resumed position, breathing heavily.
"Is this what you wanted?" He chuckled behind her.
"Yes, Sir. Oh, yes, Sir. Thank you, Sir."
"Do you want more?"
"Yes, Sir. Please, Sir."
Crack. Squeal.
Crack. Squeak.
Crack. Growl.
Crack. Scream.
She bounced against the cross, shaking it against the wall. Tears coming to her eyes.
"More?"
"Yes, Sir." She gasps and settles back against the cross.
Crack. Scream.
Crack. Tears fall.
Crack. Scream.
Crack. Moan.
Sobbing, she clings to the cross.
"More?"
"Please, Sir."
Crack Crack Crack.
The screams are gone, she cries and moans, deep inside now, letting go, letting it all go.
Crack Crack Crack.
Her body jerks at the hits, tears falling freely, breathing in new air.
Crack Crack Crack.
He rips free another scream, and she falls to her knees, but she is not done. She drags herself back up the cross.
"More?"
"Yes, please, Sir." Her voice a hoarse whisper, but clear enough.
Crack. Moan.
Crack. Moan.
Crack. A soft sigh of relief as the tears quiet, she collapses against the cross.
His hand on her back, soft touches on stinging flesh make her shiver and smile. He snakes his hand up into her hair and pulls her back for a rough kiss.
"Ready for round two?" He grins and his eyes sparkle.
"Yes, Sir." She smiles back at him.
He spins her around to face him and presses her up against the cross, kissing her tear stained cheeks before stepping back.
"Now for what I want."
March 8th, 2012
I may want tears tonight.
I smiled back at him, warmth filling me at the thought. I'd been aching for that, and we were both finally in a place where it would be healthy to go there. His boots needed attention, too. Having just gotten the soles replaced on both pairs. I hadn't blacked the steel toed ones in a while. It was going to be a good night.
Arrive, hugs and snuggles. His boot toes are certainly dirty. The puppy is too rambunctious though, we head downstairs. My kit in hand, he sets up a chair in the back corner in a decent pool of light. Down onto the cold cement I go, think skirt barely any protection. Set out the kit, go get water. He gets distracted by a self-suspension and goes to offer advice and assistance. I wait patiently, preparing myself to serve him.
He returns and we roll up his pant legs. I unlace his boots, draping the waxed strings over my neck, bight towards the respective boot. Lather created while I waited, I head for the right boot, pulling it up onto my thigh. Snip a few strings. Saddle soap, brush, toothbrush and fingers, working into the soft leather. Switch. Left boot on right thigh. It feels good to have them in my hands again. Clean it up and snip a more strings. Switch. I have to sit at this point. Bare feet on cement with the added weight of his leg is doing no good for my feet. Black gold for the shine. Fingertips working every inch. The class has started behind me at some point, I'm listening, but the boots hold my focus. Switch. More black gold and work into the leather. China marker and I bring out the sole lacing, bright white beneath the gleaming black leather. Quick run with a cloth and done. Pack up and sit to his right. Arms around his leg, head on his knee for the rest of class. The engineer girlfriend on his left. He pets and strokes, and squeezes our shoulder knots as we listen and talk about violet wands.
Class over, I am responsible for a few minutes, organizing for the weekend. He warms up on the wall and then smiles over at me. Ready to go? Yes. I put aside my phone and glasses, toss my shirt to the floor below them and walk to the cross. Taking off my bra, I drop it against the wall and hug the beams.
He starts off with the short, soft ones, but they still sting a little with the power he uses. The music isn't playing yet, he's got mp3s playing in his ears, but I don't know what song. I close my eyes and concentrate on the strikes. Catching his rhythm, I bob my head with the hits. The room is full of conversation, but I focus in on us. On the cross, on the floggers, the energy between us. The leather feels so good on my back. His hands beat into the muscles, fingers drag over the heated skin.
He rides the waves of the music in his ears. The strikes come harder and faster, bringing moans then screams. I bounce and stamp, my heel begins to tap with the beat. I am grateful for the mobility of the cross. I shake it and pull on it. We ride the wave back down. His hand in my hair, he pulls me off the cross and down to my knees. My hands on my thighs, I breathe and wait.
He pulls me up again. Stingy floggers, and I scream. Jumping and bobbing and writing against the cross. Falling deep into space. Growling with determination. I can feel the attention some of my screaming is drawing. I smirk, but it is swallowed by another scream. He pauses whenever I jump around. Waiting for me to come back to him. I hear the engineer beating the wall beside me. I know it is her, though I don't look. Her strikes familiar. I feel his hands again, sending shivers through my body.
Now there are mop floggers. More solid hits. Hard, throbbing against the cross. I hear music, but it isn't what he's listening to, so it doesn't matter. The mops beat into me and he goes faster. Six count and my head can't keep up, it starts rolling as the flogs roll over my back. The scream builds low in my belly until it bursts free.
His hand in my hair, pulling me up. Your skin is breaking, we're going to have to stop soon. How are you? I can only smile. I think I manage Good. Do I need to put you in the corner? I nod. He puts me back down. I nearly cry. My body betrays me.
He strikes again and I jump. Oh, we're starting again, he grins. I nod and he hits. Hard and stingy. I scream and writhe. I hear the engineer beside me, singing. Some of them want to abuse you, some of them want to be abuse. I smile through my screams. Her voice a perfect compliment to the end of our scene. My head bobbing with the song as I scream and shake the cross. I hit my knee once and bounce quickly back up. I hear him start to count with his strikes. 1. Scream. 2. Scream. 3. I drop, but not to my knees, hanging from the cross momentarily in orgasmic release. I pull myself back up. And he finishes off with a few more strikes.
Then his hand is in my hair again, pulling me away from the cross. Around other people and then forcing me down to my knees sheltered by some spanking benches. Head down, eyes tightly closed, hands out. I'm too deep in space to be touched. I can hear everything around me, but it doesn't matter. The energy is all I care about. The floating, happy, gasping, shaking wonderfulness inside me.
Slowly, I float back down into my body. The sounds around me start to invade. I hear him start in on the engineer. The people beside me talking about blow jobs. Noise and cold air. I'm not ready yet. I ignore it for a little longer, my eyes still heavy.
I'm numb from the knee down before I'm ready to open my eyes. I look around. Who are these people next to me? I still don't know. He flips a flogger out of his grip and we smile. But I'm awake now, time to move. I don't want to continue listening to the conversation beside me. I drag myself up onto unfeeling feet and make my way to my things. Glasses on, shirt wrapped around me, text messages checked.
I head over to the bishop's chair to perch and watch the rest of their scene. She stands still. I am amazed and a little confused. Her happy place, she'll later explain. But then she starts reacting. Screaming and curling up against the cross. He grins with glee, and goes after sharper toys, even the dragon tail, though he only slaps with it, doesn't snap. She curses and screams until he is done. Then he wraps her up against his chest.
A few minutes and then calls me over to join them. Snuggling together by the cross, until we're ready to move. I scoop up my bra and we head upstairs. The couch is taken, but he heads for the big chair and we sit at his feet again, heads on his knees. After awhile the couch is free and we pile on in. Snuggled against his chest and shoulders, arms and legs entwined. Relaxing together until it is time to go.
My shoulders are wet and tacky, a layer of skin is gone, but they only sting a bit, not hurt. The next day they'll be cold. A new and confusing sensation. Hers are quite tender and it makes me want to poke them when I hug her good night. We head our separate ways with hugs and kisses. It has been a wonderful night for us all.
December 22nd, 2011
A silly little story for the holidays.
"Come here, young lady, sit on Santa's lap."
He didn't look like any Santa she had ever seen before. Sure he was dressed in a fur-lined red hat, and black fur-lined boots, but that's where the similarities stopped. He had on tight red leather pants and an unbuttoned red leather vest. And his short trimmed beard was far from white. Oh, his eyes twinkled with merriment, but his stomach certainly did not resemble jelly.
She walked forward slowly, chewing on her lower lip, eyes darting from the floor up to him and back down again. What was he playing at? She sat down on his knee, tugging belatedly on the hem of her very short red silk dress.
"There now, have you been a good little girl this year?"
"I…" She looked into his eyes, crinkling with laughter and made a decision. "I've been good at it."
"Oh-ho-ho. Have you, now?"
"Yes." She sat up straighter.
"Good at what, precisely, little girl?"
"At being naughty, Santa. Isn't that why you're here?" She grinned at him as he laughed again.
"Yes, yes it is. You're right at the top of the naughty list, and I thought a personal visit might be in order."
"I'm flattered. The top of the list, you say? Very flattered." She wrapped an arm around his shoulders and pressed herself against his chest.
"Yes, I'm sure you are." He snaked one hand up her back and settled it on her neck. "But I haven't come for a demonstration." He spun her around and over the knee she had been sitting on, and lifted her skirt. "I didn't think coal would quite get the message across this year."
She squirmed and spluttered, but he held her fast with his left hand as his right lifted the back of her dress and then pulled down her black silk panties. The first smack sent shivers through her body and she yelped. He did not pause, but when straight to his work, spanking her harder and harder, til her yelps turned to moans and her moans turned to tears. She writhed in his lap, not daring to put her hands behind her, crying as her ass turned as red as his clothing.
"Oh, and I must not forget your present." He paused and reached into the sack beside him, pulling out a wooden paddle. Engraved on one side was the word Naughty and on the other, Nice. "Just so you remember."
He flipped the paddle so that Nice was facing her already bruise bottom and brought it down hard. She screamed and flailed, but he held her tightly and brought it down again, in exactly the same spot. Over and over, creating a purple outline of Nice in the reddened flesh. She slumped in his lap, sobbing but accepting as he took a couple more shots, just to make sure it would last. Then he let her slide to the floor, and kneel with her eyes on his boots.
After a few minutes, she collected herself and looked up at him. "Thank you, Santa."
"You're welcome, young lady. Now, which list will you be on next year?"
"With that paddle, Santa, I think I'll try and make the top of Both lists."
He laughed and scooped her up into a hug and a deep kiss.
Merry Christmas, Happy Yule and whatever other holidays you may celebrate, may they be filled with love, laughter and kinkiness.