August 23rd, 2012
Stuff and things and more stuff. Car accident today. My brain is a bit scattered… well, even more scattered than usual, I guess. Got rear-ended. Her fault. Head and back ache, but not severe injuries of any kind. Car needs a new bumper. Supposed to be getting an estimate on the repairs soon. Well, technically, should already have gotten that estimate. Ah well. Posts have been a bit odd lately. Lists and things. Even less substance last week, but some good stuff in the digest this week. Added The Perverted Negress to my blogroll, too. Not sure why I didn't have her there yet. She's a pretty awesome lady.
This month has just been so busy, and it isn't letting up any time soon. Anniversaries, birthdays, conventions, parties. The works, all the way through into October and then the holidays hit. Halloween, Thanksgiving, Christmas (and all the other December/winter celebrations), and New Year's. And this past week, what do I tell my parents? That I spend my time working at the store. Twice, my mother asked why didn't I take the rubber bands off my wrists. I told her they help me keep from scratching (he smacks my hand when I scratch). When she asked again, habit, was my only response.
I don't like lying to my parents, but it doesn't bother me as much as it bothers the Engineer. I know that even if they could handle it, my brother wouldn't, and his kids are far too young for me to be cut out of their lives already. They're part of the reason we moved back here, and found this amazing community. Wouldn't that just float his boat?
The rubber bands are important to me. A thing he asked me to do. Being able to do what he asks makes me happy. Having something to look at and think of him makes me happy. I wear two on each wrist now, he only asked for one. But when one breaks, I'd be left with nothing, and they used to break all the time. So, two became my habit, so that I would always have at least one. I hardly ever take them off anymore, except to bathe, or to switch them out for new ones. I feel slightly naked without them, missing something. It might be silly to be attached to something so flimsy and replaceable as rubber bands, but it's not the bands themselves that I'm attached to. It is the fulfillment of his request that makes me smile.
The same goes with the skirts. I have negotiated away wearing pants in his presence unless I'm leaving the house to go to work, or he specifically gives permission for pants/shorts. Recently, on our theme park trips, he told me I could wear pants or shorts so the skirt wouldn't get caught in things. I chose shorts, both for the heat, and because I just couldn't fathom purposefully wearing full length pants around him anymore. Not to say pants haven't happened, they did just the other day during a slightly panicked situation, and I apologized with a short short skirt a few days later.
My reasons have shifted over the last few years, along with our relationship. Initially, he requested skirts or shorts, for ease of access to whatever he wanted, as my boyfriend and Dom. Later, when we were discussing my partner in crime's restriction to just skirts, it was decided that even shorts went against this ease of access rule and if she couldn't have them, neither could I. Some of that has fallen by the wayside, though the theory is still sound. He may still have access to whatever he wants, and skirts facilitate that, and so I am happy to wear them for him.
But for me, the bigger part of it, is the confidence in my body that I have gained. Yes, I still wear long skirts, because they're fun and flowing, or warm, but my legs are still visible, to varying degrees, depending on what I'm doing. In short skirts, my legs are definitely visible, as well as the shorts I wore to the parks. He enjoys legs, and he enjoys confidence. So, my wearing skirts, or short shorts, makes him smile. I balked, hard, when he first requested this of me. My legs were the biggest part of my body that I wanted to hide. Especially my thighs. But, in the last four years, he has helped me to stop being ashamed of my legs, and to be comfortable in my skin. I am quite grateful for this, though my favorite light skirts are wearing quite thin these days. Good thing we're heading into fall soon.
It's the little things. The simple requests. The things that bring a smile to the lips, and joy to the heart. Being able, when so many things are spinning out of control, to do the little things you can do. To give what help you are able. To have some stability and sameness to cling to. To grow and share, and show gratitude. We are busy, and time is so limited right now. But I look down at my wrists and think of him. When he does see me, I'm wearing a skirt, for him. These little things give me comfort, even when we cannot be together, and joy when we can.
August 16th, 2012
The only trouble is, I find, that I close my eyes on 3, and miss part of the ride. King's Island was a blast though.
I'm heading out on a weekend away to visit more conservative family. I was hoping to have the newest e[lust] digest to post for you, but it's not up yet.
Very much looking forward to ChiCon at the end of the month and then COPE in September.
Also, going to see Avenue Q in a week and a half with hubby for our anniversary. Possibly better timing than the last muppet-themed entertainment we watched together.
Having huge bouts of emotional neediness this week, need to stop that. Have managed to keep them in check, think I'll go for some walks in the woods while we're out at the farm. Just gotta be patient a little bit longer. The season is almost done.
July 5th, 2012
It's a rambly day I think. I'm on vacation with hubby, back to his hometown. Back to being quiet and hiding. Not because I have to be quiet here, but because I am. Because everyone talks loudly and at length, and I mostly just listen. We've been gone five years, there's a lot to say, I guess.
Hiding? Well, I'll have to on the vacation to see my family, too. No telling the parents the truth. No mentioning my boyfriend or his girlfriend around the family, though hubby did mention rope work, and suspension to MIL, she didn't seem sure what to make of it. She has recently read the 50 Shades books, and liked them, but "would not want that to happen to" her. I haven't read them, but seems to me, the lady made the choice to do those things, they didn't just "happen to" her, but I digress, and don't actually know. Though, I feel like I ought to read them, just for blog's sake if nothing else.
In other big news, our club has closed. So, our Saturday weekly venue is gone. That sucks, but we shall persevere, and actually get to go to community events on Saturdays for a while, not to mention it'll make summer planning a bit easier. Looking forward to what's next, as well, whatever it may be.
Brain's all swirly, and dreams have been matching it. Snakes, crocodiles, non-con knife play, seduction, and electric play. In one dream, I actually told the guy who'd cut the fuck out of my back and legs and pushed me into a pool with a crocodile, that blood play was against my hard limits. Apparently I didn't mind the hungry croc in the bottom of the pool so much as the fact he wasn't allowed to cross my hard limits with blood.
The engineer sent me a lovely link for the 4th from FL, of a girl covered in patriotic needle play with sparklers attached to the cross she was leaning against. It was quite pretty, but like the fireworks last night, much better viewed from a distance. I was not happy about the loud explosions and showers of sparks from the drunks lighting illegal fireworks off a nearby roof. Even if none of the sparks reached the ground lit. I could hear some of the bits landing nearby. The legal show down the road was pretty, once we figured out how to see it.
Pulled together all the MDQ Issue 3 articles this week, too. So that's off to my editor a few days early. Gotta put the photos in and everything still, but it's nearly ready. Then it's time to finalize the details for the fourth issue. COPE here I come. 😉
May 3rd, 2012
Some days I find it harder to write my normal, family friendly blog than others. I don't have anything to say or I don't have anything I can say that my parents can read. Lately, this is more of a problem as I want to post about all the work I'm doing, and the projects I have going. I want my family to be proud of me, but I know they would not understand.
Issue 2 of Modern Dungeon Quarterly came out on Tuesday. Ready to be bought at HP MagCloud. I posted the first two articles yesterday as well: Metal Bondage Safety and Spanking Benches. This has taken up a lot of my time, writing articles, interviewing and working with the photographer, editing and then working with toy on layout and my best friend on cover design. I'm really proud of what we're creating. I want it to grow and become amazing. But even then, I cannot share it with my family. Not if I want to see my nieces and nephew.
I'm also working on another project. I've gathered up all the stories and scenes I've posted here, and printed them out and proofed them. I want to create little ebooks of my stories. I'm hoping you, my readers are interested in them, too. But when my parents ask what I'm writing lately, all I can tell them is that I blog. I was published in four flash fiction collections, but they only know about one.
My mom bought me some skirts last year, but she has no idea why I started wearing them. Or how often I wear them. They don't know what I do every weekend. They know I have friends that care for me, but hardly any of their names. They don't even know about all the love that is in my life, nor the troubles. This is hard, too. I have no support from them because they don't know it is wanted or needed. I've never really talked to them about my love life, but sometimes it'd be nice to not have to censor myself.
This post feels a lot more whiny and complaining than I wanted it to be. A friend posted about her father tripping up her world view and it got my head diving down a bad direction, I guess. Let's see if I can make a U-Turn.
I'm really excited about the various projects I'm working on.
Modern Dungeon Quarterly's second issue is out. I have articles about all kinds of fun things; from spanking benches to paddles, from metal bondage to music. Hubby, toy and the engineer all wrote articles for me this time, so that was pretty cool. The photographer took lots of great pictures of the dungeon and I had a great time interviewing the owner.
I'm putting together my stories from this blog, organizing them by topic, so I can make little ebooks. How many stories do you think should be in each? At least one, non-blogged story per book? Is anybody even interested in such a thing? I think it'd be fun to have. Maybe even do on big anthology with everything, available in print as well as ebook? Thoughts? Suggestions? Pre-Orders? 😉
I'm wondering about getting a table at COPE, to sell the, by then, three issues of MDQ I'll have, and maybe print out some of the ebooks and the anthology as well. I'll hopefully be profiling the AIS dungeon and AIS Kink Labs at the event anyway. So much to think about. 🙂 I haven't even found my third dungeon yet.
I wish I was going to ShibariCon. That would be an awesome event to attend, maybe even have people I could interview and a dungeon I could do pictures of. Alas, this year's expensive convention is WorldCon(awesome in its own right). Maybe next year. 🙂
There, that's much better. 🙂
April 26th, 2012
A good number of changes currently happening in my poly life and in the community I'm a part of. A new space has been acquired by some community leaders and a lot of groups are moving their meetings there. This includes my weekly Wednesday group. We are moving away from the space we have occupied for three years now, to a new place, a new space. And with high hopes that it will work for us and allow us to reach even more people.
I have also stepped down from being the little d with toy, back to a more comfortable s. I had a great time last year, learning and experiencing new things in this role. But this year, with a lot of upheaval in my life, it just didn't feel comfortable anymore. We are examining our dynamic and determining how best to continue. It will take a bit of adjustment, but I think we'll all come out happy in the end.
We said our fond farewell to our usual Wednesday night space in the best way we knew how. With friends, family, food and screams. He lined us up, his toy, myself and the engineer and tore into our thighs and chests. We started with the big dragon tail, then the little, then a nice blue rubber ball on a flexible rod, and ended with a round of the flyswatter, by their vote. I voted for more dragon tail because it's not a fear response for me like the flyswatter, but it was just too much sting for them to want another round. We followed up with water and cuddles.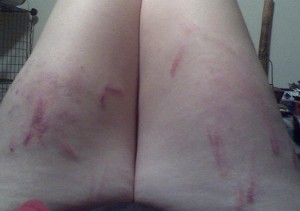 His toy called the noise the four of us made a strange symphony so I named this picture: Final Symphony.  Such lovely bruising and delightful kiss marks.
New and busy times lay ahead. I am grateful for what we've had and look forward to what is coming.
January 8th, 2012
A busy, not so busy weekend.
I am grateful for:
1) My Poly Family
2) Group dinners
3) Good cooks
4) An abundance of blankets
5) Hugs and snuggles
6) Waking up next to hubby
7) Morning sex
8) Afternoon play
9) Interesting podcasts
10) A supportive hubby
October 9th, 2011
"Do you enjoy this?" "You're having fun, aren't you?" "How'd you get this job?"
Questions I get asked every weekend. I do violet wand scenes for strangers, and friends, almost every weekend. It's volunteer, it's not a job, though occasionally it feels like it. I do it for fun, for my chosen family, and for those random strangers who walk in off the street and are curious, drunkenly brave, or scared but pressured by their friends. Even the most macho of drunken frat boys gets a little jumpy the first time a glowing violet bulb comes near his skin.
I got the 'job' by showing up. By helping out, by wanting to be around, to participate, to learn, teach and share. I found family and they accepted me. They taught me, they shared so many things with me. And what could I do, but join them, and pass on what I had been given? Life, for me, is about experiences. The best gifts I have received have not been things, but adventures. Roller coasters, festivals, conferences, conventions. Flying through the air, held only by a few hemp ropes. The thrill of the first glowing bulb on my skin. The crazy run of emotions in all sorts of scenes. The first time I asked for something I wasn't sure I really wanted, to make him happy, or because I was curious. The joy of my first virgin scene, and the one after, and the one after…
There's nothing like that. Introducing someone to something new. Showing them there's nothing to be afraid of, or that the fear can be intoxicating. Helping them enjoy themselves, let go a little, relax. Getting them to want more. I can't even count the number of people who've sat down in the chair terrified, and got up planning to browse eBay for their very own wand. That's why I do it. That's what I enjoy.
And more. When they come back week after week, month after month. The ones who really enjoy it, really get into it. The ones who have no where else to go to get this particular feeling. I do it for them, too. The ones that squirm in their seat, giggle or moan. The ones who clearly enjoy themselves and give back the energy to me.
It keeps me going on nights when the macho men feel like they have to sit perfectly still and show no reaction. Or the girls are too afraid to let their boys see how much they like it. Or the ones that just feel embarrassed by their pleasure and sit stiff and nervous. I don't mind the ones that don't like it. I share with them the experience, the range of sensations, and if we can't find one they like, no problem. Not everyone enjoys electricity. But the ones that don't react at all are draining. I've learned to read people and I do the best I can, but when all the energy is going out and being absorbed with no return, it can be a very long night.
But even on those nights, I keep on going. I still enjoy it. Because I know, some of them will still come back. Still try again, and maybe next time, they will be calmer, more relaxed, give something back. And even on those nights, most of them still thank me, and smile when I'm done. And almost every one of those nights, I get a scene that makes up for it. A new, excited, squirmy, giggling, moaning virgin, who exudes pleasure and recharges me as I charge them up. And if all else fails, I've still got my family around me, and with just a few pokes and tickles, I get the energy I need to keep going.
May 19th, 2011
Wow, I've been blogging for two years as of tomorrow. Two on WordPress, and one cross-posting from PervertedImp.com. That also means that I've been part of my local community for three years. What a ride it has been. Honest poly relationships, real community, play parties, limits being found, crossed and offered. Learning from classes, from mentors, from friends and from experiences. Journals, blogs, emails, chats, stories, tweets and threads.
I have posted about scenes, relationships, love, polyamory, social networking, wish lists, family, failures, and successes. I have had a couple flash fiction pieces published, and posts reblogged on other sites and did one meme for silly fun. I created an informational section on clothing care, and started a group about it on FetLife.com. I started out completely anonymous, and then sharing it with loved ones, my kinky family, and then friends.
I have an amazing life, a wonderful husband, and awesome boyfriend and a incredible toy. I have tons of people surrounding me, caring about me, teaching me and supporting me. I am part of groups that meet weekly, sometimes more than once a week, and have more opportunities for play parties and learning experiences than I even begin to have time for.
I made a silly post once about the numbers on my blog and the top posts and all that. Today I wanted to see how people were getting to my blog. Some are coming from Twitter, some from Fetlife, some from email subscriptions. But the part that amuses me the most is the search terms that land people on my blog. So I looked at the top terms. Both sites, of course, have Perverted Imp and other permutations in the top of the list. Over at WordPress, we the other top three terms are Shibari (Complete Shibari, or Shibari blog), Resistance Play, and various permutations of Straitjacket. PervertedImp.com is a little more varied, though with (Complete) Shibari still in a lot of the upper slots. The next two amuse me more, though: Consensual Feminization and Masochist Turn Ons. I am definitely becoming more and more a girl in this community, and my masochist turn ons have increased by leaps and bounds. Painslut also features heavily in my most searched terms.
This is a pretty bland post, without much substance. For substance, see the earlier post this week and I promise more fun next week, too. But today, my head is full of vampires and LARPing. For now, Thank You to everyone who contributes to this absolutely amazing life I lead.
March 17th, 2011
What's really there is that I have an awesome boyfriend who loves me, who trusts me, and who wants to continue our journey together, in life and in kink.
What's really there is several new paths we are taking, one including an awesome woman who has decided to be our toy.
What's really there is stressful work and health situations that are not who we are, but simply things we are doing and dealing with.
What's really there is drama in our worlds and families that we need to deal with and solve together, supporting each other.
What's really there is amazing opportunities for love and companionship and play and fun together, that I never would have thought possible five years ago.
These sentences are currently written on my thighs. I wrote them in a chat yesterday, and we decided I ought to write them on myself for a little while. "Until the message sinks in," you might say. I need practice focusing on the positive. I need to not let the negative build up and build up, because "it's just a little thing," until it becomes a whirlwind of fear, doubt and crazy. I'm a writer, a good thing, but also bad. I write stories in my head, make assumptions, fill in the blanks. I live inside my head a little too much. I need to remember there are other people out there, often right beside me, who have the real answers, the actual truth of the matter, and sometimes, a far better grip on reality than the tangled mess I sometimes get myself into. Speculative fiction is awesome to write and sell and share, but reality is strange enough without me getting creative on it.
So, lesson of the week: Communicate!
How many times have I written about communication? And yet…
Things are far easier to deal with and discount and conquer when they are small. And nothing is too small to mention. A grain of sand creates a pearl, but a fleck of metal can blind you and a single spark can burn down a forest. He is good at noticing when something is wrong or off, but I am not always so good at realizing he is right. So, communication. Don't dismiss it when he questions, really look and try to shake loose the thought that is keeping me off balance by hiding in the corner. Life is always crazy and busy and stressful, but letting things bottle and build up is only going to make things worse. Explosions are far more damaging than a firecracker. Just don't hang on too tight, toss it up in the air and see what it looks like in the light.
I am loved. I am wanted. I am needed. I am worthy.
January 27th, 2011
One of the things on my mind when I was doing the Thirty Days of Kink meme was openness. There were two questions I linked to the same post about being open with my friends, but not with my family. Then the post about misconceptions – BDSM is not abuse. And my brain wandered off – wondering, is this why I don't tell my family? Is this what I'm afraid to explain to them, afraid they just won't understand? Afraid they'll think I'm broken or, worse yet, that they did something wrong in raising me?
I make excuses – it's my sex life, why would I talk to my family about the kind of sex I have? We don't talk about such things. It's where all my ideas about what's "proper" or "appropriate" come from. Those words that The Ethical Slut talks about as social programming that limits us and makes us ashamed of ourselves. But what about poly? That's my love life, that's people who mean a lot to me. And it still falls into "inappropriate" and "improper" behavior. But people I care about is a topic of family discussion.
I think I'm wandering here. Reel it back in.
BDSM is not abuse. I posted that simply and without comment on the misconceptions day. There are so many ways that discussion can go. From how BDSM is about love and respect, to how to recognize abuse, to how to prevent abuse, to how some people just don't understand other people's needs and desires. To how some people's kink is just not other people's kink, to how some people's kink is too extreme for other people. And on and on.
But the point in my head, when I started this post, was, is that what I'm afraid of? Is that what I don't think I can explain to my god-fearing, bible-carrying family? You betcha. My dad once commented that a girl in college wanted him to spank her and he thought it was very odd of her and he sent her packing. I don't know why he told me (and Hubby) that story, other than for something to say while we were traveling cross country on a family vacation, but I worried even then that I could never tell him the truth about myself.
I've seen a friend's parents react very badly to the idea of their daughter being kinky. The dad did read a book on rope bondage and come to accept it as a sexual expression. But what about pain, how do you get vanilla folk to understand, or at least accept, that pain is a healthy expression of sexuality? There are kinky people who don't fully understand the levels of pain I enjoy, but at least they're accepting. Usually along the lines of, well, if it makes you happy.
Isn't that what our parents want for us? That we be happy? Yes. But generally the want us to be happy within social norms, or whatever Their social norms are. Would my parents really deny me because my expressions of pleasure are different from theirs? Would they stop speaking to me because controlled pain in a life when uncontrolled pain in typical makes me feel better? Would they try and have me committed because I like a bit of electricity running through my body even when I'm not at a chiropractor? Probably not. But I still shrink from those conversations, afraid of disappointing them, or confusing them. Or that I am wrong about their capacity for acceptance.
Honestly, it's my brother who I think would try to understand the least. And it's poly that I think that my parents would be most upset with. I promised to my father and before my mother to be monogamous until death. I think extramarital relations would be the harder sell. I love my Hubby, and he loves me, but to forsake all others would not be true to ourselves. Love grows when it is shared.