September 26th, 2013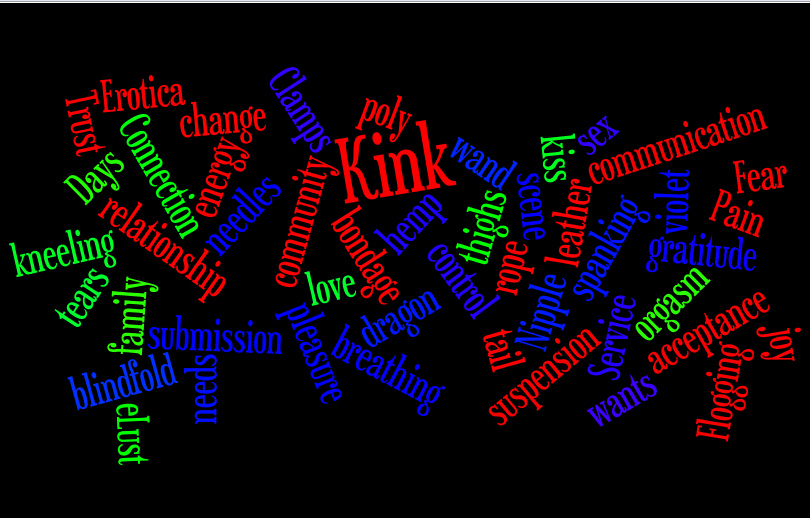 I was introduced to a new website by one of my classes this week… Wordle.net so I made this pretty picture of my Tag Cloud for you. Yes, my brain is that stumped tonight.
I'm not sure why. I had a really great weekend with him and the engineer. We had an awesome night of metal bondage, poking and amazing flogging scenes(well, I don't know if hers was amazing, but mine was). And then a different kind of party the next night, with brand new hot tub, which managed to hold 13 people at once, and then some very nice sleepy cuddle time. Not to mention the drive up and back with each other, and a nice dinner Monday night with the whole polycule together. I told my best friend all about it, and now I'm telling you, because it was all very lovely, but not the kind of lovely I want to share in minute intimate detail. Maybe there will be some of that coming up in October and November, we'll see.
I heard a poly song on the radio today. If Loving You is Wrong, I Don't Want to be Right – which has been sung by a great many people over the years, and is actually fairly good. Most songs are about cheating and trying to take the husband from the wife. This song makes no mention of leaving either relationship. It acknowledges that the other partner's needs are just as great. It talks about disapproval from family and friends, but the singer stands up for their own right to love. It even mentions the troubles of time management. I am not convinced this message was what the writer was trying to convey, but as with most art, we take from it that which we want to.
On another random note, why does a pasta company care about sexuality? Seriously, Barilla, your pasta's not even that good.
May 31st, 2012
So, let's say someone new came up to me and asked, "Hey Imp, what do you like to do? And could you tell me why? What about those things interests you?" How would I respond, at this point in my life?
Hey, random person. Welcome to the community. I like to do a lot of different things, for a lot of different reasons.
Well, Imp, that's not very helpful, could you be more specific?
Sure, random. I like bondage, sensation, deprivation, fear, pain, suspension, sexuality, dressing up, fire, electricity, corporal punishment, erotica, mind fucks, new experiences, serving, bootblacking, learning, teaching, submission, power exchange, biting, sucking, cuddling, challenges, sub space, and a whole host of other things.
Wow, Imp, that's a lot. Could you tell me about all those different things?
Sure, random, let's start at the top.
Bondage. I love bondage. Always have, always will. Cuffs, shackles, stocks, straitjackets, rope, saran wrap, or just mental. I love it all. But some for different reasons than others.
Cuffs, shackles and stocks. These are the stuff of erotic fantasies for me. Prisoner fantasies, slave fantasies, and the like. These are things for "bad girls" and as such, turn me on to that mindset. They are solid and secure and sometimes painful. They are a solid reminder that I am in bondage to the one who holds the key. I am at his mercy until he sets me free.
Straitjackets and saran wrap or mummification. These are the all encompassing, all enclosing, complete restriction of movement. They can be comforting, a big huge hug from the one who put me in it. A place to sink into myself with the outside kept at bay. Or they can be complete vulnerability. I am trapped, only allowed that which he gives me. Whether that's simply air or pleasure. Only free when he allows it. And oh so helpless and available to whatever he wants to do. An excellent power exchange.
Rope. Glorious rope. I didn't know how much I would love rope until it was used on me. I didn't know I would fall in love until I first smelled hemp, and then he suspended me. And I was done. Forever a rope slut. Rope is a multitool. It can be used for sensation, for decoration, for bondage, for suspension, for pain, for pleasure, for service, and if you have enough, even for mummification. Rope makes me incredibly happy. The bite of the rough natural fibers on my skin. The taking of my power bit by bit as each limb is confined. The sense of freedom when I am held in its complete thrall.
Sensation and pain. So many different types of sensation. Floggers, whips, paddles, canes, drumsticks, clamps, clips, clothespins, slapping, spanking, body punching, kicking, biting, pinching, pressure points, scratching, knives, violet wands, stun guns, TENs, massage, wax. I'm sure I'm forgetting some.
Corporal punishment. Spanking, floggers, whips, paddles, canes, punching, kicking and drumming, all excellent examples. Let's start with rhythmic fun. Floggers, canes, and drumming can all be used to beat someone to music, to a rhythm. This can take us both into space. Feeling connected as one as we flow and move with the same beat. Relaxing and soothing, it can also send me into the most incredible high. Spanking and paddles, also belts, are in the fantasy category for me. They send me into that "bad girl" headspace that I find so arousing. Pain space. This is where whips, body punching and kicking come in. They don't fit in the first two categories for me, but if I want intense sensation for the purpose of going into pain space, they are added to the list of all these other tools. Pain space, for me, is a place where I fall into the pain, and enjoy both the pain and connection to the one causing it. Catharsis is another part of corporal for me. All these tools can be used to cause me such intense sensation that I am pushed through pain space into an emotional release.
Body manipulation. While I'm talking about spaces, and body punching and kicking. Let me go quickly to pressure points, biting, pinching and massage. These, for me, are direct, personal intense sensations. Biting goes into arousing fantasy, vampires and the like. Pressure points and pinching and focused intensity. He is close up, exploring my body and reactions. Some of them are painful, some of them are pleasurable. But they all make me want to kiss his hands afterward. I like the closeness, I like the personal intensity. The direct energy exchange. Massage has this, too. The closeness, the energy. It also has the element of service that I enjoy when I'm giving it. Or when I'm receiving, it makes me feel cared for and appreciated.
Sexuality. We are sexual beings. And we all express our sexuality in different ways with different people. Depending on my mood and my partner, I enjoy kissing, hugging, cuddling, nibbling, licking, orgasm control, masturbation, oral and sex. Physical connection, intimate connection, can be soothing, energizing, or just plain crazy fun.
Deprivation. On the opposite end of the physical, is the lack of input. Sensory deprivation. Sensory deprivation makes me depend on whatever I'm left with. I sink into my body away from the senses that were taken away and if I have anything left, all focus goes to that. If it has all ben removed or reduced, I'm often able to just float away deep inside. It's incredibly relaxing. And can also be used to intensify whatever sense is left. Touch becomes so much more intense when you cannot see, hear, or smell. You are focused on the only thing you have left to sense the world around you. Pain in such a state is so much more intense for me.
Clips, clamps and clothespins. I'm not even sure how to categorize those. Pinchy things, I guess. These can be great fun and are usually a test in endurance. Last night, he showed up with two bags. One of 50 teeny tiny clothespins, and one of 24 two inch long clothespins. He decided our faces were his canvas, and went back and forth between all three of us, putting clothespins all over. It was crazy and intense and fun. I had to walk in place and keep touching him to ground, so I would keep breathing properly. These are an interesting category. They are intense sensation, and it just ramps up as you go along, without even having to do anything. And when you're done, the fun isn't over. You still have to take all those little things off. Which hurts a heck of a lot more in an instant than they have the whole time they've been on. This is why zippers are such great fun. Taking a whole line of them all off at once, can send me into such a great pain space high. This is one time when orgasms are especially appreciated for me, as a way to channel the energy created.
Electricity. Ah, electrical energy. In this category we have TENs, violet wands, electric flyswatters, and stun guns. TENs is a lot of fun. It can be therapeutic to tense or sore muscles. It can be silly giving over of control. It can be used to make Jenga a hilarious game. And it can be used to cause intense sensations and pain. Violet wands are one of the few things I top, for the crew. Anywhere for gentle vibrations of a massage, to sharp jolts of pain. Happy tickling sensations, to skin burning zaps. So versatile and fun. Electric flyswatters and stun guns are the next step up. Sharp, painful sparks when there's a gap. Muscle jolting when held tight to the skin. For me, just the noise of these sends fear shooting through my body. Sends adrenaline racing, and depending on what he's threatening, can drive me straight to tears. Delicious.
Fire is another of those adrenaline rushes. Someone is lighting you on fire FFS. It's a nice warming sensation, which can also be slightly painful, but the fire is generally gone before the pain really starts. I'm not into burning/branding of the skin. But the fear. The primal fear response to being light on fire, is intoxicating. It brings my focus in to just that. Nothing else matters when you're on fire. Then there's sparks. Not electrical sparks, those don't bother me. Fire sparks. A lighter, a sparkler, a log popping in the fire. Terror. Pure terror for me. This will bring me to tears faster than a stun gun, if I'm forced to be close for more than a couple sparks.
Fear. Oh yeah, fear. Sparks, needles, snakes. Fire, stun guns, flyswatters, gags, being in pain and helpless and abandoned. Fear is delicious. Adrenaline rushes are great. Phobias will bring me to tears and panic and breaking points. So they are dangerous to play with, but so far, have all gone well. Being brought to the point of panic, and then pulled right back to keep going can be an amazing power exchange, as well.
Power exchange. Submission, serving, mind fucks. All the mental stuff. To take me out of my head, to give up control. To take care of him and his boots. To dress up for him. To just simply be for him. To challenge myself. To be forced to think and use my brain. To be turned around so hard and fast that I don't know where I am. To be scared and aroused and dropped all through the power of his voice. So many different head spaces and power exchanges. It can be absolutely amazing.
New experiences. Learning something new. Teaching someone something new. Trying something new. Helping someone else try something for the first time. There's nothing like it. The joy, the excitement, the energy of new is unique and incredible.
And then there's this. There's writing about it. I love writing about it. Writing erotica about it, blog posts about it, journal entries about it. Sharing, processing, explaining. Teaching, learning. Writing it down gets it out of my head and into a place where I can look at it. Where I can share it with others. Where I can learn about myself and really see my own thoughts and reactions. Down on paper or screen, it's not all jumbled up anymore. It's clear and it's wonderful. I hope you all think so, too.
March 22nd, 2012
"Now for what I want."
"Yes, Sir." She gripped the cross legs behind her thighs and grinned back at him.
Crack Snap Crack.
He landed a hit on each nipple and a teasing mid-air snap in front of her nose. She squealed and tensed trying to remain perfectly still. Clenching her hands on the boards lest she reflexively cover herself.
Crack Crack.
Crack Crack.
She let out her breath in a scream when he finished, barely able to keep her hands down, as he laid two lines across each breast. Bright red kisses pointing to her nipples. Mumbling curses as she caught her breath, gazing up at his giddiness.
Crack.
She howled and bounced on one leg as he caught her thigh.
Crack.
He stopped her bouncing with a strike to the other leg.
She gasped and half-glared, half-grinned up at him.
Then she saw the light bulb and he turned to get a different toy.
"Close your eyes."
"Yes, Sir."
Her breath quickened as she strained to hear a hint of what he was getting. She could tell where he was, but there were so many toys there, and he was being careful.
She felt him return, closer than before, and he wasted no time.
Thwap!
She yelped as rubber floggers slammed down on her breasts.
Thwap. Thwap.
She groaned into the hits, keeping her eyes closed and her chin up to avoid the falls.
Thwap. Thwap. Thwap!
Left. Right. Both. She gasped and moaned at the hits.
The he picked up a beat. And the rocked together. Single hits per beat. Double. And then triple. Six-count to the beat of the music. She started with a groan, building into a moan and ending with a scream.
He pulled back down. Double and then single hits per beat. Quarter notes on her chest. Pounding out gasps and moans.
"Can… I… Open… My… Eyes… Sir?" She managed between gasps.
His response was to pick up speed again until she screamed and tried to collapse, but there was nowhere to go. Pausing for a moment, he answered.
"Yes."
"Thank you, Sir." She managed through ragged gasps, and she opened her eyes to see his glowing face before her. Tears filling her eyes, but her smile matching his.
He returned to simple beats, staring into her eyes now. They moved together, breathed together, energy flowing free and joyful between them.
A new song came on, and he picked up the pace. Not too fast, but fast enough to send her humming into space.
Thwap gasp. Thwap moan. Thwap gasp. Thwap moan.
Into six count, her head fell back, eyes closed, hardly remembering to breathe in as it all came out in a long, moaning growl, fingers digging into the wooden cross.
Thwap!
A downbeat to end the song and she nearly falls, but he is there, hand in her hair, holding her up, kissing her.
"Good girl."
"Thank you, Sir."
"You're welcome." He pulls her off the cross and against his chest.
"I love you, Sir." She wraps her arms around him.
"I love you, too." He kisses her forehead and leads her off to blankets and cuddles.
November 10th, 2011
This is a good week. With his help, I was able to follow him out of the swirling chaos and realize that's just what it was. Chaos caused by going in circles and trying to throw everything together at once. Stepping back, realizing that just because there are new things, doesn't mean they have to disrupt everything. We can still have everything we already had, we can even focus on making what we have better. Nothing is being lost, and there is a lot to gain.
So, when I sat down to blog today, I didn't know what to write about. He asked what's on my mind. I said peace, contentment. So, write about that. It is really true. After the last few weeks, just sitting here, happy and content feels wonderful. We've had a good week, starting with good discussions, a fun contract night, more open discussions, an amusing knife-play class, and I got to be a demo bottom for a very long flogging lesson, spiced up with a dragon tail and a couple big plastic clamps. I didn't last very long in those – damn mother nature and over-sensitive nipples – but I did communicate clearly when I needed to stop. It frustrates me when I can't breathe through pain, but I have even less luck with it while standing. The flogging, however, was very nice. Her first time, and not bad at all. On the third song of sticking with the rhythm and very few poor shots, I got a bit spacey. Fortunately, the tells are second-nature reactions to bad shots, so I don't have to concentrate all that hard to give them. And then cuddles and home for dinner, explosions and a warm bed I didn't have to get out of until after the sun was well up.
It just feels so good to have the calm, quiet contentment return. There are still fears, everyone has fears, but we can talk about them, all, together. We can lean on each other, we can accept that fears don't make truth, and that going forward is the only way to find out, to live life, and to have everything we ever dreamed of. This is an awesome adventure we've embarked on, and I am eager to see where it leads next. And if I trip and fall, well, what's a skinned knee to a masochist? I've got plenty of loving hands to help me back up.
August 21st, 2011
It was the night. Finally time to fulfill our bargain for a 50 cent pair of scissors. Time to face the music and dance, literally. Bag packed, ready to go. He calls, needs help with the gear. We get it all loaded and head to the club. Wait for the owner and then lug it up and set the stages. The instigator is all bouncy and excited, she says she's going to explode. Casting about, we finally decide everything is ready and drag toy off to the bathroom to change for the evening.
We can't remember if there was any exact wording on the shirts, so we do our best with buttons, bras and tying. My skirt is even shorter than I remember. Instigator helps us both with our hair, pig tails for me, hello kitty barrettes for toy. Fidgeting and fussing, and we're ready to go. Out the door and into the back corner where he sits with hubby, to show off our outfits and drop our bags. The grin in his face matches the light in his eyes as we stand before him. And only intensifies as he has us each turn and bend over to check for appropriate skirt length. Approval is granted and then the fire class begins and we gather to listen.
Class comes to a close, and our performance is announced, massage tables are cleared and instigator's laptop is set up at the edge of the stage. I drag toy up as he explains what is happening to the curious crowd. There are a lot more unfamiliar faces than I expected, but I'm not really looking at them. Finally, it is ready, we take our places and press play.
The song is ridiculous. Japanese that toy and I have barely learned to pronounce about falling in love and seeing the world in a whole new way. We have macarana-esque parts, and kick lines and spins and air guitars. Everyone is laughing and his smile is huge. I try to look up from the screen when I can, but I'm terrified and don't manage it nearly as much as I wanted to. But we got through the whole thing, and all fell down together at the end. Then curled up into a cuddle pile around toy, laughing our heads off. I don't even know if they clapped.
Once we pulled ourselves together, we gathered our things for the bootblack competition. Now, earlier in the evening, instigator had asked if she could borrow my china marker for this, and I, feeling snarky for having to sing and dance, told her, but it's a competition, aren't you prepared? To which she replied did I want one boot to not look as good as the other? And I, feeling more snarky, said, don't worry, I'll fix it. So, still teasing a bit, we find a quiet space in the back to set up our supplies, turning a couch so the light is better, if not great.
He finished his conversations and came back with toy. Sitting down, he offered us each a foot and pulled toy down next to him for his entertainment while we worked. I'm not sure I'm a real bootblack, I just love his boots. Instigator's far more inclined to clean up any boots that pass her way with a polite request for service. So we set in, scrubbing and rubbing. I start noticing some strings, but my scissors were broken. Instigator is burning the strings off her boot with a lighter. Hm. Hey, can you do that on this boot and you can use my china marker? She agrees, I can't even just ask to borrow it, I'm phobic of sparks. She has a little extra fun making it spark to watch me twitch, burns her thumb and my arm on the hot metal as we are working in very close quarters. Then we oil and shine and whiten. Making them as shiny as we can for an oil tanned boot. Re-laced and done, he sets off to the front room for judging with toy, leaving us to clean up and drink some water toy has brought.
Returning a short while later, he says the reviews are mixed. Mine is a better shine, but speckled. Hers is more consistent, but duller and there are some buff lines in it. Toy just can't decide who won and lost, so we give it up as a tie, both wishing we'd had better light.
Next up, massage, and there's just the thing, a king-sized padded table nearby. Toy fetches her massage lotion and he drops his shirt and lays down. We surround him, them on his back and me on his legs. Their hands are stronger and his back is always the most knotted. In silence, we put all our focus on him, working his back, neck, legs and arms, circling around him, doing our best to pull out his stress. He turns over and we continue, upper chest, shoulders, arms, hands and legs. About the time my hands have given out completely, he looks up and smiles
Now it's his turn to have fun. He grabs me in one hand, toy in the other, and pins instigator with his legs. I lose track of what is happening to toy at this point and only hear her moans and whimpers and Thank you, Sirs. Instigator is pinned by one leg and the other is being used to kick, poke and prod her. A boot-spanking, if you will. Me, he has by the throat to start, eyes closed, one of my hands clutching his arm and I gasp and squirm in his grip. He holds me close, turning to count occasionally, sending me spiraling into orgasm. Kisses and I love you were interspersed with numbers, the moans of the others, and the sound of his boot hitting flesh. He moved his grip to my hair, less of a fear reaction, rocketing up arousal and sensation. Still the round robin of pleasure, he raises me up to see his boot on instigator's throat. Beautiful.
There was a moment, his grip maybe slackened or I opened my eyes a little too wide. I saw what was happening to the others, and I had a shot of envy for the physicality of what he was doing to them. Before I could process it much further than that, his hand tightened in my hair, and he counted to three. I buried my face in the mat and orgasmed through tears. When I came up again, the energy and reality of the moment reclaimed me, and the negative feeling was gone. I was in his grip, against his body, two of my best friends were sharing in this wonderful scene of pleasure, pain and orgasms with a man we all love in our own way. Just incredible.
I loved the sounds. The slap of his boot, the screams and moans and gasps, the words from his lips: I love you, 1-2-3, fucking your brainto go, taunting instigator as he found new places for his boot . The sound of his breathing as he took a moment for himself. Toy's thanks.
We cuddled up together, me, instigator, him and toy. All lined up and snuggling. Still occasionally handing out orgasms, playing with programming, appreciating all that we had. Not someplace I ever really pictured myself ending up, but it was just right in that moment. The four of us together.
Time to rejoin the rest of the party. We gathered our stuff and headed back out to the front room. Put away our gear and gathered around in the electric area. His boots are "dirty" from kicking instigator. She offers to lick them clean again and starts to work. Toy and I look on, not really boot lickers ourselves. Then he grins and points me to the nearby violet wand. A straight rod and turned on. I hand it to him and he zaps her a few times, insisting she keep working. Tormenting her until he gets a better idea. Handing me back the wand, I'm to shock her at his direction. She stays more focused on his boots when the rod is coming from the other direction, but it's still fun to make her jump.
Boots shinier. What else haven't we done from the agreement? Bondage. He takes instigator's tie and secures her hands, tormenting her with one hand and holding her other until he finally hands the tie off to me, wanting both hands free. He puts a mask over her head and we are all impressed that it fits over her hair. Then moving me around the wall to hold her hands above her head so he can return to using his boots. His tool of choice on her for the evening. He asks if anyone wants to take her place? Absolutely, I reply, unable to see what exactly he's doing, but not really caring, her moans are delicious. He finishes her off, and sets her free after she starts squirming her hands as though the tie has become uncomfortable.
Then orders me down on his boot. It's been a long time since we've done that. I kneel on his boot and he goes to work, rubbing and kicking as I moan gasp and writhe, focusing on staying on my knees with hands on my thighs. Alright, time for your favorite part, you have permission to get yourself off on my boot. Thank you, Sir. I ride the boot more intentionally now, moaning and arching into an orgasm. One more. He moves with me a little and I curl up, my head against his leg as another orgasm washes over me.
We are interrupted then, and he has to go move his truck. I sink into my position. Knees wide, hands on thighs, palms up, back straight, head down, eyes closed. Calm, satiated, joyful. I sink hard. I'm aware of instigator beside me, and only barely of toy curled up on her lap. He is only gone for a few minutes, but he doesn't come right back. I hear his voice throughout the room. I sneak glances beside me, I can still feel instigator, but I want to see that toy is still there, too. His keys jingle louder and he returns, standing in front of me, a single kick to the crotch and I'm awake. How are you feeling? Aside from the eyelets digging into my left foot, I am very good. He motions me up and we all settle in, curled up and relaxing waiting for the club night to end.
October 15th, 2010
I failed at the writing an extra post to make up for last week's non-kinky post. I spend at least forty-five minutes every day, writing for him because I promised myself I would. Because I was having trouble communicating, and writing is the medium I feel most comfortable in, and I felt it would facilitate better communication over all. I think it does and I think it has, and so I keep my promise, to myself and to him, to write at least five hundred words every day. These writings are very personal, occasionally nonsensical, and include every day things and other people. Sometimes they are profound, sometimes they are flowery, and sometimes they are just as randomly off the wall as last week's post on social networking. Some days I wish I could just get up in the morning and write all day, send him his words, send my other partners their own words, and write beautiful blog posts, and let the rest of the world just float by.
Complete Shibari: Land and Sky is quickly rising to be my most popular post. It only has thirty views and two posts to topple until it reaches number one. I really wish I'd done a far better job with that post. Maybe I'll actually get the books during the holidays and work up a better review. It's not terrible, especially as I've never written a book review in my life, but I feel it doesn't do the works justice. I'm eagerly awaiting his third book(Stars) to be released, too.
So far this post isn't any better than last week. I keep thinking if I just keep writing, it'll get better, I'll come up with something intelligent to say, some great topic to post on, something insightful at the very least. I was chatting with a friend of mine earlier, saying that "Jealousy, Neediness and all those other things you try to ignore" was probably not a coherent topic. Last week I was dealing with bits of jealousy popping up. But instead of dwelling on them and letting them rule me, I quickly recognized and squashed them. With logic and compersion. Jealousy is not something we can get rid of, it reminds us what is important, but controlling it instead of being controlled by it is the key.
This week, I'm dealing with neediness. I hate it when I feel needy. Of course, I need other people and need love and attention. Sometimes, though, I feel like the need consumes me and jumps up and down like a five year old shouting for attention. It doesn't help that this is an incredibly inconvenient time for that to rear its head. Five year olds rarely care if the time is right or horribly, horribly wrong. So, logic and empathy to squash that for now. I have many ways to fill my needs, and patience will get me everything I need in plenty. As proof, I'll end this post with a list of things from the last three weeks that made me happy:
Over the knee spankings
Oral sex wherever we happen to be
Sleeping in
Kneeling
Rope
Suspension
Sex
Simple goals
Achieving them
Boot blacking
Second chances
Plans
Acknowledgment
Service
Carrying and holding a drink in my open palm
Drumming with anything that comes to hand
The leatherman on my skin
Bruises
Seeing and helping with someone's first suspension
Teaching and sharing the violet wands
Fantasies
Massage
Cuddling
Sleep
A phone call from far away
A latex skirt
A kiss on the forehead
Feeling protected
Latex panties
An unexpected spanking
A relaxing evening
A good discussion