February 13th, 2014
Favorite Places to Shop for Kink Clothing
ZZ Boots – Wildman's Leather & Lace
Thrift stores
Costume Stores
February 5th, 2014
This was my project for today: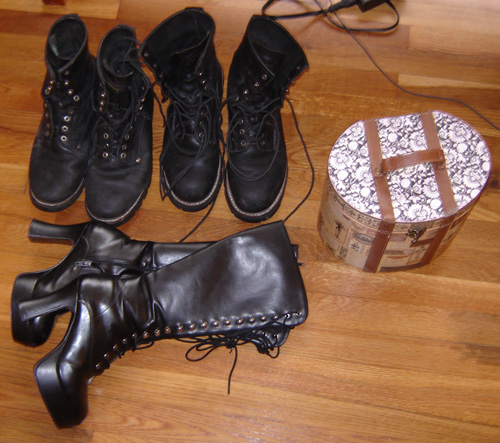 This is my Kit: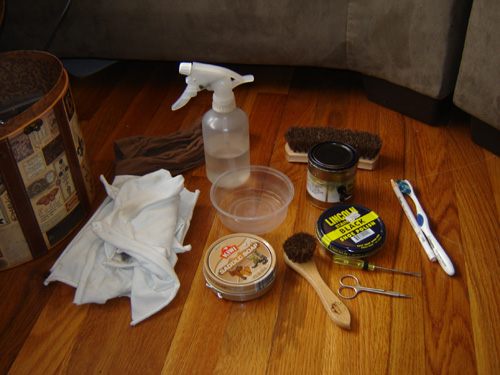 This is Before and After of his soft-toed boots: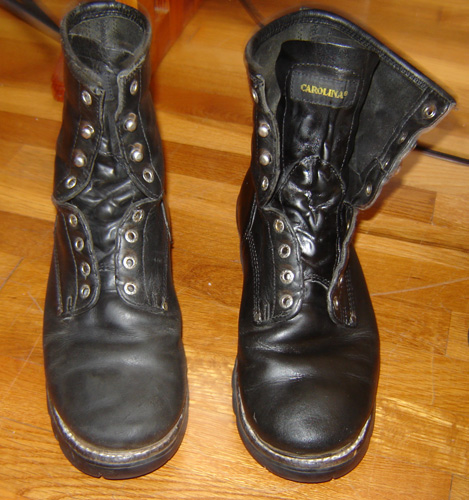 This is After and Before (did the other boot first on this set) of his steel-toed boots: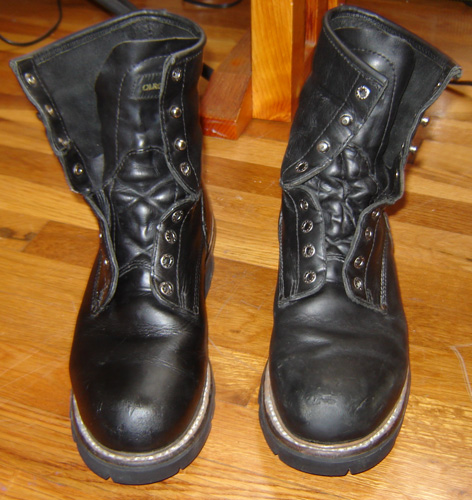 This is the Before and After of my cheap, but shiny boots: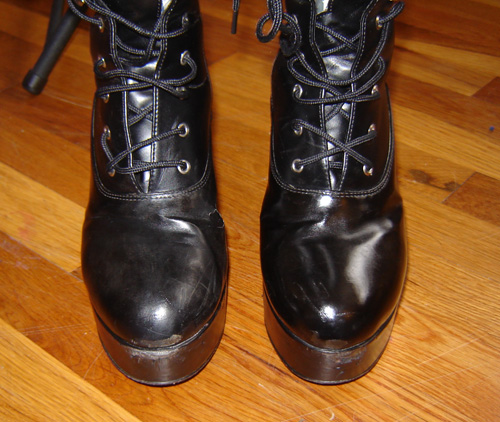 And last, but not least, the whole set of finished boots: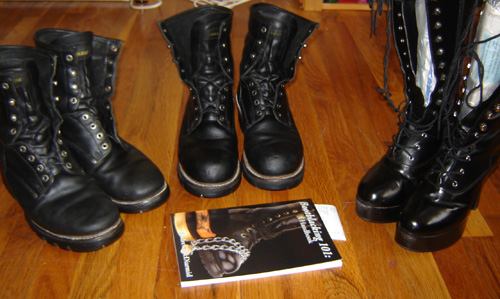 Next savings goal(after my UK trip) is getting myself real leather boots.
January 30th, 2014
Today when I logged in I had over 1600 comments in the spam folder. Wouldn't it be nice if that many people had actually visited my blog in the past week? But no, I average around a 100 a week, 200 if I've been posted to e[lust] recently. Ah well, the spam machines are busy, and Akismet does its job.
So, in 2011, I did 30 Days of Kink in January. In 2012, I did 31 Days of Gratitude in January. Last year, I was just surviving. This year, I was slacking. 😉 So, I'm going to make up for it in February. I'm going to do 28 Days of Lists. I've only come up with 12 so far, so if you have ideas, drop me a note, a comment, a tweet, whatever. They tell me lists are a good form of blogging, so I hope you enjoy them.
Next weekend is Winter Wickedness. I am very excited. There are so many great presenters coming, and so many interesting classes available. Not to mention the parties and the fun. It's going to be a great weekend. He actually made a clothing request this year – skater skirts. So we each got one and are creating an outfit around it. I'm not sure what I'm wearing the second night. More thrifting may be needed. I ordered a new dress off Amazon, but they say it won't arrive til the end of February, so that's not going to work. I'm sure I'll come up with something fun and shiny.
Been reading Bootblacking 101 by Andrew McDiarmid. Finding I like his talking about the experience more than his initial instructions. It is old school leather, so very much the boy in the leather bar, but the mentality is still something I can relate to. "You are a Bootblack."
I also decided to step out of my shell a bit and bought a ticket for a service intensive. Not that service is out of my shell, but going to a kink 'event' without a partner, and taking steps to spend a day with like-minded individuals bettering myself as a service submissive. I've never even gone to a submissive roundtable before. But I know I will be surrounded by friends from this community and friendly new people I have yet to meet. It isn't until April, but I'm looking forward to it very much.
Speaking of bettering myself and lists, my best friend made a really good suggestion to me today, that she uses in her own life. When stressing out, write things down in a list. Things That are Stressing Me Out, for instance. Acknowledging things so they are less scary is what I use my journals for. Getting it out of my head so I can see it. But the next step she suggested is important, too: look at those things and see if you can do anything about any of them. Make the things you can do into a To Do list. Do those things, or if you are already doing those things, realize that you are doing all that you can (and stressing isn't going to help). And if there are things that you can't do anything about, stop fretting over them (again, stressing isn't going to help). That's the simplified version, but it is definitely something I need to do more often.
There was also an article about asking better questions which caught my eye this week. While I found some of her questions strange, the point of the article held true. "How was your day?" or "How are you?" rarely get informative answers. Asking more personal questions, that have direct relevance to their life, will facilitate better answers and more communication. Something to keep in mind as you go about your day.
October 19th, 2013
He wore his kilt! Finally! In public even. And he looked awesome. I wore my old prom dress, bright red, sleeveless and down to my ankles, with black thigh-high stockings and the old red heels. The engineer in a pretty sprarkly blue dress finished out our trio. I wore mine because he promised to cut it off, I'd been trying to plan that kind of scene for years, and it was worth the wait.
I was sitting with a group, to the side of the stage when he came over, big knife in hand. He grabbed some fabric in my lap and sliced it down through the hem. I must have move, because his finger slipped over the hilt and he cut himself on the back corner of the blade. Not bad enough to stop the scene, mentions of the first aid kit were made, but he dragged me up and out to the middle of the stage.
Circling like a shark, he grabbed bits of cloth and slice through. A shoulder strap fell to the floor, the other was sliced, but still lay across my shoulder, keeping the dress in place. Back cleared, the knife tip made a few light passes on skin. Delicious. Down to the skirt again. Stockings, too? Whatever you want. And the knife slid through nylon and tore through elastic. Bit by bit, the dress and stockings were shredded. Until it finally slid to the floor, and was tossed aside.
Still circling, he spoke to the crowd of another thing he loved about his big knife. Smack across my ass. Yelping and he continued to smack. Spinning because I had nothing to brace against, he kept circling for a bit. Then grabbed hold, braced himself and pulled me over his knee. I flailed and squirmed and squealed, trying to find balance and he paddled my ass. Finally giving up and slumping over his knee, he paddled harder, til I slid to the floor.
Kneeling now. He continued to circle, and I lose continuity. He cut loose a bit of remaining stocking, grabbed me around the throat a moment and then tied it round my right breast. Then beat on it with the knife while I screamed. Smacked my inner thighs a few times for good measure, too.
He tore up my dress with his hands, making a long strip and gagged me with it. Holding me still, he drug the knife across my back, in slow stripes. I whimpered after he finished each one, afraid to move while the blade touched me. Then he pulled me backwards, held me tight and cut the gagging strips away.
He was up again, grabbing bits of the dress, circling around behind. Nervous, but not moving, I waited. He tried snapping a piece, like a whip, but it was too light and not shaped right. So he knotted it instead, and it made a nice bludgeon. Far heavier than I thought that dress could become. He beat my back while I arched happily into it. Then around to my thighs. More screaming and squirming. Ow! Wooden floor hurts the top of my feet.
There was also the kicking. Booted feet, kicking my thighs further apart, kicking my crotch and my inner thighs. He pointed down at his boot once, and I kissed it and then moved forward to kneel on it, not sure which he intended. Then there was more kicking, and grinding of the boot heel into my thigh.
He grabbed me by the hair and dragged me to the wall, pulling me up, he had to give a verbal command to get me to my feet. Then he pinned me to the wall, spanking my ass while I yelped and writhed. 1. 2. 3. Orgasming in sudden stillness. I barely mumbled Thank you, Sir, before I was tossed back to the ground.
Kneeling again, dizzy and breathless. He knelt behind me, grabbing me tight, and I think there were a few more scratches across my back. Then he bent my head back and kissed me. I smiled up at him and kissed him again. So happy.
I cleaned up and discovered I had put the bodice with garter straps in the wrong bag, put on my red fishnet thigh-highs anyway, and wandered for a bit. He asked if I needed anything, and I said when I got cold, I'd probably want to borrow his jacket. He gave me his black button-up shirt instead. Perfect. About the time he started negotiating with the engineer for her scene, he tossed me into the circle shackles to keep my buzz going all night long.
Edit: There was also face slapping during this scene, but I still can't remember where it fit into the rest, not that the last few paragraphs are in very good order, but still. I kinda lose my brain when he slaps me, right down into subspace in an instant. So very, very tasty and lovely, but it wreaks havoc on my memory and sense of time.
January 31st, 2013
I wrote a bucket list for 2013, of things that I haven't tried yet. But what about things that I've done before, to one degree or another, that are just fun. I don't mean another list of what kinks I enjoy, but fun thoughts of what to do inside those kinks. Ideas for upcoming parties, scenes or what have you. If you try anything, let me know how it goes. With WW this weekend, I've been thinking on and off about clothes. So, I'll start there.
Clothing Ideas
Wearing nothing but rope. I've run around with rope on before. He even put rope under my clothes once. I'm not talking about a rope scene tied up and immobile, but to be dressed in only rope is fun and can be quite beautiful. Lots of different things one could do. Rope corsets, bracers, anklets, decorative boots, rope dresses of various designs, even full body wraps. And you get three "scenes" out if it – putting it on, wearing it around, and taking it off.
Liquid latex. I've only played with liquid latex a little bit, but it seems fun. I need to do more research on it. I know that complete body coverage is a bad thing, you have to leave space open so your skin can breathe. But it would be a fun way to dress up or decorate the body, putting it on can be half the fun. I also like the peeling of removal.
Speaking of removal. That's something I really like no matter what I'm wearing. Having my clothing gently removed can be very sensual. Having it forcibly removed is very arousing. Having it ordered off speaks happily to my submissive side. Having it cut off is something I haven't done yet, but sounds like a lot of fun in the same sense as the forcible removal. It isn't always about wearing clothes, sometimes it's about taking them off.
Rope Ideas
Mummification. Everyone knows I enjoy mummification, but how about with rope? I believe I tried it once, but I'm also pretty sure we didn't go full-hog on it. I'm talking head to toe, wrap every inch of the body in rope. Now, naturally, as with any mummification, the top may want to play with various parts of the bottom, so you'll have to strike a balance between fully covered and secure and the ability to move ropes out of the way to access the desires bits. This would take quite a lot of rope, but as they say, you can never have too much rope.
Rope races. I've talked about eeling often, and I've written about various scenes. But what if you have two rope bunnies? Why not tie them both in the same tie and have a race to see who gets out first? Or, if they're aspiring rope tops themselves, have them each tie the other in turn, and see whose tie holds out the longest. If they're not a competitive pair, you could do cooperative eeling instead. Tie them both up and set a time limit for them both to be completely untied by, rewards for how much under time they come. Predicaments are also fun to add to any of these ideas, or for extra challenge, pit the top against the eel, can the eel get out while the top keeps tying?
One rope scene. What can you do with just one rope? Try making a scene out of a single piece of rope. Use it to restrain, to gag, to whip, to tickle, to choke. Come up with as many different uses as you can think of and incorporate them all into a single scene.
Service Ideas
Be the furniture. Sometimes dungeons just don't have all the furniture your dom needs. You can offer service by standing in. Whether it's being a drop table for his toys, an ottoman so he can put his feet up, or a cross to restrain his current victim. There are a lot of ways you can be of service by standing in as that missing piece of furniture.
Leather care and worship. I enjoy bootblacking and licking very much, but you don't have to stop there. All leather needs taken care of, and it can be fun to do so while your dom is wearing it. Make a scene out of it. Get him in a comfortable position and go to town.
Body service. I love brushing his hair. But it doesn't have to end there. Showering together can be quite enjoyable, just remember you're supposed to be getting clean… but the end, at least. Massages are also a wonderful body service to provide, and happy endings are good for everyone. Take care of your dom's body so he can take care of you.
Electric Ideas
Electricity for everyone. It is easy to zap your bottom with electricity, and sometimes easy to get them to zap themselves. But there are a few ways to take the ease out. For me, the flyswatter and the stun gun are the way. I am far less a fan of the sudden muscle spasms, and also the sound of them both makes me twitch. So, I'm not keen on hitting myself, or anyone else with them. Sometimes the violet wand is all you need, if your bottom doesn't like hurting other people, and insisting he or she zaps another bottom(who may or may not be fond of it), or yourself. Some subs will have a harder time zapping their top, while the more bratty among them will do so gleefully. If this is the case, maybe a tit for tat game with it.
College experiment. Do you remember those videos of psych students being paid to zap other students? Why not give it a try? Without the money, of course. Set up a scene where folk can drop in and zap the obviously suffering bottom. See how many sadists you can attract. See if you can guilt any other bottoms to take your bottom's place. Up to you how much is theater and how much is real. Another way to do this, if you've got a mobile unit, order your bottom to go around inviting folk to zap him or her. Maybe have a pad they have to sign after participating so you can see how many played.
Metal bits. Something fun to do is to find new metal objects that will work for electric play. Maybe there are some things in your toybag already that you haven't even tried with electricity. Try everything out. Find new bits of metal to play with. See how conductive those needles are, that set of sounds, those hooks or cuffs or shackles and chains. Do be a bit more careful if your are restraining your bottom in hard bondage before zapping them, it's easier to get hurt when the restraints have no give.
Corporal Ideas
Target practice. Want to practice your aim? Grab a sharpie and draw targets on the bottom, then see if you can keep all your strikes within the target. Alternatively, give each target a point value, and keep score. This game can work for multiple tops or multiple bottoms. Depending who you have available. It can also be fun if the target is suspended, or able to turn, making it trickier to find the target you want. Blindfolds only encouraged on the targets. This has also been done with clothespins, set them up and knock them off, but once it's off you don't have a target anymore.
Pick three. Always one of my favorites. Have the bottoms pick the implements of their destruction. This can be a lot of fun, especially if you don't use the tools the way they expect them to be used. As we always say in our classes, a single flogger can provide many different sensations. Make sure you give them a few surprises along the way.
Practice communicating. So, you've seen people count their birthday spankings – I've done it in multiple languages. But what about answering questions, too? How about both? Can the bottom keep track of a number, and answer questions at the same time? What happens when the number or answer is wrong or missing? Make sure the rules are stated at the beginning to increase the pressure. Communication is important – practice, practice, practice.
Other Ideas
Childhood games. There are so many games you can pervert. TENs Unit Jenga. Strip can be added to just about anything with a score, and even some without. Naked Twister is ever popular. I've even played a perverted cross between Pictionary and Twenty Questions, using a sharpie and a willing back. Or Tic-Tac-Toe on skin. Just have fun!
Be a lazy dom. Let your submissive do the work. It's Simon Says with a kinky twist. Sit back and have your sub do the tying, or the attaching of clips, or the zapping or whatever. Just relax and lead the scene verbally. See what all you can get him or her to do to him or herself while you watch.
Surprise me. Put the bottom into sensory deprivation. Blindfold, earplugs/headphones, what have you. Then take them somewhere to play. If you can have them stand in the middle of a room with no furniture, even better. Just stand there vulnerable while you plot their doom, I mean gather your toys. So many sensations you can provide, that will be heightened by the sens dep and anticipation.
September 6th, 2012
Last night was a new experience for me. One, I'd been expecting to have at some point in the last couple years, but it took a class for it to happen. Yes, my first waxing for hair removal experience happened with an audience. I generally trim my pubic hair, but shy from shaving it due to a tendency for infected in-grown hairs. Waxing, I was told, should be safer on this front. We shall see. The cosmetologist, licensed, but no longer professional (she both no longer gets paid to do it, and also enjoys it way too much), spoke to the class about proper procedure, cleanliness, ways to reduce the pain (most of which she didn't do, as the class was called waxing for sadists), and proper techniques, as she applied and ripped the wax(and hair) off.
It was an odd experience, to say the least. Not excruciatingly painful, though a few of the strips reached a 7 or so on my pain scale. But the pain was fleeting, gone almost as quickly as it came. The harder ones were when the wax or hair didn't come and she had to do the same spot repeatedly in quick succession. The first few strips had me arching off the table, until I got accustomed to the ripping. Some of the lower strips had me cursing (or propositioning, depending on your view) my friend, and eventually she asked me to stop screaming so one of the audience didn't have to keep plugging his ears. The poor dear. Looking down at what she was doing was also a strange sensation. The first few times, expecting to see red, angry skin, I saw only smooth whiteness. Apparently my skin objected less than the hair follicles and the associated nerves. When she finished, it was the first time since puberty that I've been hairless, another unusual sight for me, and hubby. Several asked how I was doing, I was fine by then, but told them to ask me after COPE if it was worth it.
There has also been some preparation for COPE on the relationship side of things. He, the engineer and I had a group chat just the other day, to talk about expectations for our first major kink event together as a group, and their first time at COPE at all. It was a very good, and very long discussion, ranging from play, to protocols, to packing. We talked about scening together both publicly and privately. There was discussion of what "reasonable use" of Sir meant to each of us. We talked about appropriate behavior and communication, including bringing cloaks in case we are roomed on the vanilla side of the hotel. And we talked about having protocols that were natural and easily met. This weekend isn't about trying to trip us up, but rather, about having a time to be together, play together and to take care of each other. I am very much looking forward to spending a weekend in his service.
And then I get to the clothes part of the packing. What to wear, what to wear. So many choices, and changes to be considered. Sleeping without Pjs has been decided upon, so I can at least not worry about that set of clothes. But let me ramble on the sets I think I might need: opening ceremony outfit, after play outfit, Saturday classes outfit, leave the hotel to eat lunch/dinner outfit, closing ceremony outfit, after play outfit, Sunday go home clothes. One might wonder why an after play outfit. Well, it depends on the ceremony outfit, but one of them will certainly be my new corset, and after a heavy scene, I just don't see it going back on. So, what about just walking around nude after? Well, if it's what he wants, that's fine with me, but he tends to like outfits a little bit more.
So, I've got one outfit decided upon, probably the opening ceremony – make a good first impression, without having to wear a brand new corset for too long. I was thinking of bringing my saris for easy, toss and tie it on. Those might work really well for after play outfits. Easy on, easy off. I should really run them through the wash and hang them up so they aren't so creased from being folded for years. Saturday class time? It's always so cold in the hotel, but warm clothes aren't generally conducive to practicing new rope work, and I do imagine most of our class time will be rope. My SAM tank top and a long sleeve jean shirt for easy cover up of arms or legs? If I wear that tank top, I'll have to wear the "apology skirt" with it. Sunday and go out for dinner are the easiest, just a skirt and cute t-shirts. But what about that second ceremony/make an impression outfit? (I don't think I've ever put this much thought into the clothes I wear to COPE.) I've got a lot of fun things these days, and less opportunity to wear them. I'll have to put some more thought into this last choice. At least these days, I have appropriate footwear. The girls always used to tease me about going about in sexy dresses while barefoot, even at the start of the night. Some day I'll have to dig my old prom dress out, and have it cut off me. If my high school peers could see me now…
A week and a day until COPE, so excited!!!
September 8th, 2011
I'm working on a big project for friends this week, and I've got a deadline of tomorrow evening, so I brought home RedBull today. I've only had a few ounces so far, but I'm definitely feeling it. Bouncing and excited and far more awake than I have any right to be. So, cool things.
The fourth issue of Erotica Quarterly is now available to read online at Pill Hill Press for free.  My story, For Him is the third story in this issue. You can buy a hard copy of this issue from Pill Hill Press, or on Amazon in a few days. I'll be getting a one myself soon.
Next week, on Tuesday, I'll be posting an eLust digest of a bunch of posts – erotica and articles, that I'm included in, so look for that.
COPE this weekend here in Ohio. I'm looking forward to it, I haven't been to the last two Big events. Saturday's classes for me will be mostly presented by Two Knotty Boys and Douglas Kent. I'm thinking of going to a service class for the extra spot, not sure yet. Maybe I'll sleep in. Going to play with hubby, fire with a friend, and try out the sacred touch of the Scarlet Sanctuary.
Oh clothes! I haven't officially decided what I'm wearing this weekend, but I definitely think I'll be taking the bracelet toy got me with the Celtic bdsm symbol on it. I think part of the plan is to wear hubby's big sparkling shirts that are just a bit too small for him anymore. I think there's a dragon one I like. And probably the black silk pants that are just a bit too big, but fun anyway. Anyone local reading this anymore that Doesn't know who I am?
Ah, RedBull. I should stop now while I'm ahead. See you next week. Monday is going to be excellent, I can hardly wait.
April 15th, 2011
I went looking one day, for how to clean something, and I noticed that I couldn't find a single site with information on all the different types of kinky clothing that I have. So, I decided to put one together myself. I did Google searches on Leather, Latex, Vinyl, Silk and Lace and found lots of article sites, a few FAQs, and some product sites with care tips. I gathered all this information together, took notes, organized and then created instructions from the gathered information. If you disagree with anything, or have other suggestions, please leave comments on the appropriate pages. I'll be adding more as I go along. The first few will probably be boot blacking, corset care and maybe spandex for those zentai fans out there.
I've gathered a few retail sites as well, that sell both kinky clothing and clothing care products to add as affiliates. None of them have gotten back to me yet, but I will be adding them as they do. If anyone has suggestions drop me a note.
I also have a reference page with links to all the sites that I gathered information from, if you want to take a look at different perspectives.
DISCLAIMER
I am not a professional cleaner, nor should anything on this site be taken as gospel. Always follow the instructions that came with your garment and have care in trying new products. I am not responsible for damage caused by following any of the suggestions on this site.
DISCLAIMER
December 9th, 2010
A lot on my mind this week, so I may end up with several posts, just going to start typing and see where I end up.
I had a couple random ideas last week. The first being around forced feminization. Wikipedia defines it as: when a man is forced to put on women's clothes and instructed how to behave and talk Yes, I am a girl, yes, I previously owned skirts and dresses. But I only wore them for Very special occasions – weddings for the most part, once I got out of school, and the Renaissance Festivals. Currently, at his request, and because it is too cold for shorts in December, I wear skirts four days a week, not always the entire day, but two of those days, it is generally two different skirts or dresses.
I regularly have people bring me skirts and dresses to increase my "girlish" wardrobe. I am often teasingly scolded for my lack of stockings. At play parties, I am often told I need more appropriate footwear. One of the groups I'm involved with in town has caused me to buy more lingerie in two years than I have ever owned in my entire life. Last time my mother visited, I even let her take me shopping to buy multiple skirts, and bought a couple on my own at a thrift store, and I don't even buy clothes for myself normally. As noted last week, skirts and other girl clothes are big items on my wish list this year.
I think Wikipedia would consider all this to be consensual feminization, but every now and then I pause and wonder. Wow, when did I become such a girl? And then I feel better about myself when I get an invitation to shopping event involving make-up, manicures, perfume and other such things, and I remember that I am not that much of a girlie girl. Nothing wrong with all those things, they are just not me. I'll stick with dressing more like a girl, because it not only makes the men happy, but it also helps me feel good about myself and my body.
Second random thought was about masochism and sadism. Back to Wikipedia: Sadism is pleasure in infliction of pain or humiliation upon another person, while masochism is pleasure in receiving the pain. I went to a class taught by Midori earlier this year, where she discussed the term pain, and her preference for "intense stimulation" instead because pain can encompass so many things that are not pleasurable. But that is neither here nor there, my thoughts were running along the lines of what am I really? I identify as a pain slut, so masochist is obvious.
But I also top violet wand scenes, delight in watching him giving others intense sensations and find entertainment in my own intense sensations causing distress in others. Does this make me a sadist? The latter two are not me inflicting pain or sensation, just enjoying the results of someone else doing so. When I top electric scenes, I am not doing so to cause pain. I enjoy making people squirm and squeak, but usually I'm trying to ticklish spot. I do not go for the screaming and the expressions of pain. It is intense stimulation, I agree, but I'm doing it to teach and share my experiences and enjoyable stimulation. I do not get joy out of Causing pain and am hesitant to even try, though I can be enlisted as restraints, tickler or biter.
So, perhaps, I'm a voyeuristic sadist, enjoying watching the pain of others and occasionally being a tool to assist in the causing of the pain. I think part of that also comes from knowing how much I enjoy the sensation they are receiving. So it is a sympathetic or empathetic enjoyment, as well as enjoying the interactions for themselves and the people involved.
I think I will stop there for the moment. I have another topic to write about, but it is much bigger and more personal. So I'll post this as it's own post, and work on the next one separately. What are your thoughts on fashion, pain and enjoyment?

August 19th, 2010
He likes latex, more than likes, drools over, pets, strokes, enjoys latex. We have window shopped latex for months. Last month, for my birthday, I bought three pieces (thanks Mom and Dad, and just keep thinking I bought work pants, okay?) – hot pants, a skirt a tank top with molded breasts. I wore the hot pants first, they were quite a hit, literally (wonderful spankings ensued). Latex makes a Lovely noise when smacked. The following weekend, the skirt and tank top. The skirt fits great, except I think I have it up a little too high, I have to fold or roll the top bit down just a little (but more wonderful spankings, and the air pocket added to the fun noises). More experimenting to figure out the best fit. The tank top… well, let's just say, my breasts are not that shape and my torso not quite that long, so it was fairly awkward, though still quite shiny.
I had to learn a bit about latex care for these new items. Never having worried all that much about taking care of my clothes before, latex requires a bit of attention. I read up online and asked friends for suggestions. Ultimately, I went out and bought baby powder, baby shampoo and a silicone based lube. The baby powder helps in putting them on and staying comfortable in them as well as keeping them from sticking together when I store them. The baby shampoo was the recommended "mild soap" to wash them after wear and has worked quite well. The lube is used to shine them up once they're on me. Being new to the latex fetish, I did not realize that it was generally dull, unless actively shined. The first two times they were worn, I shined them up with a soft cloth as one site suggested. But the third time, this past weekend, the skirt was just not shiny enough for him. So he told me to do it again, and when he saw I had a cloth, I could just about hear his eyes roll. "Use your hands." I put the lube on my hands and rubbed it in for a Much better shine. As he pointed out, the cloth was absorbing more than it was transferring.
So, what's next? I have come to really enjoy latex myself. He was right that I bought it for him and my gift was his happiness (the spankings are a good benefit, too). But I'm finding that I really enjoy wearing it. It makes me feel… shiny and sexy. I'm (window) shopping for more latex. I want more than just black for certain, but also more types of pieces. My first priority is a red (non-molded) top to go with the black bottom pieces. I am also thinking about gloves, though that might be tricky, I wouldn't be able to do electric scenes wearing them. Stockings. I keep being told I need to get stockings. Right after which I'm told I need more appropriate footwear – high heels or shinier boots. So, having no fashion sense whatsoever, I'm thinking of: black high heels, red stockings, black skirt, red top, black gloves. Also, having no extra cash flow, this is just a dream for now, but it will hopefully become simply a goal in the near future. Then, on to other colors of the rainbow, or at least purple and blue.