September 17th, 2012
He has a lot of boxes, has been tormenting us with the thought of 18s all weekend. We set up the massage table to sit on, he gets a bench in front of us. Sitting side by side, naked, she's still blind. He picks up a box with three boxes inside: 22s, 20s, 18s. Asks her to pick. She points at the 20s. He grins and sets the box down. Alcohol pads, I turn my head and start twitching, he wipes down my left thigh and her right. Thigh? Yep. Then the iodine, painting a wide swath yellow. Two each, he tells us. 25, 22, 20, and 18. I don't know about that, we'll see. I've only ever done two before. I just don't know.
Her first. I close my eyes as he pops the first cap, kicking my foot against his bench. She screams a bit, and then it's my turn. Her hand on my back. Did you orgasm? What? I look at him. I counted to three. I… no, sorry, Sir. Pay attention, are you ready? Yes, sir. I close my eyes again.
Breathe in. 1. Breathe out.
Breathe in. 2. Breathe out.
Breathe in. 3.
Freeze. Pain, screaming, orgasm. Thank you, Sir. Gasping. Tears.
And he's counting for her again. Breathe in. 3. Good job.
Small orgasm numbs the pain. Thank you, Sir. I calm a little as he returns to me.
Breathe in. 1. Breathe out.
Breathe in. 2. Breathe out.
Breathe in. 3.
Less pain this time, squealing, orgasm. Thank you, Sir.
Time for the 22s.
Panic, fear, adrenaline, shaking, please put your hand back. Her hand on my back.
He counts her third. I orgasm, thank you, Sir.
You ready?
I shake my head, try to get a grip. Deep breath and settle.
Breathe in. 1. Breathe out.
Breathe in. 2. Breathe out.
Breathe in. 3.
Screaming pain, orgasming, shaking, oh yeah, breathing. Thank you, Sir. Crying.
You can cry all you want.
I know, Sir.
Counts her fourth in.
Orgasm, twitching, thank you, Sir.
You ready? Sobbing, breathing, settling to be still. I look at him, so happy.
Breathe in. 1.
Breathe in. 2.
Breathe in. 3.
Pain. Screaming. Orgasm. Gasping. Thank you, Sir.
Time for the 20s. Oh god.
He runs his finger over the needles, it feels funny.
He jokes a bit, I can't remember the words.
Can I swear at you, if I call you Sir?
No.
I'm not sure how I haven't sworn yet, but I know it's coming. Twice as many already as ever before. He does her next one, and she screams louder than any of the others.
Not helping.
Good job.
Thank you, Sir. It sounds funny, me thanking him for my orgasm after he tells her she's done a good job.
Are you ready?
Breathe, settle. Stop kicking. Squeeze her hand.
Breathe in. 1.
Breathe in. 2.
Breathe in. 3.
Scream. Gasp. Thank you, Sir. Fuck me. Ow. Tears.
Back to her for number six.
Good job.
Thank you, Sir. Still sounds odd.
Deep breaths, look at his eyes, glance down at my thigh, back to his eyes. So happy.
You okay?
Yes, Sir. How in the hell am I okay. I'm they don't hurt once they're in. Too much adrenaline and endorphins to freak out. Remembering to breathe.
Ready? He pops the cap, I squeeze my eyes shut, grab her hand.
Breathe in. 1.
Breathe in. 2.
Breathe in. 3.
Screaming, Why do they hurt three times? Hold my breath and writhe through the orgasm. Thank you, Sir.
Time for 18s. Oh god, oh god, oh god.
She's never even done them before. Me first? Oh gods no. No, he'll do her first, he wants to see how they push and drag. Oh god, stop talking about dragging.
She takes her hand away to brace herself. And screams a lot.
Thank you, Sir. Oh god, that sounded horrible.
You're not going to give up on me now?
No, Sir. Kicking the bench. Breath, relax. Oh god.
Ready?
I close my eyes and look away. Grab her hand.
Breathe in. 1.
Breathe in. 2.
Breathe in. 3.
Scream, scream, scream. Oh god that hurts. Ow, ow, ow. I don't think I remembered to orgasm. It didn't stop hurting. I tapped my foot. Breathing. Fuck me.
Her last one went better, thank you, sir, orgasm bringing the pain back down. And then it was my turn again. Needle number eight, on my god, was I seriously doing this? I couldn't stop now. Just one more needle.
Breathe in. 1.
Breathe in. 2.
Breathe in. 3.
Screaming, gasping, orgasm. Thank you, Sir.
Runs his finger over them, feels funny. I look down. Not too bad, all capped. The caps had kept falling while I twitched, but I don't remember when exactly. He took the caps off, wanted pictures. Of our legs, then us snuggled together. She got her eyes back so she could see.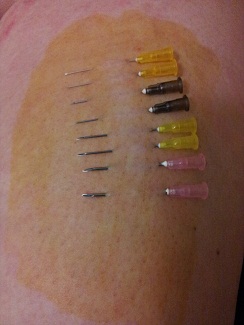 Then he pulls out his TENs. Could we last or did we want the needles out. Once in they were fine. How was it fine? Ah adrenaline. Floaty happy. TENs was lovely, happy tingly TENs, writhing, moaning happily. Gods, I love TENs. All the way up to the top. I get distracted, poke my arm with three of the needles. Gives me gauze, hold it on.
Time to take them out. She hates this part. Stings a bit, but it's not nearly as bad as in. Breathe through them, one by one. Oh god, they're bleeding. It's dripping. He wipes them up, cleans the table. Gauze, hold it tight. She clots much faster. I made it. We both did it. Her first time with 18s, my first time with so many needles and three of those gauges. So proud of us. I show off the marks to everyone who will look the next day. So happy and proud. Incredible scene.
September 30th, 2011
So, Thursday's story sent my brain off into more dark directions. It decided I was being too nice. That scene was made up of things I would do and enjoy (for the most part). My brain decided That for better fear and helplessness, the bondage chair should be removed. That somehow, the girl should be suspended in the air, touching as little as possible, but without the restraints causing undo strain or sensation. I ran through several scenarios, even drawing some out, until I decided the best I could come up with (between helping customers at work, I haven't stopped thinking), was to tie someone standing up, spread eagle in the center of the room.
The blindfold stays, but not the headphones. For the specific reason that all the tortures needed to be upgraded. And all the upgrades required sound to have the greatest impact. Instead of the TENs, start with an electric flyswatter. The high pitched whine of its charging, and sudden jolting shocks. Move on to a stun gun instead of a violet wand. The crackling sound can make me cry faster than the pain it inflicts. The clothespin zippers being replaced by a dragontail or single tail. The crack makes me twitch even when it's used on someone else. The final straw – well, needles terrify me, sure enough, hard to top that. But if we're going for sounds, it would have to be sparklers.
Ah, the brain of a masochist. It also pondered a snake to top it off, they hiss and all. But then the animal brain kicks in, forgets it's a fantasy and says, no way, that's just too much at the end of a hard scene. And tosses the masochist in a cage.
She just tried to escape again. Talking to toy about make up and it being too messy. Masochist brain tried to grab that and run off to design an torturously gooey scene with my dislike of messiness. I quickly slammed the cage shut and decided to write this to keep it quiet.
September 29th, 2011
Blackness.
She tried to blink, but couldn't. Coming more fully awake, she realized her head was covered in fabric. Tight. It wasn't a headache, her head was tightly wrapped. Her ears hurt. Not badly, just a mild ache. Static. There were headphones over the wrappings, playing white noise. She tried to move. Nothing. Taking a breath to stem the rising panic, she realized she was at least free to do that, nothing blocked her nose or mouth. Something at least. She focused on breathing for a few moments.
Sitting.
She sent out her conscious the the rest of her body. She was sitting up, arms bound to the arms of a chair, wrist and elbow. Metal chair and legs bound to the legs, ankle and knee. Her head and waist were secured, as well. Naked. Completely naked. She shivered, though it was not cold.
She still felt groggy. What had happened? Where was she? She remembered the club. Out for a night on the town while her partner was away. Business trip. Back on Sunday. Was it Sunday yet? It had been Friday night. Was it only Saturday? She danced and drank with her girlfriends. They mainly ignored the men trying to pick them up. Ladies night out.
There had been one man. Persistent. Dark. Handsome. He'd caught her eye a few times. Sent her a drink. Oh god. What had been in that drink? Had she gone home with him? She remembered him staring at her while she accepted and tipped back the shot. Hot, hungry eyes. She didn't remember anything after that.
Cold.
She gasped as a cool breeze passed over her body, mirroring the cold shiver running down her spine. She felt air moving around her, goosebumps covered her arms and legs. Someone was near her. Was it him? What did he want? Why was he doing this?
"Who's there?" She called into the silence. "What do you want?"
She felt small pads being placed on her body. Two on each breast. Two on each arm. Two on each thigh. Two on each calf. Wires tickled her skin. She tried to turn her head, tried to thrash free, but there was no slack anywhere. Her body started to tingle and she froze. The tingling grew, first in her breasts until she yelped. Then those stayed steady and each limb's tingling grew, one at a time, until she made a sound of pain, then stopped. Then it all stopped.
Breathe.
She reminded herself to breathe, and the white noise stopped, replaced by a voice.
"Where were you last night?" A computerized voice, loud and harsh.
"At… at the club. Syrens."
"What did you do there?"
"I danced, and drank with the girls."
"Then what?"
"I… I don't know. Someone sent me a shot. I don't know."
Pain. All of the pads sprang to life at once. Her muscles clenched and she screamed.
"Who sent you the shot?" The pain stopped.
"I… don't… a man. Tall, dark, black hair, blue eyes. He was wearing a black suit and a red tie."
"Did you know him?"
"No."
"Did you talk to him?"
"No. I don't know. Not before he sent me the drink."
"What was the drink?"
"I don't know."
"Did you drink it?"
"Yes."
Pain erupted again. Pulsing this time, making her muscles jerk out of her control, breasts feeling like they were being stabbed.
"You drank something, sent by a stranger, without even knowing what it was?"
"Yes!" She couldn't help but scream.
The pain surged for a moment and then relented.
"Then what?"
"I…" she gasped for breath, terrified of the answer she had to give. "I don't know. I woke up here."
Just her legs this time, higher than before. It felt like they were trying to curl into the chair. She clenched her jaw and growled at the pain.
"You expect me to believe that?"
"It's the truth." She grunted.
"Maybe more pain will clear away the fog."
All the pads sprang to life, in a wave of pain, from her calves up her thighs to her breasts and then out her arms. The pain growing and receding up and down her body. She writhed against the bonds, straining her tortured muscles even more. Her feet did not touch the floor, but curled helplessly in the air. Her hands clenched at nothing, just beyond the arms of the chair. She growled and grunted, screamed and whimpered. She had no idea how long it lasted, almost started counting the waves once, but gave up as pain overwhelmed her. Finally, it stopped.
"Now, what did you do after you drank the shot?"
She gasped for breath, drenched in sweat, shaking with leftover energy. Panicked and still without an answer. She wracked her brain, having been incapable of thought while he tormented her. She saw his eyes, remembered tossing back the shot. It burned. Her head swam.
"I sat down. He came over."
"Did you talk to him?"
"I… I must have. I don't remember. It was Ladies' Night. I wasn't supposed to. I must have."
"Then what?"
"I…" She didn't want to say she didn't know, she tried to think, she wondered if he'd know if she was lying. "We danced." She tried, not sure if it was a lie or not.
Stabbing pain in her breasts, her arms seized. She screamed and it was gone.
"Do not lie to me. What did you do after he came over to talk?"
"I don't know." She was shaking and gasping, fear and pain warring for dominance.
The white noise came back in her ears. Her body started tingling. All the way back down to the beginning, all at once, and built slowly up. They did not stop for her screams this time, but kept building until she was thrashing and sobbing as much as her bonds would allow. Then he pulled the pads off, one by one. Starting at the top. Until all were gone. The tension released, only the restraints kept her from sliding to the floor. Tears soaked the fabric around her eyes, her lips moved, but only breath escaped.
Darkness. Static. Nothing.
She regained control of herself. Got her breath and heartbeat back to normal. Calm for just a moment. Still nothing. Panic started bubbling up again. She focused inward, no injury or lasting pain. Outward, she felt no movement, no breezes, nothing. Was he gone? What did he want her to say? She couldn't remember what had happened. What if that wasn't good enough? Was he mad she didn't remember him? Why was he doing this? Her mind spun in useless circles. She had only the vaguest impression of him coming towards her after the drink and then nothing.
"Let's start again. What time did you go to the club last night?"
"9 o'clock." Grateful to have a question she could answer.
"Who did you go with?"
"Erika, Sarah, and Heather."
"How much did you have to drink?"
"Two glasses of cider, a cosmo, and that shot." She shivered a little, hoping she hadn't had more after the shot, but not knowing.
"When did you leave?"
"I…" Panic. "I don't know."
"Who did you leave with?"
"I don't know."
Shocking pain ran down her left thigh.
"Not good enough."
"I don't. I had the shot. He came towards me. And I don't know."
Her right thigh this time, a straight rod delivering high voltage directly to her skin. She squealed.
"Tell me what happened after the shot."
"I don't know, I can't remember."
She cringed against the chair as the rod delivered shocks across her breasts, right over the nipples, crying out and trying to wrench free.
"You do remember."
"No, I don't, I can't."
The electricity crackled from her left hand, up her arm, across her collar bone and back down to her right hand. She screamed, then gasped for breath.
"Tell me."
She bit her lip. "I…" What could she say?
The rod ran down her chest, over the left nipple, down to her clit and back up again, right nipple not spared. She swore vehemently, but he only did it again, in the opposite direction.
"Such language. Now, tell me what happened."
"I looked over at him, lifted the shot in a salute, drank it down. It burned my throat, and hit hard. I sat down on my stool and looked back at him. He had gotten up, and was walking towards me."
"And then?"
"I don't know!"
He ran the electricity over her arms, chest and legs in big zigzagging motions. She screamed in protest, trying to thrash, or move, or jerk, or anything but sit there perfectly still, except for her hands and feet clenching and curling in the air.
"You do know, you just won't tell me. This would all end, if you would just tell me what happened next. Don't you want me to stop?" He zapped her clit.
"Yes, please. I do. But I don't know. I can't tell you. I don't remember."
He answered with more electricity. Fingertips, toes, one by one. Up the side of her calves, the inside of her thighs, circles around her clit and her nipples. Tell me, echoing in her ears with each shock. She squealed and clenched her fists and fought the urge to curse. He zapped her earlobes and the tip of her nose and she forgot herself, spitting curses until he zapped her lips. She snapped her mouth shut and breathed heavily through her nose, curling her lips inward and licking them.
"Are you going to tell me?"
"No." She gave up on insisting she couldn't, he didn't seem to care.
"Then remember, you could have stopped this."
Static. Darkness. Cold.
Constant cold air was blowing on her now. But he had stopped hurting her. Stopped asking questions. She wasn't even sure if he was there anymore. What now? What else was he going to do to her? Why didn't he believe her? What else could she say? She wracked her brain, trying to pull up more of last night, but there was nothing. A big black hole in her memory. Why hadn't her friends saved her? Why had they not been there for her? How had they let her end up here? Did they even know what had happened to her? Had they seen her leave? Had they told anyone she was missing? Was anyone looking for her?
"Are you ready?"
"No."
"Will you tell me what I want to know?"
"I… no."
"Why?"
"Because I don't know what you want me to say."
"The truth. What happened after you drank the shot?"
"He came towards me. And then I don't know what happened."
"Wrong."
Pinching pain seared through her nipples, causing her to gasp, but this pain didn't go away, and she started to whimper.
"Tell me the truth."
"I can't."
More pinching around her nipples.
"Two clothespins for every lie. What happened?"
"I don't know."
Now there were three on each breast and she was panting and squirming with the pain, tapping her feet in mid-air and clenching her fists.
"Tell me."
"He came toward me. He must have sat down. We must have talked. We didn't dance. But I don't know."
Two more, above her nipples. Strong and small. She breathed quickly with the pain, whimpering with every exhale.
"Tell me."
"I can't, you know I can't. Please, I don't know."
Two more at the top of her breasts.
"You can, I know you can."
"No, please, why are you doing this?"
Two more just below the collarbone.
"Tell me, now. I just want the truth."
"I don't know. That's the truth."
Ripping pain as he yanked all the clothespins off at once. She drew a sharp breath and then screamed. Shaking, and shivering against the chair.
"Apparently I'm being too nice."
Cold liquid splashed over her chest, then arms and legs. It smelled like alcohol. He ran a wet cloth over her exposed skin. She shivered harder, terror rising bile into her throat.
"What, please, what… I don't know what you want. Please…"
"Only the truth. That's all I've ever asked for."
Stabbing pain in her left breast, sicking sliding under the skin and another burst of pain. A needle, he'd just slid a needle through her skin.
"Oh god, please. Don't, please."
"Then tell me."
Pain in her right breast, she could only focus on the horrible feel of the needle sliding through her skin.
"Tell me the truth."
"Please, please, please. I don't.. I.. please, I…"
Pain lower, right above the nipple, slower, sharper.
"Tell me, and I'll stop."
"I.. please… don't, I… please."
The other breast again, right above the nipple, matching sets of fear and pain.
"Tell me what happened after you drank the shot."
"I don't know, I woke up here, I must have passed out. I don't know."
"Good girl."
The needles came out fast and clean. She was crying and shaking as he wiped down her breasts with alcohol. The headphones came off, the wrapping around her head started to unwind. She was dizzy, she didn't understand. What happened? Light began to assault her eyelids, she cringed away and found she could move her head. The restraints were coming off her arms, then her legs. His body was in front of her lifting her, carrying her, a hood still on her head, but thin. Softness beneath her, a bed. It was darker here and he slid the hood off. Stroking her hair.
"Such a good girl."
She opened her eyes, startled by her partner's voice after so long with the computerized one.
"What?"
"Shhhh. You did so very well." He wrapped her in his arms and she curled up against his chest, sobbing with relief. "Such a good girl." He repeated.
"Thank you, Sir." She whispered, as she fell into an exhausted sleep against him.
"You're welcome, little one."
July 21st, 2011
So, this extra post is inspired by a several things. One, it's my birthday on Sunday. Two, toy was giving me a hard time about not asking for things I want (for my birthday). And three, he made a comment the other day that a lot of our play has been about things that he likes(it's awesome and fortunate, that our kinks match up so well), and due to various things over the last week, he's curious to try some of the stuff that I like. Thus the straitjacket on Monday. So, without further ado, here's a short list of scene ideas that came to mind when I thought about my upcoming birthday… while at work… and bored… in the order they came to me.
Obviously, over the knee, barehanded birthday spankings. This one's just a given. It's tradition in all parts of life, to give birthday spankings. So, I want bare hand on bare ass and dear gods, please over the knee, but hey. Girl's gotta have something special.
Clothes cut off. I have had this in my head for a while now, but I never really thought too much on it. But when I was writing this list it was second to come to mind. I realized that Every kidnap fantasy I have, they cut off my clothes. This is one I've never indulged (it requires pre-planning or the sacrifice of cute clothes), but apparently is a huge turn-on for me.
Suspension. It's just all kinds of wonderful and always on my mind. He suspended me last week, quick and dirty, but oh so nice, and spacy. Lovely. So, I think this wish has been nicely fulfilled.
Sex. Oral. Masturbation. Well, duh, it's fun. (I'll get a little more creative further down the page.)
Intense rope scene. You know the kind. Tied up tight, rope after rope, losing freedom bit by bit. Digging in, dropping down, nothing but you, him and the rope. Eeling optional. The kind of eeling that when you get something free, he just ties it down tighter. And you're both exhausted by the time the last rope is removed.
Electric oral. I've been curious about this for ages. Since the first time he mentioned it. In that kind of terrified, but oh so curious kind of way.
TENS masturbation. I want to find the right places. I've played with TENS units on various occasions in various ways, but I've never found The Spots. Yeah, we've turned me all tingly and what not, but I hear stories of more and better. Of getting it to cross the clit. Of getting it to cause orgasms. So very curious.
Vibrator orgasms until collapse. Writing this made me laugh, then blush. There's nothing like a Hitachi going on and on until you've had so many orgasms that you're begging for it to stop. And then being forced to have more.
Clothespin challenge. I wrote this at work with ?'s around it because most of my thoughts were not around painful scenes. The idea popped into my head, inspired by Monday, and spurred on by memories of a game show. How many clothes pins would it take? How many is too many? I think lying down I could take more than standing up. I have this problem with breathing. And then what about taking them off? One by one? Or a big long zipper?
Sensual flogging or drumming. The rhythmic kind, meant for spacing out and massage. Not the pain of catharsis, not looking for tears or challenge. Just music and thumping and letting go.
Full body massage. This goes on the same line. Just soft sensation, of touching and caring and love.
June 2nd, 2011
Who is The Perverted Imp?
I am a 30-something woman with a degree in creative writing. Except for a three year stint out west, I'm a MidWestern girl. During college, I traveled to Ireland, England and Australia, as well as all over the US. I work with books in the morning and computers in the afternoon. By night, I am a social butterfly, hanging out with my loved ones, gaming, and participating in a kinky stage show. I enjoy most music in which I can comprehend the lyrics, movies that are not full of senseless gore, and books with interesting characters. I love forests, meadows and rivers. I have rheumatoid arthritis, and allergies to Neosporin, mice, dust and cats, in that order. My favorite color is cobalt blue, and I adore watermelon, pizza and bacon.
Who are the other people mentioned here?
Hubby – is my husband of nearly seven years as of this posting. He is my Master, the love of my life, and my rock. He is the one I come home to, the one who supports me no matter what. He understands me, protects me and takes care of me every day of our life together. I am in love with him, forever and always.
Him/he – is my boyfriend of about a year and a half now. Rigger, Dom, Mentor, Teacher, Sir, and friend. He guides me and helps me and challenges me to go places I never thought I could go. He holds up a mirror and a light, showing me myself and the path I have chosen. I am in love with him, may it last forever and always.
Toy – is an amazing young woman that he and I have taken under our protection. She has agreed to be our toy, to play with us, learn from us, and teach us about herself. Through her, I am learning a lot about myself. I love her dearly.
Lover – is now an ex. He was my play partner, lover, or boyfriend for around two years. He taught me many things, about kink and poly as well as about finances, health and business. He made a great contribution to my life, though we are not together anymore. I will always have love for him.
Why am I blogging?
I hit two years recently. So, why am I still here? What brings me back every week? What fills my tummy with guilt if I don't get a post done each Thursday? I don't have a huge following. I don't have comment conversations running into pages. I do have a handful of loyal readers who know and love me. But I could just as easily talk to them about my life. Why blog?
I read, as a child, to escape. I wrote a young woman to escape as well, and to give others escape. Then I joined this kinky world, and I didn't need to escape anymore. My fantasies were real, my life was amazing. I wanted to share.
I wanted to let others know that they aren't alone. I wanted to let others know that someone else made the mistakes they are making. That someone else made bigger mistakes. That someone else in this wide world feels like they do. That someone else wants what they want. That someone else enjoys the unusual things they enjoy. I wanted to reach out, and touch someone's life, even if only for a moment, and even if I never knew. Occasionally, I get a note from a reader, letting me know I touched a life, and it makes me so happy. So here I am, and here I will be. Sharing for all who care to read.
How do poly and kink interact in my life? Would/could I be one without the other?
Poly is how I explore kink. No one person can be all. No one partner can satisfy every urge or desire or kink. I have different relationships, different dynamics with each of my partners. Every relationship I've ever had, has explored kink in a different way. Some had similarities, but they are all unique. I have a wide variety of interests, and I don't want to try to fit it all into a single relationship. Fortunately, I don't have to anymore. I have found poly to be part of who I am and am grateful to everyone who has helped me on this path. I have been kinky while being monogamous, but I don't think I could ever again not be kinky or poly in nature, if not in fact.
What are my top kinks?
Rope Bondage – Hemp, jute, cotton, suspension, box ties, hog ties, prisoner ties. The smell of hemp from his tub, found nowhere else. Rope rubbing on skin, rope around the neck, rope through the crotch. Rope squeezing and holding and pressing. Rope marks, rope burn, rope tails whipping around. The feel of it holding me tight, letting me find freedom. Drifting off into space, secure and safe.
Intense Sensation – Over the knee spanking, bare asses spanking, slaps, flogging, dragon tails, single tails, paddles, cricket bats, canes, wicked sticks, violet wands, TENs Units, stun guns, stingers, flyswatters, biting, pinches, pokes, pressure points, forceps, nipple clamps, Leatherman tool, clothes pins, fire, fear.
Power Exchange – Kneeling(for him, at his feet, in submission, in meditation), behavior control(carry the drink just so, speak only when spoken to, eyes on the floor), hair pulling(his hand in my hair, taking complete control, mind and body), commands(with just a single word or motion, I am his), service(boot blacking, taking care of him and his things).
Sensory Deprivation – A blindfold to take a way sight. A hood or earplugs or earmuffs to take away sound. Tape or a gag to take away taste. Mittens or straitjacket or plastic wrap to take away touch. A hood to block smell. How many senses will you have left? How many do you need? Sense what you can, listen, taste, touch, hear and smell. So easily taken.
Random List of Words I Have Used Recently and My Attempt at Defining Them
Kink – a deviation from conventional practices in sexual behavior.
Polyamory/Poly – many loves. The practice of having or accepting more than one loving romantic relationship at a time, with full consent by all parties.
Limits – boundaries in kinky play. Soft limits are things you do not wish to do, but may do with certain partners or under certain circumstances. Hard limits are things that you do not wish to do at all. Limits can change with time.
Space – an altered state of mind caused by particular stimuli. Sub space, rope space, pain space.
Masochist – a person who enjoys receiving intense sensations for sexual pleasure. Colloquially a Pain Slut.
Sadist – a person who enjoys giving intense sensations for sexual pleasure.
Bondage – the use of restraints for sexual pleasure.
Power Exchange – the giving and taking of control, physically and mentally.
Sensory Deprivation – the removal of any or all of the five senses for sexual pleasure.
TENS Unit – a medical device in which electric current is used to stimulate nerves for therapeutic purposes, often to relieve pain.
Violet Wand – a quack medical device, in which low current, high voltage, high frequency electricity is applied to the body in a variety of ways.
Nipple Clamps – small clamps that are attached to the nipples to cause intense sensation and restrict blood flow. They come in many sizes and shapes.
Flogger – popularly known as a cat o' nine tails, floggers can have any number of tails and be made of leather, fur, rubber or even rubber chickens. Uncle is made up of hard rubber conveyor belt cord.
Dragon Tail – a type of single-tailed whip, the Dragon tail is usually made by a wide piece of leather attached to a handle on one end and tapered to a thin tail on the other.
Bishop's Chair – a bondage chair that is comprised of a tall back which the torso can be strapped to, crossed horizontally by a long plank which the arms can be strapped to, and a seat comprised of two planks set at a V, usually with eyelets on the legs for the ankles to be strapped to, leaving the victim spread wide, bound and vulnerable.
If you have any more questions, please ask.
May 25th, 2011
Chores done. Dressed and ready. He comes home, quick chat about the day and the state of things. The fly swatter is already out as he grabs a snack. Popping sparks. Toy backs away and is called forward, she still shies and is put on her knees. Earplugs, and headphones. Can you sign to her? But her glasses are off, I have to sign quite close. Can you hear him? No. He sends me for a blindfold. Blind and deaf now, I lead Toy downstairs.
Holding Toy's hands in the playspace. I step away to put my glasses on a shelf, she reaches out for me, not quite frantically. He sets the music, I can't tell if she hears the beat or is just fidgeting. The movements irregular. He gets on the leather ankle cuffs for her, and then the bondage mittens. Drags her to the cage and sets her in it.
Toy looks Hot!
She does, but there's a frown on her face. I never fully enjoy it when they frown. But Toy does look hot, all bound and sensory deprived.
He gets out some hemp, 8mm. Starts to tie.
You know, it's going to be your turn to be ignored first soon.
Yes, Sir. I'm okay with that.
Especially if it includes sense dep, I can sink into that, into whatever senses remain, spacing out the others. Delicious.
He gets an evil idea and grabs the TENs to distract Toy. Her breathing changes, but she stays fairly quiet. He returns to the rope, starting a drum tie. Slight panic in me as I realize I'll be upside down. It's been a long time, will I have the stamina? The tie is tight, secure. Rope burns as it passes. I can't quite space, Toy is too distracting in her predicament.
He pauses between ropes to change up the TENs, we watch her reactions. She's still quiet, not sure if she's enjoying it or not. She's not saying anything. It takes quite a few turns before we get any moans or whimpers.
Would I rather be in Toy's place or mine? Mine, I like leather and sense dep, but here I have rope. He points out that when I'm upside down, certain tender bits will be quite open to Uncle. I panic a bit more. Gasping and whimpering slightly. Oh gods, that'll hurt. The 'biner is put in place, not as painfully as I'd feared. Then comes my blindfold.
Panic. Space. Floating. I won't be able to see what's coming. Fear. Breathe quickens. The blindfold is tight around my forehead. My eyes close automatically. I feel myself floating away, still standing. Calm down. But I'm gone, sub space take me away.
I feel him get the lift rope. He drops me to the mats and threads it, pulls and I am up. I fidget for a moment with my arms, settling for my hands on my head. He spins me. Focus, breathe. My hands are the solid point. I'm not really spinning, I tell myself. My hands are the solid point. I am stationary in regards to my hands. Keep breathing.
He goes to Toy and I hear rhythmic flogging. I hear her, too. Whimpers and moans. I think there were a couple swipes with Uncle then. Louder moaning.
I can hear metal tinkling. Nipple clamps, I think, later I find out how wrong I was. He bring some to me, too. Sharp, tiny stabbing pain. I think it's the ones he used last time, but it hurts so much more. I squeal and gasp, curling upwards and grabbing the bottoms of my breasts. the usual reaction to keep nipple clamps from dropping, but useless in my upside down state. I dare not touch them. So much pain, my gasps turn to tears. I can't do it, I am going to fail so soon, I am going to yellow. Oh gods, it hurts. But he takes them off before I am completely overwhelmed. And I hang, hands back on my head. Focus and breathing take longer to find. My hands are the solid point. I am not spinning. Breathe and listen.
Uncle returns, slapping the undersides of my breasts. More squealing and curling. Forcing myself to drop my hands back to my head, exposing myself for more strikes. Promised strikes on exposed flesh, keep my legs where he puts them. Hits on the feet, solid, comforting.
Toy squeals too, but mostly I'm just listening to her for hints of new implements. A paddle, not the speed hole paddle, this one is longer and thinner, more solid. More like being hit with a big stick than a paddle. I'm at such an odd position for corporal.
I feel him untying the lift line, spinning it out. Focus on my hands. I am not spinning, my hands are the solid point. Breathe, relax. And I am in his arms and then on the ground. Gasping for breath, and toy squeals as he tosses her down behind and on top of me. Her arms and head over mine. Both of us gasping and ragged, he leaves us to recover.
The headphones are painful, but I do not protest. I twitch and she moves after a while. Thank you, Toy. But she cannot hear me. Finally, our breathing is calm. She readjusts for her own comfort, too. He returns, sits on the bishop's chair silently. Leaves again. Returns this time with the flyswatter.
Up! Get up! He smacks us with the flyswatter.
I struggle off the floor. Toy gets up, behind me.
Kneel! Kneel properly! Show her how to kneel!
Smacking me with the flyswatter, I grab her knees, push them apart and place her mittened hands, then return to my own position. We kneel. I feel him sitting on the trunk in front of me. I can hear him stroking the flyswatter.
She's fidgeting!
He pops me again, and I grab her hands in panic to stop her.
Is she kneeling properly?
Another pop and I grab her knees and push them apart again. Really, Toy? What are you doing?? But I say nothing and return to kneeling.
We stay there, it isn't long, but I'm in a state of panic that she wills start fidgeting again. She doesn't, and he takes off my blindfold.
Look up at me. Untie each other. Come meet me at the massage table.
Scene done, now for clean up and aftercare.
May 12th, 2011
Tonight is Rope, maybe even suspension.
We arrive on time, head in and start cleaning. Check list complete, change clothes and cuddle up to talk and wait. He is home, a couple minutes to spare. We have a short talk about the cleaning and what it brought up. Toy and I go downstairs with tub #1, but he calls us back up because we're giggling and he's making himself dinner.
Down again when he's done and into the recently cleaned playspace. I sit on one leg of the bishop's chair and toy curls up at my feet. He likes the image of us there, and puts up the suspension ring.
Toy is pulled out to the mat, put on her knees, blindfolded and her arms bound in bondage tape. She immediately begins fidgeting with it. Up to the bishop's chair, strapped in securely. Told to listen, be aware and think.
I am brought to the mat, stripped down, pesky new skirt takes some effort. He grabs a couple lengths of hemp. Arms bound behind the back, and then ropes around the upper arm, near the shoulder and then near the elbow. A simple box-tie, and then up to the ring. He grabs my legs and I'm in the air. Wow, interesting, ow, not so nice, squeezing the arms. Remember to breathe in between moans, and down again. So nice to be experimenting again, I tell him where it hurt and he moves some the ropes down a bit. Up again, the pressure shifted, better, but still uncomfortable, but oh so interesting. And then I'm upside down, and he's giggling. Breathing ever so irregular, but it doesn't really matter. I feel secure and bound. He drops one leg, but I don't touch down until he lowers the other.
Order gets fuzzy here. He opens the chest of toys. I think the riding crop comes out first. Swats toy's thighs and then my legs. Mmm, nice little riding crop. He digs deeper, finds the paddle with speed holes. A few swats on my ass. So painful, I spin and squeal. He digs again, nipple clamps this time, it's a kind I've never tried. I yelp and he says he doesn't have to be nice here. No, Sir. My heart races. He digs out clips for toy as well. Uncle comes out then. Oh how I've missed it. Ass, thighs, breasts. Are you ready, toy? Toy gets a few swats as well. He scolds me to be quiet for the neighbors. He doesn't have to be nice here, but I should be quieter. Yanks on the chain. One comes off. The other is for Uncle. I whimper, my eyes pleading. He doesn't have to be nice here. No, Sir. And off it comes. Leaves me to stew. Something scary that she's going to like, toy says. And he pulls out the TENs, puts in on her thighs. I watch intently, curious how she'll find it. She doesn't say much. Intriguing and a few whimpers.
Toy's hand has gone numb from the tape. He cuts her out, unstraps her from the chair and sets me off the mat. Grabs the sawhorse to put behind me and lays her down on it. Ties one hand with jute and then comes back to me. Takes me down, unties the rope, hands it to me. I drop to my knees to coil it while he ties her more securely. Jute on the wrists and cuffs on the ankles.
We tickle her first, one at either end. He pinches her sore nipples, she squeals and squirms, quite trapped and helpless. He gets a Violet Wand. Paintbrush attachment. I hear happy trees in my head as he starts painting her skin. I tickle a little at first, but then notice I'm getting mild vibration in my fingertips, so I just run them lightly on her skin, not sure if she can even tell, or if her mind is totally captured by the shocks. He asks her questions and she struggles to answer. Teases, and plays, we grin over her helpless form. He threatens a straight rod, but grabs a bulb with a coil inside, playing over her skin. We circle her, still questioning. She loses track, forgets to answer, forgets the questions. He turns it off, torments more, she still can't answer, forgets more questions. I know the questions, I can help, I mustn't. We could leave her there, go for a drive… He turns out the light and we back off, watching. Waiting, tasty energy. She can't remember the question, Sir. He sends me off for Gatorade. I return, still watching and get dressed.
The light goes back on and he unties her hands, sits her up on the horse. Bends me over the end she just emptied and pulls out the speed hole paddle again. Paddles me as I squeal and squirm. Quiet not forgotten, but nearly impossible. I even cover my mouth with my hands a few times. He has me hold the paddle. It's light, Sir. What? Light wood, Sir. I want to apologize, it hurts like hell, but the wood and the holes make it lighter than I expected. Should she have more, toy? Yes, Sir. And more come, skirt up this time. Stings so much, and I start to slip into painspace. Yelps turning to moans and heavy breathing. But then he undoes her ankles and bends her over, too. Swats her ass some.
There are twenty more, toy. Do you want them? Or does she get them? Or do you want to share?
I want to tell her we should share, but he's asking toy, I have to be quiet.
Toy'll take them.
As hard as I can swing?
And then she starts using my name and I add to the torment.
Oh, no, Sir. She can have them.
I thought I was Miss, toy?
She can have them.
I thought I was Miss, toy?
Oh, no, sorry, Miss. Toy'll take them.
All forty?
Oh no, Sir.
No? So, she gets them? I thought you liked protecting people, toy? Don't you want to protect her? Her ass is already quite bruised.
Toy'll take them.
All forty?
Yes, Sir.
Will you count for me, toy?
Yes, Sir.
And forty whacks, she counts beautifully.
Paddle goes down, he gives instructions for clean up and goes to the couch. Toy and I clean up, putting everything away but the cuffs on her ankles. He says they can stay. Then we join him on the couch. Snuggles, light chat, and Human Cent-Ipad. Toy is a bit traumatized, so we watch Children's Hospital which is all sorts of odd, and silly. He sets up the chair and we start in on his back and shoulders. My wrists are being funky. He asks me to set up the table. We move over and I have a better angle. I mirror toy, her hands are stronger, but I do my best. Turns over and we finish working his arms. Then he grabs toy and torments her with logic, while I stroke his hair and giggle. She is aroused and I am amused. We finish aftercare between the kitchen and the couch. Talking, Dr. Who and snuggling, a great first night.
February 3rd, 2011
I've had a stressful week and I wanted to have a cathartic release last night. But, life happens, and things did not add up to that. I did, however, manage to find a comfort, and pain and solace. First, in a little hand held TENs, run along my lower arms for a few minutes, to let me get lost in sensation and relax a little. Second, in curling up between friends, warmth and snuggles to just not worry about things for a while. Third, in poking him and getting poked back, first a few pressure points, and then his hand in my hair. He held me tightly, dragging my head around to wherever he wanted it. Eyes closed, mouth open, gasping and losing myself in the intense sensation and bliss of his hand in my hair.
It was not a lot, but it was enough. Enough to give me some relief. Enough to make me feel loved. Enough to lighten my load and make me smile and fill me with gratitude.