February 26th, 2017
MP&C is getting back into the swing of things. We've had a few weeks of really good numbers <knock, knock> this month. Getting people in from WW, from FFF, from Meetup (change your password if you use this site), from 50 Shades Darker, and from all the various word of mouth and newbie groups/meetings. We're kicking into gear getting presenters (contact group leaders if you want to teach) for both Wednesdays and our Fetnights. And more crew is coming out each week, too.
He and I have been getting back into the swing of Wednesdays, too. We had some really great rope practice, trying out a different waist harness, in a couple different ways. I found it extremely painful, but I expected it, so could stay in it for a bit while we sorted out why. Then he tied me up old-school style, and I had a really great flight. Soaring up into the air, high enough to pull slight screams of delight as my tummy flip-flopped.
This past week, we had fun on the floor. The high points were full of people all night, working on rigs and ties, or just enjoying themselves. He decided to clean out his bag and I went to sit with him. He found his bag of clips and clamps and I ended up with clamps on my nipples and little red clips scattered about my body. Then he put one on my ear, on the cartilage at the front of my ear. This one just kept sinking deeper and deeper and brought me to tears in no time. I couldn't keep my hand from reaching for it, but I didn't want to actually touch it, so my fingers stroked my cheek and jaw right in front of it. Once he finally took it off my ear, the last of the clips and clamps he removed, he put it on my nipple. Then he ordered me to do five jumping jacks. It took me at least a minute or two to get to my feet and do it, my nipple so tender already.
The bag also held a bunch of Mr Malaprop toys, so he beat me about the thighs with those as well, as I sat beside him. He also pulled out Uncle for a few strikes to my thighs, chest and back, while I howled in pain. Both left some lovely bruises decorating my flesh. He also decided to use some of his favorite toys, that he always has with him – his hands. And squeezed the shit out of my calves, causing me to writhe screaming and crying on the floor. While I was there, he also smacked my ass, since it was right there in view, with a paddle or two. Squeezing my calves to hold me in place if I tried to squirm away from the strikes.
After repacking most of his things away, he kept out a bundle of rope and considered me. Motioning my shirt off, and saying not yet when I asked about the skirt, he began to tie. Rope tight around my chest first, and then around each breast. Cupcaking them for, either the first, or one of the few times in my life. Holding me tight against his chest while he tied and I moaned in pain leaning into him. He even put in a fuck-you line to complete the pain and difficult breathing.
Then he pulled out his whip and we were off to the corner of the room, so he had room to swing. With the tie, it was difficult to get my hands behind my back, but I mostly managed to keep them out of the way. He laid line after line into my breasts, while I squealed and screamed. He even had me turn to one side and the other, so he could catch just my nipples in the swing. A few off-target strikes here and there, but still today, my breasts are coated in red lines.
It was an excellent night of connection, pain, screams, tears, and love.
May 17th, 2015
Sometimes, it is really nice to go back to the beginning.
We had a whips class Friday night, with a very entertaining teacher.
Through the entire class, I sat watching the presentation on a massage table, while he stood behind me, flicking the whip across my back. Making my hair flick back and forth to find his range. Coming up beside me now and then, to runs his fingers over the welts, and check out a technique being shown. A class is going, so I keep my mouth shut, trying to keep the squeaks inside. Twitching at every sharp crack. He's picked up a whip now and then over the last few years, but we've really not done much with them since that first club. Gods, I've missed that.
Every major event that has had a vendor with whips, we've looked at them. He knows which one he wants. But the expense… I even considered finding the money and having daddy bring one up when he was coming to visit, but neither the money finding, nor the visit ended up happening.
Later in the night he ordered me back up onto that table, hands and knees, and flicked the whip across my ass and thighs. I squirmed and shrieked and threw him dirty looks. Until he ordered me to stillness, and I hunkered down, head between my arms. Still screaming, but staying far more still, though not completely- it's a whip for godsake.
Then the tears came. The fighting to be still, the sharp stings. Over and over in the same spot. And they burst free. He checked in a couple times, grinning, as I sobbed. Whipping them out more and more. Then he came to the head of the table and kissed me.
How'd that feel?
Good. But not so good on my shoulders.
I collapse down flat on the table. He grinned and ordered me to sit up on my ass, now covered in whip kisses, as well as the bite marks he'd left earlier. Wincing, I comply. And he returns to flicking the whip against my skin, this time the outside of my thighs, with an occasional arm-shot.
I am covered in whip kisses. This weekend. And we still have a rope class to go. So grateful for this wonderful life I live.
February 10th, 2015
A year ago, I traded 11 needles for 3 Cheddar Bay Biscuits at dinner. Due to circumstances beyond our control (and even our imagination), those needles were not paid. During the past year, he kept teasing me about the interest I was accruing, depsite my various offers to pay that never quite panned out. We never did settle on a firm rate of interest. Now, needles were planned, and my debt would come due.
He had three of us sitting side-by-side, all there for different reasons. He looked at me, a wide grin on his face. So, your interest will be paid like this, you choose the gauge, and you will get that many needles. What gauges do you have, I ask, knowing part of the answer, in the 16s he had bought earlier. 25, 22, 20, 18, 16. I ponder, and math, and fidget, and freak, and ponder. NOT doing 18 or 16. 25 sounds like way too many. 20 isn't really worth only getting two less. Alright, 22, I tell him. That's not so bad, the one on my right comments. I've only ever done 8 before, I reply, trying to stay calm. My feet are kicking, like a little kid, I can't stop them, nervous energy running high.
He comments on my having an awful lot of orgasms, since he counts out breathing to 3 as he puts them in. No, I can't, I really can't with this. He looks at me, and nods. I'm terrified, and terrified that I'll move while he's stabbing me. I just can't. He has accepted it, but I feel a bit disappointed in myself. I'll forget this quickly, however, as the needles begin.
We each pick our body parts. He prepares the skin with alcohol then iodine. Thighs for me, careful to choose the swaths that are clearest of bruising.
He starts on my left. I stop my feet, don't rock the table. 1.2.3. Then to me. You ready? I clench my hands behind my back, tears forming. No. Breathe in. 1. Breathe in. 2. Breathe in. 3. It slides in easily, I whimper. Not so bad, I think, as he goes to my right. Then my left. And back to me. The tears are falling, but dry up shortly after the second one as I begin to fly.
We go one by one. He counts, we breathe. Sometimes we scream. Sometimes we yip. Sometimes we grumble or growl. Always we are joking and making each other laugh. All of us flying high. He is bouncing, dancing, and giddy. I am complaining about how close together the needles are, there's plenty of space on my thighs. But he needs practice keeping them close because of the design work he's doing to the left. Somewhere around ten, he takes a different strategy. Finishing off the one on my left all in one go, to let her settle in before the lacing. Then he comes to me.
My 11th. Counts, and I scream. That one hurt three times! Ready? He moves to the next row. What? No? He counts quickly and slides it it. You have to wait for me to breathe! I whimper. No, I don't. I'm crying again. And another. And another. And another. Counting a little slower each time. He's done five before he pauses. More? No! Please. He moves to my right, finishing her 18s. As I regain control and start flying again.
Back to me. Four more? Three, I counter. He counts three. Breathe in, 1, breathe in, 2, breathe in 3. And again, and again. Then back to my right to start the 16s. We tease her about them not hurting, because she said bigger ones hurt less. Hurt Less, she insists, not don't hurt.
Back to me. Breathe in, 1, breathe in, 2, breathe in 3. Pain. Breathe in, 1, breathe in, 2, breathe in, 3. Pain. More? No, getting light headed. He goes back right. Back to me. Last two? Yes. Breathe in, 1, breathe in 2, breathe in 3. Pain. Breathe in, 1, breathe in 2, breathe in, 3. Pain. They clap for me. 22 needles, and I am done.
He finishes the left one's pattern. I rest my head on the right one's shoulder. Takes a picture on the left, then takes a picture of mine. Then goes back for the last few 16s on the right. And takes a picture for her, too. I ask him to run his finger along the flesh over my needles, it feels cool, but I can't bring myself to touch them. He does. The others find me odd, but it's a really interesting feeling. But now they hurt. I am rocking, flying on the pain.
He takes out the ones on the left first. You next? He asks me. No, still flying. So he goes to my right. Then back to me. Handing me gauze. You have to do this part yourself, no one else can touch your blood. He has changed gloves between each person. I know. He pulls them out a few at a time, and I plop down gauze pads. I can barely feel them coming out. I just breathe and cover the holes with gauze. All out. We all clean up, alcohol pads and gauze. When the bleeding stops, I wash the iodine off in the bathroom. Such a great scene, maybe I do like needles, after all.
July 4th, 2013
"Fuck you!"
She stumbled backward, away from the sparkler he was holding out towards her.
"Careful…" he warned and she glanced around.
"Fuck you all!"
She was surrounded by sparklers, waving through the dark night, spewing fiery bits into the air. She spun around, looking for a hole in the circle, but they each had two and there was no gap.
"Get the fuck away from me!"
"Language, my dear, such foul language."
She turned back to face him. Rage and fear warring for dominance made for an interesting glare being cast his way.
"I.. just… oh!" She couldn't figure out a sentence in that moment that didn't involve swearing, so she clenched her fists and closed her eyes.
"No," he replied. "You will keep your eyes open and your tongue civil."
"I don't think I can do both… sir." She shook her head and the shaking went down to her toes.
"Open your eyes."
She stared at the ground, but it didn't help, the sparks were falling all around her, peripheral vision be damned. She held her breath, mouthing silently; fuck, fuck, fuck, fuck, fuck.
"Look at me."
She shook her head again and he repeated the command. Clenching her fists, she lifted her chin, afraid he would step closer if she didn't.
"Shit!"
She stepped back, he was closer, but so was the person behind her. She startled and spun and stumbled, trying to center herself in the shrinking circle of sparklers.
"Fuckfuckfuckfuckfuck."
"STOP."
It wasn't a shout, he didn't shout. But it was the Dom voice and she froze, dropped her head and stared determinedly at the ground, gasping for breath, fists tight by her thighs, tears starting to drip down her cheeks. She stared at her feet, willing them to be still, even as her head twitched this way and that and her shoulders hunched up around her ears.
"Breathe slower. Control yourself," he ordered.
She closed her eyes for a moment, taking control, counting her breath. Six in, six out, six in, six out. And opened her eyes again, tears still leaking out.
"Raise your head."
She summoned all her will and lifted her head once more. They were all right around her, and as she looked up into his eyes, they all brought their sparklers up over her, sparks showering down.
She screamed wordlessly and fell to the ground, into a tiny ball of terror, tears and inarticulate sound.
The sparklers burnt themselves out and the sparks stopped falling. He knelt down beside her and scooped her up in his arms, the others drifting away.
"Good girl. You did a very good job."
He held her to his chest while she sobbed herself out; twitching and shaking long gone sparks from her hair and clothes. He handed her a bottle of water, she took a sip and then dumped the rest over her head.
"You're alright, you did a good job, I'm proud of you."
"Thank you, sir. Also, fuck you, sir."
He grinned and kissed her wet face.
"You're welcome."
June 27th, 2013
Last night, I was introduced to a new way to view things. I have talked before about wants and needs, but this is a different way to look at them. We were talking specifically about scening, and broke it up into Needs, Wants, and Desires. We were talking about Role Play, and the presenters set forth that if you know what you need, want, and desire, then you can find creative ways to do have good scenes. I found this concept very interesting to think about narrowed down to just scenes/play.
I will be addressing these, first, as a bottom, which is my preferred place in a scene.
Needs. What do I need in a scene for it to work for me? Without what, is a scene just pointless and flat? First, connection. I need to feel an emotional connection to my scene partner. That can be friendship, love, or even just attraction. Second, power exchange. I need there to be some giving and taking of control. This necessitates the third, trust. Without trust, there is no scene.
Wants. What do I want out of a scene? What, if I don't have it, will make the scene feel off afterward? Bondage. Mental or physical. Rope, leather, chain. Stay there. Don't move. Don't let go. Keep quiet. Hands behind your back. Hands on the wall. I want the power exchange to result in control of my physical being in some manner. Intense sensation. I'm a masochist, I love intense sensation. Pain, pleasure, adrenaline, endorphins. If I'm blacking his boots, I don't need him to grind the sole into my leg, but I certainly want him to and I feel like I missed something if he doesn't. If I'm flying through the air, I want to feel the bite of the rope, and the adrenaline of the flight, and the pull when I spin. Floating can all soft and comfy just isn't the same, fortunately hemp is good at biting in even in floaty scenes. Not to mention the feel of it sliding over my skin going on and off.
Desires. What are the figurative cherries on top? What makes a scene extra special? Spacing out. Reaching rope space, pain space, sub space. Often in that order. I love pushing through pain space to bliss out in subspace. Or using rope space to get to one of the others. Break down. Sometimes pushing through pain space doesn't get me to sub space, it leaves me in a puddle of sobbing goo, and that can be awesome, too. Sexual intimacy. Orgasms, hand jobs, blow jobs, boot licking, sex. Even just cuddling up naked after a scene. That skin on skin contact to ride the waves back down.
So, how do these things play out. Let's take last night's play as an example. A dragontail and paddle scene.
Needs: connection, power exchange, and trust. He and I are very connected, in a loving relationship for over three years, and a friendship for even longer. I am submissive to him, and when he comes at me with that dragontail, it is definitely me giving up control to him to let him hit me with it. And I trust him absolutely, to not slice me open or hit me in the face.
Wants: bondage, intense sensation. When he comes at me with the dragontail, my hands go instinctively behind my back. When we play in that venue, I have to control my volume, or cover my mouth. When he's hitting me, I have to try my best to be still. Pain? Oh hell yeah. Dragontail stinging and paddle smacking, awesomely intense sensations.
Desires: Last night, the cherry was pain space, into sub space. After a while, I was squeaking less and breathing more with the strikes. When I was done, I was all cuddling dopey sub spaced out for a few minutes. And I got some hugs and kisses to top it off, too.
Needs, wants and desires met.
May 9th, 2013
Itchy, twitchy, brain all messy. Linkin Park on the mind. It's hot and work has been rough this week. Lots of heavy lifting and rearranging of entire sections of the store. I can't get my brain to settle down to write. I posted a couple poems other people wrote on my other blog. I watched Gone in 60 Seconds with my dinner and fell asleep during the final car chase. Woke myself back up to blog and my brain doesn't want to cooperate.
So, what am I up to these days? Let's start there. I have completed my application for grad school in Library and Information Sciences. Just waiting on the last transcript to be processed. I'm still trying to edit my erotica anthology, but my friends' lives are all super busy, so editing is bogged down. I'm transcribing my journals and printing out blog posts, to work on a long nonfiction piece about poly, D/s and S&M. And I'm looking for a library job and a new apartment, with W/D hookups.
What else? I had a really nice flogging scene with him last night. The space rules kept it from being an all out cathartic screaming breakdown of a scene. But I stood up well, breathed through, found some good space. When I sat down to clean up, I had a nice cry, and a snuggle and grin from him. My back is all pretty and tender today. Had some trouble when he went after my breasts, I couldn't keep my hands behind my back, they were so tender. I was either grabbing at his hands or trying to cover my mouth. He brought me to tears just pinching down solidly on a nipple for a half a minute or so.
Having personal space issues. Don't want to be touched unless I want to be touched, if that makes sense. I don't usually have personal space, but with some people I do. People I don't like, people who creep me out, people I don't know, or people I'm having a problem with. It's my body, I don't have to let you touch it just because you want to. Ask.
Still haven't decided about COPE. It seems an odd thing to be considering without a partner going. Why not just save the money for something else? I probably will, but I do have friends going, and the classes are fun, usually. I don't even know who's going to be presenting this fall. Wonder if they'll announce any before ticket sales. Probably some of the names, I imagine. In a weird place in life. So much changing.
Busy month ahead. Hanging with friends this weekend for geekery and birthday party. Next weekend is FFF with a class on Rape Play, then an Izzard themed party. The weekend after that is camping. I haven't gone camping since high school. Need a sleeping bag, still. And lots of early morning working on the weekdays. Wohooooo…
April 25th, 2013
And for something a little more fun, a little less serious, and a bit more kinky. Yay, bruises! I've got a collection of little bruises from our play last night. Right thigh bruises from his punching. Left arm bruises and a bit of missing skin from his pinching. And a few stray rope lines from the 8mm tight TK he put me in. No marks from the stun gun that I've found yet, that's more about the fear, anyway. So glad he's feeling better these days.
I had a hard time controlling my hands last night. He commented that I had forgotten my training, was being disrespectful, grabbing his hands when they came near me, squirming away from the stun gun, and such things. I'm out of practice, lost a bit of my calm, reptile brain reacts faster than the subbie brain. Fight or flight reactions need to be tamped back down.
That damn stun gun, though… and he wants a cattle prod, too. You put me near a Violet Wand and I'm all for it, top or bottom. TENs Unit, I love it. But fly-swatters made me whimper and stun guns make me lose it. It takes Serious Voice to make me still, and the whimpers have to be covered with hands or breath holding. And still, anywhere but an arm or a leg, and I'm more likely to beg than to submit. I'm not afraid of the pain, it's the Idea of the thing. It's the noise, and the knowledge that these are used for self-defense, to put someone down on the ground, to disrupt bodily function. That shit doesn't belong near my heart, spine or brain. Freaks me out. Oh, and toes and fingers? Just hurt like hell, and usually spasm my hold arm or leg.
It's a good toy for us though. I enjoy the hell out of fear, and he enjoys the hell out of my tears when I lose my shit. This post is a bit more swearing than normal, but trust me, it's a lot Less swearing than I was doing last night when he had the thing out. It was an excellent evening.
September 17th, 2012
He has a lot of boxes, has been tormenting us with the thought of 18s all weekend. We set up the massage table to sit on, he gets a bench in front of us. Sitting side by side, naked, she's still blind. He picks up a box with three boxes inside: 22s, 20s, 18s. Asks her to pick. She points at the 20s. He grins and sets the box down. Alcohol pads, I turn my head and start twitching, he wipes down my left thigh and her right. Thigh? Yep. Then the iodine, painting a wide swath yellow. Two each, he tells us. 25, 22, 20, and 18. I don't know about that, we'll see. I've only ever done two before. I just don't know.
Her first. I close my eyes as he pops the first cap, kicking my foot against his bench. She screams a bit, and then it's my turn. Her hand on my back. Did you orgasm? What? I look at him. I counted to three. I… no, sorry, Sir. Pay attention, are you ready? Yes, sir. I close my eyes again.
Breathe in. 1. Breathe out.
Breathe in. 2. Breathe out.
Breathe in. 3.
Freeze. Pain, screaming, orgasm. Thank you, Sir. Gasping. Tears.
And he's counting for her again. Breathe in. 3. Good job.
Small orgasm numbs the pain. Thank you, Sir. I calm a little as he returns to me.
Breathe in. 1. Breathe out.
Breathe in. 2. Breathe out.
Breathe in. 3.
Less pain this time, squealing, orgasm. Thank you, Sir.
Time for the 22s.
Panic, fear, adrenaline, shaking, please put your hand back. Her hand on my back.
He counts her third. I orgasm, thank you, Sir.
You ready?
I shake my head, try to get a grip. Deep breath and settle.
Breathe in. 1. Breathe out.
Breathe in. 2. Breathe out.
Breathe in. 3.
Screaming pain, orgasming, shaking, oh yeah, breathing. Thank you, Sir. Crying.
You can cry all you want.
I know, Sir.
Counts her fourth in.
Orgasm, twitching, thank you, Sir.
You ready? Sobbing, breathing, settling to be still. I look at him, so happy.
Breathe in. 1.
Breathe in. 2.
Breathe in. 3.
Pain. Screaming. Orgasm. Gasping. Thank you, Sir.
Time for the 20s. Oh god.
He runs his finger over the needles, it feels funny.
He jokes a bit, I can't remember the words.
Can I swear at you, if I call you Sir?
No.
I'm not sure how I haven't sworn yet, but I know it's coming. Twice as many already as ever before. He does her next one, and she screams louder than any of the others.
Not helping.
Good job.
Thank you, Sir. It sounds funny, me thanking him for my orgasm after he tells her she's done a good job.
Are you ready?
Breathe, settle. Stop kicking. Squeeze her hand.
Breathe in. 1.
Breathe in. 2.
Breathe in. 3.
Scream. Gasp. Thank you, Sir. Fuck me. Ow. Tears.
Back to her for number six.
Good job.
Thank you, Sir. Still sounds odd.
Deep breaths, look at his eyes, glance down at my thigh, back to his eyes. So happy.
You okay?
Yes, Sir. How in the hell am I okay. I'm they don't hurt once they're in. Too much adrenaline and endorphins to freak out. Remembering to breathe.
Ready? He pops the cap, I squeeze my eyes shut, grab her hand.
Breathe in. 1.
Breathe in. 2.
Breathe in. 3.
Screaming, Why do they hurt three times? Hold my breath and writhe through the orgasm. Thank you, Sir.
Time for 18s. Oh god, oh god, oh god.
She's never even done them before. Me first? Oh gods no. No, he'll do her first, he wants to see how they push and drag. Oh god, stop talking about dragging.
She takes her hand away to brace herself. And screams a lot.
Thank you, Sir. Oh god, that sounded horrible.
You're not going to give up on me now?
No, Sir. Kicking the bench. Breath, relax. Oh god.
Ready?
I close my eyes and look away. Grab her hand.
Breathe in. 1.
Breathe in. 2.
Breathe in. 3.
Scream, scream, scream. Oh god that hurts. Ow, ow, ow. I don't think I remembered to orgasm. It didn't stop hurting. I tapped my foot. Breathing. Fuck me.
Her last one went better, thank you, sir, orgasm bringing the pain back down. And then it was my turn again. Needle number eight, on my god, was I seriously doing this? I couldn't stop now. Just one more needle.
Breathe in. 1.
Breathe in. 2.
Breathe in. 3.
Screaming, gasping, orgasm. Thank you, Sir.
Runs his finger over them, feels funny. I look down. Not too bad, all capped. The caps had kept falling while I twitched, but I don't remember when exactly. He took the caps off, wanted pictures. Of our legs, then us snuggled together. She got her eyes back so she could see.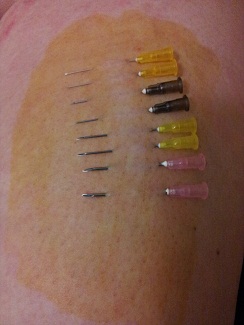 Then he pulls out his TENs. Could we last or did we want the needles out. Once in they were fine. How was it fine? Ah adrenaline. Floaty happy. TENs was lovely, happy tingly TENs, writhing, moaning happily. Gods, I love TENs. All the way up to the top. I get distracted, poke my arm with three of the needles. Gives me gauze, hold it on.
Time to take them out. She hates this part. Stings a bit, but it's not nearly as bad as in. Breathe through them, one by one. Oh god, they're bleeding. It's dripping. He wipes them up, cleans the table. Gauze, hold it tight. She clots much faster. I made it. We both did it. Her first time with 18s, my first time with so many needles and three of those gauges. So proud of us. I show off the marks to everyone who will look the next day. So happy and proud. Incredible scene.
April 5th, 2012
Last night he was run down when he got to practice. We snuggled and hugged and he pinched a bit a little. Someone nearby doing a suspension caught his attention, and he was handed the big dragon tail to show his aim. Cracked him once and then turned on us. They were both out in the open, toy on the floor and the engineer sitting on a spanking bench. I was behind her, laying across the other end of the bench, hemmed in by another bench and the stocks. Not safe, but a more challenging target.
He took up that challenge, hitting my arm, my thigh, my calf. I screamed along with the rest of them swearing and sliding off the bench a few times. Moving to stand between the bench and stocks so I'd be more stable. He took up the new target of my nipples, having already found theirs repeatedly.
He was bouncing and smiling and happy. Hearing our screams, practicing his already very good aim. It energized him to play like that. To give us all something we wanted, with a toy he really enjoys that all of us have to submit to. The dragon tail is not one we eagerly ask for, but it is one we can enjoy, for him.
After a while, he gets the engineer to turn around and the toy as well, offering him their backs and asses. There's not another bench for me, so I slip between them, watching their faces and enjoying their screams, while I twitch and the sharp snaps and watch him fill of joy. They scream and cry and crumble, until he is done. Then he pulls us all into a hug, to cycle the love and energy all around.
The three of us girls decided he really should not have one of his own – dear gods they hurt. And that he really should have one of his own – it makes such good scenes. My preference would be a signal whip, I really miss that, but the dragon tail has its own place with fear and pain and fun. I'd love for him to have both.
Now, I didn't get hit much last night, enough for a few nice marks, not nearly as much as the other two. But I've had a lot of experience with it over the last couple years. And I wanted to share with you, my experiences with it:
I was asked last night, why do I let him do certain things to me. Aside from the obvious, because I like those things, because I do not always "Like" the particular thing (Dragon's Tails, for instance) though I like the result, I answered because it makes him Happy. The smile on his face, the joy in his eyes, the glow of happiness that radiates off of him in waves.
Previously Hard Limits that have been pushed to Soft Limits
Dragon Tails
Snap!
Dragon tail. Scream. He moves around the table, snapping thighs, belly, breasts. My arms are still up around my head. I flatten out, but rock with each snap. Grabbing at the table for a moment before falling flat again. Legs curling up and back down. Tears come, filling the blindfold.
Toes up!
I straighten my legs, feet out, whimpering, crying. Screaming as he snaps the sole of my foot, curling up and forcing myself to flatten out. Shaking, crying, screaming, writhing.
A different sensation. Slapping my belly and thighs. The screaming stops, I sink into the more solid continuous pain, coming out for a vibrating yell.
More snapping, screaming, crying and then…
Stand up. Move it.
On my feet, blood rushing out of my head.
On your knees.
Down I go, back up, head down, knees spread, palms up. He circles snapping thighs, arms, breasts, long strokes on my back. I arch and squeal, and return to position. Head throbbing, but slowly calming.
Last night, I asked him to flog me. I wanted some stress relief from the week to purge and prepare me for the convention we are attending this weekend. He started with the thin tailed rubber flogs, moved on to a dragon tail, Uncle, a quirt, slapping, smacking, punching, drumming, caning, an electric flyswatter and a taser. He took me into object space and attacked me mentally as well. I was in tears nearly the entire scene. It was wonderful and painful and incredible and brutal.
When he was done, when he had broken me down to the single thought of "maintain the position," he picked me up and carried me to the bed. He took care of me with a blanket and two women to stroke me. He left me in object space for a while, before he asked for his girlfriend back, and I served and took care of our things. Afterward, we talked about the scene on the drive home.
One year ago, I would not have taken half the beating, and probably none of the electricity. One year ago, I would be a tired, worn out, droppy mess today. But as I write this, I am about to head to a hotel for a weekend long convention and I am feeling great.
He used his hands, the heavy flogs, the really big deerskin flog(mmm… oh how I've missed that one), some slappers and paddles and a cane, the dragon tail, the stun gun and the electric fly swatter and a leather strap – on my back, my ass, my legs, my breasts, my feet, my arms, my crotch. It was a heavy scene, but not a full throttle flogging. He let me react to the hits – scream, jerk, fall, twitch – however I wanted to. He waited for me to return to position. I love that, I love holding myself on the cross, and getting back up to offer my body to him again and again.
It means single tails and dragon tails and stun guns and violet wands.
Intense Sensation – Over the knee spanking, bare asses spanking, slaps, flogging, dragon tails, single tails, paddles, cricket bats, canes, wicked sticks, violet wands, TENs Units, stun guns, stingers, flyswatters, biting, pinches, pokes, pressure points, forceps, nipple clamps, Leatherman tool, clothes pins, fire, fear.
He, toy and I played a bit. Seeing if I could keep a rubber mallet type thing going on her ass while he smacked us both with various things. Dragon tails kissing our flesh as we squealed. An electric flyswatter that had us whimpering before he even got near. A wicked stick. A paddle. Even the cricket bat that I immediately knelt up to receive. Then the order to snuggle while he had a conversation elsewhere.
Had a good time at practice, and learned a few lessons. Let me share them with you.
The correct answer to "Do you think I can hit your nose with this Dragon Tail?" is "Yes, I do, but please don't." instead of nodding and standing very still, hoping he'll just snap it in front of you a few times.
Dragon Tail strikes to the mouth a) hurt like hell, b) are scary, and c) leave the area feeling indented. The first two made me cry instantly, the third was a very odd sensation.
The clothespin zippers being replaced by a dragontail or single tail. The crack makes me twitch even when it's used on someone else.
I got to be a demo bottom for a very long flogging lesson, spiced up with a dragon tail and a couple big plastic clamps.
March 22nd, 2012
"Now for what I want."
"Yes, Sir." She gripped the cross legs behind her thighs and grinned back at him.
Crack Snap Crack.
He landed a hit on each nipple and a teasing mid-air snap in front of her nose. She squealed and tensed trying to remain perfectly still. Clenching her hands on the boards lest she reflexively cover herself.
Crack Crack.
Crack Crack.
She let out her breath in a scream when he finished, barely able to keep her hands down, as he laid two lines across each breast. Bright red kisses pointing to her nipples. Mumbling curses as she caught her breath, gazing up at his giddiness.
Crack.
She howled and bounced on one leg as he caught her thigh.
Crack.
He stopped her bouncing with a strike to the other leg.
She gasped and half-glared, half-grinned up at him.
Then she saw the light bulb and he turned to get a different toy.
"Close your eyes."
"Yes, Sir."
Her breath quickened as she strained to hear a hint of what he was getting. She could tell where he was, but there were so many toys there, and he was being careful.
She felt him return, closer than before, and he wasted no time.
Thwap!
She yelped as rubber floggers slammed down on her breasts.
Thwap. Thwap.
She groaned into the hits, keeping her eyes closed and her chin up to avoid the falls.
Thwap. Thwap. Thwap!
Left. Right. Both. She gasped and moaned at the hits.
The he picked up a beat. And the rocked together. Single hits per beat. Double. And then triple. Six-count to the beat of the music. She started with a groan, building into a moan and ending with a scream.
He pulled back down. Double and then single hits per beat. Quarter notes on her chest. Pounding out gasps and moans.
"Can… I… Open… My… Eyes… Sir?" She managed between gasps.
His response was to pick up speed again until she screamed and tried to collapse, but there was nowhere to go. Pausing for a moment, he answered.
"Yes."
"Thank you, Sir." She managed through ragged gasps, and she opened her eyes to see his glowing face before her. Tears filling her eyes, but her smile matching his.
He returned to simple beats, staring into her eyes now. They moved together, breathed together, energy flowing free and joyful between them.
A new song came on, and he picked up the pace. Not too fast, but fast enough to send her humming into space.
Thwap gasp. Thwap moan. Thwap gasp. Thwap moan.
Into six count, her head fell back, eyes closed, hardly remembering to breathe in as it all came out in a long, moaning growl, fingers digging into the wooden cross.
Thwap!
A downbeat to end the song and she nearly falls, but he is there, hand in her hair, holding her up, kissing her.
"Good girl."
"Thank you, Sir."
"You're welcome." He pulls her off the cross and against his chest.
"I love you, Sir." She wraps her arms around him.
"I love you, too." He kisses her forehead and leads her off to blankets and cuddles.