September 17th, 2012
First scene of the weekend. I'd asked my ex-Lover to suspend me. He'd talked so animatedly about a Shibaricon class on Transitional suspension, that I was super curious. We had never done suspension before, he and I, so we talked it out, what did I want, what was looking for. I wanted a challenge, I wanted to see what it was like, I understood it would be the comfortable suspension I was used to. I wanted to try this thing that had him so excited. Just the rope, just the suspension, ex-Lover, me and the rig, nothing else.
We arrived at the rig, and he began to set up, getting the ring in place, as I stripped down to just my skirt. It was still my long skirt, so I pulled it up over my breasts to keep me warm while I waited. When he was ready, he looked at me with a grin, and pulled a long white cloth out of his bag. I nodded assent, and he wrapped it around my head, blindfolded to start the scene. Trusting him more than I had in a long time.
He pulled my skirt back down to my waist, and began a Taka Takote chest harness. I focused in on the rope and on his movements and body. Sliding my wrists to a comfortable spot after he tied them together. Feeling the wraps as he laid them down. Listening, I could hear a familiar voice off to the side. He, my boyfriend, was there, chatting, the tone of his voice, if not his words carrying across the dungeon, for a little while, and then he was gone again. The lower rope of the tie worried me, I have a short ribcage and I spoke up. Ex-lover assured me that no weight would be on it, but raised it a little anyway. Then the skirt came off the rest of the way, and was put aside. He wrapped rope securely around my upper thighs, just a couple wraps on each leg, and that was all. Then it was time to begin.
He tied me off to the ring, chest harness first, pulling me up to my toes. Then one leg, up high, weight shifting, as I tried to stay balanced a little bit. Then the other. Assuredly, the most uncomfortable face-down suspension I had ever been in. See, no weight on the lower rope. He pulled me up higher and tied off my ankles as well. I kept breathing, my fingers tingling. I felt like I was spinning so much. I can't, too dizzy, not going to give up. I opened my eyes and looked down. I could see the carpet in a triangle below the blindfold, I was barely moving. I wanted this suspension, but the blindfold was too much. He took it off and I could relax again. Changed my angle a bit again and then he was on the floor below me, smiling big and telling me I was beautiful.
A rope dangled between my legs and he tugged on it, thin little crotch rope. I gasped and squealed and then called him off, crotch rope is one thing, but most of the pressure was uncomfortably centered further back. Hanging there, enjoying the pain and the rope. Floating in a mixture of pain and pleasure.
He was up again, changing the ropes, trying for something else. My legs were lowered and he was adding ropes to the chest harness. It seemed some sideways action was coming up next. But then my left arm went cold from the elbow down, and my left hand stopped moving. Done, I called, I can't move my fingers. And down I came. He untied quickly, bringing me back to my feet, and untying me from the ring. I need to sit, and he caught me as I tried to sit on the floor, calling for a chair. I wasn't going to fall, I thought, but did not say, I just wanted to sit, but he waited for the chair and set me down gently, all smiles and floaty.
Breathe for a few moments as he untied. Turn sideways so he could get the back. Gently move the arms down, check the damage. A little numbness below the elbow, and the thumb-side half of the hand. Ah well, it'll come back in time. (In fact, came back by the end of the night, so all is well.) Hugs, a kiss and thanks and gathered up my clothes, for a floaty-naked walk back to my room to get dressed for the night. A great way to start the con.
September 17th, 2012
What an amazing weekend! I didn't get to do everything I wanted to do, but that's the nature of life, and what I did get to do, more than made up for anything that we didn't manage to squeeze in. The best plan falls apart upon encountering the enemy, and that was the case for several of my friends, but for me, this time, nearly all my plans survived, and some of them far better than I ever anticipated. A lot of people are saying it was the best COPE yet, for me, this is entirely true. I have never had so many scenes, I have never stayed at the hotel, let alone with my partner during the event, and I've also never been so well fed at an event. About the only thing that was "on par" for my other experiences, were the classes. They always bring in great presenters to teach really fun classes. I had an incredible weekend.
What happens at COPE stays at COPE, they say, no outing other people by talking about their scenes. But that's not what I do here, as you all know, I talk about what I did, and my experiences. So let's begin at the beginning.
Our con began with meeting up with friends, helping out, and getting registered. We found quite a lot of our usual crew and gathered up for a nice dinner at Buca di Beppo. We even got to sit in the Pope Room, because there were so many of us. We talked about crew and the con ahead and even about the upcoming Trauma. Enjoying time together as a family, and then we took food back to feed the rest of our family who couldn't make it out. Being a group with the volunteering spirit, many were working the con, too.
Back to the hotel, I had a scene right up front, so I didn't even change, but went and found my ex-Lover, and we took our place for my requested "challenging, transitional suspension." That, will be a post later on. Afterwards, I went back to the room, got on my shiny kimono and boots, and went in search of him. He was bringing down a suspension, so I knelt nearby, helping clean up rope until he was done. The engineer was nearby scening, too. After that, we sat with friends for a time, until he retrieved us, stun gun in hand, to go back to the main room for our suspension scenes with him. Another post to come. He tormented us both with the stun gun while we waited for the high point, but the battery died out as he tried to keep tormenting me as he began to tie her. We played on the rig in the corner until they turned the lights on that night, and then headed back to our room to take care of each other, with massage and orgasms, and cuddling to sleep.
Morning dawned quietly, but I was awake early. I really wanted to attend class right from the start, so I was up, rinsed off and dressed in a sari while they were still gaining consciousness. They said they'd catch up, so I headed out, grabbed an apple(I was too late for bananas), and found a seat in Bondage for Punishment and Pain. They joined me sooner than expected, but before the class changed rooms in favor of a high point, and we knelt beside him, as much as we could manage, for the entire entertaining class. I found myself able to manage for 15 minutes or so at a time, not wanting to distract myself too badly from the presentation. 4mm rope, a high point, and a flexible bottom, made for quite the class. Stopping by the vendors on the way out, he found some great new toys to buy, a dragon tail and three leather "cocks." The latter being woven leather cylinders of various widths, with rounded ends, that work great to bludgeon your partner with. We headed back to the room to test them out, and were quite happy with the results.
We then headed off to brunch at First Watch. The second class session not holding our interest more than finding food did. Waffles, bacon, pancakes, eggs and coffee later, we were satisfied and heading back to the afternoon classes. I did wear my bratty shirt, and very short skirt, but I took my sari as a wrap to stay warm, as well. Extreme Bondage was up next, with more kneeling from us, though the presenter invited folk to come close and watch, so he was up in front away from us most of the class. This time, I found the tops of my feet beginning to hurt much faster than I was losing circulation. The class itself was quite interesting and entertaining in its own right, with a handful of really restrictive ties. The next class period, the engineer headed off to a latex class while he and I wandered back to the vendor area, this time picking up a book, a new suspension ring, swivel and two hanging straps. The final class of the day, Predicament Bondage, was the same couple as our first class, we all sat in chairs this time, and had a blast watching (and helping with) the crazy stuff the presenter came up with. Electricity, water, rope and weights and everything else he could grab from his bag of toys. Such fun.
We headed off to dinner, then, Fish Market our destination. Got a seat quickly in the bar portion and, though it was noisy there, we had quite a nice meal together. We he asked us if we'd seen anything that day that we'd like to try, we grinned and said all of it. I took my leftovers back to the event, but couldn't find anyone in need this time. We attended closing ceremonies, complete with lube-tossing, auctions, NCSF and gratitude. And then the final play party began.
We headed back to the room to get dressed, the engineer donning her blind contacts and me my straitjacket over lacy bodice with garters to red fishnets and shiny boots, he even wrapped my pleather skirt around my waist. I was to be her eyes, and her my hands. We headed back to the dungeon, all grins and giddiness. He showed us off down the hall, through the social area and all around the dungeon. Then we headed to the back rig for him to do his scenes and assist in others. I tried to keep her informed of the things going on around us, and once he sent us to fetch water and candy from the adjoining room. After his scene, she wrapped up the rope for him and I returned it to his bag. When these scenes were complete we headed back to the room for more private fun.
Back in the privacy of our own hotel room, the engineer and I stripped down, but she kept in the contacts. We rearranged some furniture, and sat down side by side, facing him, for an incredible needle scene. Post to come. How I didn't freak out or pass out, I'm really not sure, let's just say I'm stubborn, and they were incredible in supporting and encouraging me. We thanked him with massage and curled up for a well-deserved, good night's sleep.
The engineer had to head off early the next morning for school, and we hung around to help tear down and load out the dungeons. After many good conversations and goodbyes, I headed home to check on the internet, crash for a couple hours and then went out to dinner with hubby and friends. Home again for the last two episodes of BSG, some Lactaid ice cream and then crashed out completely for at least twelve hours. Amazing weekend of awesomeness. Thank you to everyone who made it possible and who made it great.
September 14th, 2012
COPE is today, it starts in just 8 hours! I've packed my suitcase, my toybag and my purse. I'm ready to go. Okay, not entirely ready to go, I'm still naked, but my bags are ready to go. Super excited and happy! The corset may not work out, health and postal issues have delayed the work, so I've had to change some clothing plans. But it doesn't really matter, it's COPE! I could run around with just a short skirt and no one would care. Though, I think he has some straitjacket ideas in his head. At least that's warm. I've mostly given up the idea of being warm. I have one long skirt in the bag, and my saris. But I'm not too fussed about what I end up wearing. Go with the flow and just enjoy.
The class schedule is up and all crazy. Four rope classes the first period! WTF, guys? Ah well, so many good classes, so little time. I think it'll work out anyway, not to many periods where there's two classes I'm dying to see.  Looking at Extreme, Predicament, and Painful bondage classes. Maybe a latex, a foot care, a single tail class. We'll see how things go.
So bouncy and happy, I've gotta hit sub-mind when I get to the hotel. I can still be bouncy and happy, and all, but we've set up some protocol fun, too. Gotta keep my head in the game. 🙂 Such a great weekend ahead! Boots, and rope, and private things, and shiny things, and pain and pleasure, and learning. So Excited!
See you on the flip side.
April 26th, 2012
A good number of changes currently happening in my poly life and in the community I'm a part of. A new space has been acquired by some community leaders and a lot of groups are moving their meetings there. This includes my weekly Wednesday group. We are moving away from the space we have occupied for three years now, to a new place, a new space. And with high hopes that it will work for us and allow us to reach even more people.
I have also stepped down from being the little d with toy, back to a more comfortable s. I had a great time last year, learning and experiencing new things in this role. But this year, with a lot of upheaval in my life, it just didn't feel comfortable anymore. We are examining our dynamic and determining how best to continue. It will take a bit of adjustment, but I think we'll all come out happy in the end.
We said our fond farewell to our usual Wednesday night space in the best way we knew how. With friends, family, food and screams. He lined us up, his toy, myself and the engineer and tore into our thighs and chests. We started with the big dragon tail, then the little, then a nice blue rubber ball on a flexible rod, and ended with a round of the flyswatter, by their vote. I voted for more dragon tail because it's not a fear response for me like the flyswatter, but it was just too much sting for them to want another round. We followed up with water and cuddles.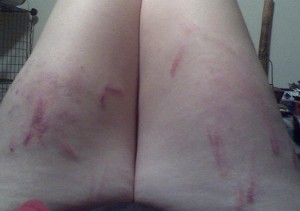 His toy called the noise the four of us made a strange symphony so I named this picture: Final Symphony.  Such lovely bruising and delightful kiss marks.
New and busy times lay ahead. I am grateful for what we've had and look forward to what is coming.
April 21st, 2011
A friend wrote last month how she is finally learning to trust her body, through kink. I have been at odds with my body since I was sixteen, almost half my life now. I fight it, I ignore it, I push it. But to trust it? I'd rather challenge it and defy it. She wrote she is no longer a mind in a body but a mind that is a body. I like that idea, and so I'm going to start a rambling exploration of my mind and body tonight.
I've spent a lot of time in the last few years in bondage, and in rope suspension. One of the first things he taught me was that I have to listen to my body. That I have to communicate to him what it is telling me. Where there was pain, pinching or discomfort. His suspensions were not meant to be painful, the ropes were there to support, not to hurt. This was a bit of a mind switch for me, because the other's bondage was often painful, was often part of our sado-masochistic play. I had to listen to my body and trust what it told me. I had to be able to judge when I was done, tell him when I needed to come down. I could push myself only so far. And yes, I often tested those limits, pushed myself just a little further than I maybe should have, challenged myself to just one more swing, or just one more spin. I had to trust my body, but I also put trust in my mind's ability to recover when I pushed just a little more.
If it hurts, don't do it. It hurts when I do this. Don't do that. Pain is the body's way of telling us something is wrong. But I'm a masochist. I enjoy the intense sensation of pain and the effects it has on the body and mind, when it is pain I am choosing to experience. I kneel for half an hour in meditation, some days it hurts, but I usually ignore the pain and push through. I ignore the body's cry for relief. I play in ways that cause pain, that cause a fight or flight response, and I ignore the body's protests. My mind overrules my body. My pleasure overrides my pain. But isn't this trusting, too? Trusting that even though my nerves scream, my body can take it. Trusting that after, I'll be okay. I ignore the usual signals, and trust that real damage is not occurring, that my body is not as fragile as some might think.
Is it trust? Or just defiance?
I trust my mind within this body. I trust myself to know my limits. I trust myself to judge when it is too much. I trust myself to beg off or say no. I trust myself to know my body. And I trust my partners enough to crumble and fall.
I trust my mind, but do I truly trust my body? I listen to it, I respond to what it tells me. But I often feel like a mind trapped in a body, unable to feel the way I want to feel, unable to do everything I want to do. I trust that it will not break. I push it and challenge it, and I hope that it will not fail me. And sometimes it does, but more often than not, it doesn't. In kink, anyway. It fails me, day to day, simple things like opening and reaching, but it rarely fails me in play. It limits me in play, for sure, depending on the day, but when I choose an appropriate activity, it holds up, it withstands, it survives, usually as long as I want and need it to.
So, do I trust my body? I do. It frustrates me and I defy it, but ultimately, I trust it. What other choice do I have? It's my body and it gives me such pleasure to balance out the pain. It does what I need it to do, if not always what I want it to do. And the better I treat it, the better it does. RA is not who I am, just a thing I am dealing with. Trust is earned and my body has put in the work.
February 7th, 2011
Toy and I went shopping, new shiny things for the club. We want to surprise him, make him smile and so we shop with him in mind. Nervous and giggling, we buy new tops. I get a waterproof vibrator, too. A story for another time.
At the club, dressed and lubed, I wear my latex skirt for the first time in months, and my new top, barely holding my breast, with big bell sleeves. He approves. Toy arrives, she looks really great. The corset she picked out fits her well and the skirt we found last week matches nicely. I bring her out and unwrap her for him and his smile widens even further.
He is happy, his girls have dressed to please, and we are successful. She snuggles with him, and I wander about for a bit, but the other rooms are colder.
He motions me over, pulls out the shackles, my heart soars. I have missed those so very much. I step up to him and he locks the around my ankles. I want to thank him, but I haven't the voice. He pulls out the cuffs – the heavy Irish eights, and puts them on Toy's wrists. Both of us now bound to him.
Be careful, don't wrench your wrists.
Latex skirt, feel the shiny. Pats his leg, it should be dry by now. The shirt is problematic, nipples keep popping out. He has a solution.
Go get me a set of nipple clamps.
I rise and go fetch, cloverleaf clamps, my favorite and return to his lap. It's been a while, he pinches and pulls, slipping them into place. Whimpering, gasping. The pain flowing, warming and arousing. My arm around him, hand resting on the back of his head, I grab his ponytail and force myself to let go.
He starts rubbing on nipple, asking Toy to do the same. She squirms and struggles, but gets her cuffed hands up. My hand slips down to his cheek as I moan and gasp.
He has an idea, picks up the chain and puts it in her mouth. Then, grabbing us each by the hair he pulls us apart. Moaning and gasping and squealing, sensations and energy flowing freely. The angle of my neck is straining. I have momentary flashes of worry for my throat, but I swallow carefully. He releases before it becomes too much. She drops the chain, and I shriek with the pain, but that's the least of my worry. He scolds her for letting go and hurting me. I open my eyes and look down at here.
Did he tell you that you could let go?
She drops her head. My presence is requested elsewhere, a violet wand lesson is needed. Out I go, shackled and clamped. I reflexively cradle the chain while I teach, distracted from the pain.
Returning, someone else notices my hand on the chain and I am ordered to fetch the dogbones. I grab the big set, clips and safety latches and all. Not wanting to bring to few and disappoint him.
He is gleeful with the amount I bring and I am whimpering with fear. Attaching them to the chain, he asks Toy to hold them for me, keep them up so they don't hurt me. I catch her eyes, begging her to be kind.
He asks for a pen. I coach her to her feet, it doesn't hurt as much as we both fear. Shuffling back, her forward, through the feet and down the rooms to the pens. I bring one back, and my water. Sorry, no, he wants a Sharpie. Back we go.
Arms behind your back.
I balance the water cup, easy as it's mostly ice. Sharpies found, brought back out. He taunts her with one, but nothing gets written.
He tickles and she squirms and I yelp, and she whimpers. Wanting to drop her arms, afraid of hurting me. More tickling, squealing and yelping and leaning and squirming. She drops to her knees. He gets my ice cup and starts putting it down her panties.
If you weren't wearing any, it would stay.
Toy glares up at me and everyone laughs. I ask for a drink, he lefts the cup but scolds me for moving my hand to meet it. He feeds me the remaining water and then takes it back.
Can you crawl?
We shuffle to the other room, to the toys. He pulls out a flogger, slamming it into my back. He wants better light and spins us around. More flogging, it's been awhile, the hits fall heavy, stingy. I bend and squeal.
He takes my hands and puts them on top of my head. Good posture now.
He circles, grabs blindfolds for us. I'm coaching her too much, a gag goes in. A forcep attaches her chest to the mess of chains between us. Time to wrap the present. My lower body to her upper, leave the calves free for balance.
A cup of ice is brought, my cup of ice. It is poured down the center, squealing and cold. It flows right past my clothes and catches in hers.
Water mostly drained, a vibrator follows. Buzzing up the chain to tickle my nipples, delicous.
He and the birthday boy circle. Crop and floggers and forceps. Stinging and squealing and shrieking. Pinching and poking. I choke on the gag and he relents, letting me catch my breath. Back at it again. I am drooling around the gag, he teases that I'm drooling all over our her. Toy does not complain. More stinging and screaming and writhing, and I fall into her lap. They catch us and pull me back to my feet.
Ready for round two?
A moment and I nod. She says yes, but the fall hurt her wrists. The cuffs come off her, and go on me, behind my back.
I want you to say something for me, do you know what it is? He asks our Toy.
Yes, count to three.
That's right. Three times, count to five between them. And on the third, pull down on the clamps.
His hand in my hair, he gets a tight grip, I soar and she counts.
One, two, three.
Arching as pleasure flows through me, the vibrator pressed just right between us for the added sensation.
One, two, three.
Again, pressing against his hand and the vibrator, soaring higher. Something makes me laugh.
One, two, three – pull.
Arching harder, head back, mouth open. The gag falls deeper and it feels right somehow. I shake and the pain flows in pleasure.
Back down and I drop my head to his shoulder, catching my breath.
Are you about done?
The orgasms have been a release for the pain, I can keep going, but it is a good place to come down from. I am gagged and cannot reply. Toy says yes.
The wrap is cut away, the dogbones removed.
She's going to fall backwards.
Birthday boy grabs my arms and the nipple clamps come off. I do collapse back with a cry, and he holds me. I try to get up but then relax back against his chest. A chair comes, the cuffs are removed and I sit. Breathing for a few moments and then the blindfold, blinking in the light.
There are people watching, more of the family has arrived, I smile at them, not even trying to identify the tourists.
He coaxes Toy to turn away from them and takes her blindfold off. Gives her my hand. Her wrap returns, and a blanket comes for me. We relax for a few minutes with him between us.
The I take her to the couch, wrapped up in blankets we snuggle in together, dropping and cold we cling together for warmth and comfort. Snuggling and happy. The scene was amazing.
Slowly we surface, bit by bit. People come and go. Her clothes are wet. Latex is good for you. We snuggle closer to the heater, blankets wrapped more tightly. People checking in on us. Water and warmth is all we need.
Becoming verbal we greet people, and share tidbits of the scene with each other. Watch him flog a squirmy boy.
We are back above the water now, fully surfaced and awake. He returns with the cuffs, and latches our wrists together. More snuggling and then he returns and slips in between, our shackled wrists coming out of the blankets to lay in his lap.
He asks us some questions, but then reality invades. I am needed for the violet wands again. He uncuffs me and back to work I go, shackles still in place.
We finish the scenes and the night. A big hug and thank you. Ready to pack up. He unlocks my ankles. A wonderful night of love, joy, pleasure and pain. Now complete.
February 3rd, 2011
My mind is full and swirling this week. I thought I had about five different topics to write about, but in just a few seconds of brainstorming on the page, I came up with ten. Discussions this week have ranged from masturbation and orgasm, to STDs, to interrogation, to labels, to song and dance, to cathartic release and pleasure from pain. A new relationship is being established and others are struggling to survive. There's a big event this weekend, but I won't be there, I regret missing the classes, but the play parties never really were my thing. So, let's take some of those topics and look a little deeper.
What do you want to do with our toy? He's been asking me that for a couple weeks now, since we established she wanted to be our toy. I talk about teaching her, or helping her, or getting her to buy cute clothes. But what do I want to Do with her? I don't know, I've never had a toy before. Fair to say she's never been a toy before either. But we're all very curious and excited about the possibilities.
I see myself in her, just starting her journey into kink. I remember when, to me, kinky was a pair of handcuffs, a set of nipple clamps and a spanking during sex. I remember coming into this community and meeting him and lover and having the doors thrust wide open before me. I remember barreling through, glad they were the ones holding my hands. There was so much to learn and do and experience, and now we have a new toy, just starting her journey and I'm excited to be the one holding her hand.
One of our conversations this week was on labels, if she wanted to take a public label, and she decided not yet. She decided that it was something she wanted to keep personal for now. Those who needed to know, would know, but it didn't need to be declared to the world at large. This got me thinking for myself, too.
He and I are rebuilding things, and have left off kink labels, as well. I have had varying degrees of comfort and discomfort with this. I felt like I had lost something, lost something very important to us. I tried on a label for a couple weeks, but it didn't fit well and I couldn't explain why I wanted to wear it. I realized at the end of that attempt, that trying to label something that was still being created was just going to add to the confusion, and I stopped.
Yesterday, I was visualizing myself standing in the middle of a rushing river, I had a hand stretched out to the cliffs on either side. One cliff labeled Girlfriend, the other labeled Submissive. But back in August, the Submissive cliff broke off in my hand, and I was left floundering, with only Girlfriend to cling to. I eventually got back to my feet, with the solid help of the Girlfriend cliff, but then I started trying to shove the broken piece back into the cliff, trying to find a place where it would fit.
I realized, that I really just needed to get out of the river, stop fighting the current, there was no need. I could easily and happily sit on the Girlfriend bank, on the solid ground of our relationship. I'd like the submissive bank to be part of our life, but building a bridge to it with him is a much more secure way to get there, than standing in the rushing water, fighting to stay upright.
January 27th, 2011
One of the things on my mind when I was doing the Thirty Days of Kink meme was openness. There were two questions I linked to the same post about being open with my friends, but not with my family. Then the post about misconceptions – BDSM is not abuse. And my brain wandered off – wondering, is this why I don't tell my family? Is this what I'm afraid to explain to them, afraid they just won't understand? Afraid they'll think I'm broken or, worse yet, that they did something wrong in raising me?
I make excuses – it's my sex life, why would I talk to my family about the kind of sex I have? We don't talk about such things. It's where all my ideas about what's "proper" or "appropriate" come from. Those words that The Ethical Slut talks about as social programming that limits us and makes us ashamed of ourselves. But what about poly? That's my love life, that's people who mean a lot to me. And it still falls into "inappropriate" and "improper" behavior. But people I care about is a topic of family discussion.
I think I'm wandering here. Reel it back in.
BDSM is not abuse. I posted that simply and without comment on the misconceptions day. There are so many ways that discussion can go. From how BDSM is about love and respect, to how to recognize abuse, to how to prevent abuse, to how some people just don't understand other people's needs and desires. To how some people's kink is just not other people's kink, to how some people's kink is too extreme for other people. And on and on.
But the point in my head, when I started this post, was, is that what I'm afraid of? Is that what I don't think I can explain to my god-fearing, bible-carrying family? You betcha. My dad once commented that a girl in college wanted him to spank her and he thought it was very odd of her and he sent her packing. I don't know why he told me (and Hubby) that story, other than for something to say while we were traveling cross country on a family vacation, but I worried even then that I could never tell him the truth about myself.
I've seen a friend's parents react very badly to the idea of their daughter being kinky. The dad did read a book on rope bondage and come to accept it as a sexual expression. But what about pain, how do you get vanilla folk to understand, or at least accept, that pain is a healthy expression of sexuality? There are kinky people who don't fully understand the levels of pain I enjoy, but at least they're accepting. Usually along the lines of, well, if it makes you happy.
Isn't that what our parents want for us? That we be happy? Yes. But generally the want us to be happy within social norms, or whatever Their social norms are. Would my parents really deny me because my expressions of pleasure are different from theirs? Would they stop speaking to me because controlled pain in a life when uncontrolled pain in typical makes me feel better? Would they try and have me committed because I like a bit of electricity running through my body even when I'm not at a chiropractor? Probably not. But I still shrink from those conversations, afraid of disappointing them, or confusing them. Or that I am wrong about their capacity for acceptance.
Honestly, it's my brother who I think would try to understand the least. And it's poly that I think that my parents would be most upset with. I promised to my father and before my mother to be monogamous until death. I think extramarital relations would be the harder sell. I love my Hubby, and he loves me, but to forsake all others would not be true to ourselves. Love grows when it is shared.
January 5th, 2011
What was your first kinky sexual experience? If you haven't had one yet, talk about what you hope to have happen.
First, wow. Well, remember that guy from day three. It'd have to be him, wouldn't it? A long time ago, in a town far away… okay, so not that far away, but in the time frame of my life… I'm only thirty and I was eighteen at the time. Thinking back, I know what it was, and I remember how it felt, and I smile with how simple it was compared to my life and experiences since then. But that's what first experiences are all about right? That first taste that pulls you in.
He was new, just met, and interested. He showed me his swords, and a catalog of knives he wanted. His gaze was intense. He was attractive and strong, pierced and tattooed. He was intelligent, warm and respectful. He asked permission to bite my neck. He did not want me to be uncomfortable, but he wanted to see if I would like it. I liked vampires, and the request made my stomach flutter. I agreed and he smiled, toothily.
I was sitting on the edge of his bed, he slipped down behind me. Wrapped one arm around my upper chest, holding my opposite shoulder. Took his free hand, and brushed my hair away from my neck, then tilted my head to the side just so. I could feel his breath on my neck and shivered, scared and excited all at once. He sank his teeth into the stretched flesh, gently, and then harder, not trying to break skin, but wanting me to feel it. I moaned out the breath I had been holding, I'm not sure if it was an audible noise or not, and sank into him, my eyes rolling back in my head, an expression he would later come to enjoy via a mirror. The teeth, the pain, the taking of physical control, my fantasy realized in one moment of pleasure.
December 9th, 2010
A lot on my mind this week, so I may end up with several posts, just going to start typing and see where I end up.
I had a couple random ideas last week. The first being around forced feminization. Wikipedia defines it as: when a man is forced to put on women's clothes and instructed how to behave and talk Yes, I am a girl, yes, I previously owned skirts and dresses. But I only wore them for Very special occasions – weddings for the most part, once I got out of school, and the Renaissance Festivals. Currently, at his request, and because it is too cold for shorts in December, I wear skirts four days a week, not always the entire day, but two of those days, it is generally two different skirts or dresses.
I regularly have people bring me skirts and dresses to increase my "girlish" wardrobe. I am often teasingly scolded for my lack of stockings. At play parties, I am often told I need more appropriate footwear. One of the groups I'm involved with in town has caused me to buy more lingerie in two years than I have ever owned in my entire life. Last time my mother visited, I even let her take me shopping to buy multiple skirts, and bought a couple on my own at a thrift store, and I don't even buy clothes for myself normally. As noted last week, skirts and other girl clothes are big items on my wish list this year.
I think Wikipedia would consider all this to be consensual feminization, but every now and then I pause and wonder. Wow, when did I become such a girl? And then I feel better about myself when I get an invitation to shopping event involving make-up, manicures, perfume and other such things, and I remember that I am not that much of a girlie girl. Nothing wrong with all those things, they are just not me. I'll stick with dressing more like a girl, because it not only makes the men happy, but it also helps me feel good about myself and my body.
Second random thought was about masochism and sadism. Back to Wikipedia: Sadism is pleasure in infliction of pain or humiliation upon another person, while masochism is pleasure in receiving the pain. I went to a class taught by Midori earlier this year, where she discussed the term pain, and her preference for "intense stimulation" instead because pain can encompass so many things that are not pleasurable. But that is neither here nor there, my thoughts were running along the lines of what am I really? I identify as a pain slut, so masochist is obvious.
But I also top violet wand scenes, delight in watching him giving others intense sensations and find entertainment in my own intense sensations causing distress in others. Does this make me a sadist? The latter two are not me inflicting pain or sensation, just enjoying the results of someone else doing so. When I top electric scenes, I am not doing so to cause pain. I enjoy making people squirm and squeak, but usually I'm trying to ticklish spot. I do not go for the screaming and the expressions of pain. It is intense stimulation, I agree, but I'm doing it to teach and share my experiences and enjoyable stimulation. I do not get joy out of Causing pain and am hesitant to even try, though I can be enlisted as restraints, tickler or biter.
So, perhaps, I'm a voyeuristic sadist, enjoying watching the pain of others and occasionally being a tool to assist in the causing of the pain. I think part of that also comes from knowing how much I enjoy the sensation they are receiving. So it is a sympathetic or empathetic enjoyment, as well as enjoying the interactions for themselves and the people involved.
I think I will stop there for the moment. I have another topic to write about, but it is much bigger and more personal. So I'll post this as it's own post, and work on the next one separately. What are your thoughts on fashion, pain and enjoyment?