January 6th, 2015
I keep wanting to write about last week, but I am not sure where to start, or where to stop, or what to say. I had a wonderful New Year's Eve, playing Starfarers of Catan with occasional distractions, and then snuggling for warmth, and getting my New Year's kiss from him, and nibbles from another.
I spent New Year's Day playing "dress the monkey" with money my mother sent for interview clothes. I did not succeed in getting the skirt I intended to, but it's still on the list. And he decided we're going to another rope con later this month, so that'll be fun!
I had a great time at Fet Night. Got shoulder bites from the bitey one, who I don't think I've ever named on here. And much snuggling, light touches, back rubbing, hair grabbing, air blowing, and nibbles. They weren't sure which was more entertaining, the noises I made, or my squirming. The people peeking in didn't seem all that interested in three people still wearing all their clothes, though. Too bad for them.
He and I were going to work with the knots we have been practicing, but time got away from us. He ended up beating me with the devil pop instead. Hands tight around the window frame of the electric cubby, and nose tight against a penny. Don't drop it, or I won't play with you for a month. Fuckfuckfuckfuckfuck. But I didn't drop it, until he said. Okay, this time two months. But I didn't drop it! I know. ShitfuckshitOWfuckfuckfuck. And I didn't, again. You know I would have followed through. I know, and two cons within that time, it would have SUCKED!
This coming weekend I have completely free, then geek con, rope con, week off, kink con. Ah, welcome to convention season.
December 4th, 2014
This week's class was on primal play. I've only done a small amount of this, but it is interesting to me. The presenter, the instigator, was entertaining as always. People talked about walking barefoot in the woods, about losing control, about the dangers of the beast within us. A very enjoyable class overall.
After, there were so many people in the room. He and I just stood their, practicing one knot over and over in the center of the room. But then there was futo confusion, so we settled down for a teaching/practicing moment. Figuring on evening out the pain, I gave him the opposite leg from last week. The other bottom being tied was just as confused as me by the pain. Yes, I said, it hurts on the inside, but it'll hurt on the outside once you go up, don't worry. I lay and relaxed into the rope and he tossed my leg back and forth. Then he sent me crawling for the lift gear. I brought it back to the point, and we rigged up.
Up in the air, fuck the pain, and why the hell does my jaw hurt? Ugh! Tense neck and shoulders, focus, cradle my head. You okay? Yeah, just, ugh, hate upside down. But the tie is working well, I entwine my free leg and try to relax. He grabs my hair and yanks my head back. Better? NO! Lets it drop, he pulls my shirt down over my face, and I settle into the darkness and pain. Fearful that he's getting the dragontail, but settling deep.
Thud! Fuck! What the hell. A few more hard strikes, and I flail about freeing my vision to see he has the rhino cock. Fuck. My hip hurts without support, so he arches me back and ties my wrist to my ankle to give it some tension. Now my wrist And my hip hurt, but it's better, as I twist my leg, settling my foot against my ass.
Spinning slightly as he takes aim for more strikes. I shove my free arm into my mouth to muffle the screams. And then I lose it, climbing right up and grabbing the ropes above me, growling and glaring out at him like a trapped cat while he laughs. He strikes again, and I'm kicking out and getting more tangled in the ropes. Fighting, but helpless.
He keeps hitting and I keep lashing out and arching and flailing and kicking. The subby part of my brain is confused by my fight response, but for the rest of me it feels right this night. More strikes and I curse and growl and glare, biting my arm to keep the noise low. As he circles and strikes. Settling into the pain, one hand on the ground for balance, as I try to keep my circle ahead of his.
Finally my body is angry, my hip is screaming louder than me and my back is pissed off from the torquing. I slump down, calling out for him. I'm done, back pain is bad. And he unties the lift line and slides me down. Down and grinning and happy. He unties quickly, and I flatten out, wincing. My foot got more numb this time, though the ankle was tied more loosely. So that's how we turn me primal, string me up in a futo and beat me. He laughs and shares with the room. He drops the rope onto my chest and heads off to the other suspension in progress.
I cover my face with it for a moment and then sit up, bury my face in the hemp again, breathing deeply. I hear comments about it, and him explaining the true hemp smell of his rope. I don't care, it's mine right now, this moment.
Aware again, I start to sort out the strands, but I can't my hands are still shaking. I stop and  dig them into the pile in my lap. Clench tightly to keep from shaking, I close my eyes and breathe. I can feel the tears at the edges, but he is busy and the room is full of strangers, so I hold on, breathe, feel the rope, enjoy the flow of energy returning to ground.
Finally back to calm, I sort the strands, and tie them up. Beautiful ligature marks on my legs, bruises forming on my ass and hips. I go to him and snuggle in against his chest. Thank you. Such a good scene.
November 29th, 2014
I should be working on my term project, but the upstairs neighbors are blasting music again. Ruins my concentration. I haven't quite figured out if it is band practice, or just a really loud stereo. It's only 6pm on a Saturday, so not a huge deal, just not helpful for homework. So, writing instead.
He came home from his visit up north with some new rope skills to practice. So, we had a ropetastic Wednesday night. First he showed the other riggers the new Y-hanger he had learned, and they worked on it for a bit. Then he moved on to the new Futomomo.
I've never actually hung in a Futo before, though he tied one on me a couple weeks ago, the better to beat me, when I could not get away. I knew my leg would bend well enough for it, but I forgot to take into account the bruises from the last few weeks when I decided on which leg to offer.
He tied my ankle, and then started the wraps up. No problem, then he started feeding through the center and locking down each wrap. Pain. That's odd, pain on the inside of the futo, not the outside like I expected. Ow! Is it too tight? I don't even know what that means for this tie. No, I don't think so, but Ow. I am so very confused by the strangely located pain while he finishes the tie. Some on the lowest wrap, but mostly inside. He keeps asking if it is too tight. Rope is hardly ever too tight for me, and he's going to hang me by it, so I keep saying no. The I remember the bruises, must be hitting those. Okay, makes sense now.
He ties the lift rope and pulls. OW!!! Fucking hell! Okay, yeah, this is an excruciating tie. Ow, Ow, Ow! You okay? Yeah. It's actually really comfortable on the rest of my body, just hurts like hell. He ties me off and grabs the dragontail. Of course he does. Gotta not scream, I cover my mouth, swearing and spinning and flailing. Hook my free leg up in the lift rope. Snap, breathe, snap, yelp. Free leg is awkward, trying to keep away from the tail. Fuck my tied leg hurts. Okay, I need down.
He lowers me, lets me breathe for a few moments, then back up, but only partial. My shoulders are still on the ground, but I can't quite get my free leg down. Twisting, and swearing as he snaps the tail some more. Cover the screams, don't bother the neighbors.
Tied foot is a little numb, but still moving and feeling. Okay, free leg is really getting annoyed now. Hurting my hip trying to figure out how to support it. He lets me down.
Fun? Yes. Comfortable? Yes, but it fucking hurts. Grins and kisses and he unties my leg. Oh, that's what blood flow feels like. Try to straighten my leg. Nope, not yet. Yep, the rope was on All the Bruises. Wee! He drops all the rope in my lap. Happy space. Mmmm hemp. Excellent night.
October 13th, 2014
It's been a long time. Long time since I hurt so much the next day, and the next. Purple from above the knee all the way to the top of the ass. Various marks scattered around the rest of the body. Lines on left thigh. Bits of bruising elsewhere.
Been a long time since I dropped that way, too. Dropped hard when I got home, alone. The fate of a single secondary. Thank gods for best friends to email and a fluffy black papasan to curl up into. Woke up eight hours later, completely drained. Thank gods for boyfriends and scene partners who check in, and an extra day off this week so I could go out into a beautiful day and relax and buy groceries instead of doing homework.
The scene was so much fun. We'd been messaging for a couple months now. I'd been watching him scene with his partner for years. I knew it would be fun. I knew it would be safe. I watched him scene with an ex-metamore before I took my turn. She had ginger. Not my thing.
Nearly naked on a spanking bench. Towels of comfort under my head, thanks to his partner. He pulled out a selection of canes. Thick, medium, thin, steel, a bundle. Started with the bundle wide open for warm up. Back, ass, thighs, calves, feet. Up and down, relaxing. Moving the ring further and further up to tighten the bundle. Kneel up, with your hands behind your back. And gentle pounding on my breasts and belly, too.
Tightened it all the way to a firm bundle and a few yips began. Nipples so sensitive, I started twisting. Grinning so big all the while. His partner tossing in comments at him. He points out my smile. I'm laughing, it must be at him, he says. Warm hands stroking me back down to calm. Warmed up now? Yes.
We move on to the canes. Back, ass, thighs, calves, feet, breasts, belly, hips, front of thighs. He starts gentle, tapping, tapping. Then whap! And I straighten up, yipping, cursing, and laughing at myself. Tapping, tapping, tapping, whap! It's a fun game of anticipation. I hearing him laughing, I am smiling and laughing, too. Between curses and yipes. What was that? Fuck, fuck, fuck! He laughs again. Warm hands stroking my tender skin. Nails digging into the bruises.
A thinner cane and we're back at it. So tender, much more yipping now. The swearing gets louder. People are so close on my right. I only look left. Lying down, kneeling up, he plays my body back and forth. Breasts, chest, belly, back, ass, thighs, calves (so much swearing), feet (oh gods my feet feel so good). His warm hands soothing, his nails pulling sharper yips. My feet are tapping, my head is nodding. To the rhythm of the canes, to the rhythm of the music.
I can't remember which came next, there was the tiny thin cane of oh my god stingy. He barely had to swing, so much stingy. I sit on my feet and he goes to the front of the thighs. This I know, this I breathe. Which do you want, calves or thighs? Thighs. So, I'll do the calves some more. Of course you will. Cursing, yipping, so much sting.
And the steel cane. So heavy, so wonderful. I loved it. Such deep pain. I was flying high, yelping and swearing, twisting and clenching. Anticipating. His partner was cringing for me. Still smiling, still laughing. How's your butt? Very warm.
At some point, I've tossed a few of the towels away, they weren't folded right. And she took them and brought a bigger towel for my belly. She's brought more toys, too. And a rabbit fur. I can barely feel it.
He's got a stick now. A couple inches wide, curved. Ass so tender now, it stings. She tells him to turn it around. The yips have all turned to Fuck now. Two in a row? Okay. I lay down and brace. Tap, tap, tap until I relax and then two, hard and quick. My hands are flailing as I kneel up. Laughing. Three? Okay. I stay up. Fuckfuckfuck. More? I nod and lay down, looking for purchase. Warm hands. Tapping, Fuckfuckfuck. Five in a row? Oh gods… okay. Down, relax, warm. Shooting skyward, and then I'm sitting on my heels again.
Warm hands on my back, and I float back down, slowly, back into my body. Landing. More or are you done? Warm hands as I think, I am awake now, fully awake as I look up at him. I think I'm done. Okay. I hug him. Thank you. Thank you. He puts the stick down and rubs my neck and shoulders. So nice. I like this aftercare. Words come fully back, and I lean over to grab my dress. Standing for another hug. Thank you. And thank you, too. That was great.
Later, almost the end of the night, back with boyfriend after his scene. Talking. He has brought out the Pennsic Bastard to show it off. I am cringing and he strikes. A second one, straight to the crotch and I am down on the floor. He pounces. I am spinning and he is striking, I am swearing and he is grinning. Keeps hitting the same sore spots, so I keep turning. Hands on my belly and he hits one. I grab onto him, tears. We figure it out and I spin away, more strikes and more swearing. See, I played with you. As the Dancing Queen comes on. And he leads me through the dance.
I sit and watch the tear down. If I don't move, it doesn't hurt. Exhausted, time to go home. Another hug and more thank yous with the caner. One last hug and kiss from him. Good night, I love you. And then I drive.
September 18th, 2014
Friday Play Party:
Wooden paddles are awesome, and awful, and pretty, and evil, and OMFG they sting!
Giving him two targets, an alcove, and plenty of toys is a recipe for Amazing.
I need to quit comparing… no, really, knock it off. 😉
Friday Night:
A queen bed IS big enough for three, if you snuggle in tight. (I've fit three in a college-length twin, but apparently, I'm weird.)
Morning comes early without breakfast service.
Class 1:
"It depends…" and "Unless…" are fun ways to answer questsions, and much more informative than a simple maybe (if you follow them up with words instead of …).
Never assume you know the dynamic just by looking at the behaviors and postures.
Respect remains, long after the relationship ends, where friendship is maintained.
Class 3:
Partial suspension makes painful groundties even more painful.
Also, coconut rope sure looks evil.
Class 5:
Humiliation play is the temporary suspension of society's rules by the topping party.
A person's I AM pillars make for good humiliation fodder, just beware and build up their core pillars while you are at it.
I remember times he did this and how much more powerful it was.
Negotiation for Humiliation Play is different, you have to dig deeper. Into their pride, into their values.
"What is your relationship to Humiliation Play?" is easier to answer than "Do you like Humiliation Play?"
It is not weakness to need attention and affirmation after such play.
Saturday Evening:
Lack of cellphone usage requires more planning and better communication.
Dungeon energy is intoxicating, and rare meat and chocolate truffles make it even better.
After:
Drop sucks (energy, motivation, appetite, rational thinking…).
Also, COPE was Awesome! 🙂
September 17th, 2014
Getting ready for the party. She wants a long slow burn. Do we want beat together or separately? Together seems like a better chance of a longer scene, trading off. We go in search of furniture, but end up in an alcove, against a wall, side by side.
That wall becomes my friend, my anchor, my focus.
He has 8 new wooden toys, plus all his floggers, and the cocks, and the dragontail, and the stun gun. He uses them All.
We start with floggers, warming up the skin, sinking into our heads and our bodies. I am nodding, hands searching the wall for purchase, for best position, shoulders tense and tired. We find our stride, slow and steady.
He comes forward, pulls our shirts off our shoulders, for a better view. There is more moaning and screaming now as floggers hit bare skin. Arms trapped, my hands now have a place, forehead sometimes against the wall. Heels tapping and body rocking and head nodding with the strikes.
Skirts pulled down next, revealing asses for the new paddles. Screams and jumping, twisting, but keep facing the wall. Falling deeper inside now, there is some growling and more stomping.
He pulls giant rubberbands down our bodies and around our asses. Oh, the screaming and swearing, whimpering and arching. Stop turning! Am not trying to turn, am bracing against the pull, but I don't argue. He is giggling so much.
Put in the corner, marinating, breathing, sinking, floating. And he is back.
Toys keep switching, turn around, time for thighs and breasts. The joy and huge smile on his face is excellent. I grin right back, she is sobbing. I freak out a bit at heavy breast hits, hard to kept my hands down. Wall sits. What? She shows, okay. Beating thighs. So good.
Zap. Zappity, zap. The stun gun makes me twitch, a lot. The horrible noise of death. Even him zapping her, I am whimpering and twitching. Choice time, stun gun or dragontail. She takes stun gun. I take the tail. Her first, I cringe and twitch in the corner, and then leaves her holding it. So many kisses of the tail. Nope, no blood. The shirt is slipping, so I let it drop. Oh really? He snaps my hip. Fuck you! What? Sir… many more snaps and much screaming.
Turns us into the corners. I am so high! The texture of the wall is super interesting, feels so good on my fingertips. This is how people describe ecstasy. My whole body is humming. And we are not done. Skirt is completely gone, when I did that happen? Before the shirt fell, I think.
Paddles, floggers, and whips, oh my! Up and down we go. Filling the space with screaming and pain and giggles and tears. Floating and shaking and now, I cannot see the texture of the wall. My eyes and words don't work.
We just keep going. Sticks and cocks and paddles and popper and floggers and dragontail. Oh, his nails and hands feel so good on raw flesh. So deep in my body, gone from my mind. The wall is so comfy and nice to lean on.
How am I going to blog this, with pictures of all the toys? And now I am giggling again. Or a running description of the wall? Hey, look, I can see the wall again.
She is screaming and crying, and I am giggling. We are facing him again. He snaps the rubberband on my thighs. She is begging no. Knees. We don't get it. On Your Knees. We both drop. Come here. We each curl up on an arm as we come down. I am feeling great. Happy pool of goo, covered in pretty red and purple. 
May 2nd, 2013
There is something growling inside her tonight. She's looking for a fight. Not an argument, not to win, she just wants to fight, to struggle, and to be beaten down, held down, forced to surrender.
He sees the gleam in her eyes, the set of her jaw. He can sense the tightness in her body, as she comes to the bedside. Usually, he would just point to the floor and she would kneel and relax, but he knows that isn't going to work tonight.
He grabs her roughly by the hair, fingers tight against her skull and forces her down to the floor. He gauges her resistance by her hands on his, instead of in her lap, the tension in her neck, and then he pulls her back up and shoves her onto the bed. Usually, she would stay where he put her.
Tonight, she scrambles up onto the bed and turns to face him. He glances down at his toybag, considering his options. Rope. Metal. Canvas. Clamps. Gag. Hood. Tape. One step at a time, he scoops up the handcuffs.
He grabs her arm and snaps one cuff on before she can pull away. Now she does, but he is stronger, holding the captured limb, while he tries to grab the other. She squirms and holds it out as far away as she can, so he twists the one he has behind her back, forcing her onto her stomach, and pins it with a knee. Using both hands, he captures and twists the other to meet the first, locking it in.
Off the bed again, for the next item. She rolls back up to her knees, glaring at him. The familiar jingle of nipple clamps has her growling out loud as he returns to the bed. Hands, trapped, she face-plants, spreading her legs wide to keep him from rolling her over.
He straddles her ass, grabbing a shoulder in one hand and a breast in the other. She wriggles against him, cursing now, through her growls. But a nipple is freed and quickly clamped and she freezes, not wanting to squish it back into the bed. Breathing hard, teeth gritted, whimpering, waiting for it to sink in.
He gives her a choice, keep turning or get it shoved back down. He's stronger than her, she knows it, turns over, the other clamp is put in place. More cursing and growling and whimpering, she bucks her hips to give him extra momentum in dismounting her this time.
She barely notices as he picks up rope next, but when a loop drops down over her ankle, she yanks it away. Too late, he yanks back, wrapping the rope under the bed, he has the leverage, and is already at the other corner. Her free leg is curled up, but a quick yank on the nipple clamps and she, screaming, relinquishes the ankle. Tied off and he's back at the bag.
Returns with a gag and hood. She clenches her teeth, hates gags. Choking and panic and oh gods, the drool. He holds it in front of her mouth, she shakes her head. He cocks an eyebrow, she closes her eyes and shakes her head. Pressure points and her mouth cracks open, thumb in over her teeth, forcing her wider. The gag replaces fingers, tight grip keeps the tension while he buckles it on. She bites down hard, trying to stay calm, breathing already rushing in panic. His hand on her throat and she freezes. Breathe, eyes locked with hers. And the hood comes down over all.
He goes back to the bag, one last time. She hears the click of large buckles, suddenly her burning nipples return to the front of her mind. She sits bolt upright, leaning forward, trying to curl into a little ball. Oh o, o, o, o. She can't form an N through the gag. He is behind her, the straitjacket in hand. Cursing and writhing, she rocks back hard against him, pushing, shaking.
He grabs her hands, unlocks one wrist, pinning the cuff with a leg to control the still-cuffed arm. He grabs the free arm, threading it into the jacket. She tries to throw it off, tries to bungle it up, tries to push him off the bed. But she moving too much and her nipples are screaming, and she is coughing on the gag. Once her arm is in, she has to stop, has to breathe.
He slips a hand up the back of the nylon hood and grabs her hair, yanking her up out of her defensive curl, drapes the jacket in front of her and then lets her go again. She does not move, does not want to press the clamps against the canvas. Carefully, he uncuffs the other arm, and starts to maneuver it into place. She fights weakly, whimpering and moaning with pain, trying just to keep her arm still, but slowly, he pushes it down into the sleeve.
He yanks the back closed and she is bucking and screaming again. There's no stopping the pain now, so she is no longer careful. Shoving back against him. Shaking back and forth. Rocking side to side. He wraps his legs around her to pin her in place, yanking each buckle tight as she groans through the gag and hood. Her arms are out to either side, straight out and locked tight.
He grabs on, pressure points and bent, and wrapped, pinned with a leg. Then the other, forcing it around. Nice big hug. Buckles together and her struggling weakens. Pulled tight one big scream. Head shaking, teeth clenching, hood soaked in tears and drool. He wraps his arms around her and pulls her tight against his chest, pulling her to lie down on top of him. Her whimpers turn to sobs, struggles to shaking, and then all to stillness.
September 27th, 2012
Friends of mine have been talking/puzzling about their lives not being what they expected them to be. For some, this is causing great distress. So, I decided to take a look at the question.
Growing up, what did I expect out of life?
When I was little, I wanted to be an astronaut, doesn't everyone? The stars held me in thrall. Then I found out that astronauts didn't get to visit the stars, and sometimes their ships blew up, and I thought maybe I'd stay on earth til they got those things worked out.
Then I wanted to be a teacher. Until I found out that kids are cruel, and rude, and unmanageable sometimes. I thought maybe that wasn't the best place for me, and maybe I didn't even want to have my own.
So I turned back to the stars. I wanted to study them, from here on earth. Look out into them, and find the mysteries of the universe. Find other life. Figure out how life formed here. I was again in their thrall. But then I went to college, and calculus and E&M defeated me. So I turned away again.
To writing. I loved to read, it kept me entertained as a child, and I loved to write, to express myself in words, because my voice was so soft, and no one could interrupt me when I was typing or writing by hand. I could speak for myself in text, say anything and everything through writing. And I love it.
I work in a bookstore, because I love books. I love sharing knowledge, and helping people find the same joy in it that I did. I don't teach, but I help them get the information they want. I do not go to the stars myself, but can help other people get there.
But those are only jobs and vocations, those are what I do. What did I expect out of Life?
Growing up in the church, I expected to stay in the church. I expected to be a good little UM girl all my life. To get married to a nice UM boy, and worship every Sunday, and be a part of projects and work groups. And then I got older, and there were politics, and other view points, and intolerance, and hate. My faith became more personal, less contained in a building, less constrained by specific doctrine. I still consider myself a Christian, because I feel I live by Jesus's overriding message of Love. His words of love still speak to me, and I do my best to follow his example. I didn't marry a nice UM boy, or even a nice Christian boy. But I did get married to a very Loving man. And to me, that is what is important.
But where did all this poly stuff come from? Surely that wasn't "in the plan." No, growing up, I expected to have a husband, forsaking all other so long as we both shall live. It was even in our vows. Promised before family and god. But that doesn't seem very loving to me. To Forsake others? I didn't date anyone in High School, but my college relationships were rife with flavors of poly. Not my first, he was a good Christian boy. But most of the ones after that. I didn't have the understanding, let alone the language for it at the time, though. My second, still in love with his HS sweetheart, cheated on me and left me for her. I often played with him after that, even with a third friend sometimes, and still love him, though not in a romantic way. My third, had a 'zip code rule' that I always rolled my eyes at, but he and I had off and on things, despite his other relationships. My fourth, well, he was an odd bird, and I was trying to get back with others during that time as well. Hubby came into play that year as well, as someone I loved, but couldn't be with. Then my fifth and sixth, openly admitting to love for hubby while dating them. Playing with others while things with hubby went up and down and round about. But things were so messy, that when I got back with Hubby after college, I made the mono-demand.
Which lasted just over three years, until we both started falling for others. My experiment exploded, so I returned to a state of poly=pain, and agreed to swinging. That didn't go very well, either, and then we found the community here, and I softened and fell, back into poly, where I truly belong. This time, with resources, and language, and experienced people, who taught me to communicate, and to thrive in this lifestyle. Oh, it still goes up and down and sideways, but I am far better equipped to deal with it now, and far more able to accept the bumps and bruises, and keep on swimming.
That was the important lesson to me. It isn't about trying to keep my head above water, that's just a lot of thrashing around to keep from drowning, but you never move forward doing that. I've learned to keep on swimming, forward, through the waves, and tides. The only way up is forward, and it attracts fewer sharks if you swim fluidly forward than if you thrash around hoping to be rescued.
So, was this what I expected out of my love life? No. But it is certainly what fits me. Love, and plenty of it. To keep me going along my way.
But life is not just job and relationships. What about this kink stuff that fills my waking hours? What about the natural world and the stars I loved so much?
I grew up loving the outdoors. Going camping, going hiking, stargazing. Sitting by campfires, singing songs and exploring the woods. It is still my refuge. When things get too much. When I need to unwind. When I just need to get away. I go to the woods. I walk through the forest, I lie in the grass, I sit by the brook. Nature is still in my veins, but people now fill my heart.
I didn't have a lonely childhood, in my mind. I had friends, I enjoyed school. I went to parties. But I didn't have a Lot of friends, I didn't do the social butterfly thing. I had a couple best friends. That I would spend most of my time with. I never expected this to change, and it hasn't. I have kept my best friends, from HS and College, but they are far away. I have made a few more since, but not many. And it is with these friends that I spend my time. It is kink and poly that brought me to these new friends. And geekdom. I still do the geek-thing, gaming every week, and a group that goes to geek conventions and throws parties monthly. But the latter are also a part of my poly and kinky circles, too.
I've always had a kinky bone in my body, though, I didn't know it at first. Or at least not what to call it. I found it fairly fast, though, when I got old enough. Kink, I discovered, made sense to me, and was something I wanted in my life. It became part of my regular life with my second boyfriend, growing with my fifth, and really expanding when I met daddy online, and then in person, though I didn't find community until nearly a year after hubby and I moved back here, only just over four years ago. I tried once, just before we go married, but a missed connection kept us at bay for four years, due to moving out of state after the wedding. Kink, though, once I understood what it was, has always been an expected part of my life. And I am grateful for the people who have guided me, advised me, played with me, and taught me. Navigating the kinky community, and one's kinky self takes a lot of work and skills that are not necessarily the norm in regular society. And it has also given me an outlet for my early desires to teach and my later desires to write. These things are a part of me and kink keeps them in my life.
What about submission? How does that fit in with my life expectations?
Did I grow up thinking about how wonderful it would be to be controlled? How much I wanted a man to tell me what to do? How much I wanted to serve him? No. I grew up learning to be an independent, free-thinking, self-reliant woman. I went away to college, I went to Ireland alone, I went to Australia to meet daddy. I moved out of the house when I got back. I found a job, I supported myself. Sometimes I fell down, and needed some help, but I was mostly independent of my parents. I got married and moved away. No longer singularly independent, but still in control. In charge of my life, working now as a couple, to be successful. So, where did this submissive desire come from? How does it fit into my life expectations?
In my kink, it has always felt like the natural role for me. At first, it was a desire to be done to, as I think it usually is. I wanted to receive all these sensations, I desired to be spanked, to be pinched, to be bitten, to be held down, to be bound. So in control, so strong, so independent. I wanted it to be taken away. At first, I wanted to know that these things were okay. That I could still be strong and independent, and in control, even though I wanted and liked these things. I didn't have control over what turned me on, but I wanted to know that I was still in control of myself and my world. My body, my RA, took some of that control away from me, so I gained a desire to control the pain I experienced. I wanted to have the pain that I wanted, not that my body just threw at me. These things came first.
Then I met strong, dominant men, and it wasn't just about play anymore. It wasn't just about top and bottom. It was about Dom and sub. It was about being able to give up control, giving them control, and the freedom I found in doing so. Not just in giving to them, but in receiving as well. The give and take, the cyclical relationship, that requires love and trust and work to maintain. It feels good to submit to those I have chosen to submit to because they chose to dominate me in return. One-sided relationships happen, but they are not fulfilling in the long run. The joy and fulfillment I found in submission, blossomed from curiosity to expectation and is a part of my life I do not ever want to be without.
Expectations change as life changes us. But once we find those things that make our lives wonderful and whole, it no longer matters what we once thought we would be or do. It is what we are now, what makes us happy and fills our lives that matters most. No use worrying about what we thought would be, stay in the present, work for what you want now. Not what you thought you should have. If I'd stuck with my original plan, I'd be pretty much out off luck now, NASA's ended the shuttle program. Expectations are helpful, but don't let them stay stagnant while life changes all around you.
September 17th, 2012
He has a lot of boxes, has been tormenting us with the thought of 18s all weekend. We set up the massage table to sit on, he gets a bench in front of us. Sitting side by side, naked, she's still blind. He picks up a box with three boxes inside: 22s, 20s, 18s. Asks her to pick. She points at the 20s. He grins and sets the box down. Alcohol pads, I turn my head and start twitching, he wipes down my left thigh and her right. Thigh? Yep. Then the iodine, painting a wide swath yellow. Two each, he tells us. 25, 22, 20, and 18. I don't know about that, we'll see. I've only ever done two before. I just don't know.
Her first. I close my eyes as he pops the first cap, kicking my foot against his bench. She screams a bit, and then it's my turn. Her hand on my back. Did you orgasm? What? I look at him. I counted to three. I… no, sorry, Sir. Pay attention, are you ready? Yes, sir. I close my eyes again.
Breathe in. 1. Breathe out.
Breathe in. 2. Breathe out.
Breathe in. 3.
Freeze. Pain, screaming, orgasm. Thank you, Sir. Gasping. Tears.
And he's counting for her again. Breathe in. 3. Good job.
Small orgasm numbs the pain. Thank you, Sir. I calm a little as he returns to me.
Breathe in. 1. Breathe out.
Breathe in. 2. Breathe out.
Breathe in. 3.
Less pain this time, squealing, orgasm. Thank you, Sir.
Time for the 22s.
Panic, fear, adrenaline, shaking, please put your hand back. Her hand on my back.
He counts her third. I orgasm, thank you, Sir.
You ready?
I shake my head, try to get a grip. Deep breath and settle.
Breathe in. 1. Breathe out.
Breathe in. 2. Breathe out.
Breathe in. 3.
Screaming pain, orgasming, shaking, oh yeah, breathing. Thank you, Sir. Crying.
You can cry all you want.
I know, Sir.
Counts her fourth in.
Orgasm, twitching, thank you, Sir.
You ready? Sobbing, breathing, settling to be still. I look at him, so happy.
Breathe in. 1.
Breathe in. 2.
Breathe in. 3.
Pain. Screaming. Orgasm. Gasping. Thank you, Sir.
Time for the 20s. Oh god.
He runs his finger over the needles, it feels funny.
He jokes a bit, I can't remember the words.
Can I swear at you, if I call you Sir?
No.
I'm not sure how I haven't sworn yet, but I know it's coming. Twice as many already as ever before. He does her next one, and she screams louder than any of the others.
Not helping.
Good job.
Thank you, Sir. It sounds funny, me thanking him for my orgasm after he tells her she's done a good job.
Are you ready?
Breathe, settle. Stop kicking. Squeeze her hand.
Breathe in. 1.
Breathe in. 2.
Breathe in. 3.
Scream. Gasp. Thank you, Sir. Fuck me. Ow. Tears.
Back to her for number six.
Good job.
Thank you, Sir. Still sounds odd.
Deep breaths, look at his eyes, glance down at my thigh, back to his eyes. So happy.
You okay?
Yes, Sir. How in the hell am I okay. I'm they don't hurt once they're in. Too much adrenaline and endorphins to freak out. Remembering to breathe.
Ready? He pops the cap, I squeeze my eyes shut, grab her hand.
Breathe in. 1.
Breathe in. 2.
Breathe in. 3.
Screaming, Why do they hurt three times? Hold my breath and writhe through the orgasm. Thank you, Sir.
Time for 18s. Oh god, oh god, oh god.
She's never even done them before. Me first? Oh gods no. No, he'll do her first, he wants to see how they push and drag. Oh god, stop talking about dragging.
She takes her hand away to brace herself. And screams a lot.
Thank you, Sir. Oh god, that sounded horrible.
You're not going to give up on me now?
No, Sir. Kicking the bench. Breath, relax. Oh god.
Ready?
I close my eyes and look away. Grab her hand.
Breathe in. 1.
Breathe in. 2.
Breathe in. 3.
Scream, scream, scream. Oh god that hurts. Ow, ow, ow. I don't think I remembered to orgasm. It didn't stop hurting. I tapped my foot. Breathing. Fuck me.
Her last one went better, thank you, sir, orgasm bringing the pain back down. And then it was my turn again. Needle number eight, on my god, was I seriously doing this? I couldn't stop now. Just one more needle.
Breathe in. 1.
Breathe in. 2.
Breathe in. 3.
Screaming, gasping, orgasm. Thank you, Sir.
Runs his finger over them, feels funny. I look down. Not too bad, all capped. The caps had kept falling while I twitched, but I don't remember when exactly. He took the caps off, wanted pictures. Of our legs, then us snuggled together. She got her eyes back so she could see.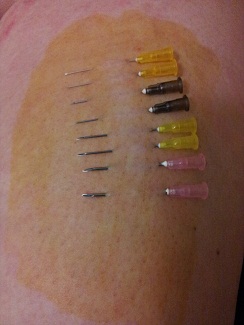 Then he pulls out his TENs. Could we last or did we want the needles out. Once in they were fine. How was it fine? Ah adrenaline. Floaty happy. TENs was lovely, happy tingly TENs, writhing, moaning happily. Gods, I love TENs. All the way up to the top. I get distracted, poke my arm with three of the needles. Gives me gauze, hold it on.
Time to take them out. She hates this part. Stings a bit, but it's not nearly as bad as in. Breathe through them, one by one. Oh god, they're bleeding. It's dripping. He wipes them up, cleans the table. Gauze, hold it tight. She clots much faster. I made it. We both did it. Her first time with 18s, my first time with so many needles and three of those gauges. So proud of us. I show off the marks to everyone who will look the next day. So happy and proud. Incredible scene.
September 17th, 2012
First scene of the weekend. I'd asked my ex-Lover to suspend me. He'd talked so animatedly about a Shibaricon class on Transitional suspension, that I was super curious. We had never done suspension before, he and I, so we talked it out, what did I want, what was looking for. I wanted a challenge, I wanted to see what it was like, I understood it would be the comfortable suspension I was used to. I wanted to try this thing that had him so excited. Just the rope, just the suspension, ex-Lover, me and the rig, nothing else.
We arrived at the rig, and he began to set up, getting the ring in place, as I stripped down to just my skirt. It was still my long skirt, so I pulled it up over my breasts to keep me warm while I waited. When he was ready, he looked at me with a grin, and pulled a long white cloth out of his bag. I nodded assent, and he wrapped it around my head, blindfolded to start the scene. Trusting him more than I had in a long time.
He pulled my skirt back down to my waist, and began a Taka Takote chest harness. I focused in on the rope and on his movements and body. Sliding my wrists to a comfortable spot after he tied them together. Feeling the wraps as he laid them down. Listening, I could hear a familiar voice off to the side. He, my boyfriend, was there, chatting, the tone of his voice, if not his words carrying across the dungeon, for a little while, and then he was gone again. The lower rope of the tie worried me, I have a short ribcage and I spoke up. Ex-lover assured me that no weight would be on it, but raised it a little anyway. Then the skirt came off the rest of the way, and was put aside. He wrapped rope securely around my upper thighs, just a couple wraps on each leg, and that was all. Then it was time to begin.
He tied me off to the ring, chest harness first, pulling me up to my toes. Then one leg, up high, weight shifting, as I tried to stay balanced a little bit. Then the other. Assuredly, the most uncomfortable face-down suspension I had ever been in. See, no weight on the lower rope. He pulled me up higher and tied off my ankles as well. I kept breathing, my fingers tingling. I felt like I was spinning so much. I can't, too dizzy, not going to give up. I opened my eyes and looked down. I could see the carpet in a triangle below the blindfold, I was barely moving. I wanted this suspension, but the blindfold was too much. He took it off and I could relax again. Changed my angle a bit again and then he was on the floor below me, smiling big and telling me I was beautiful.
A rope dangled between my legs and he tugged on it, thin little crotch rope. I gasped and squealed and then called him off, crotch rope is one thing, but most of the pressure was uncomfortably centered further back. Hanging there, enjoying the pain and the rope. Floating in a mixture of pain and pleasure.
He was up again, changing the ropes, trying for something else. My legs were lowered and he was adding ropes to the chest harness. It seemed some sideways action was coming up next. But then my left arm went cold from the elbow down, and my left hand stopped moving. Done, I called, I can't move my fingers. And down I came. He untied quickly, bringing me back to my feet, and untying me from the ring. I need to sit, and he caught me as I tried to sit on the floor, calling for a chair. I wasn't going to fall, I thought, but did not say, I just wanted to sit, but he waited for the chair and set me down gently, all smiles and floaty.
Breathe for a few moments as he untied. Turn sideways so he could get the back. Gently move the arms down, check the damage. A little numbness below the elbow, and the thumb-side half of the hand. Ah well, it'll come back in time. (In fact, came back by the end of the night, so all is well.) Hugs, a kiss and thanks and gathered up my clothes, for a floaty-naked walk back to my room to get dressed for the night. A great way to start the con.