February 8th, 2016
It started in the social area. Friends with a stun baton. She's negotiating, afraid. Wants to see someone else be hit with it first. He of course, volunteers me. Zapping my leg, making me scream and squirm away, and scream some more. Her face in shock. His eyes light up.
Grab it. He holds it out. Grab it. Tears streaming down my face in an instant. Hand making grabby motions six inches above it. Grab it. Crying harder, more grabby motions. 3. Put your hand around it. 2. Do I need to give it back to him? 1. Grab it. More grabby motions and crying. Counting doesn't overcome my fear, that's not wired into me strongly enough. That Voice: Are you going to grab it or should I give it back to him. I look at his eyes, crestfallen. That'll do it. Should I give it back to him. no… I couple more breaths and I wrap my fingers around it. Keeping my thumb on top, so I don't get stuck clenching it.
Now, he says, turning to her. You have to push the button. I'm still twitching, and she's shaking her head. You have to push the button, or I'll hold it down much longer. I can't, she says, I don't hurt people. You got her into this, you have to push it. Do you want me to hold it down, I'll do it much longer than you. I didn't mean for it to be her, she looks terrified. Maybe you should ask her if it's okay. She does, I tell her yes. If you don't press it, I'll hold it down for at least three seconds. Okay, she agrees, but she's still twitching almost as much as me. Do it, come on, press the button.
She does, and I scream, and jerk my hand away, shaking it rapidly. She covers her face, aghast at what she has done. He pulls me against his chest in a tight hug. You okay? Yeah. I squeeze him tight. I shake my hand a bit more. Hey, it's okay, it really is, I tell her. And now it's her turn to play with her partner at it.
This gets his energy up and we go get dressed and bring the toybag up from our room.
What are you up for? I asked you to beat the stress out of me. Okay.
He grabs me from kneeling and pulls me over his lap and starts pounding on my upper back. Still chatting with those around us. Drumming with his hands. Punching the persistent knots. Knocking the breath out of me more than once. By the time he's done, I am more than warmed up. Grinning up at him. Alright, now we're ready to go.
We head to the dungeon, looking for a good piece of furniture. He sends me to the other one, to find the ladder he likes. I find the wrong one, in the right spot and wait. The right one is being used. I stretch and bounce, and he arrives with his other scene. I set out the floggers while they prepare, then kneel to watch and guard for unwary walkers. They have a good scene together, and I clean up while he escorts her back to her partner.
My Turn.
He starts with the soft pair. Thumps and rhythm, florentine. It feels good, rewarming my back. I bob my head to the music, but its strange in this space. We up to the next set of floggers, heavier. Still trying to bob to the beat, but he seems to be hitting on the up while I nod on the down. I sync up with him, groans of happy when he slams down hard. Florentine is sharper now, leading to louder moans. Floggers pounding me into the ladder.
Next pair, some long rubber ones. Sharp and stingy, have me screaming quickly. Writhing on the ladder. Squirming and dropping with screams of pain. He switches up again, to the thinner ones, he can make good thumps with these, but the florentine is so stingy I am screaming again. And too quickly, my back is bleeding, a small scab pulled off by the tips. He bandaids it and notices my bare ass, neither of us ready to be done.
Grabs up a Malaprop multi-layered stick. Strikes having me screaming and dropping, and standing up again. Double thumper, less stingy, but still pulls screams. Hold onto the ladder, don't let go. Then he finds the devil pop, and lays about my ass and thighs, leaving its very distinctive marks with every scream. Next he pulls out a paddle, Five. Okay. Tap, tap, tap, tap, SMACK. Screaming and dropping, he motions me back up. Tap, tap, tap, tap, SMACK, scream, SMACK! Scream, tap, tap, SMACK, SMACK! He giggles as he digs for another toy.
Dragon tail! His grin is as wide as my rueful smile, as I face him, and hold on to the ladder. Snapping and screaming and twisting, and dropping. He motions me up every time I fall. My hands tight on the ladder instead of grabbing the places he hits, pulling myself up. Legs coming up protectively instead, and he just snaps them, too. Breasts and thighs and hips, and a few right down the middle. How's my aim? Very good, Sir. Every snap pulling a scream or a squeal. Alright, turn around. Ass, and shoulders, and back and thighs. Snapping and cracking and screaming and squirming.
And then he is standing by my side, happy and hot. I lean over and kiss him. I love you. I love you, too. I reach for him and kiss him again. Thank you. He smiles, all bouncy and happy, and I clean up our toys.
We head back to the social area, find friends to sit with. He pokes around in his bag showing off some toys. Then comes up with the Irish 8s. Snaps them on my wrists as I smile. Oh, how I've missed these. A bit more chatting and he digs around some more. Comes up with the gas mask, shows it off a bit, and then onto my head it goes. Shows how it works. Then grabs some ear plugs, plops them in my ears. Then ties a blindfold around the eyes of the mask. Can you see? Only the lights if I look at the ceiling. He chats, and I can hear his voice clearly, but not the other ones around me, he is the only one right in front of me. Occasionally cutting off my airflow. Tightening the mask when it gaps. I have to keep my head down or the chin gaps when I breathe. So tight on my forehead. Chatting and playing with my air. Waiting til I just start to panic to let me breathe. The cuffs keep me mindful and I don't reach up to stop him. Occasionally, though, I rub my forehead.
It gets late, and he asks if I'm done. Yes. He pulls off the blindfold, out the earplugs, and off the mask. I rub my forehead and work my jaw back into place. Take the bag back to the room, and bring the keys back with you. I stand and he pulls my dress down for me, and I set off. Halfway back to the room, my dress is back around my waist. Silly shiny thing. I get some compliments from a few in the hall. Thanks, I call back. Drop the bag, grab the keys, I can't get the cuffs off to put on a robe, so I just throw it over my shoulders and head back, keys and robe edges in my hands in front of me.
I get back to where he was, but he's gone. I head down to Cookies and Cocoa, but he's not there, either. So, I head back to wait for him. Realizing he's outside, in the cold, with the smoke. I wait for a while, listening to the muffled chatter and laughter. I can hear him. Eventually I get bored, and head back down for chocolate. He arrives a bit later, and I get him cocoa, only spilling a bit of water with my cuffed hands. We hang out and chat some, until we're ready to go.
He grabs me by the hair, dragging me up onto tiptoe, pulling me down the hall beside him. Mouth open, moaning with pleasure. 1. 2. 3. Orgasm. Thank you, sir. He drags me up the stairs, through the halls, down the stairs and through another hall to our room. Groaning and squealing with pleasure and pain at the tightness of his grip as he pulls me along by the hair. Pushing me into the room. I gasp and shake for a moment, before he removes the handcuffs and we head to bed.
Amazing night full of pleasure and pain and love.
July 16th, 2015
She fidgeted with the hem of her short skirt. Too short, by strict reading of the rules, but no one ever bothered her about it. No one minded that she showed a bit too much leg, kept her shirt unbuttoned a little too far, flirted a bit too easily. Not until today, that is. Today she had been called to the headmaster's office of this private, all-girls college, that her parents had shipped her off to last fall. She would be safe there, they had thought, safe from the temptations of boys, and the dangers of alcohol. She wondered sometimes, if her parents had any clue about the real world.
"Excuse me, Miss." The sharp tone pulled her out of her thoughts and she glanced up. From the thin, tight lips and the narrowed eyes, she was certain it was not the first time the secretary had tried to get her attention.
"Sorry." She mumbled and stood up, as the woman motioned her towards the office.
"Close it." The headmaster did not look up as she entered, and she pulled the heavy wooden door shut behind her, cutting off all sound from the outer offices.
She hesitated by the door for a moment, then straightened her shoulders and walked forward to stand before the large wooden desk. He still had not looked at her, his eyes focused on the computer screen on the right side of the desk. She clasped her hands behind her back to keep herself from pulling at her skirt again, and waited.
She focused on the edge of his desk, not wanting to stare at him, needing to keep her mind from wandering too far afield again. Why was she here? The professor had not said. He had been given a note in the middle of his lecture, and, when it was over, had told her she was to report here immediately. She had not broken any rules today, nor yesterday. Sure, she had broken a few over the weekend, but why summon her today, then? It wasn't like she had done anything new last weekend, and she did not remember being seen sneaking back into the dorm. Had someone else gotten caught? She hadn't heard about it. Did someone rat her out? Who would…
"Miss Gruenwald." She managed not to jump when he finally spoke, startling her out of her ever deepening spiral of thought.
"Yes, Sir." She raised her eyes to meet his.
"Do you know why you're here, today, Katherine?"
"No, Sir."
"Are you sure?" He arched an eyebrow, a smirk playing at the corner of his mouth.
"No, Sir. I mean, I don't know why, today, Sir. I mean…" She stopped short and took a breath.
"You mean that you've broken so many rules over the last six months, that you're not sure which one has brought you here today?"
"Yes, Sir. I mean, no, Sir. I…" She flush bright red and dropped her gaze to the floor as he laughed.
"Katherine, you don't seem to know what you mean. But I do, I hear things, you know, all sorts of things. Being the headmaster of an all-girls college, I'd wager, is the best place to hear the most interesting stories. Most of them I ignore, girls out on their own for the first time, having harmless fun. But sometimes, Katherine, it goes over the line, and I have a responsibility to the parents who pay my salary, to protect their daughters from themselves. To correct certain behavior, and yes, sometimes to… punish… the girls under my care."
The way he said punish, with a pause before, and again for a breath after, sent a shiver down her spine, and her flush deepened. He had stopped speaking, but she could not bring herself to look at him. Not yet. She closed her eyes and took a deep breath, let it out slowly. Then lifted her gaze back above the desk, to his thick hands clasped before him, his tie, his collar, up to his face, and then met his eyes.
"That's better. Now, why don't you tell me about last weekend? Ah! Don't drop your eyes. Look at me, and tell me about Saturday night."
"I… Yes, Sir." She cleared her throat, and began again. "I went into town to see a movie, Sir. Alone."
"Alone?"
"I mean, I left here alone, Sir. I was meeting someone, a boy, Sir." He nodded and she went on. "We met up at the theater, had popcorn and soda, and after he walked me most of the way back to campus. It was late, so I climbed up the fire escape and in the window to get back in."
"I know all of that, Katherine. Tell me what I don't know." The flush had been receding, and now came back full force. "Yes, that's it, those thoughts are what I want to know."
"The movie was boring, and there were only a couple other people there, all the way at the bottom row. We were up top. So, we made out some…" She trailed off, glancing away.
"Look at me, Katherine." She pulled her gaze back to his. "Go on…"
"Yes, Sir. We, I mean, he… I…" She stopped and took another breath. "The movie was really terrible, Sir. We did more than just kissing. Eventually, I even went down on him."
"You sucked his cock in the middle of a movie theater, Katherine?"
"Yes, Sir." She clenched her jaw to keep from looking away.
"Say it."
"I sucked his cock in the movie theater, Sir."
"Did you swallow?"
"Yes, Sir, what?" She was so flustered, she answered without thinking about what he had said.
"Good girl."
Her mouth fell open, but she could not think what to say, so she closed it again.
"Then what?"
"He…uh… we left after the movie to come back here." He nodded, and she was glad he did not want any more details of their movie make-out session.
"What happened on the way back here?"
"We… he… He wanted to thank me for the blow job. So, we stopped for a bit in the softball dugout on the edge of campus."
"And…" He prompted.
"And… first he put me over his knee, and spanked me, Sir."
"Spanked you?"
"Yes, Sir."
"Why?"
"Because I like it, Sir."
"Tell me about the spanking, Katherine."
"He pulled me over his knee, lifted my skirt up, and yanked my panties down. Told me I was a very naughty girl for sucking his cock in a public theater. And that I needed to be punished. Then he spanked my bare ass with his hand. He spanked me until I begged him to stop."
"If you like it, why did you beg him to stop?"
"Because I wanted him to fuck me, Sir. And he did, Sir, we had sex on the dugout bench."
"I see. Well, he was right, you are a very naughty girl, and you definitely need… punished."
He did it again, that pause for emphasis that made her shiver, this time it also made her a little wet.
"Yes, Sir."
"Say it."
"I'm a very naughty girl, Sir, and I need to be punished."
"Good girl."
"Would you like it if I punished you, Katherine?"
She bit her lip, not sure how to answer, but nodded anyway.
"I won't fuck you like your boyfriend did, but I do want to spank that bare ass of yours." He stood up and pointed at the front of his desk. "Bend over and brace yourself. Count for me, and say thank you." He came around the desk and she spread her legs for balance and bent over.
He lifted her too-short skirt, laying it over her back. Then hooked his fingers in the sides of her panties and pulled them halfway down her thighs. Placing one hand on the small of her back, he left out a soft noise of appreciation.
"Ready?"
"Yes, Sir."
Smack.
"One. Thank you, Sir."
Smack.
"Two. Thank you, Sir."
Smack.
"Three. Thank you, Sir."
Smack.
"Four. Thank you, Sir."
Smack.
"Five. Thank you, Sir."
Smack.
"Six. Thank you, Sir."
Seven, Eight, Nine, Ten… on and on the smack of his hand against her bare ass. She counted and thanked him for each one. Moaning out the numbers by the time he reached the teens. Dripping wet by the time he got to twenty. Desperate by the time he got to thirty.
"Oh, please, Sir."
"Please, what?"
"May I orgasm, Sir?"
"No."
Smack.
"Thirty-one. Thank you, Sir."
Smack.
"Thirty-two. Thank you, Sir."
Smack.
"Thirty-three. Thank you, Sir."
Smack.
"Thirty-four. Thank you, Sir."
Smack.
"Thirty-five. Thank you, Sir. Please, Sir."
"No."
Smack.
"Thirty-six. Thank you, Sir."
Smack.
"Thirty-seven. Thank you, Sir."
Smack.
"Thirty-eight. Thank you, Sir."
Smack.
"Thirty-nine. Thank you, Sir."
Smack.
"Forty. Thank you, Sir."
He stopped, pulled her panties back up, and her skirt back down. Then went back around to his chair and sat down.
"Miss Gruenwald, you will return to your room now, you will not masturbate or orgasm for a week, and you will not leave campus again without permission, is that clear?"
"Yes, Sir." She reeled away from his desk, stopping at the door to gather her balance and her composure. "Thank you, Sir."
August 4th, 2014
(Part 1)
His lips left hers, and she gasped hungrily, her hands reaching for him. He caught them in his, lifted them over her head and held them there. Kissing her again, pressing his body to hers. She sucked his tongue eagerly, hearing him moan and feeling him hardening against her. He grabbed her wrists in one hand, tighter, and his free hand dropped to a breast. He pinched her nipple, pulling on it, to elicit a moan from her, as well. Pinching harder as he pressed her against the bed.
Please, she whispered when he pulled back from the kiss.
Please what?
I want you, she tried to pull her hands from his grip.
Naughty girl. He tightened his grip, pressing her hands firmly against the wall above her. But I want you, too. His free hand slid down her belly, one finger teasing between her lips to rub her clit. And I get what I want. His mouth descended on her nipple, teeth replacing fingers, biting and sucking as she screamed with pain and pleasure.
Please! she begged between gasps.
Please what? he asked between bites.
May I?
Please do, and don't stop. His teeth descended on the other nipple as his fingertips slipped lower, rubbing faster.
She writhed and screamed and moaned. Orgasming against his hand, arching into his teeth, forgetting all about her trapped hands as she let go and let pleasure break over her body. Again and again.
Please?
Please what?
Take me.
I thought you'd never ask…
January 24th, 2014
Wow, what a month. Sorry about missing posting last week. I was going non-stop all week, with breaks only for homework. We had a nice relaxed adult con over the weekend. Ex-hubby and his girlfriend taught body drumming. I spent the first hour heckling – sometimes with actually good questions, sometimes just suggesting new places for him to drum her. Then her screams actually pulled in an audience with questions of their own. There was also an excellent class in violet wands from our up and coming zapper extraordinaire – he kept doing scenes long after the class was over. I had a great scene last week with him and the engineer, which I will probably post shortly after this post goes live. But it has been a week of introspection this week, and I want to write about that first.
Fear is indeed the mind-killer.
I enjoy fear-play. I love the rush. I love the release of tears. I love that I can do that now, without feeling guilty, self-conscious or bad in any way (whether from fear or some other type of play). However, this often means playing with things(objects, tools) that I don't love (why else would they cause fear?).
I enjoy orgasms. I enjoy control (mmm, power exchange). I enjoy orgasm control. Whether this means begging to come during sexual activity or using a vibrator, or being commanded to come via my number training or some other way. I enjoy being made to come while in pain, or through the use of pain (oooh, spankings). (Side note: remember Not all orgasms are created equal.)
Last week, he decided to combine fear play and orgasm control into one big messy pile of tears with a stun gun. The scene was awesome. I was happy. He was bouncy happy. And the week rolled on at high speed.
Monday, I realized I hadn't posted about the scene, I hadn't really stopped to think about the Friday party or the convention or really anything that had happened over the last week. So, after I got home from watching Seven with the polycule, I sat down with my journal and started writing.
And my brain broke. Hard.
Maybe it was the talk of too many people near me(but not close to me) passing. Maybe it was feeling weird for not being as disturbed by the movie as I thought I should have been (had seen it before, so nothing was a real surprise). Maybe it was the late hour. Maybe it was being with so many people so many days in a row and then suddenly being alone. Or maybe I just need my brain to break occasionally so I can figure things out about myself.
In any case, I recognized the downward spiral I was taking, and after one attempt to climb back out that took me deeper, I stopped. I put the journal down and went to bed. Tuesday I went to work, did homework and went to gaming. Wednesday, I finished my homework post and then sat down with an empty text document to sort through my brain.
Taking from my experience with both him and ex-lover, I decided to do a Q&A with myself. If I just write, it can get very spirally. If I keep my questions simple and my answers short, I can usually sort things out more logically.
It took me a little while to dig down into the fear (bad kind) and figure out why I was freaking out. I was afraid of loss. Afraid that in my fear, I would lose my orgasm control training; or in my orgasm control training, I would lose my fear. I had to then reality check myself – was either of these things likely? No. The training is deeply ingrained, and the fear isn't likely to go away. Besides, if it does, he'll just get something scarier (I'm looking at you, stun baton). Nothing to be scared of losing, nothing to be upset about, it's all good.
Yesterday, at work, I realized I was still carrying some childhood baggage. Part of it I was consciously aware of, part of it I had forgotten about, but kept internalized. I'm a younger child. My brother and I were very similar children. We played the same sports, we looked alike, we both did well in school, had the same teachers. I've always been aware of the sibling rivalry problems – he was older so he did everything first, so when I did it, no big deal. He got all A's, so mine weren't impressive, just expected. I always felt disappointment if I didn't do something as well as he had done. This is why I went towards music and drama in high school, while he did Quiz Bowl and sports. But there was other damage I had shut away in my mind.
These last few years, I have found myself experiencing issues in my polycules when a metamour says or does something first. I don't want to do the same scene they already did, I want a unique scene. (Yes, yes, every scene is unique because of who is in it and our different reactions even to the same stimuli, but you're being too logical.) I feel awkward saying I love you after she has already said it to him, even though I feel the same way. If she suddenly cuddles him, I feel awkward about cuddling the other side of him. But while these feelings could be said to come from sibling rivalry issues, it didn't quite mesh for me. I was thinking about something along these lines yesterday, when I realized something.
In my sixth grade year, we moved. We were both in the same middle school in the new town, and the 7th graders had some extra-curricular classes in common with the 8th graders, while we all shared a lunch hour. So, they met my brother first, and given our similar appearances, started calling me Re-Pete. Like I was just a copy, and I internalized the mocking tone to mean a poor copy.
It was literally an Ah-Ha moment. I had forgotten all about that. But my unconscious was still on guard against me copying other people. Telling myself that it made me pathetic, just another copy, not my own person. It is definitely high time I unpack that baggage.
September 17th, 2012
He has a lot of boxes, has been tormenting us with the thought of 18s all weekend. We set up the massage table to sit on, he gets a bench in front of us. Sitting side by side, naked, she's still blind. He picks up a box with three boxes inside: 22s, 20s, 18s. Asks her to pick. She points at the 20s. He grins and sets the box down. Alcohol pads, I turn my head and start twitching, he wipes down my left thigh and her right. Thigh? Yep. Then the iodine, painting a wide swath yellow. Two each, he tells us. 25, 22, 20, and 18. I don't know about that, we'll see. I've only ever done two before. I just don't know.
Her first. I close my eyes as he pops the first cap, kicking my foot against his bench. She screams a bit, and then it's my turn. Her hand on my back. Did you orgasm? What? I look at him. I counted to three. I… no, sorry, Sir. Pay attention, are you ready? Yes, sir. I close my eyes again.
Breathe in. 1. Breathe out.
Breathe in. 2. Breathe out.
Breathe in. 3.
Freeze. Pain, screaming, orgasm. Thank you, Sir. Gasping. Tears.
And he's counting for her again. Breathe in. 3. Good job.
Small orgasm numbs the pain. Thank you, Sir. I calm a little as he returns to me.
Breathe in. 1. Breathe out.
Breathe in. 2. Breathe out.
Breathe in. 3.
Less pain this time, squealing, orgasm. Thank you, Sir.
Time for the 22s.
Panic, fear, adrenaline, shaking, please put your hand back. Her hand on my back.
He counts her third. I orgasm, thank you, Sir.
You ready?
I shake my head, try to get a grip. Deep breath and settle.
Breathe in. 1. Breathe out.
Breathe in. 2. Breathe out.
Breathe in. 3.
Screaming pain, orgasming, shaking, oh yeah, breathing. Thank you, Sir. Crying.
You can cry all you want.
I know, Sir.
Counts her fourth in.
Orgasm, twitching, thank you, Sir.
You ready? Sobbing, breathing, settling to be still. I look at him, so happy.
Breathe in. 1.
Breathe in. 2.
Breathe in. 3.
Pain. Screaming. Orgasm. Gasping. Thank you, Sir.
Time for the 20s. Oh god.
He runs his finger over the needles, it feels funny.
He jokes a bit, I can't remember the words.
Can I swear at you, if I call you Sir?
No.
I'm not sure how I haven't sworn yet, but I know it's coming. Twice as many already as ever before. He does her next one, and she screams louder than any of the others.
Not helping.
Good job.
Thank you, Sir. It sounds funny, me thanking him for my orgasm after he tells her she's done a good job.
Are you ready?
Breathe, settle. Stop kicking. Squeeze her hand.
Breathe in. 1.
Breathe in. 2.
Breathe in. 3.
Scream. Gasp. Thank you, Sir. Fuck me. Ow. Tears.
Back to her for number six.
Good job.
Thank you, Sir. Still sounds odd.
Deep breaths, look at his eyes, glance down at my thigh, back to his eyes. So happy.
You okay?
Yes, Sir. How in the hell am I okay. I'm they don't hurt once they're in. Too much adrenaline and endorphins to freak out. Remembering to breathe.
Ready? He pops the cap, I squeeze my eyes shut, grab her hand.
Breathe in. 1.
Breathe in. 2.
Breathe in. 3.
Screaming, Why do they hurt three times? Hold my breath and writhe through the orgasm. Thank you, Sir.
Time for 18s. Oh god, oh god, oh god.
She's never even done them before. Me first? Oh gods no. No, he'll do her first, he wants to see how they push and drag. Oh god, stop talking about dragging.
She takes her hand away to brace herself. And screams a lot.
Thank you, Sir. Oh god, that sounded horrible.
You're not going to give up on me now?
No, Sir. Kicking the bench. Breath, relax. Oh god.
Ready?
I close my eyes and look away. Grab her hand.
Breathe in. 1.
Breathe in. 2.
Breathe in. 3.
Scream, scream, scream. Oh god that hurts. Ow, ow, ow. I don't think I remembered to orgasm. It didn't stop hurting. I tapped my foot. Breathing. Fuck me.
Her last one went better, thank you, sir, orgasm bringing the pain back down. And then it was my turn again. Needle number eight, on my god, was I seriously doing this? I couldn't stop now. Just one more needle.
Breathe in. 1.
Breathe in. 2.
Breathe in. 3.
Screaming, gasping, orgasm. Thank you, Sir.
Runs his finger over them, feels funny. I look down. Not too bad, all capped. The caps had kept falling while I twitched, but I don't remember when exactly. He took the caps off, wanted pictures. Of our legs, then us snuggled together. She got her eyes back so she could see.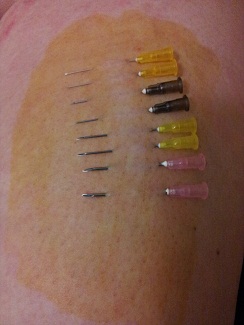 Then he pulls out his TENs. Could we last or did we want the needles out. Once in they were fine. How was it fine? Ah adrenaline. Floaty happy. TENs was lovely, happy tingly TENs, writhing, moaning happily. Gods, I love TENs. All the way up to the top. I get distracted, poke my arm with three of the needles. Gives me gauze, hold it on.
Time to take them out. She hates this part. Stings a bit, but it's not nearly as bad as in. Breathe through them, one by one. Oh god, they're bleeding. It's dripping. He wipes them up, cleans the table. Gauze, hold it tight. She clots much faster. I made it. We both did it. Her first time with 18s, my first time with so many needles and three of those gauges. So proud of us. I show off the marks to everyone who will look the next day. So happy and proud. Incredible scene.
September 17th, 2012
What an amazing weekend! I didn't get to do everything I wanted to do, but that's the nature of life, and what I did get to do, more than made up for anything that we didn't manage to squeeze in. The best plan falls apart upon encountering the enemy, and that was the case for several of my friends, but for me, this time, nearly all my plans survived, and some of them far better than I ever anticipated. A lot of people are saying it was the best COPE yet, for me, this is entirely true. I have never had so many scenes, I have never stayed at the hotel, let alone with my partner during the event, and I've also never been so well fed at an event. About the only thing that was "on par" for my other experiences, were the classes. They always bring in great presenters to teach really fun classes. I had an incredible weekend.
What happens at COPE stays at COPE, they say, no outing other people by talking about their scenes. But that's not what I do here, as you all know, I talk about what I did, and my experiences. So let's begin at the beginning.
Our con began with meeting up with friends, helping out, and getting registered. We found quite a lot of our usual crew and gathered up for a nice dinner at Buca di Beppo. We even got to sit in the Pope Room, because there were so many of us. We talked about crew and the con ahead and even about the upcoming Trauma. Enjoying time together as a family, and then we took food back to feed the rest of our family who couldn't make it out. Being a group with the volunteering spirit, many were working the con, too.
Back to the hotel, I had a scene right up front, so I didn't even change, but went and found my ex-Lover, and we took our place for my requested "challenging, transitional suspension." That, will be a post later on. Afterwards, I went back to the room, got on my shiny kimono and boots, and went in search of him. He was bringing down a suspension, so I knelt nearby, helping clean up rope until he was done. The engineer was nearby scening, too. After that, we sat with friends for a time, until he retrieved us, stun gun in hand, to go back to the main room for our suspension scenes with him. Another post to come. He tormented us both with the stun gun while we waited for the high point, but the battery died out as he tried to keep tormenting me as he began to tie her. We played on the rig in the corner until they turned the lights on that night, and then headed back to our room to take care of each other, with massage and orgasms, and cuddling to sleep.
Morning dawned quietly, but I was awake early. I really wanted to attend class right from the start, so I was up, rinsed off and dressed in a sari while they were still gaining consciousness. They said they'd catch up, so I headed out, grabbed an apple(I was too late for bananas), and found a seat in Bondage for Punishment and Pain. They joined me sooner than expected, but before the class changed rooms in favor of a high point, and we knelt beside him, as much as we could manage, for the entire entertaining class. I found myself able to manage for 15 minutes or so at a time, not wanting to distract myself too badly from the presentation. 4mm rope, a high point, and a flexible bottom, made for quite the class. Stopping by the vendors on the way out, he found some great new toys to buy, a dragon tail and three leather "cocks." The latter being woven leather cylinders of various widths, with rounded ends, that work great to bludgeon your partner with. We headed back to the room to test them out, and were quite happy with the results.
We then headed off to brunch at First Watch. The second class session not holding our interest more than finding food did. Waffles, bacon, pancakes, eggs and coffee later, we were satisfied and heading back to the afternoon classes. I did wear my bratty shirt, and very short skirt, but I took my sari as a wrap to stay warm, as well. Extreme Bondage was up next, with more kneeling from us, though the presenter invited folk to come close and watch, so he was up in front away from us most of the class. This time, I found the tops of my feet beginning to hurt much faster than I was losing circulation. The class itself was quite interesting and entertaining in its own right, with a handful of really restrictive ties. The next class period, the engineer headed off to a latex class while he and I wandered back to the vendor area, this time picking up a book, a new suspension ring, swivel and two hanging straps. The final class of the day, Predicament Bondage, was the same couple as our first class, we all sat in chairs this time, and had a blast watching (and helping with) the crazy stuff the presenter came up with. Electricity, water, rope and weights and everything else he could grab from his bag of toys. Such fun.
We headed off to dinner, then, Fish Market our destination. Got a seat quickly in the bar portion and, though it was noisy there, we had quite a nice meal together. We he asked us if we'd seen anything that day that we'd like to try, we grinned and said all of it. I took my leftovers back to the event, but couldn't find anyone in need this time. We attended closing ceremonies, complete with lube-tossing, auctions, NCSF and gratitude. And then the final play party began.
We headed back to the room to get dressed, the engineer donning her blind contacts and me my straitjacket over lacy bodice with garters to red fishnets and shiny boots, he even wrapped my pleather skirt around my waist. I was to be her eyes, and her my hands. We headed back to the dungeon, all grins and giddiness. He showed us off down the hall, through the social area and all around the dungeon. Then we headed to the back rig for him to do his scenes and assist in others. I tried to keep her informed of the things going on around us, and once he sent us to fetch water and candy from the adjoining room. After his scene, she wrapped up the rope for him and I returned it to his bag. When these scenes were complete we headed back to the room for more private fun.
Back in the privacy of our own hotel room, the engineer and I stripped down, but she kept in the contacts. We rearranged some furniture, and sat down side by side, facing him, for an incredible needle scene. Post to come. How I didn't freak out or pass out, I'm really not sure, let's just say I'm stubborn, and they were incredible in supporting and encouraging me. We thanked him with massage and curled up for a well-deserved, good night's sleep.
The engineer had to head off early the next morning for school, and we hung around to help tear down and load out the dungeons. After many good conversations and goodbyes, I headed home to check on the internet, crash for a couple hours and then went out to dinner with hubby and friends. Home again for the last two episodes of BSG, some Lactaid ice cream and then crashed out completely for at least twelve hours. Amazing weekend of awesomeness. Thank you to everyone who made it possible and who made it great.
August 16th, 2012
The only trouble is, I find, that I close my eyes on 3, and miss part of the ride. King's Island was a blast though.
I'm heading out on a weekend away to visit more conservative family. I was hoping to have the newest e[lust] digest to post for you, but it's not up yet.
Very much looking forward to ChiCon at the end of the month and then COPE in September.
Also, going to see Avenue Q in a week and a half with hubby for our anniversary. Possibly better timing than the last muppet-themed entertainment we watched together.
Having huge bouts of emotional neediness this week, need to stop that. Have managed to keep them in check, think I'll go for some walks in the woods while we're out at the farm. Just gotta be patient a little bit longer. The season is almost done.
May 27th, 2012
The other day, I was asked "Do all true masochists orgasm from pain?"
After snickerting at the word "true" for a moment, I answered masochists enjoy intense sensation. Each in their own way.
Later, I felt this deserved a bit more thought and discussion.
Dictionary.com: Masochism is "gratification gained from pain, deprivation, degradation, etc."
Midori has forever changed the phrasing in my head to be "intense sensation" instead of "pain."  She's right. Pain is too broad. My elbow hurts right now, I'm not getting gratification from it. But intentional intense sensations, I do. I like that deprivation and degradation are included in the dictionary definition. Emotional masochism is just as powerful.
Orgasms are not the end result of intense sensation for me, they are simply one way for me to direct the energy created. A way I enjoy, certainly, but when I'm with a partner, only when allowed, or so directed. Yes, sometimes it turns me on so much I want an orgasmic release. Yes, sometimes it is so intense I want to orgasm to channel or focus the energy somewhere. But certainly not every time, certainly not for all intense sensation.
And that's just me. I'm sure there are folk out there that it does exactly that for. That all intention intense sensation causes them to orgasm, or to want to orgasm. I'm sure there are folk out there that humiliation causes orgasm for, too. Or sensory deprivation; I enjoy it but it's far from orgasmic for me.
April 22nd, 2012
I asked to be tied up and tossed in a corner. I wanted to fight the rope. I wanted to sit and struggle and soak in it. So I asked him, and he said we'd see. The club can often make that impossible.
The night started with a new bit of metal from our blacksmith friend. A flat bit of metal with a double cuff piece folded over. Nice new hinges. He pins my wrists in and then hooks it up to a suspension point. I think I can slip my hand out, but I just hold on. I'm in socks, so up on my tiptoes. Then he pulls out his flyswatter. Oh god oh god oh god. I scamper and whimper as he grins.
Zap.
Zap. Zap. Zap.
Squeak, spin squeal, spin.
Zap. Zap. Zap.
"The perfect dress for this."
Fuck. Ow. Shit.
Spin, Spin, twist.
Zap. Zap. Zap.
Yip. Squeak. Spin.
"Just think, when you're tied up in the corner… and I'll have your socks off, too."
Whimper. Zap. Zap. Zap. Zap. Squeal.
"I have to have my fun, too."
"Yes, sir."
Zap. Zap. Zap. Zap.
Squeal and spin.
"Feel better?"
"Yes, sir."
He takes me down, shows off the toys and then its time for class.
A young woman has traded him flogging for service. He gives her to us. Twenty minutes of massage a piece for his women. I sit in front of her, shoulders please. Her hands are soft, my knots are hard. But she does a very nice job, rubbing and working some of them out. I count the songs. Four and I let her know she's met the time. Thank you, very nice. Toy is next.
He grabs the bag of 6mm hemp and sits down, smiling at me. It's time. I step over in front of him and put my glasses in the roses. He looks up at me, considering, and I smile back nervously eager. Wondering what kind of tie he has in mind. Turns me around and starts on my wrists. Box tie.
Strange people in front of me, I drop my eyes to the ground, my focus back to him. Rope, delicious rope going around my arms and chest, through the armpit to lock it down. Second rope, lower arms, lock it down, pull in tight. A third rope, around the waist, tightening further, no movement at all in the arms. My elbows wobble and I can move my fingers, but that's it.
"Look what I brought."
Red clips. Oh god. Seven little red clips in a bundle.
"I have to make it fun for me, too."
I whimper and scamper back a bit, a look and I come back. He reaches up to a nipple. Whimpering and squeaking as he puts it on. Left. Right. Left. Right. Squealing and swearing and breathing hard. Left. Right. Three on each, a line across each. I gather my control as they sink in. He waves the last one at me.
"Where do you think this one goes?"
I whimper as he lifts my dress and pinches in on the front. Shit. Fuck. Oh that pinches. Breathe. Breathe. Ow!
"Which one hurts most?"
"That one."
"How's your head?"
"Light?"
"From what?"
"Not breathing."
I kneel down, drop my head and focus. I cannot fail so quickly. I can do this. Breathe slowly. Deeply. He moves away. Breathe. Focus. Okay, better now. I can't fight the rope. I can barely move, but I can fight the pain.
A blindfold comes down. Tied around my head. He pulls me to my feet. Forward between tables and chairs, to a cubby. A couch. Down, lays me down, gets me a pillow and adjusts my dress. He sits opposite for a moment, someone else, too. Toy, I think. Then he wanders off. I can feel him in my feet, out past my feet.
I can hear everyone. Talking and walking, playing and screaming. I shift my legs, I feel my socks on my feet and I shiver, remembering. My feet, oh god, the flyswatter. I twitch for a moment, and then settle in. I can hear him talking in a group nearby.
Settle in, feel the rope, relax. Uncomfortable arms. Shift. Pillow moves a bit. Settle. Shoulder. Shift. Better for a while. I can feel him moving. Hear his keys. Hear his boots. Arms still annoyed. Okay, sit up. Feet against the other couch, a person there.
Much better. Sink back into the rope. I can feel him in front of me.
Zap! Zap zap zap.
Squeal and squirm. Twist and yip.
Fuck. Shit. Twisting against the lower clip. Ow!
Zap. Zap. Zap.
Squeal. Turn. Scramble.
Zap. Zap. Zap.
Fuck. Ow. Squeal. Twitch.
He zaps toy and I can hear her try to be quiet.
I twitch in fear. A few more shots on both sides. I think the engineer is nearby, too. Squealing and squirming. Legs up on my couch. He wanders away, but I keep twitching. I can feel him in my forehead, moving. Breathing hard, trying to relax. I can't, yet. He's right out there.
Settle in. Find comfortable again. Breathe. Keep track of the people. Listen to the electric booth. Listen for him. Move with the music.
He's back. Zap. Zap. Zap.
Scream and squeal and squirm.
Zap. Zap. Zap.
Scramble. Squirm. Swear.
Zap. Zap. Zap.
Squeal. Yip.
Fingers. Fuck. Ow. Ow. Ow. Wrist.
It's okay, fine now.
Zap. Zap. Zap.
Squeal. Squirm.
Twitch when he switches to toy. Back and forth.
"Oh, I know what I want."
He grabs and foot and I whimper and fuss.
"Stop."
I freeze, focus on breathing. Hold still.
Zap. Squeal. Zap zap zap. Scream.
Zap. Zap. Zap. Squirming but trying to hold my foot still.
Zaps the heel. Not so bad, the whole foot, not too bad. Toes!
Ow! Squeal and squirm. He lets it go and wanders off again.
I curl up, twitching. Trying to calm again. He comes back, sits across. Forehead towards him, twitching.
"Not really abandonment if I keep coming back is it?"
"No, just makes me paranoid."
"Why?"
"Because the last two times you had the flyswatter."
He wanders off and I sink back in. My left pinky is going numb, I shift and rock and enjoy the music. Cross legged and sinking in relieves the pressure. Rocking to the music, settling in to the rope. I feel him come back again and twitch my head slightly. Afraid.
"Look at her head. Are you almost done?"
"No, Sir."
Wanders off. I can track him with my forehead. The music keeps me moving. Sinking. Back again, Smack.
My thigh.
Smack. Smack. Smack.
Groan. Moan.
Smack. Smacking to the beat.
Groan into a scream and he stops.
"How you doing?"
"Good. Pinky was numb, better now."
Something with the toy and she comments how hard it is not to talk.
Gone again. Sinking in, music, beat, rocking in circles. My nipples catch fire. They are suddenly awake and hurting like he just put the clips on. Stabbing pain. I rock harder and snap my teeth. Wanting to bite down on something for the pain. Shaking my head, swearing, rocking, snapping. Breathe. Don't get light headed again. It's just pain. Breathe, rock, snap, moan.
He's back.
"The clips hurt so much, but I know they are going to hurt more when you take them off."
"Do you want to orgasm?"
"Not without permission."
"I could take them off and put them on toy."
Oh god, I don't want them off.
"Toy, don't you want to help Miss?"
"Yes, oh god."
"Toy, toy, toy, no, it'll hurt so much, Toy, that's not helping, toy."
But he has her distracted and she's agreeing. Back to me, and I'm lying back against the couch.
"Ready?"
"No, Sir."
"1, 2, 3!"
Off comes the lower one and off I go, screaming orgasm, kick someone at the end of the bed, not sure who. Thank you, Sir.
"1, 2, 3!"
The first nipple clamp on comes off. Screaming, kicking orgasm. Thank you, Sir.
"1, 2, 3!"
And again, trying not to kick this time. Thank you, Sir.
"1, 2, 3."
He waits for me to orgasm before he pulls the clip and I scream and arch.
"1, 2, 3."
Again. Orgasm, pain, scream. Thank you, Sir.
Oh god oh god oh god. The last two are going to hurt so badly.
"1, 2, 3."
Orgasm, and no pain. Thank you, Sir.
He grabs both, and I whimper and press back against the couch.
"1, 2, 3."
Orgasming, fear, pulls, Pain. Screaming, screaming, swearing, crying. Riding the wave higher and rocking and sobbing. Gasping breath. Thank you, Sir. Breathing. Calming, settling back. Whimpering from the other couch. Toy.
Breathing, relaxing, He moves away and I sit back up. Rocking, weaving to the music. Sinking deep into the rope. Leaning forward to release pressure on arms. Rocking in circles, enjoying the music. Sinking, spacing. Gone.
Back again.
"How are you doing?"
"Arms hurt a bit, lower arms, wrists."
"Are you done?"
"No, spacing."
"So we should take you out while you're still spacing?"
"Probably."
Up and out. And the ropes come off, inch by inch. The pull of the rope on my skin sending me higher. Shivering, thrilling at the feel of it. Pressure releasing. Breathing and flying. Slowly lower my arms, raise them up to stretch. His hand on the small of my back, gently pushing me forward, to the opposite couch. Sits me down, dumps the rope in my lap.
Rope. Hemp. Oh gods hemp. I pull it up to my face, breathing it in. Lift my legs to brace my arms, bury my face in the hemp. Breathing, smelling, Shifting my head whenever my breath overwhelms the scent. I think toy has left the couch, sitting opposite now. I want to lie down.
I slide a hand over, no one there, just my sock. I lie down, curl my legs up on the couch. Rope still in my face. So far gone. I can still hear, but I no longer care. Rope. Glorious rope. So lucky, so blessed, so loved. Mind just floats. A blanket over me, fleece. I wasn't cold, but it contains me. Keeps me inside myself. Rope and comfort and wonderful.
"Is she still asleep?"
"Not asleep, didn't sleep."
He pulls the blindfold off.
"It's bright out there."
"Yes."
"You still have all the rope."
"MmHm."
"You have to put it away, you know."
"Yes, sir."
"Is that what you needed?"
"Yes, sir. Thank you, Sir. Thank you, so much."
I grab his hand. Kiss it. So grateful.
The lights come on. Time to clean up. I sit up on the couch and take care of the rope. Coming the rest of the way down slowly as everyone else takes care of the gear.
I thank those around me, for taking care of me, of everything. So lucky to have such friends, such family. The world comes back and we load out and head to breakfast. Such an wonderful night.
March 8th, 2012
I may want tears tonight.
I smiled back at him, warmth filling me at the thought. I'd been aching for that, and we were both finally in a place where it would be healthy to go there. His boots needed attention, too. Having just gotten the soles replaced on both pairs. I hadn't blacked the steel toed ones in a while. It was going to be a good night.
Arrive, hugs and snuggles. His boot toes are certainly dirty. The puppy is too rambunctious though, we head downstairs. My kit in hand, he sets up a chair in the back corner in a decent pool of light. Down onto the cold cement I go, think skirt barely any protection. Set out the kit, go get water. He gets distracted by a self-suspension and goes to offer advice and assistance. I wait patiently, preparing myself to serve him.
He returns and we roll up his pant legs. I unlace his boots, draping the waxed strings over my neck, bight towards the respective boot. Lather created while I waited, I head for the right boot, pulling it up onto my thigh. Snip a few strings. Saddle soap, brush, toothbrush and fingers, working into the soft leather. Switch. Left boot on right thigh. It feels good to have them in my hands again. Clean it up and snip a more strings. Switch. I have to sit at this point. Bare feet on cement with the added weight of his leg is doing no good for my feet. Black gold for the shine. Fingertips working every inch. The class has started behind me at some point, I'm listening, but the boots hold my focus. Switch. More black gold and work into the leather. China marker and I bring out the sole lacing, bright white beneath the gleaming black leather. Quick run with a cloth and done. Pack up and sit to his right. Arms around his leg, head on his knee for the rest of class. The engineer girlfriend on his left. He pets and strokes, and squeezes our shoulder knots as we listen and talk about violet wands.
Class over, I am responsible for a few minutes, organizing for the weekend. He warms up on the wall and then smiles over at me. Ready to go? Yes. I put aside my phone and glasses, toss my shirt to the floor below them and walk to the cross. Taking off my bra, I drop it against the wall and hug the beams.
He starts off with the short, soft ones, but they still sting a little with the power he uses. The music isn't playing yet, he's got mp3s playing in his ears, but I don't know what song. I close my eyes and concentrate on the strikes. Catching his rhythm, I bob my head with the hits. The room is full of conversation, but I focus in on us. On the cross, on the floggers, the energy between us. The leather feels so good on my back. His hands beat into the muscles, fingers drag over the heated skin.
He rides the waves of the music in his ears. The strikes come harder and faster, bringing moans then screams. I bounce and stamp, my heel begins to tap with the beat. I am grateful for the mobility of the cross. I shake it and pull on it. We ride the wave back down. His hand in my hair, he pulls me off the cross and down to my knees. My hands on my thighs, I breathe and wait.
He pulls me up again. Stingy floggers, and I scream. Jumping and bobbing and writing against the cross. Falling deep into space. Growling with determination. I can feel the attention some of my screaming is drawing. I smirk, but it is swallowed by another scream. He pauses whenever I jump around. Waiting for me to come back to him. I hear the engineer beating the wall beside me. I know it is her, though I don't look. Her strikes familiar. I feel his hands again, sending shivers through my body.
Now there are mop floggers. More solid hits. Hard, throbbing against the cross. I hear music, but it isn't what he's listening to, so it doesn't matter. The mops beat into me and he goes faster. Six count and my head can't keep up, it starts rolling as the flogs roll over my back. The scream builds low in my belly until it bursts free.
His hand in my hair, pulling me up. Your skin is breaking, we're going to have to stop soon. How are you? I can only smile. I think I manage Good. Do I need to put you in the corner? I nod. He puts me back down. I nearly cry. My body betrays me.
He strikes again and I jump. Oh, we're starting again, he grins. I nod and he hits. Hard and stingy. I scream and writhe. I hear the engineer beside me, singing. Some of them want to abuse you, some of them want to be abuse. I smile through my screams. Her voice a perfect compliment to the end of our scene. My head bobbing with the song as I scream and shake the cross. I hit my knee once and bounce quickly back up. I hear him start to count with his strikes. 1. Scream. 2. Scream. 3. I drop, but not to my knees, hanging from the cross momentarily in orgasmic release. I pull myself back up. And he finishes off with a few more strikes.
Then his hand is in my hair again, pulling me away from the cross. Around other people and then forcing me down to my knees sheltered by some spanking benches. Head down, eyes tightly closed, hands out. I'm too deep in space to be touched. I can hear everything around me, but it doesn't matter. The energy is all I care about. The floating, happy, gasping, shaking wonderfulness inside me.
Slowly, I float back down into my body. The sounds around me start to invade. I hear him start in on the engineer. The people beside me talking about blow jobs. Noise and cold air. I'm not ready yet. I ignore it for a little longer, my eyes still heavy.
I'm numb from the knee down before I'm ready to open my eyes. I look around. Who are these people next to me? I still don't know. He flips a flogger out of his grip and we smile. But I'm awake now, time to move. I don't want to continue listening to the conversation beside me. I drag myself up onto unfeeling feet and make my way to my things. Glasses on, shirt wrapped around me, text messages checked.
I head over to the bishop's chair to perch and watch the rest of their scene. She stands still. I am amazed and a little confused. Her happy place, she'll later explain. But then she starts reacting. Screaming and curling up against the cross. He grins with glee, and goes after sharper toys, even the dragon tail, though he only slaps with it, doesn't snap. She curses and screams until he is done. Then he wraps her up against his chest.
A few minutes and then calls me over to join them. Snuggling together by the cross, until we're ready to move. I scoop up my bra and we head upstairs. The couch is taken, but he heads for the big chair and we sit at his feet again, heads on his knees. After awhile the couch is free and we pile on in. Snuggled against his chest and shoulders, arms and legs entwined. Relaxing together until it is time to go.
My shoulders are wet and tacky, a layer of skin is gone, but they only sting a bit, not hurt. The next day they'll be cold. A new and confusing sensation. Hers are quite tender and it makes me want to poke them when I hug her good night. We head our separate ways with hugs and kisses. It has been a wonderful night for us all.