February 9th, 2016
A different needles experience this year. After the con was over, back at our own place. Rounding out the weekend, with what we could not do there.
I was the most experienced receiver in the room. One had done none, one had only had two. So, he was in teaching mode. Being (mostly) kind, careful, and slow. A needle or two here, and needle or two there. We started me with 20s, them with 25s. There wasn't a flow, it wasn't that kind of scene. We encouraged them to go bigger and bigger, he and I. One got to 16s with me, the other to 18s. We had an observer, too. Not interested in pushing, but there for moral support.
We still all got high on tasty chemicals. He was bouncy now and then. We all breathed together. The needles still hurt, mostly coming out, but occasionally the whole way through. He made me look at every one. I think my 16 got turned around inside. Gods that took forever to come out. I only cried a little, the first time he pushed two, one right after the other. I didn't scream as much as I usually do, they didn't scream at all. It was a different kind of scene.
The pace was slow, but the needles stung more, keeping my high going, if only just, as I rocked and swung my feet. Asked him to run his finger over them, push me higher. Freezing whenever he pushed a needle. Resting my foot against his leg when he was pushing right next to me. Contact to keep me going. Only 13 in my thigh. Next time, we'll all do more.
Out was worse than ever. Most of them hurt coming out, they don't usually hurt at all. The high wasn't high enough, I guess. The big one hurt a lot. I'm pretty sure I screamed.
And So Much Blood! I spouted in the middle of pulling them out. Panic, I tried to catch the blood, and only barely managed not to stab myself, half the needles still in. Shit! Blood all over me, blood dripping down to the floor. Fuck. So much watery blood. Why is it so thin? Pressing pads down over the holes as he cleans up. Sorry. We should have known, beaten legs bleed more. Breathe, drink, press, calm. Clean up everything. Stop the bleeding before I can sleep.
Thank you.
February 10th, 2015
A year ago, I traded 11 needles for 3 Cheddar Bay Biscuits at dinner. Due to circumstances beyond our control (and even our imagination), those needles were not paid. During the past year, he kept teasing me about the interest I was accruing, depsite my various offers to pay that never quite panned out. We never did settle on a firm rate of interest. Now, needles were planned, and my debt would come due.
He had three of us sitting side-by-side, all there for different reasons. He looked at me, a wide grin on his face. So, your interest will be paid like this, you choose the gauge, and you will get that many needles. What gauges do you have, I ask, knowing part of the answer, in the 16s he had bought earlier. 25, 22, 20, 18, 16. I ponder, and math, and fidget, and freak, and ponder. NOT doing 18 or 16. 25 sounds like way too many. 20 isn't really worth only getting two less. Alright, 22, I tell him. That's not so bad, the one on my right comments. I've only ever done 8 before, I reply, trying to stay calm. My feet are kicking, like a little kid, I can't stop them, nervous energy running high.
He comments on my having an awful lot of orgasms, since he counts out breathing to 3 as he puts them in. No, I can't, I really can't with this. He looks at me, and nods. I'm terrified, and terrified that I'll move while he's stabbing me. I just can't. He has accepted it, but I feel a bit disappointed in myself. I'll forget this quickly, however, as the needles begin.
We each pick our body parts. He prepares the skin with alcohol then iodine. Thighs for me, careful to choose the swaths that are clearest of bruising.
He starts on my left. I stop my feet, don't rock the table. 1.2.3. Then to me. You ready? I clench my hands behind my back, tears forming. No. Breathe in. 1. Breathe in. 2. Breathe in. 3. It slides in easily, I whimper. Not so bad, I think, as he goes to my right. Then my left. And back to me. The tears are falling, but dry up shortly after the second one as I begin to fly.
We go one by one. He counts, we breathe. Sometimes we scream. Sometimes we yip. Sometimes we grumble or growl. Always we are joking and making each other laugh. All of us flying high. He is bouncing, dancing, and giddy. I am complaining about how close together the needles are, there's plenty of space on my thighs. But he needs practice keeping them close because of the design work he's doing to the left. Somewhere around ten, he takes a different strategy. Finishing off the one on my left all in one go, to let her settle in before the lacing. Then he comes to me.
My 11th. Counts, and I scream. That one hurt three times! Ready? He moves to the next row. What? No? He counts quickly and slides it it. You have to wait for me to breathe! I whimper. No, I don't. I'm crying again. And another. And another. And another. Counting a little slower each time. He's done five before he pauses. More? No! Please. He moves to my right, finishing her 18s. As I regain control and start flying again.
Back to me. Four more? Three, I counter. He counts three. Breathe in, 1, breathe in, 2, breathe in 3. And again, and again. Then back to my right to start the 16s. We tease her about them not hurting, because she said bigger ones hurt less. Hurt Less, she insists, not don't hurt.
Back to me. Breathe in, 1, breathe in, 2, breathe in 3. Pain. Breathe in, 1, breathe in, 2, breathe in, 3. Pain. More? No, getting light headed. He goes back right. Back to me. Last two? Yes. Breathe in, 1, breathe in 2, breathe in 3. Pain. Breathe in, 1, breathe in 2, breathe in, 3. Pain. They clap for me. 22 needles, and I am done.
He finishes the left one's pattern. I rest my head on the right one's shoulder. Takes a picture on the left, then takes a picture of mine. Then goes back for the last few 16s on the right. And takes a picture for her, too. I ask him to run his finger along the flesh over my needles, it feels cool, but I can't bring myself to touch them. He does. The others find me odd, but it's a really interesting feeling. But now they hurt. I am rocking, flying on the pain.
He takes out the ones on the left first. You next? He asks me. No, still flying. So he goes to my right. Then back to me. Handing me gauze. You have to do this part yourself, no one else can touch your blood. He has changed gloves between each person. I know. He pulls them out a few at a time, and I plop down gauze pads. I can barely feel them coming out. I just breathe and cover the holes with gauze. All out. We all clean up, alcohol pads and gauze. When the bleeding stops, I wash the iodine off in the bathroom. Such a great scene, maybe I do like needles, after all.
February 5th, 2014
You thought these were all going to be vanilla, didn't you? Never fear.
Top Three Surprising (to me) Kinky Discoveries
 I could do needles without passing out (and want to do them again)
I like whips
Gags aren't just a jaw problem, they freak me out
September 17th, 2012
He has a lot of boxes, has been tormenting us with the thought of 18s all weekend. We set up the massage table to sit on, he gets a bench in front of us. Sitting side by side, naked, she's still blind. He picks up a box with three boxes inside: 22s, 20s, 18s. Asks her to pick. She points at the 20s. He grins and sets the box down. Alcohol pads, I turn my head and start twitching, he wipes down my left thigh and her right. Thigh? Yep. Then the iodine, painting a wide swath yellow. Two each, he tells us. 25, 22, 20, and 18. I don't know about that, we'll see. I've only ever done two before. I just don't know.
Her first. I close my eyes as he pops the first cap, kicking my foot against his bench. She screams a bit, and then it's my turn. Her hand on my back. Did you orgasm? What? I look at him. I counted to three. I… no, sorry, Sir. Pay attention, are you ready? Yes, sir. I close my eyes again.
Breathe in. 1. Breathe out.
Breathe in. 2. Breathe out.
Breathe in. 3.
Freeze. Pain, screaming, orgasm. Thank you, Sir. Gasping. Tears.
And he's counting for her again. Breathe in. 3. Good job.
Small orgasm numbs the pain. Thank you, Sir. I calm a little as he returns to me.
Breathe in. 1. Breathe out.
Breathe in. 2. Breathe out.
Breathe in. 3.
Less pain this time, squealing, orgasm. Thank you, Sir.
Time for the 22s.
Panic, fear, adrenaline, shaking, please put your hand back. Her hand on my back.
He counts her third. I orgasm, thank you, Sir.
You ready?
I shake my head, try to get a grip. Deep breath and settle.
Breathe in. 1. Breathe out.
Breathe in. 2. Breathe out.
Breathe in. 3.
Screaming pain, orgasming, shaking, oh yeah, breathing. Thank you, Sir. Crying.
You can cry all you want.
I know, Sir.
Counts her fourth in.
Orgasm, twitching, thank you, Sir.
You ready? Sobbing, breathing, settling to be still. I look at him, so happy.
Breathe in. 1.
Breathe in. 2.
Breathe in. 3.
Pain. Screaming. Orgasm. Gasping. Thank you, Sir.
Time for the 20s. Oh god.
He runs his finger over the needles, it feels funny.
He jokes a bit, I can't remember the words.
Can I swear at you, if I call you Sir?
No.
I'm not sure how I haven't sworn yet, but I know it's coming. Twice as many already as ever before. He does her next one, and she screams louder than any of the others.
Not helping.
Good job.
Thank you, Sir. It sounds funny, me thanking him for my orgasm after he tells her she's done a good job.
Are you ready?
Breathe, settle. Stop kicking. Squeeze her hand.
Breathe in. 1.
Breathe in. 2.
Breathe in. 3.
Scream. Gasp. Thank you, Sir. Fuck me. Ow. Tears.
Back to her for number six.
Good job.
Thank you, Sir. Still sounds odd.
Deep breaths, look at his eyes, glance down at my thigh, back to his eyes. So happy.
You okay?
Yes, Sir. How in the hell am I okay. I'm they don't hurt once they're in. Too much adrenaline and endorphins to freak out. Remembering to breathe.
Ready? He pops the cap, I squeeze my eyes shut, grab her hand.
Breathe in. 1.
Breathe in. 2.
Breathe in. 3.
Screaming, Why do they hurt three times? Hold my breath and writhe through the orgasm. Thank you, Sir.
Time for 18s. Oh god, oh god, oh god.
She's never even done them before. Me first? Oh gods no. No, he'll do her first, he wants to see how they push and drag. Oh god, stop talking about dragging.
She takes her hand away to brace herself. And screams a lot.
Thank you, Sir. Oh god, that sounded horrible.
You're not going to give up on me now?
No, Sir. Kicking the bench. Breath, relax. Oh god.
Ready?
I close my eyes and look away. Grab her hand.
Breathe in. 1.
Breathe in. 2.
Breathe in. 3.
Scream, scream, scream. Oh god that hurts. Ow, ow, ow. I don't think I remembered to orgasm. It didn't stop hurting. I tapped my foot. Breathing. Fuck me.
Her last one went better, thank you, sir, orgasm bringing the pain back down. And then it was my turn again. Needle number eight, on my god, was I seriously doing this? I couldn't stop now. Just one more needle.
Breathe in. 1.
Breathe in. 2.
Breathe in. 3.
Screaming, gasping, orgasm. Thank you, Sir.
Runs his finger over them, feels funny. I look down. Not too bad, all capped. The caps had kept falling while I twitched, but I don't remember when exactly. He took the caps off, wanted pictures. Of our legs, then us snuggled together. She got her eyes back so she could see.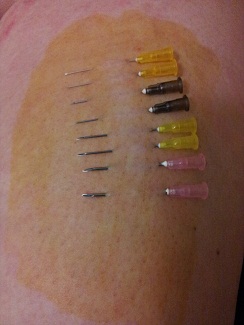 Then he pulls out his TENs. Could we last or did we want the needles out. Once in they were fine. How was it fine? Ah adrenaline. Floaty happy. TENs was lovely, happy tingly TENs, writhing, moaning happily. Gods, I love TENs. All the way up to the top. I get distracted, poke my arm with three of the needles. Gives me gauze, hold it on.
Time to take them out. She hates this part. Stings a bit, but it's not nearly as bad as in. Breathe through them, one by one. Oh god, they're bleeding. It's dripping. He wipes them up, cleans the table. Gauze, hold it tight. She clots much faster. I made it. We both did it. Her first time with 18s, my first time with so many needles and three of those gauges. So proud of us. I show off the marks to everyone who will look the next day. So happy and proud. Incredible scene.
September 17th, 2012
What an amazing weekend! I didn't get to do everything I wanted to do, but that's the nature of life, and what I did get to do, more than made up for anything that we didn't manage to squeeze in. The best plan falls apart upon encountering the enemy, and that was the case for several of my friends, but for me, this time, nearly all my plans survived, and some of them far better than I ever anticipated. A lot of people are saying it was the best COPE yet, for me, this is entirely true. I have never had so many scenes, I have never stayed at the hotel, let alone with my partner during the event, and I've also never been so well fed at an event. About the only thing that was "on par" for my other experiences, were the classes. They always bring in great presenters to teach really fun classes. I had an incredible weekend.
What happens at COPE stays at COPE, they say, no outing other people by talking about their scenes. But that's not what I do here, as you all know, I talk about what I did, and my experiences. So let's begin at the beginning.
Our con began with meeting up with friends, helping out, and getting registered. We found quite a lot of our usual crew and gathered up for a nice dinner at Buca di Beppo. We even got to sit in the Pope Room, because there were so many of us. We talked about crew and the con ahead and even about the upcoming Trauma. Enjoying time together as a family, and then we took food back to feed the rest of our family who couldn't make it out. Being a group with the volunteering spirit, many were working the con, too.
Back to the hotel, I had a scene right up front, so I didn't even change, but went and found my ex-Lover, and we took our place for my requested "challenging, transitional suspension." That, will be a post later on. Afterwards, I went back to the room, got on my shiny kimono and boots, and went in search of him. He was bringing down a suspension, so I knelt nearby, helping clean up rope until he was done. The engineer was nearby scening, too. After that, we sat with friends for a time, until he retrieved us, stun gun in hand, to go back to the main room for our suspension scenes with him. Another post to come. He tormented us both with the stun gun while we waited for the high point, but the battery died out as he tried to keep tormenting me as he began to tie her. We played on the rig in the corner until they turned the lights on that night, and then headed back to our room to take care of each other, with massage and orgasms, and cuddling to sleep.
Morning dawned quietly, but I was awake early. I really wanted to attend class right from the start, so I was up, rinsed off and dressed in a sari while they were still gaining consciousness. They said they'd catch up, so I headed out, grabbed an apple(I was too late for bananas), and found a seat in Bondage for Punishment and Pain. They joined me sooner than expected, but before the class changed rooms in favor of a high point, and we knelt beside him, as much as we could manage, for the entire entertaining class. I found myself able to manage for 15 minutes or so at a time, not wanting to distract myself too badly from the presentation. 4mm rope, a high point, and a flexible bottom, made for quite the class. Stopping by the vendors on the way out, he found some great new toys to buy, a dragon tail and three leather "cocks." The latter being woven leather cylinders of various widths, with rounded ends, that work great to bludgeon your partner with. We headed back to the room to test them out, and were quite happy with the results.
We then headed off to brunch at First Watch. The second class session not holding our interest more than finding food did. Waffles, bacon, pancakes, eggs and coffee later, we were satisfied and heading back to the afternoon classes. I did wear my bratty shirt, and very short skirt, but I took my sari as a wrap to stay warm, as well. Extreme Bondage was up next, with more kneeling from us, though the presenter invited folk to come close and watch, so he was up in front away from us most of the class. This time, I found the tops of my feet beginning to hurt much faster than I was losing circulation. The class itself was quite interesting and entertaining in its own right, with a handful of really restrictive ties. The next class period, the engineer headed off to a latex class while he and I wandered back to the vendor area, this time picking up a book, a new suspension ring, swivel and two hanging straps. The final class of the day, Predicament Bondage, was the same couple as our first class, we all sat in chairs this time, and had a blast watching (and helping with) the crazy stuff the presenter came up with. Electricity, water, rope and weights and everything else he could grab from his bag of toys. Such fun.
We headed off to dinner, then, Fish Market our destination. Got a seat quickly in the bar portion and, though it was noisy there, we had quite a nice meal together. We he asked us if we'd seen anything that day that we'd like to try, we grinned and said all of it. I took my leftovers back to the event, but couldn't find anyone in need this time. We attended closing ceremonies, complete with lube-tossing, auctions, NCSF and gratitude. And then the final play party began.
We headed back to the room to get dressed, the engineer donning her blind contacts and me my straitjacket over lacy bodice with garters to red fishnets and shiny boots, he even wrapped my pleather skirt around my waist. I was to be her eyes, and her my hands. We headed back to the dungeon, all grins and giddiness. He showed us off down the hall, through the social area and all around the dungeon. Then we headed to the back rig for him to do his scenes and assist in others. I tried to keep her informed of the things going on around us, and once he sent us to fetch water and candy from the adjoining room. After his scene, she wrapped up the rope for him and I returned it to his bag. When these scenes were complete we headed back to the room for more private fun.
Back in the privacy of our own hotel room, the engineer and I stripped down, but she kept in the contacts. We rearranged some furniture, and sat down side by side, facing him, for an incredible needle scene. Post to come. How I didn't freak out or pass out, I'm really not sure, let's just say I'm stubborn, and they were incredible in supporting and encouraging me. We thanked him with massage and curled up for a well-deserved, good night's sleep.
The engineer had to head off early the next morning for school, and we hung around to help tear down and load out the dungeons. After many good conversations and goodbyes, I headed home to check on the internet, crash for a couple hours and then went out to dinner with hubby and friends. Home again for the last two episodes of BSG, some Lactaid ice cream and then crashed out completely for at least twelve hours. Amazing weekend of awesomeness. Thank you to everyone who made it possible and who made it great.
July 5th, 2012
It's a rambly day I think. I'm on vacation with hubby, back to his hometown. Back to being quiet and hiding. Not because I have to be quiet here, but because I am. Because everyone talks loudly and at length, and I mostly just listen. We've been gone five years, there's a lot to say, I guess.
Hiding? Well, I'll have to on the vacation to see my family, too. No telling the parents the truth. No mentioning my boyfriend or his girlfriend around the family, though hubby did mention rope work, and suspension to MIL, she didn't seem sure what to make of it. She has recently read the 50 Shades books, and liked them, but "would not want that to happen to" her. I haven't read them, but seems to me, the lady made the choice to do those things, they didn't just "happen to" her, but I digress, and don't actually know. Though, I feel like I ought to read them, just for blog's sake if nothing else.
In other big news, our club has closed. So, our Saturday weekly venue is gone. That sucks, but we shall persevere, and actually get to go to community events on Saturdays for a while, not to mention it'll make summer planning a bit easier. Looking forward to what's next, as well, whatever it may be.
Brain's all swirly, and dreams have been matching it. Snakes, crocodiles, non-con knife play, seduction, and electric play. In one dream, I actually told the guy who'd cut the fuck out of my back and legs and pushed me into a pool with a crocodile, that blood play was against my hard limits. Apparently I didn't mind the hungry croc in the bottom of the pool so much as the fact he wasn't allowed to cross my hard limits with blood.
The engineer sent me a lovely link for the 4th from FL, of a girl covered in patriotic needle play with sparklers attached to the cross she was leaning against. It was quite pretty, but like the fireworks last night, much better viewed from a distance. I was not happy about the loud explosions and showers of sparks from the drunks lighting illegal fireworks off a nearby roof. Even if none of the sparks reached the ground lit. I could hear some of the bits landing nearby. The legal show down the road was pretty, once we figured out how to see it.
Pulled together all the MDQ Issue 3 articles this week, too. So that's off to my editor a few days early. Gotta put the photos in and everything still, but it's nearly ready. Then it's time to finalize the details for the fourth issue. COPE here I come. 😉
May 27th, 2012
What am I curious about? Am I scared, intrigued, confused, aroused?
Needle Play – scared. Needles make me hyperventilate and pass out. But I want to know what it feels like. I want to do it without panicing so badly. I'm not sure I can.
Breath Play – intrigued. I've only done little bits of it. Partly because of my throat. And partially because of my dislike of gags. But I'm curious what it would actually be like to play with.
Whips – scared/aroused. I've always had a length limit on my hard limits. Terrified of the long, loud whips. I've only played with an old short signal whip and dragontails. I'm scared of longer ones, or better ones, but I really want to get him one.
Waterboarding – scared/intrigued. I don't like water up my nose. I don't swim properly without a nose plug. So not interested in the inverted pouring water over the face so it goes into the nasal cavity. But I'm Really curious about the pillow case/sheet over the head while sitting upright and water being poured down over the head, type.
Hot Wax – intrigued. Have only done it once, on the bottoms of my feet while suspended. Quite curious what it would feel like in other places.
Boot licking – intrigued/scared. I've still not done it. After the class at COPE, I got curious, but I'm still kinda embarrassed by wanting to. And when I do his boots, I'd rather do it before I grease them, but usually it doesn't seem appropriate to stop halfway through to lick them after I just cleaned them.
Water box – intrigued. Every time he mentions it, I want to try it. Then his mind wanders into other uses for such a box and I want to hide. Terrible, wonderful imagination, that one.
Anal play – scared/confused/aroused. This one's an odd area for me. No good experiences with anal sex. So not really interested in that so much. But mild stimulation Sounds interesting, but I've not really had that confirmed in any way but the power exchange. I like my ass being played with externally. But I have so many digestive issues that I worry about sticking things up there. And my inexperienced confusion has led me to red once already.
Fisting(vaginal) – aroused. Being that aroused and open. I've never actually done fisting and I think it would be fun.
September 30th, 2011
So, Thursday's story sent my brain off into more dark directions. It decided I was being too nice. That scene was made up of things I would do and enjoy (for the most part). My brain decided That for better fear and helplessness, the bondage chair should be removed. That somehow, the girl should be suspended in the air, touching as little as possible, but without the restraints causing undo strain or sensation. I ran through several scenarios, even drawing some out, until I decided the best I could come up with (between helping customers at work, I haven't stopped thinking), was to tie someone standing up, spread eagle in the center of the room.
The blindfold stays, but not the headphones. For the specific reason that all the tortures needed to be upgraded. And all the upgrades required sound to have the greatest impact. Instead of the TENs, start with an electric flyswatter. The high pitched whine of its charging, and sudden jolting shocks. Move on to a stun gun instead of a violet wand. The crackling sound can make me cry faster than the pain it inflicts. The clothespin zippers being replaced by a dragontail or single tail. The crack makes me twitch even when it's used on someone else. The final straw – well, needles terrify me, sure enough, hard to top that. But if we're going for sounds, it would have to be sparklers.
Ah, the brain of a masochist. It also pondered a snake to top it off, they hiss and all. But then the animal brain kicks in, forgets it's a fantasy and says, no way, that's just too much at the end of a hard scene. And tosses the masochist in a cage.
She just tried to escape again. Talking to toy about make up and it being too messy. Masochist brain tried to grab that and run off to design an torturously gooey scene with my dislike of messiness. I quickly slammed the cage shut and decided to write this to keep it quiet.
September 29th, 2011
Blackness.
She tried to blink, but couldn't. Coming more fully awake, she realized her head was covered in fabric. Tight. It wasn't a headache, her head was tightly wrapped. Her ears hurt. Not badly, just a mild ache. Static. There were headphones over the wrappings, playing white noise. She tried to move. Nothing. Taking a breath to stem the rising panic, she realized she was at least free to do that, nothing blocked her nose or mouth. Something at least. She focused on breathing for a few moments.
Sitting.
She sent out her conscious the the rest of her body. She was sitting up, arms bound to the arms of a chair, wrist and elbow. Metal chair and legs bound to the legs, ankle and knee. Her head and waist were secured, as well. Naked. Completely naked. She shivered, though it was not cold.
She still felt groggy. What had happened? Where was she? She remembered the club. Out for a night on the town while her partner was away. Business trip. Back on Sunday. Was it Sunday yet? It had been Friday night. Was it only Saturday? She danced and drank with her girlfriends. They mainly ignored the men trying to pick them up. Ladies night out.
There had been one man. Persistent. Dark. Handsome. He'd caught her eye a few times. Sent her a drink. Oh god. What had been in that drink? Had she gone home with him? She remembered him staring at her while she accepted and tipped back the shot. Hot, hungry eyes. She didn't remember anything after that.
Cold.
She gasped as a cool breeze passed over her body, mirroring the cold shiver running down her spine. She felt air moving around her, goosebumps covered her arms and legs. Someone was near her. Was it him? What did he want? Why was he doing this?
"Who's there?" She called into the silence. "What do you want?"
She felt small pads being placed on her body. Two on each breast. Two on each arm. Two on each thigh. Two on each calf. Wires tickled her skin. She tried to turn her head, tried to thrash free, but there was no slack anywhere. Her body started to tingle and she froze. The tingling grew, first in her breasts until she yelped. Then those stayed steady and each limb's tingling grew, one at a time, until she made a sound of pain, then stopped. Then it all stopped.
Breathe.
She reminded herself to breathe, and the white noise stopped, replaced by a voice.
"Where were you last night?" A computerized voice, loud and harsh.
"At… at the club. Syrens."
"What did you do there?"
"I danced, and drank with the girls."
"Then what?"
"I… I don't know. Someone sent me a shot. I don't know."
Pain. All of the pads sprang to life at once. Her muscles clenched and she screamed.
"Who sent you the shot?" The pain stopped.
"I… don't… a man. Tall, dark, black hair, blue eyes. He was wearing a black suit and a red tie."
"Did you know him?"
"No."
"Did you talk to him?"
"No. I don't know. Not before he sent me the drink."
"What was the drink?"
"I don't know."
"Did you drink it?"
"Yes."
Pain erupted again. Pulsing this time, making her muscles jerk out of her control, breasts feeling like they were being stabbed.
"You drank something, sent by a stranger, without even knowing what it was?"
"Yes!" She couldn't help but scream.
The pain surged for a moment and then relented.
"Then what?"
"I…" she gasped for breath, terrified of the answer she had to give. "I don't know. I woke up here."
Just her legs this time, higher than before. It felt like they were trying to curl into the chair. She clenched her jaw and growled at the pain.
"You expect me to believe that?"
"It's the truth." She grunted.
"Maybe more pain will clear away the fog."
All the pads sprang to life, in a wave of pain, from her calves up her thighs to her breasts and then out her arms. The pain growing and receding up and down her body. She writhed against the bonds, straining her tortured muscles even more. Her feet did not touch the floor, but curled helplessly in the air. Her hands clenched at nothing, just beyond the arms of the chair. She growled and grunted, screamed and whimpered. She had no idea how long it lasted, almost started counting the waves once, but gave up as pain overwhelmed her. Finally, it stopped.
"Now, what did you do after you drank the shot?"
She gasped for breath, drenched in sweat, shaking with leftover energy. Panicked and still without an answer. She wracked her brain, having been incapable of thought while he tormented her. She saw his eyes, remembered tossing back the shot. It burned. Her head swam.
"I sat down. He came over."
"Did you talk to him?"
"I… I must have. I don't remember. It was Ladies' Night. I wasn't supposed to. I must have."
"Then what?"
"I…" She didn't want to say she didn't know, she tried to think, she wondered if he'd know if she was lying. "We danced." She tried, not sure if it was a lie or not.
Stabbing pain in her breasts, her arms seized. She screamed and it was gone.
"Do not lie to me. What did you do after he came over to talk?"
"I don't know." She was shaking and gasping, fear and pain warring for dominance.
The white noise came back in her ears. Her body started tingling. All the way back down to the beginning, all at once, and built slowly up. They did not stop for her screams this time, but kept building until she was thrashing and sobbing as much as her bonds would allow. Then he pulled the pads off, one by one. Starting at the top. Until all were gone. The tension released, only the restraints kept her from sliding to the floor. Tears soaked the fabric around her eyes, her lips moved, but only breath escaped.
Darkness. Static. Nothing.
She regained control of herself. Got her breath and heartbeat back to normal. Calm for just a moment. Still nothing. Panic started bubbling up again. She focused inward, no injury or lasting pain. Outward, she felt no movement, no breezes, nothing. Was he gone? What did he want her to say? She couldn't remember what had happened. What if that wasn't good enough? Was he mad she didn't remember him? Why was he doing this? Her mind spun in useless circles. She had only the vaguest impression of him coming towards her after the drink and then nothing.
"Let's start again. What time did you go to the club last night?"
"9 o'clock." Grateful to have a question she could answer.
"Who did you go with?"
"Erika, Sarah, and Heather."
"How much did you have to drink?"
"Two glasses of cider, a cosmo, and that shot." She shivered a little, hoping she hadn't had more after the shot, but not knowing.
"When did you leave?"
"I…" Panic. "I don't know."
"Who did you leave with?"
"I don't know."
Shocking pain ran down her left thigh.
"Not good enough."
"I don't. I had the shot. He came towards me. And I don't know."
Her right thigh this time, a straight rod delivering high voltage directly to her skin. She squealed.
"Tell me what happened after the shot."
"I don't know, I can't remember."
She cringed against the chair as the rod delivered shocks across her breasts, right over the nipples, crying out and trying to wrench free.
"You do remember."
"No, I don't, I can't."
The electricity crackled from her left hand, up her arm, across her collar bone and back down to her right hand. She screamed, then gasped for breath.
"Tell me."
She bit her lip. "I…" What could she say?
The rod ran down her chest, over the left nipple, down to her clit and back up again, right nipple not spared. She swore vehemently, but he only did it again, in the opposite direction.
"Such language. Now, tell me what happened."
"I looked over at him, lifted the shot in a salute, drank it down. It burned my throat, and hit hard. I sat down on my stool and looked back at him. He had gotten up, and was walking towards me."
"And then?"
"I don't know!"
He ran the electricity over her arms, chest and legs in big zigzagging motions. She screamed in protest, trying to thrash, or move, or jerk, or anything but sit there perfectly still, except for her hands and feet clenching and curling in the air.
"You do know, you just won't tell me. This would all end, if you would just tell me what happened next. Don't you want me to stop?" He zapped her clit.
"Yes, please. I do. But I don't know. I can't tell you. I don't remember."
He answered with more electricity. Fingertips, toes, one by one. Up the side of her calves, the inside of her thighs, circles around her clit and her nipples. Tell me, echoing in her ears with each shock. She squealed and clenched her fists and fought the urge to curse. He zapped her earlobes and the tip of her nose and she forgot herself, spitting curses until he zapped her lips. She snapped her mouth shut and breathed heavily through her nose, curling her lips inward and licking them.
"Are you going to tell me?"
"No." She gave up on insisting she couldn't, he didn't seem to care.
"Then remember, you could have stopped this."
Static. Darkness. Cold.
Constant cold air was blowing on her now. But he had stopped hurting her. Stopped asking questions. She wasn't even sure if he was there anymore. What now? What else was he going to do to her? Why didn't he believe her? What else could she say? She wracked her brain, trying to pull up more of last night, but there was nothing. A big black hole in her memory. Why hadn't her friends saved her? Why had they not been there for her? How had they let her end up here? Did they even know what had happened to her? Had they seen her leave? Had they told anyone she was missing? Was anyone looking for her?
"Are you ready?"
"No."
"Will you tell me what I want to know?"
"I… no."
"Why?"
"Because I don't know what you want me to say."
"The truth. What happened after you drank the shot?"
"He came towards me. And then I don't know what happened."
"Wrong."
Pinching pain seared through her nipples, causing her to gasp, but this pain didn't go away, and she started to whimper.
"Tell me the truth."
"I can't."
More pinching around her nipples.
"Two clothespins for every lie. What happened?"
"I don't know."
Now there were three on each breast and she was panting and squirming with the pain, tapping her feet in mid-air and clenching her fists.
"Tell me."
"He came toward me. He must have sat down. We must have talked. We didn't dance. But I don't know."
Two more, above her nipples. Strong and small. She breathed quickly with the pain, whimpering with every exhale.
"Tell me."
"I can't, you know I can't. Please, I don't know."
Two more at the top of her breasts.
"You can, I know you can."
"No, please, why are you doing this?"
Two more just below the collarbone.
"Tell me, now. I just want the truth."
"I don't know. That's the truth."
Ripping pain as he yanked all the clothespins off at once. She drew a sharp breath and then screamed. Shaking, and shivering against the chair.
"Apparently I'm being too nice."
Cold liquid splashed over her chest, then arms and legs. It smelled like alcohol. He ran a wet cloth over her exposed skin. She shivered harder, terror rising bile into her throat.
"What, please, what… I don't know what you want. Please…"
"Only the truth. That's all I've ever asked for."
Stabbing pain in her left breast, sicking sliding under the skin and another burst of pain. A needle, he'd just slid a needle through her skin.
"Oh god, please. Don't, please."
"Then tell me."
Pain in her right breast, she could only focus on the horrible feel of the needle sliding through her skin.
"Tell me the truth."
"Please, please, please. I don't.. I.. please, I…"
Pain lower, right above the nipple, slower, sharper.
"Tell me, and I'll stop."
"I.. please… don't, I… please."
The other breast again, right above the nipple, matching sets of fear and pain.
"Tell me what happened after you drank the shot."
"I don't know, I woke up here, I must have passed out. I don't know."
"Good girl."
The needles came out fast and clean. She was crying and shaking as he wiped down her breasts with alcohol. The headphones came off, the wrapping around her head started to unwind. She was dizzy, she didn't understand. What happened? Light began to assault her eyelids, she cringed away and found she could move her head. The restraints were coming off her arms, then her legs. His body was in front of her lifting her, carrying her, a hood still on her head, but thin. Softness beneath her, a bed. It was darker here and he slid the hood off. Stroking her hair.
"Such a good girl."
She opened her eyes, startled by her partner's voice after so long with the computerized one.
"What?"
"Shhhh. You did so very well." He wrapped her in his arms and she curled up against his chest, sobbing with relief. "Such a good girl." He repeated.
"Thank you, Sir." She whispered, as she fell into an exhausted sleep against him.
"You're welcome, little one."
September 15th, 2011
Nervous anticipation. We have Plans, it'll be alright. We've gone shopping and have everything we need. Packing, checking, dressing, checking again. Don't forget it at home! Go back, get the food out of the kitchen. Okay. I'm there. Need to calm down. Kneel on the wooden floor til toy arrives. It only takes her a few minutes, still bubbling over. Cleaning first. Put away dishes, wash up a couple. Floors, sweep and vacuum. Toy does the tables, couches and garbage. What else? Spot check the house. All looks good.
Okay, clothes. Latex panties first. Ah, Mother Nature, why do you hate women so? All shined up, but for how long? Stockings, not too bad considering their age (they got progressively worse as the night went on). Okay, corset-y thing. No support at all, but it's cute and lacy and it has garter-y things. Toy, help, I can't get the top hooks closed. Okay, now for those garter-y things. Strangest clothing accessory ever. What's so sexy about suspenders for stockings? Success. Okay, dress. Toy, need your help zipping it up. Shoes and it's too hot for the sweater.
Out to the kitchen, it's nearly six, hurry hurry. Aprons on. Coffee, toy. I fiddle with the oven and we decided 350 will just have to do. Coffee, toy! She starts cutting up the chicken. Can you do the coffee, Miss? Okay, 8 scoops? Can't get it to turn on… oh, hey, what's this piece? There, that works. Coffee. And the cookies go in. What else? Steam the broccoli. Won't that ruin the coffee/cookie smell? Oh well. He isn't on time, thank gods, hurry coffee! Pans found, chicken wrapped. Cookies done. Wait, not long enough, falling apart. Wait. Better. Coffee done. Plate two cookies, mug of coffee, robe. It's way too hot for a robe. And here he comes.
She with his coffee, me with cookies. He comes in, and takes us in, all grins. Hug and a kiss, hug and a kiss. We flutter a little over a spill and then head down to the couch. Sweater on now I've cooled off. Pulling off his shoes and socks, toy cradles his feet and we snuggle and talk about our weekends. Quite a lot to talk about, and then it's late and dinner isn't cooking, yet. Where's my dinner, toy? Not cooked yet, Sir. And she's over his knee for a spanking. He lets her up to go cook and I stand to follow, and follow I do, right over his knee for my spanking. Ah, the echo of smacking latex mixed with moans, delicious. Ass warmed, I head upstairs.
Turn the oven back on, cut the bread, garlic butter it and pop it in. Apron, Miss? Oh, yeah. Salads next,lettuce, tomatoes, cheese and croutons. Dressing on the table so they don't get soggy. Stir the boiling pasta, make the sauce/chicken/broccoli mixtures. Toy is minding all the pots on the stove. Five minutes, Sir. Set the table, plate the pasta, put out the bread. Toy sauces their plates and I sauce mine. Marinara to their Alfredo. On the table, aprons off and call him up.
We begin discussing work, and toy drips something. Napkins! I realize and get up to get them as he realizes their lack as well. I return and toy is looking upset. Why're you upset, I was the one that set the table. But he misunderstands, thinking it was her job. Out by the hair and over the couch he takes her for another spanking. She returns, fidgeting with her dress and garters, and distracting, forgetting to Sir him. He offers me a chance to help her and I try to give her a hint, but it doesn't get through, back to the couch for another and he leaves her there a moment.
Deciding the spanking isn't enough deterrent, he gets the flyswatter. We both whimper and twitch as he brings it to the table. Is this the thing he owns that makes me most skittish? Those weren't the words, but they got lost in the following conversation and I can't remember them exactly now. Yes, Sir. But, Miss, what about needles? No, toy, those take time, preparation. This he can just whip out and hit me with. But he catches the thread and runs. Hey, an idea. You both roll a d6 and whatever number toy rolls, Miss takes that many needles, and whatever number Miss rolls, toy takes that many. I'm shuddering, but game. Toy, however says no, Sir. He goes on about increasing the die each week, eventually getting to doubles. Toy just keeps saying no, until she finally says it's upsetting her stomach to talk about it, so he stops, reminding her that if she tries to throw me under the bus, she's falling, too.
Finished with dinner, we don our aprons again to clean up. He decides they would definitely be enough coverage alone. I agree, but toy just keeps cleaning. We get the food put away and the dishes done again, and then head downstairs. He has cotton ropes and red silk strips laid out on the couch. I sit down by them. Toy takes his shoes upstairs and then we wait for him to reappear, with more ropes. He starts with ankles, one rope a piece and then pulls us to our feet. Time to play a game.
"Toy, what's Miss's birthday?"
She stares and stutters, as he counts down on his fingers from five. She cannot remember. Off comes my sweater.
"What was my previous nickname?"
Oh, I know I've heard this story, but I can't remember either. Off comes toy's belt.
"Okay toy, who is my kink hero?"
"The Insex guy…. JD?"
Nope, off comes my dress. He very much likes what he finds beneath, and realizes that's as far as I've got without ruining the look, and ties my arms behind my back.
"Do you know?"
"PD." I answer and he nods, my question next.
"How did I get my rank?"
I toss out a couple things, all wrong, and toy loses her skirt.
"What year did I meet my wife?"
"1995?" She tries.
"No. You?"
"2001?" I think.
"Nope." And her shirt came off, to finish her under outfit.
Our underclothes revealed, he stops to enjoy the view and pulls us together for hugs and kisses. Blindfold next, he picks up a strip of the red silk and ties it around my head. I close my eyes behind blindfolds, so I don't know how effective it is when he asks. It's keeping my eyes closed, good? They murmur appreciatively at the site of white, black and red. Doesn't she look sexy? Yes, Sir. He puts another strip over my mouth, but then decides to knot it up to make a gag. I panic for a few moments, coughing and gasping and he grabs my throat as I bite down on the gag.
"Are you going to panic anymore?"
"o, ir." I mumble through the silk.
"Is the gag on top of your tongue?"
"o, ir."
"Under it?"
"o, ir. I uh uhh." I'm trying to say in front of, but the gag takes away vowels. I never let my tongue get trapped by a gag, I always pull it back and that was super easy to do with the silk knots.
He lifts me up and lays me out on the couch. Comfy? Yes, Sir.
And then goes to tie up toy. I hear the rustle of ropes, occasionally a tail tossed over my legs, dragged across the stockings. I relax, listening to the music and to him tying her up. Eventually I feel pressure on the cushion at my feet, she must have joined me on the couch.
The rattle of the plastic drapes and he returns with a cane. Swatting thighs, I squeal and squirm. Up to breasts, yipping with tender nipples. He pulls them free for better aim. Shrieking and whimpering. He moves down again. Shoes come off and he hits the soles of my feet, much better. Then he canes toy for a bit, and then back and forth. Kisses and caning. Shrieks and squealing. Squirming and writhing.
Silence and more drape-rattling. I hear something click open. I think it's a TENS, but then zap. I squeal at the unexpected shock of the Violet Wand – paintbrush attachment. He paints up and down my legs and breasts. I squirm too much, and he takes firm hold of my right breast, painting the nipple, I can barely feel it over his grip, and then the left. I moan and squirm happily as he moves back down to my legs, again and holds my feet to tickle them while I squeal. Then over to toy. I listen to her whimpers, he goes back and forth a little and then puts that away, too.
I hear the rustle of a bag, oh god, my nipples are so tender. He attaches clips, they're too strong for the cloverleafs, I don't even register that there isn't a chain against my chest. I scream and squeal and thrash, shaking my head, kicking my feet. They hurt so much, oh god they hurt so much. Gasping and crying and screaming, trying to process. Growling at myself because I feel like I can't, because the rational side of my brain is screaming red, and the pain slut side is saying no way, not like last time, I will get through this pain. Toy's done something. I hear her say she was worried about me and didn't know where he was. She must have peeked. Really, toy? He can hear my screams just as well as you, he didn't go far. Silly, worried toy. He comments about leaving them on longer. I squeal in panic. I start coughing on the gag and spit it out. Able to draw a full breath, I calm down. Breathing deeply, I stop screaming. My legs still swaying to process the pain, but not thrashing anymore. I try to get the gag back. Sticking out my tongue, no good. Pressing it against the couch, nope. He isn't commenting or shoving it back in. Must be okay. I certainly appreciate the breath, so I don't ask for it back either.
I focus back on them, a vibrator, he's using a vibrator on her. Leaves her with it and comes back to me. Rubbing the latex with his fingers, whispering appreciatively. Toy, are you going to orgasm? Miss won't get to unless you do. I'm tormenting her, but she can't unless you do. You better convince her to. I beg and plead, to no avail. He goes back over to her to try to help, but she can't, too much pressure. He adds another clip to each nipple. I scream and shake and breathe deeply to get it under control again. Toy, please, toy, please. I beg, it's not working, he tries to help, but she's not quite there. A third clip and I keep it under control, this last one only adds a little to the pain already blooming there. I change my tact. Reminding toy to think of the ropes and the (is she?) blindfold and the vibrator. He goes over again to help, asking her what she needs. She just moans, unable to answer. Toy, please answer toy. Apparently the clips aren't enough, he gets the flyswatter and I scream. Toy, oh god, please toy, answer his question. He zaps me a couple times before she blurts something out. He goes to her, and together they figure out where she wants the vibrator and what she needs. She has two and then one more powerful to save me.
He returns to me, asks if I can have six. Yes, Sir. One after each clip? Yes, Sir. He pulls four off, one at a time, an orgasm and thank you, Sir apiece. Shaking and curling and gasping with the pain and pleasure. Two left. You enjoying this. Yes, Sir. I should do this more often. Yes, Sir. Are you telling me what to do? I mean, please, Sir. Please, Sir. Which one hurts more? The left, Sir. So that one last. Yes, Sir. Please, Sir. Right one, off and orgasm, thank you, Sir. So, any 10s for you? No, Sir. What then? 7's, Sir. So what gets you to 10? Usually oral, Sir. So, if I was licking you? Yes, Sir. He repositions, grabs the last, rips it off as he licks. I scream and gasp, writhing against him. Thank you, Sir. Thank you, Sir. Thank you, Sir. Thank you, Sir. I am nearly in tears as I keep thanking him, shaking and riding the wave back down.
I hear him cleaning up, putting things away. He unties toy first. I feel the ropes across my legs again. Then it's my turn, ankles first, then sitting up for my arms. Gag off my neck and then the blindfold. I blink in the light, looking at toy relaxing by my feet. He finishes cleaning up and sets up the massage table. Toy fetches her lotion. We join him and work his tired muscles, back, arms and legs. He turns and we go for chest, arms and thighs. Then snuggle in together, holding him and him holding us, before getting dressed and heading back to the couch for aftercare cookies, cuddles and chatting.