February 10th, 2015
A year ago, I traded 11 needles for 3 Cheddar Bay Biscuits at dinner. Due to circumstances beyond our control (and even our imagination), those needles were not paid. During the past year, he kept teasing me about the interest I was accruing, depsite my various offers to pay that never quite panned out. We never did settle on a firm rate of interest. Now, needles were planned, and my debt would come due.
He had three of us sitting side-by-side, all there for different reasons. He looked at me, a wide grin on his face. So, your interest will be paid like this, you choose the gauge, and you will get that many needles. What gauges do you have, I ask, knowing part of the answer, in the 16s he had bought earlier. 25, 22, 20, 18, 16. I ponder, and math, and fidget, and freak, and ponder. NOT doing 18 or 16. 25 sounds like way too many. 20 isn't really worth only getting two less. Alright, 22, I tell him. That's not so bad, the one on my right comments. I've only ever done 8 before, I reply, trying to stay calm. My feet are kicking, like a little kid, I can't stop them, nervous energy running high.
He comments on my having an awful lot of orgasms, since he counts out breathing to 3 as he puts them in. No, I can't, I really can't with this. He looks at me, and nods. I'm terrified, and terrified that I'll move while he's stabbing me. I just can't. He has accepted it, but I feel a bit disappointed in myself. I'll forget this quickly, however, as the needles begin.
We each pick our body parts. He prepares the skin with alcohol then iodine. Thighs for me, careful to choose the swaths that are clearest of bruising.
He starts on my left. I stop my feet, don't rock the table. 1.2.3. Then to me. You ready? I clench my hands behind my back, tears forming. No. Breathe in. 1. Breathe in. 2. Breathe in. 3. It slides in easily, I whimper. Not so bad, I think, as he goes to my right. Then my left. And back to me. The tears are falling, but dry up shortly after the second one as I begin to fly.
We go one by one. He counts, we breathe. Sometimes we scream. Sometimes we yip. Sometimes we grumble or growl. Always we are joking and making each other laugh. All of us flying high. He is bouncing, dancing, and giddy. I am complaining about how close together the needles are, there's plenty of space on my thighs. But he needs practice keeping them close because of the design work he's doing to the left. Somewhere around ten, he takes a different strategy. Finishing off the one on my left all in one go, to let her settle in before the lacing. Then he comes to me.
My 11th. Counts, and I scream. That one hurt three times! Ready? He moves to the next row. What? No? He counts quickly and slides it it. You have to wait for me to breathe! I whimper. No, I don't. I'm crying again. And another. And another. And another. Counting a little slower each time. He's done five before he pauses. More? No! Please. He moves to my right, finishing her 18s. As I regain control and start flying again.
Back to me. Four more? Three, I counter. He counts three. Breathe in, 1, breathe in, 2, breathe in 3. And again, and again. Then back to my right to start the 16s. We tease her about them not hurting, because she said bigger ones hurt less. Hurt Less, she insists, not don't hurt.
Back to me. Breathe in, 1, breathe in, 2, breathe in 3. Pain. Breathe in, 1, breathe in, 2, breathe in, 3. Pain. More? No, getting light headed. He goes back right. Back to me. Last two? Yes. Breathe in, 1, breathe in 2, breathe in 3. Pain. Breathe in, 1, breathe in 2, breathe in, 3. Pain. They clap for me. 22 needles, and I am done.
He finishes the left one's pattern. I rest my head on the right one's shoulder. Takes a picture on the left, then takes a picture of mine. Then goes back for the last few 16s on the right. And takes a picture for her, too. I ask him to run his finger along the flesh over my needles, it feels cool, but I can't bring myself to touch them. He does. The others find me odd, but it's a really interesting feeling. But now they hurt. I am rocking, flying on the pain.
He takes out the ones on the left first. You next? He asks me. No, still flying. So he goes to my right. Then back to me. Handing me gauze. You have to do this part yourself, no one else can touch your blood. He has changed gloves between each person. I know. He pulls them out a few at a time, and I plop down gauze pads. I can barely feel them coming out. I just breathe and cover the holes with gauze. All out. We all clean up, alcohol pads and gauze. When the bleeding stops, I wash the iodine off in the bathroom. Such a great scene, maybe I do like needles, after all.
September 17th, 2012
He has a lot of boxes, has been tormenting us with the thought of 18s all weekend. We set up the massage table to sit on, he gets a bench in front of us. Sitting side by side, naked, she's still blind. He picks up a box with three boxes inside: 22s, 20s, 18s. Asks her to pick. She points at the 20s. He grins and sets the box down. Alcohol pads, I turn my head and start twitching, he wipes down my left thigh and her right. Thigh? Yep. Then the iodine, painting a wide swath yellow. Two each, he tells us. 25, 22, 20, and 18. I don't know about that, we'll see. I've only ever done two before. I just don't know.
Her first. I close my eyes as he pops the first cap, kicking my foot against his bench. She screams a bit, and then it's my turn. Her hand on my back. Did you orgasm? What? I look at him. I counted to three. I… no, sorry, Sir. Pay attention, are you ready? Yes, sir. I close my eyes again.
Breathe in. 1. Breathe out.
Breathe in. 2. Breathe out.
Breathe in. 3.
Freeze. Pain, screaming, orgasm. Thank you, Sir. Gasping. Tears.
And he's counting for her again. Breathe in. 3. Good job.
Small orgasm numbs the pain. Thank you, Sir. I calm a little as he returns to me.
Breathe in. 1. Breathe out.
Breathe in. 2. Breathe out.
Breathe in. 3.
Less pain this time, squealing, orgasm. Thank you, Sir.
Time for the 22s.
Panic, fear, adrenaline, shaking, please put your hand back. Her hand on my back.
He counts her third. I orgasm, thank you, Sir.
You ready?
I shake my head, try to get a grip. Deep breath and settle.
Breathe in. 1. Breathe out.
Breathe in. 2. Breathe out.
Breathe in. 3.
Screaming pain, orgasming, shaking, oh yeah, breathing. Thank you, Sir. Crying.
You can cry all you want.
I know, Sir.
Counts her fourth in.
Orgasm, twitching, thank you, Sir.
You ready? Sobbing, breathing, settling to be still. I look at him, so happy.
Breathe in. 1.
Breathe in. 2.
Breathe in. 3.
Pain. Screaming. Orgasm. Gasping. Thank you, Sir.
Time for the 20s. Oh god.
He runs his finger over the needles, it feels funny.
He jokes a bit, I can't remember the words.
Can I swear at you, if I call you Sir?
No.
I'm not sure how I haven't sworn yet, but I know it's coming. Twice as many already as ever before. He does her next one, and she screams louder than any of the others.
Not helping.
Good job.
Thank you, Sir. It sounds funny, me thanking him for my orgasm after he tells her she's done a good job.
Are you ready?
Breathe, settle. Stop kicking. Squeeze her hand.
Breathe in. 1.
Breathe in. 2.
Breathe in. 3.
Scream. Gasp. Thank you, Sir. Fuck me. Ow. Tears.
Back to her for number six.
Good job.
Thank you, Sir. Still sounds odd.
Deep breaths, look at his eyes, glance down at my thigh, back to his eyes. So happy.
You okay?
Yes, Sir. How in the hell am I okay. I'm they don't hurt once they're in. Too much adrenaline and endorphins to freak out. Remembering to breathe.
Ready? He pops the cap, I squeeze my eyes shut, grab her hand.
Breathe in. 1.
Breathe in. 2.
Breathe in. 3.
Screaming, Why do they hurt three times? Hold my breath and writhe through the orgasm. Thank you, Sir.
Time for 18s. Oh god, oh god, oh god.
She's never even done them before. Me first? Oh gods no. No, he'll do her first, he wants to see how they push and drag. Oh god, stop talking about dragging.
She takes her hand away to brace herself. And screams a lot.
Thank you, Sir. Oh god, that sounded horrible.
You're not going to give up on me now?
No, Sir. Kicking the bench. Breath, relax. Oh god.
Ready?
I close my eyes and look away. Grab her hand.
Breathe in. 1.
Breathe in. 2.
Breathe in. 3.
Scream, scream, scream. Oh god that hurts. Ow, ow, ow. I don't think I remembered to orgasm. It didn't stop hurting. I tapped my foot. Breathing. Fuck me.
Her last one went better, thank you, sir, orgasm bringing the pain back down. And then it was my turn again. Needle number eight, on my god, was I seriously doing this? I couldn't stop now. Just one more needle.
Breathe in. 1.
Breathe in. 2.
Breathe in. 3.
Screaming, gasping, orgasm. Thank you, Sir.
Runs his finger over them, feels funny. I look down. Not too bad, all capped. The caps had kept falling while I twitched, but I don't remember when exactly. He took the caps off, wanted pictures. Of our legs, then us snuggled together. She got her eyes back so she could see.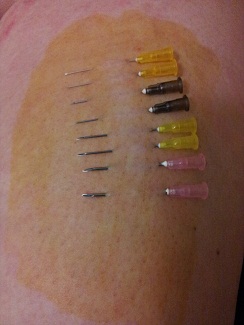 Then he pulls out his TENs. Could we last or did we want the needles out. Once in they were fine. How was it fine? Ah adrenaline. Floaty happy. TENs was lovely, happy tingly TENs, writhing, moaning happily. Gods, I love TENs. All the way up to the top. I get distracted, poke my arm with three of the needles. Gives me gauze, hold it on.
Time to take them out. She hates this part. Stings a bit, but it's not nearly as bad as in. Breathe through them, one by one. Oh god, they're bleeding. It's dripping. He wipes them up, cleans the table. Gauze, hold it tight. She clots much faster. I made it. We both did it. Her first time with 18s, my first time with so many needles and three of those gauges. So proud of us. I show off the marks to everyone who will look the next day. So happy and proud. Incredible scene.
March 3rd, 2011
A year ago tomorrow, I wrote a post about needles. Last night I experience needle play for the first time. He put one needle in each breast, and he and hubby pulled them out at the same time. Here is my story.
We're going to need you. Toy and I. Physically and mentally, we're going to need your support tonight, to watch the demo portion of the needle class. A hard limit for us both, but we are curious and want to learn the information. I've been preparing for needle play for over a year. She barely wants to go.
He is prepared, has a plan, and restraints. The class gathers and he cuffs our wrists to each other, my right to Toy's left. Then shackles me to a riser, left ankle to a handle on solid wood. There are blindfolds nearby, should watching become more than we can handle. I'm already halfway through a glass of water when the class begins.
Safety first. Always. Cleaning supplies, gloves, first aid. Listening intently, safety quiets the panic. Veins and nerves must be avoided – like rope, I tell myself. Health inspectors and the law, public versus private.
The doll gets naked as we learn about the needles. The types of needles, the parts, the shape. The bevel could be like an airplane, but maybe backwards – don't ask, it's origami gone horribly wrong.
We get demonstration of cleaning and preparing, the site and the sub. Remember to breathe, always remember to breathe, and remind them to breathe.
The movement of the needle described in detail, I cannot watch. I have to watch. Toy is hiding against me. Oh god, I can't watch that. Different sizes, higher numbers are smaller – I have 25s, they're apparently for babies. I'm okay with that.
He sits in front of us, I hold his shoulder, pet his hair, finding comfort in his solidity.
You can run line through the needles, leave it there and take the needles out. Oh god, now there's blood. Toy and I hide against each other. He tells us to watch.
Ribbon now, connecting them all together into a pretty corset. Pretty from here, if you don't look too close. And now he ties the center of the ribbons all together and tugs. We're hiding again and he's pulling our eyes back to the scene. Look at that blood. Didn't someone tell me needle holes weren't supposed to bleed. I swear someone said that once. Oh gods, why do they keep pulling on it?
He's uncuffed my ankle at some point, I don't remember when, and cuffed it to another girl who is enjoying the show, though she arrived late. Class is over on time and now it's time for folks to try it out.
He unshackles me, collars her and leaves us sit with the needleplay box I gave him last year. We curl up and chat with folk, the only part of the room not filled with needle tossing. Calming and relaxing, I warn her, he has plans. She just says no.
He gets an experienced bottom, tosses two in a pain button and calls us over. We watch him put in the next two. Double dipping pain button, and then she offers him a 14. Oh dear gods, look at that thing, it's HUGE. I can hardly look at it, let alone watch it go in her, under the other two. Dear gods it's huge. There is a screaming contest and then a quiet contest. Then he cleans her up.
Our turn. Toy shakes her head. But just one? If you do one, Toy, she'll have to do two. Are you okay with that? I've already agreed to a couple, sure. Okay. One for Toy, two for me. We hop up on the table, hands still cuffed, fingers intertwining.
Where, Toy? Thigh, below the writing, above the knee. Help her breathe. I am terrified, we look at each other and I control the breath. Breathe in… Breathe out… Breathe in… Breathe out… and on and on. He puts hers in, double dipping through her thigh. She does well, cringing but not screaming. Feels like a fucking needle in her thigh. But she is fine and breathing.
Now me. Where? I don't know. Scared, confused, not very fleshy. Hubby says breasts, so I take off my shirt and bra, one handed. He taps my chest. Here? No, lower, please. Aww… He offers hubby first kiss. I kiss hubby, near tears. He kisses me, too, then turns my head to Toy. Breathe in… Breathe out… she intones. I am freaking out more than she did. Choking breaths. Breathe in… Breathe out… Breathe in… Breathe out… One needle in, I barely felt it. Breathe in… Breathe out… The second one he does less deep and I squeal. Breathe in… Breathe out… and squeal again… Breathe in… Breathe out… Two needles in. One in each breast. I snap my head back to him, he is grinning and happy and bouncy as he has been since the first needle that night. I'm breathing too hard. Slow down. My hands are numb. That's okay, don't breathe so hard. Breathe in… Breathe out… Kisses again. You know that if you went deeper on that second one, it wouldn't have hurt her so much, hubby notes. Yes, he says, I wanted it to hurt.
So, your hubby gets two as well? No. Speak up? Two more? No more. I heard One more, speak up. No more. Please, no more right now. So, I can leave those in for a while? Light headed. Breathe, don't hyperventilate. My arms are numb from the elbow down. Okay so should I take them out one at a time? Or hubby and I both take one at the same time. Yes, that, both. On three. One, two, three. I squeal again. Another kiss. Thank you. Toy's comes out, too, after we convince her that out hurts less.
We hold each other for a bit on the table, she starts to drop and we move to the bed. Snuggles, all three of us curled up together. Warm, happy, crazy. We did needles tonight. First time ever. OMG, we did needles. He strokes and pinches and pets. Comfort, love and quiet.
Head hurts, ears are leaking, but oh so incredibly happy. We made his week. He made mine. Hubby even helped. Will I offer it again? As punishment? Yes, I can see offering it again. It made him so happy and bouncy. I like playing with fear, and offering limits as atonement.
Dear gods, I had needles in my breasts last night. Wow. Still buzzing.
May 20th, 2010
These last few weeks, I have not done justice to myself, my partners, or to you, my readers. Last week's post was the best of the bunch, a description of a wonderful scene. But what has been going on? What's been happening along my journey? What were those cryptic and scattered posts about? And what ever happened to those needles? Let me begin by acknowledging my failures and then discussing them.
Firstly, when I brought him the needles, I did not beg for him to put them in me. I had been told to do this, and I had agreed to do this, but I did not. Since realizing that failure, I have only begged for the needles twice in person and once on IM. Other failures and issues have come up, and I do want the needles and we have talked about them here and there, but I find myself putting aside this want while I work on other things. It is important to me, but I continue to give other issues priority.
My second failure was letting fear and uncertainty keep me from going into object space. I was not initiating it and when he tried, I was putting him off with some form of 'not yet' and then not going back to it myself. Since acknowledging this failure, I had two evenings when I began initiating but did not follow through, one evening when I followed through and only slipped up once, and one evening when I followed through for a majority of the evening, but then let outside influences disrupt my focus.
I also had last week's scene where he put me into object space for the majority of the scene. I felt very grateful that he was willing to take me there again. Within the scene, it was also a very helpful anchor for processing as he had taken away my anchors of sight and touch. The focus that it created put me in a mindset of being an object for his pleasure and his use and allowed me to not just endure, but enjoy the pain, the fear, the tears and the relinquishing of control.
My third failure involved acting like a spoiled little child. I did not just question his decisions, I flat out told him no. I whined that I was learning and and that I was doing what he asked, all the while, doing the exact opposite by the very objections and fight I was putting up. I let my initial confusion turn into fear and doubt instead of being clear and accepting and communicative. I was so far into myself that I could not even see what I was doing. He took the time, once again to hold up a mirror and shine a bright light on it until I could see. He gave me back the paragraphs I had copied for him about being looking beyond imperfection, being happy, working hard, doing without question, being intelligent, helpful, serving and not letting fear and doubt get in my way. I had failed to do any of these things, and I was to keep the papers until I could actually live up to them.
The previous day we had a scene which had me kneeling for forty-five minutes, fifteen longer than I had ever previously done. It began with begging for the needles, and ended with the only thought in my head being that I could not get up until he told me I could. I had given over all my wants and needs to that one single thought, that one want – to please him at the expense of all else, by staying on my knees. It was quite a delicious scene, to let go that fully – freeing, and cathartic as I cried for the last ten minutes of it. He ended it by lifting me off the ground and onto the couch, covering me with a blanket and bringing me water. Our time was limited that day, but he made the most of it, for us both.
The next day, he had concerns that I needed time to reflect on that scene. Walls were broken down and I needed time to reflect and heal stronger. He also had concern for the number of people installing programming in my head and the possible dangers in that. Conflicting programming could lead to hesitation and doubt. Two people pushing the same button could take things further than intended if they did not know what the other was doing or thinking. This led to more communication with all my partners about wants and needs. Defining boundaries more clearly for all involved.
My fourth failure was being presumptuous and selfish and in a hurry. I tried to give back the paragraphs. I tried to play the I'm learning card again, forgetting that what he was asking of me was not just learning, but doing – putting the learning into action. And putting it into action consistently, not just for a few days. Giving the papers back was not 'the next step' it was four or five steps further along my path. I had only just begun putting my lessons into action, and in fact, just two days before, I let others ruin my focus and keep me from doing what I wanted.
I spent this conversation on my knees, where I had gone to offer the papers. He kept me there until I answered his questions. I stayed there because I had put myself there, offered that submission to him, and it was his until he was done with it. I did ask to get up once and accepted his denial. At the end, he set a timer for five minutes and told me to think about how not to end up there again, not on my knees, but having failed in that way again. He would burn the papers the next time, if we both did not agree I had lived up to them. I do not know how long I was on my knees that time, over thirty minutes I know, but beyond that it did not matter. I focused on what I had done and why, and on putting learning into action. When the timer went off, he asked me if I needed to get up. I said yes, and he told me to stand. I forced myself up onto completely numb feet, using the table for support. Looking into his eyes, and using my drive to do ask he asked as motivation, I was able to stay upright while circulation returned. Determination and motivation are wonderful tools.
My fifth failure was lack of focus and attention. I had some trouble assisting with suspensions last weekend. I had not been keeping up my tying practice. I did not read situations as quickly and as well as I should have been able to. I did not keep my eyes moving between all the participants of the scene. I am grateful that he was able to communicate with me about these situations and explain to me more clearly his expectations. We had five good suspensions each night, and the patrons all enjoyed their flights and are eager for more. I have since practiced my ties, and have a clearer idea of my responsibilities in our scenes. I expect further insight on this topic once we have both had time to reflect and discuss.
So, where does all this put me now? I am learning and growing and doing. I am making mistakes, I am failing, but I am still moving forward, albeit sometimes with tiny steps. I am lucky to have him holding my hand and guiding me – showing me the path when I lose sight of it or get turned around. Our love and trust for each other keeps us together, and enables us to overcome challenges, failures and miscommunications. The image of a feudal system just came to mind: I serve him and he keeps me safe. Sometimes, he asks more of me than I think I can give, but his belief in me moves me to go beyond my own expectations and push harder and reach further than I thought possible. I have a wonderful life, wonderful partners and I am learning and growing and doing more than I ever imagined was possible.
March 5th, 2010
Needles.
I'm going to buy needles soon. I'm going to bring them to him. I'm going to ask him to put them in me. As many as he likes, wherever he likes.
I am terrified of needles. Just reading threads on needle play, and looking at a website that sells them (sets of 100!?! Seriously?), made me queasy. I have been afraid of needles for as long as I knew they existed.
My health has kept needles firmly in my life; blood draws, IVs, shots. Though all these things are dwindling as my health improves. The fear never went away. Diabetic friends say they just got used to it, but my exposure to needles was never that consistent. The fear stayed, though it calmed some (my eyes no longer black out at every blood draw and I only set off the blood pressure monitor once during the two years of IVs). I can't watch needles go into my own flesh, or anyone else's, not even on TV. The very idea of unnecessary needles knots my stomach and chills my spine.
But I will do this, for him.
For us. For the darkness.
But mostly, for him.