February 10th, 2014
Top Three Items on My Kinky Wishlist
Thigh-high leather boots
Under-bust leather corset
Good quality latex dress
February 5th, 2014
This was my project for today: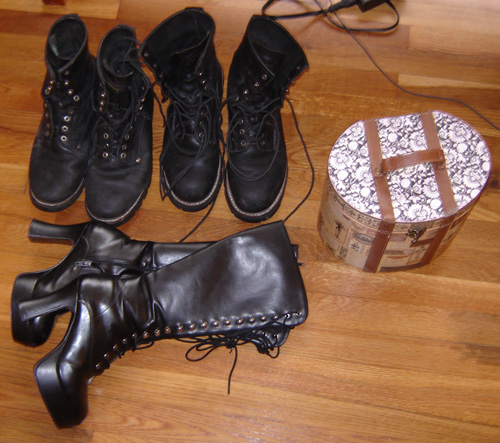 This is my Kit: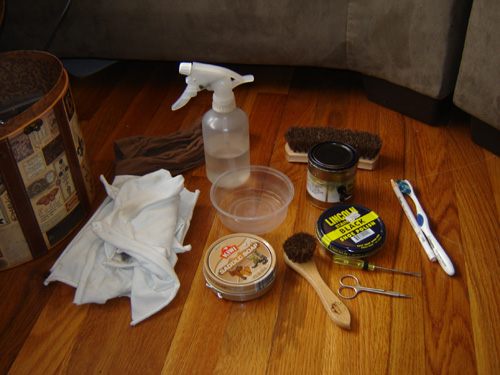 This is Before and After of his soft-toed boots: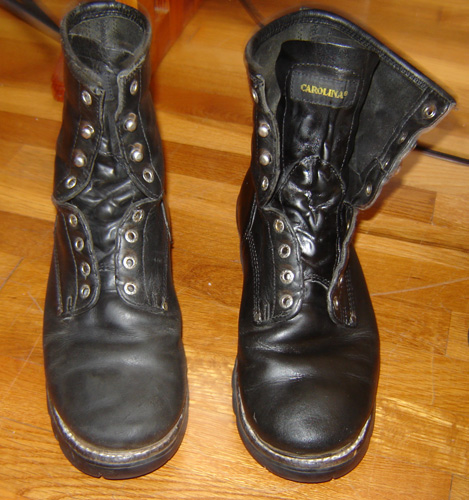 This is After and Before (did the other boot first on this set) of his steel-toed boots: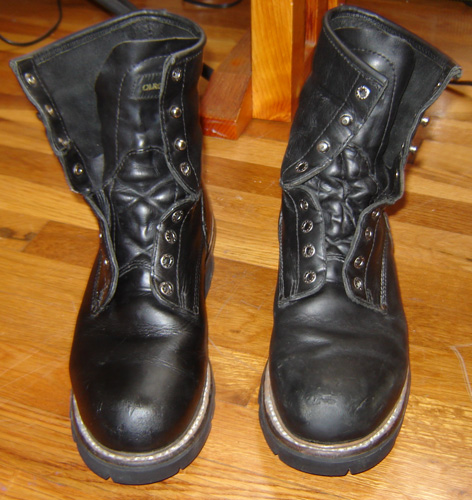 This is the Before and After of my cheap, but shiny boots: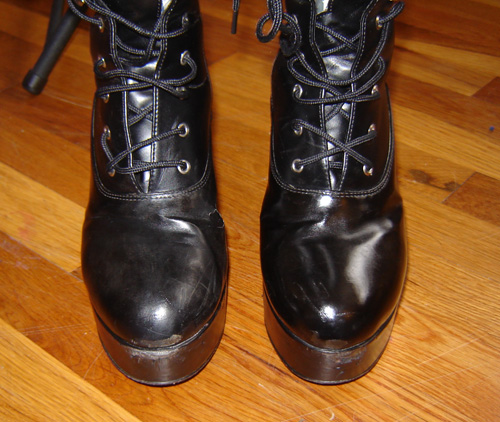 And last, but not least, the whole set of finished boots: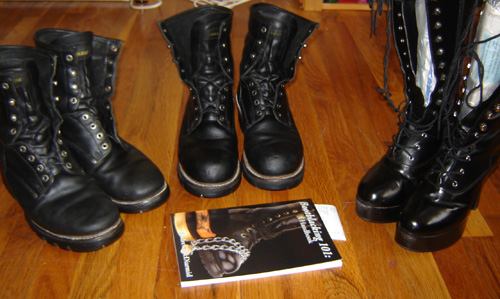 Next savings goal(after my UK trip) is getting myself real leather boots.
July 18th, 2013
Had a great night last night. There was some passing around of the stun gun because one of the girls wanted it, but didn't want to do it to herself. Had my shoulders rubbed and some snuggles from a friend. Then was the demo bottom for him and his girl, while my boyfriend took random shots to show them what to do. He, of course, was using the rubber floggers to pound into me. It was the girl's first time flogging, but she was gaining accuracy by the end. The guy is already pretty accurate, but my small back was a challenge. Then my boyfriend decided to six-count with the rubbers, and I shrunk away, grumbling that he can't do that when I'm not allowed to scream. He let them go back to practicing until they were both tired out.
There was some chatting and he asked me how my back was. I said it was alright, and he asked if I wanted some more. I said sure, he said he wasn't going to be nice, and I asked if he had a gag in the tubs. He came back with a Japanese washcloth which he knotted up and a leather strap to hold it in place. I choked a bit and he backed off one knot then strapped me in. I slowed my breathing, bit in and confirmed I could spit it out when I needed to.
Then up on the wall, and out came the rubber floggers again, well, off my arms, really, because he had me holding them from earlier that night (don't let them fall). He was having a lot of fun with the tips last night. I screamed and swore into the gag, pounding the wall, stomping my feet, spinning in circles to see his grinning face and shining eyes, and dropping to the ground. Always to climb back up and put my face back to the wall. Well, almost always, once, I turned and had him hit my breasts for a few strikes, just to give my back a break. Tears fell, I ran headlong into pain space and there was some growling, and breathing. Sometimes I'd end up on the ground and he'd just keep swinging. I'd try to keep my back to him until I could get up again. Eventually, he told me to stop turning around and I curled up on one foot, the other against my chest, and breathed through the pain, til he tipped me something fierce and I started stomping my feet again.
I choked on the gag a few times, collapsing to my knee and spitting it out to catch my breath. I didn't have any panic moments this time, only some choking. Crying and breathing on the ground, he asked my if I was done, I said no, and stood up again, and he got out the dragontail.
I turned to face him, eyes wide, hands behind my back. Oh really? I nodded, my back was so tender already. He took about five or six shots at my breasts before he really nailed a nipple and I screamed and turned around again. He was stuck on tips, still. Getting the super sting of just the tip. I screamed and cried, jumped and pounded, collapsed and bounced back up. He found a new favorite, super painful spot – hitting as close to the armpit as you possibly can from the back. Fucking hell, that hurts! A few stray snaps to the ass, the arms, the calves, the thighs and shins, as I spun dropped and danced around to the strikes.
I collapsed to a little sitting ball, and he tapped my forehead and I rolled back flat to the ground. He snapped my thighs a few times, whipping my skirt up higher and higher. I hardly responded. You done? I nodded and grabbed his ankle for physical contact while I lay there, just breathing and floating. He pulled my skirt down a bit and let me relax for a minute or two. When I let go, he picked up the stun gun, and I suddenly felt stabby metal bits in my legs. I writhed and squirmed, pushing it away time after time, until he pinned me a bit more and zapped me a few times while I screamed into the gag. I covered myself back up this time, relaxed for a few minutes until I started choking on the gag again. Somehow, I'd maintained a hold of on of the rubber sets of floggers this whole time, so I sat up cradling them. You alright? Yes. Happy grinning floating the whole rest of the night. Back all beautifully marked and tingly still today.
September 17th, 2012
What an amazing weekend! I didn't get to do everything I wanted to do, but that's the nature of life, and what I did get to do, more than made up for anything that we didn't manage to squeeze in. The best plan falls apart upon encountering the enemy, and that was the case for several of my friends, but for me, this time, nearly all my plans survived, and some of them far better than I ever anticipated. A lot of people are saying it was the best COPE yet, for me, this is entirely true. I have never had so many scenes, I have never stayed at the hotel, let alone with my partner during the event, and I've also never been so well fed at an event. About the only thing that was "on par" for my other experiences, were the classes. They always bring in great presenters to teach really fun classes. I had an incredible weekend.
What happens at COPE stays at COPE, they say, no outing other people by talking about their scenes. But that's not what I do here, as you all know, I talk about what I did, and my experiences. So let's begin at the beginning.
Our con began with meeting up with friends, helping out, and getting registered. We found quite a lot of our usual crew and gathered up for a nice dinner at Buca di Beppo. We even got to sit in the Pope Room, because there were so many of us. We talked about crew and the con ahead and even about the upcoming Trauma. Enjoying time together as a family, and then we took food back to feed the rest of our family who couldn't make it out. Being a group with the volunteering spirit, many were working the con, too.
Back to the hotel, I had a scene right up front, so I didn't even change, but went and found my ex-Lover, and we took our place for my requested "challenging, transitional suspension." That, will be a post later on. Afterwards, I went back to the room, got on my shiny kimono and boots, and went in search of him. He was bringing down a suspension, so I knelt nearby, helping clean up rope until he was done. The engineer was nearby scening, too. After that, we sat with friends for a time, until he retrieved us, stun gun in hand, to go back to the main room for our suspension scenes with him. Another post to come. He tormented us both with the stun gun while we waited for the high point, but the battery died out as he tried to keep tormenting me as he began to tie her. We played on the rig in the corner until they turned the lights on that night, and then headed back to our room to take care of each other, with massage and orgasms, and cuddling to sleep.
Morning dawned quietly, but I was awake early. I really wanted to attend class right from the start, so I was up, rinsed off and dressed in a sari while they were still gaining consciousness. They said they'd catch up, so I headed out, grabbed an apple(I was too late for bananas), and found a seat in Bondage for Punishment and Pain. They joined me sooner than expected, but before the class changed rooms in favor of a high point, and we knelt beside him, as much as we could manage, for the entire entertaining class. I found myself able to manage for 15 minutes or so at a time, not wanting to distract myself too badly from the presentation. 4mm rope, a high point, and a flexible bottom, made for quite the class. Stopping by the vendors on the way out, he found some great new toys to buy, a dragon tail and three leather "cocks." The latter being woven leather cylinders of various widths, with rounded ends, that work great to bludgeon your partner with. We headed back to the room to test them out, and were quite happy with the results.
We then headed off to brunch at First Watch. The second class session not holding our interest more than finding food did. Waffles, bacon, pancakes, eggs and coffee later, we were satisfied and heading back to the afternoon classes. I did wear my bratty shirt, and very short skirt, but I took my sari as a wrap to stay warm, as well. Extreme Bondage was up next, with more kneeling from us, though the presenter invited folk to come close and watch, so he was up in front away from us most of the class. This time, I found the tops of my feet beginning to hurt much faster than I was losing circulation. The class itself was quite interesting and entertaining in its own right, with a handful of really restrictive ties. The next class period, the engineer headed off to a latex class while he and I wandered back to the vendor area, this time picking up a book, a new suspension ring, swivel and two hanging straps. The final class of the day, Predicament Bondage, was the same couple as our first class, we all sat in chairs this time, and had a blast watching (and helping with) the crazy stuff the presenter came up with. Electricity, water, rope and weights and everything else he could grab from his bag of toys. Such fun.
We headed off to dinner, then, Fish Market our destination. Got a seat quickly in the bar portion and, though it was noisy there, we had quite a nice meal together. We he asked us if we'd seen anything that day that we'd like to try, we grinned and said all of it. I took my leftovers back to the event, but couldn't find anyone in need this time. We attended closing ceremonies, complete with lube-tossing, auctions, NCSF and gratitude. And then the final play party began.
We headed back to the room to get dressed, the engineer donning her blind contacts and me my straitjacket over lacy bodice with garters to red fishnets and shiny boots, he even wrapped my pleather skirt around my waist. I was to be her eyes, and her my hands. We headed back to the dungeon, all grins and giddiness. He showed us off down the hall, through the social area and all around the dungeon. Then we headed to the back rig for him to do his scenes and assist in others. I tried to keep her informed of the things going on around us, and once he sent us to fetch water and candy from the adjoining room. After his scene, she wrapped up the rope for him and I returned it to his bag. When these scenes were complete we headed back to the room for more private fun.
Back in the privacy of our own hotel room, the engineer and I stripped down, but she kept in the contacts. We rearranged some furniture, and sat down side by side, facing him, for an incredible needle scene. Post to come. How I didn't freak out or pass out, I'm really not sure, let's just say I'm stubborn, and they were incredible in supporting and encouraging me. We thanked him with massage and curled up for a well-deserved, good night's sleep.
The engineer had to head off early the next morning for school, and we hung around to help tear down and load out the dungeons. After many good conversations and goodbyes, I headed home to check on the internet, crash for a couple hours and then went out to dinner with hubby and friends. Home again for the last two episodes of BSG, some Lactaid ice cream and then crashed out completely for at least twelve hours. Amazing weekend of awesomeness. Thank you to everyone who made it possible and who made it great.
June 7th, 2012
He came in and sat down with his dinner. Tells me he's really done a number on his boots, with camping and bartending, they're a mess. I glance down and nod, indeed. Go get your kit. There's not a lot of time. Oh we have half an hour. Hey, you wanna help? The engineer has been asking for a lesson for a while now. Sure.
So, I get my kit, get some water and set down at his feet. Me on his left foot, her on his right. I begin the lesson. Gotta get new soap. I have a bare ring left in the tin and the edge is all rusted. I get the rust on my hand and onto a spare rag. Gotta keep it off the boot. We make lather and start in. Wiping off a lot more than I usually have to, for all the gunk on them. Even the soles get work this time. We get a few stray comments from the peanut gallery and he comments on how good a massage it is. Then they are clean and I'm about to grab the grease, but I look up at him first.
"Now, this is the time to lick them." he tells her.
I explain that some people lick after the grease, but that creeps me out, especially with the black dye in mine, but my heart is beating just a little faster. Did he really want us to?
"Guess what I read?" he says to me.
"My blog." I answer, starting to blush.
"Yep, I got all caught up before I came out tonight."
I'm blushing harder and mumbling to her, but she hasn't read it yet. He really means it, he really wants me to do it. She's a bit in shock to, as he tells her to as well. And then we begin.
I'm scared and nervous and embarrassed and excited all at once. I've never done this before, oh I've wanted to. Dreamed about it. Went to classes on it. But, but, but. Just do it.
And I do, and it tastes like clean leather. And it's his boot. His boot. Those Carolina boots I've been staring down at for nearly four years now in this form or the other pair. These are the steel-toes I've been cleaning and caring for since he bought them. I'm holding his boot and running my tongue down the leather, from toe to heel.
And I can hear him appreciating it. I can hear people around him saying how hot it is. My face is burning, so I bury it in his boot. Kissing and licking. Pressing the sole against my chest and my shoulder as I turn my head to one side then the other. He says it's a mix of warmth and pressure, and I'm glad he can feel it. I glance occasionally over at her and she is just as happily involved as I am.
So happy, and excited. Arousal has replaced all fear and is chasing embarrassment into a corner. I'm gasping against his boot, kissing and catching my breath. Enjoying the sensation of the tread against my chest. Loving the taste and feel and smell of the leather. I don't want to stop,
I can hear them getting ready for class. We'll have to stop then, we are far too distracting and distracted. Not yet, please not yet. I ignore the sounds and keep licking.
The arch of the boot is my favorite, a sensitive spot on my own foot, but hard to get to. I remember what Bootpig said about speaking to the person through bootlicking. I thought I understood it then, watching. But I really understand it now. I pour my love, gratitude and yes, arousal, out my tongue and onto his boot. And it is amazing. I never thought it would feel like this.
And I'm glad the engineer is on the other boot. There wouldn't have been time for this if I'd had to do both. And while we are separate in our licking, together, we are making him happy.
When class does finally start, I have no idea how long we were licking, but we come up grinning like mad, and curl up, arms around his legs, happy with our first taste of bootlicking.
March 8th, 2012
I may want tears tonight.
I smiled back at him, warmth filling me at the thought. I'd been aching for that, and we were both finally in a place where it would be healthy to go there. His boots needed attention, too. Having just gotten the soles replaced on both pairs. I hadn't blacked the steel toed ones in a while. It was going to be a good night.
Arrive, hugs and snuggles. His boot toes are certainly dirty. The puppy is too rambunctious though, we head downstairs. My kit in hand, he sets up a chair in the back corner in a decent pool of light. Down onto the cold cement I go, think skirt barely any protection. Set out the kit, go get water. He gets distracted by a self-suspension and goes to offer advice and assistance. I wait patiently, preparing myself to serve him.
He returns and we roll up his pant legs. I unlace his boots, draping the waxed strings over my neck, bight towards the respective boot. Lather created while I waited, I head for the right boot, pulling it up onto my thigh. Snip a few strings. Saddle soap, brush, toothbrush and fingers, working into the soft leather. Switch. Left boot on right thigh. It feels good to have them in my hands again. Clean it up and snip a more strings. Switch. I have to sit at this point. Bare feet on cement with the added weight of his leg is doing no good for my feet. Black gold for the shine. Fingertips working every inch. The class has started behind me at some point, I'm listening, but the boots hold my focus. Switch. More black gold and work into the leather. China marker and I bring out the sole lacing, bright white beneath the gleaming black leather. Quick run with a cloth and done. Pack up and sit to his right. Arms around his leg, head on his knee for the rest of class. The engineer girlfriend on his left. He pets and strokes, and squeezes our shoulder knots as we listen and talk about violet wands.
Class over, I am responsible for a few minutes, organizing for the weekend. He warms up on the wall and then smiles over at me. Ready to go? Yes. I put aside my phone and glasses, toss my shirt to the floor below them and walk to the cross. Taking off my bra, I drop it against the wall and hug the beams.
He starts off with the short, soft ones, but they still sting a little with the power he uses. The music isn't playing yet, he's got mp3s playing in his ears, but I don't know what song. I close my eyes and concentrate on the strikes. Catching his rhythm, I bob my head with the hits. The room is full of conversation, but I focus in on us. On the cross, on the floggers, the energy between us. The leather feels so good on my back. His hands beat into the muscles, fingers drag over the heated skin.
He rides the waves of the music in his ears. The strikes come harder and faster, bringing moans then screams. I bounce and stamp, my heel begins to tap with the beat. I am grateful for the mobility of the cross. I shake it and pull on it. We ride the wave back down. His hand in my hair, he pulls me off the cross and down to my knees. My hands on my thighs, I breathe and wait.
He pulls me up again. Stingy floggers, and I scream. Jumping and bobbing and writing against the cross. Falling deep into space. Growling with determination. I can feel the attention some of my screaming is drawing. I smirk, but it is swallowed by another scream. He pauses whenever I jump around. Waiting for me to come back to him. I hear the engineer beating the wall beside me. I know it is her, though I don't look. Her strikes familiar. I feel his hands again, sending shivers through my body.
Now there are mop floggers. More solid hits. Hard, throbbing against the cross. I hear music, but it isn't what he's listening to, so it doesn't matter. The mops beat into me and he goes faster. Six count and my head can't keep up, it starts rolling as the flogs roll over my back. The scream builds low in my belly until it bursts free.
His hand in my hair, pulling me up. Your skin is breaking, we're going to have to stop soon. How are you? I can only smile. I think I manage Good. Do I need to put you in the corner? I nod. He puts me back down. I nearly cry. My body betrays me.
He strikes again and I jump. Oh, we're starting again, he grins. I nod and he hits. Hard and stingy. I scream and writhe. I hear the engineer beside me, singing. Some of them want to abuse you, some of them want to be abuse. I smile through my screams. Her voice a perfect compliment to the end of our scene. My head bobbing with the song as I scream and shake the cross. I hit my knee once and bounce quickly back up. I hear him start to count with his strikes. 1. Scream. 2. Scream. 3. I drop, but not to my knees, hanging from the cross momentarily in orgasmic release. I pull myself back up. And he finishes off with a few more strikes.
Then his hand is in my hair again, pulling me away from the cross. Around other people and then forcing me down to my knees sheltered by some spanking benches. Head down, eyes tightly closed, hands out. I'm too deep in space to be touched. I can hear everything around me, but it doesn't matter. The energy is all I care about. The floating, happy, gasping, shaking wonderfulness inside me.
Slowly, I float back down into my body. The sounds around me start to invade. I hear him start in on the engineer. The people beside me talking about blow jobs. Noise and cold air. I'm not ready yet. I ignore it for a little longer, my eyes still heavy.
I'm numb from the knee down before I'm ready to open my eyes. I look around. Who are these people next to me? I still don't know. He flips a flogger out of his grip and we smile. But I'm awake now, time to move. I don't want to continue listening to the conversation beside me. I drag myself up onto unfeeling feet and make my way to my things. Glasses on, shirt wrapped around me, text messages checked.
I head over to the bishop's chair to perch and watch the rest of their scene. She stands still. I am amazed and a little confused. Her happy place, she'll later explain. But then she starts reacting. Screaming and curling up against the cross. He grins with glee, and goes after sharper toys, even the dragon tail, though he only slaps with it, doesn't snap. She curses and screams until he is done. Then he wraps her up against his chest.
A few minutes and then calls me over to join them. Snuggling together by the cross, until we're ready to move. I scoop up my bra and we head upstairs. The couch is taken, but he heads for the big chair and we sit at his feet again, heads on his knees. After awhile the couch is free and we pile on in. Snuggled against his chest and shoulders, arms and legs entwined. Relaxing together until it is time to go.
My shoulders are wet and tacky, a layer of skin is gone, but they only sting a bit, not hurt. The next day they'll be cold. A new and confusing sensation. Hers are quite tender and it makes me want to poke them when I hug her good night. We head our separate ways with hugs and kisses. It has been a wonderful night for us all.
December 22nd, 2011
A silly little story for the holidays.
"Come here, young lady, sit on Santa's lap."
He didn't look like any Santa she had ever seen before. Sure he was dressed in a fur-lined red hat, and black fur-lined boots, but that's where the similarities stopped. He had on tight red leather pants and an unbuttoned red leather vest. And his short trimmed beard was far from white. Oh, his eyes twinkled with merriment, but his stomach certainly did not resemble jelly.
She walked forward slowly, chewing on her lower lip, eyes darting from the floor up to him and back down again. What was he playing at? She sat down on his knee, tugging belatedly on the hem of her very short red silk dress.
"There now, have you been a good little girl this year?"
"I…" She looked into his eyes, crinkling with laughter and made a decision. "I've been good at it."
"Oh-ho-ho. Have you, now?"
"Yes." She sat up straighter.
"Good at what, precisely, little girl?"
"At being naughty, Santa. Isn't that why you're here?" She grinned at him as he laughed again.
"Yes, yes it is. You're right at the top of the naughty list, and I thought a personal visit might be in order."
"I'm flattered. The top of the list, you say? Very flattered." She wrapped an arm around his shoulders and pressed herself against his chest.
"Yes, I'm sure you are." He snaked one hand up her back and settled it on her neck. "But I haven't come for a demonstration." He spun her around and over the knee she had been sitting on, and lifted her skirt. "I didn't think coal would quite get the message across this year."
She squirmed and spluttered, but he held her fast with his left hand as his right lifted the back of her dress and then pulled down her black silk panties. The first smack sent shivers through her body and she yelped. He did not pause, but when straight to his work, spanking her harder and harder, til her yelps turned to moans and her moans turned to tears. She writhed in his lap, not daring to put her hands behind her, crying as her ass turned as red as his clothing.
"Oh, and I must not forget your present." He paused and reached into the sack beside him, pulling out a wooden paddle. Engraved on one side was the word Naughty and on the other, Nice. "Just so you remember."
He flipped the paddle so that Nice was facing her already bruise bottom and brought it down hard. She screamed and flailed, but he held her tightly and brought it down again, in exactly the same spot. Over and over, creating a purple outline of Nice in the reddened flesh. She slumped in his lap, sobbing but accepting as he took a couple more shots, just to make sure it would last. Then he let her slide to the floor, and kneel with her eyes on his boots.
After a few minutes, she collected herself and looked up at him. "Thank you, Santa."
"You're welcome, young lady. Now, which list will you be on next year?"
"With that paddle, Santa, I think I'll try and make the top of Both lists."
He laughed and scooped her up into a hug and a deep kiss.
Merry Christmas, Happy Yule and whatever other holidays you may celebrate, may they be filled with love, laughter and kinkiness.
July 21st, 2011
Fourth Monday. Finally. Only three months to get here. Such busy, crazy lives we lead. He asks me to bring my straitjacket and blindfold. My turn for isolation. Picnic on Sunday, so some cleaning is already done, but there's different things need doing. I set to the dishes and the grills, Toy grabs the recycling and trash. Floors are given a once over and the playspace is cleared up a little. Dressed and waiting, he's got the collar in the truck.
Chat and chicken and dinner. We head downstairs to curl up and flip through the television. Toy heads up to get coffee and he and I discuss my jacket. Doesn't really work with a skirt, but I've got underwear in the bag. Put them on and bring the jacket.
So I strip down to bra and panties – look they match. And he jackets me up, nice and tight. The straps crisscrossing between my legs. Blindfold next, then earplugs. Sound is deadened around me, and then headphones – blocking out most everything else. He puts me down on the couch, laying back on some pillows. I fold my legs, but he soon pulls them straight and shackles my ankles together with something I've never worn, hard metal, that seems to crank down.
I settle in, trying to see what I've got left. I can hear whispers of sound. His voice raises in question – can I hear him? But it sounds so faint and far away. Is he talking to me? I turn my head towards the noise, but nothing else comes. I feel like I should have answered, but he doesn't ask again. I can't hear anything but odd whispers of noise. A creak of the stair, the ceiling, whispers of the tv that only sound like static.
Nothing else is forthcoming, so I relax into the jacket and the blindfold and the quiet. The tv hisses. Annoying. I hear little things, indecipherable, whenever I fully relax. But I can still manage enough. Keeping still, I feel my mind sinking into my body. I feel like I'm in my bones instead of in my skin. I keep thinking about Harry Potter whenever the tv hissing pulls me up. I try to stop, I focus on my breathing, on the heavy sensation in my limbs. I could move if I needed to, but it seems like too much effort to even want to. Little ticks of pain. A prick in my foot, my nose itches, my fingertips of my left hand are pressing uncomfortably. Little movements to relieve the little ticks. Sinking, comfortable. Mind wandering, recording the sensations, knowing I'll be writing this. I wonder what they're doing, but no way to know, so I don't wonder long. I've read so much Harry Potter lately, why won't it stay out of my mind. Breathing, sinking.
I hear more sounds. My breathing picks up. Clanking, like chain in a bucket. What is that? Are they back? I smell hemp. The pillow below my feet moves. It scares me at first, til I realize what it is. The clanking noise stops. I strain to hear where they are, what they are doing. What he is doing.
Music starts playing. I can hear it softly, but clearly. And I relax. I don't know why, music signals playing, but I relax. It's a continuous sound, and I focus on it and relax. My breathing slows to normal. He hasn't come to me yet. I sink back into myself, more easily now.
I think I hear sounds from them. Indistinct. The pillow moves again. My heart jumps, but the music soothes. Then Uncle lands. Ripping me out of myself and back into my skin. And I scream and writhe. More strikes on my thighs. I curl up and he strikes the back of my thighs. I scream and moan. Then he is gone. I curl up whimpering. Then I hear her. Hear strikes at the other end of the couch. When they stop. I whimper and fidget, cowering, and the strikes come again, legs and breasts. Squealing and thrashing, the blindfold starts to slip, he pulls it back down, but it comes up again. The headphones are taken off and a hood forced over my head, squashing my ears. It's a hood I've never worn, the area around the mouth seems to have a leather piece to it. I can breathe easily through it. More strikes with something different and writhing and screams, but this stays in place.
He goes to her again, I listen to the strikes and her squeaks. Straining to hear it stop, cowering whenever it does. More strikes, he lifts my legs to hit the backs of my thighs better and strikes my breasts as well.
Clips come. Along my thighs, left thigh first. I gasp and squeak, sinking into the pain as he steps away. Then returns, my right thigh now, and two above my panties. I rock with the pain, chewing on the leather by my mouth, breathing and moving my legs to take in in and process. More clips around my legs, and then…
A clamp – forcep? – goes on my left nipple and I scream and cry and writhe and shake. He takes it off. It takes me a bit to calm down and listen to them again. He returns and puts one on the right nipple. I scream and groan and moan and twitch my foot, biting hard on the leather, determined not to let this one beat me. He strikes off the clips with a flogger and removes the forcep and I scream and shake. He retrieves them and puts them back on. Having to dig between the cushions under my ass for some of them. As I write this I am not sure I've got the clips and clamps in the right order, but I can't remember clearly.
I was scared of what might come next, gasping hard through my nose, trying to calm down so I could hear. Finally, relaxing enough to uncurl some, to feel the cushion at my feet again, to listen to whimpers from Toy. And then he's sitting beside me, a blow to my crotch and then his fingers, working away at my clit. Rough and insistent, I arch and groan, pressing back against him. Gasping and moaning, finally I beg, pathetically. Please. Please. The words aren't even clear to me, but he seems to ask what. Please may I come? He taps my chest twice. I take this as a yes, and let myself go. Orgasming, but he does not stop, pushes harder, and I orgasm twice more before he stops. And leaves me shaking and breathless.
But not for long. He unshackles my ankles, takes off the headphones and hood, and ear plugs. I blink in the light, fidgeting in the sudden brightness and sound. I come up and out again and he sits near my feet and waves me over. Rocking myself up, I turn and cuddle my head against his chest. He kisses the top of my head and asks a few questions. I assumed two meant yes? Yes, especially when he didn't stop. Then he points out toy, tied up in the corner of the couch and we smile. She looks beautiful.
Do you think you can untie her with you teeth? No. Well, you better try, it's the only way you're getting out. You two have to untie each other. I blink up at him and his wide grin. He's not kidding. So I get up and go kneel in front of her, assessing the situation. I start for a knot at her feet, but she thinks she can get out. I let her squirm for a bit, but she only gets one foot out. So I pull the other knot by her feet and she frees the second foot. Got anything more? She tries, but doesn't get anywhere. Okay hold still. I'm going to pull the crotch ropes through your waist rope. She squirms a bit and I scold her til she holds still. He's laughing and enjoying the show. I pull the crotch ropes out of her waist rope, though this seems to cause them to enter other uncomfortable places.
I stand and so does she. Still trying to get her hands free she squirms, but can't. Okay, I can see a couple more I can undo. Hold still. I pull a couple, but that does nothing to help her hands. She's turning and fidgeting, so I stand on the rope. He's laughing his ass off on the floor by now, watching us. Hold Still! I pull a couple more knots out and she can free her hands and get the rope off. He insists I do the blindfold and she squirms and ends up on the floor in a ball. Alright stay there then! I bend over and pull the knot free with my teeth and drop the blindfold on her back.
Up on her knees, she makes quick work of the straitjacket buckles, even without her glasses. I toss it on the couch and sit on the floor with them. She's trying to finish untying the rope and asks for glasses back. He gives them to us both. She untangles and I coil up the jute. It didn't taste like much but fibers. He had me clean up. I put everything back in the tub and chest while he got ready for his massage. He came back over to us, sitting on the ottoman with Toy in front of him and me behind him, all happy and glowing.
Then over to the table, back, arms, legs, feet, until our hands were getting tired, turn over. Chest, arms, legs, head and feet. Light touch when we can't push anymore. Then toy starts to drop, energy gone. I wrap my arm around her and she lays on his chest a few moments and then up. Whispered conversation until she's just about falling asleep on my shoulder. I lean down to wake him. We need to move to the couch. Clothes changed, tv on, coffee retrieved. We settle in to end our night cuddled up together. Most excellent experience.
June 16th, 2011
They tell me that I don't let things go. I don't like letting things go. I've let too many things go already. Not Things – hubby will tell you I purge junk from our home far more than he approves of, usually followed or preceded by moving, which he also thinks we do too much of. But I don't let of of people very easily. I don't let go of negative feelings very easily – I tend to bury them if I don't get them out quickly and they come back to haunt me. I do this with stress, too. I have very wonderful support and help solving problems and rectifying situations, but I hold onto the stress. I can't solve other people's problems, but I hold onto the stress created by the problem. Occasionally, it becomes too much. I am set adrift by my own emotions and hormones and I start drowning in the stress. At times like these, I run to the woods, I yearn for campfires, I want to cry, I want someone to draw the stress out of me, I want to be beaten to a pulp or tied too tight into a little ball.
Last week, I ran to the woods. I found quiet in the trees. But it was cold, and there was marching band practice nearby, and an organ and a piano. So, after watching some black-winged damsel flies for as long as I could stand it, I went for a drive in the country. Going a little too fast, but not dangerously so, and enjoyed the sunshine and the peace of having nowhere to be.
This week, I was beaten in/to submission.
When I was meditating early in the evening, my brain was wandering. Should I be Miss? Aren't toy and I fairly equal come down to it on Monday night? Does Miss disrupt my subspace? Where do I find my submission to him these days? In my meditation, in the rubber bands, in my clothing choices, in my service to him. And lately, in our Monday nights, it has been a growing opportunity for subspace again. Something to talk about when renegotiation comes up.
He, toy and I played a bit. Seeing if I could keep a rubber mallet type thing going on her ass while he smacked us both with various things. Dragon tails kissing our flesh as we squealed. An electric flyswatter that had us whimpering before he even got near. A wicked stick. A paddle. Even the cricket bat that I immediately knelt up to receive. Then the order to snuggle while he had a conversation elsewhere.
Hubby's girl was practicing flogging while hubby worked on my laptop. He was watching and called me over to be a practice bottom for her. Shirt off, bra off, glasses off, hold the cross. Show her where her aim was. A few strikes, she was nervous, he showed her his strikes, and they practiced a bit more. I love watching him teach. This is one skill I haven't tried to pick up yet, as a top, anyway, though I occasionally ponder it's physical benefits, if not my ability to top a flogging scene. Then he leaves her to her own devices and turns to me.
He struck hard and fast, just heavy, short leather floggers, though I could have sworn he'd grabbed the rubber mops. I clutched the cross and screamed and groaned and gasped and moaned. He dropped me fast, and I pulled myself back up the first few times. In tears so quickly. He changed rhythm, backed off, came on. Then I dropped to my knees and he kept going, so I curled up, offering my back, but unable to stand and he kept going. I worried that he would stop because I wasn't standing, but he kept going.
I knelt, I crumbled, I twisted, turned and cried. He backed off for a moment and I dragged myself back up the cross. On he came, three strikes and I was down again. And he kept going. This time I managed to kneel properly a few times, between curling up into a ball and sprawling on the floor. Always conscious of where he was and trying to keep my back offered to him. I could not stand, but I did not want him to stop.
Toy was being teased for wanting to rescue me, just a little.
"Do you want rescued, Miss?"
"No, Toy!"
"Well, if you want more, you have to get up." He chimed in. "If you fall again, we're done."
I got to my knees, not good enough, up onto the cross. Clutching it for dear life as he tore back into me. Screaming and shaking the cross, I don't know how many I lasted, it was more than three, but not by much. I fell again, in tears, but not disappointed. Toy was there, against my side. I caught a breath, thanked her and asked for a moment alone. She went to get water, and I cowered for a moment longer, and then knelt properly, before the cross and just let myself cry. Just tears, no remorse, no upset, just tears.
I notice hubby's girl didn't stop the entire time. With all my screaming and thrashing right beside her, she kept on practicing. Good on her.
"Is that what you needed?"
"Yes, Sir. Thank you, so much." Hugs and kisses.
Toy is nearby, with water. I go to her, snuggle and stroke her hair. I won't go to the bed yet, I'm not ready to collapse. Stubborn, I drink the water, waiting for the shaking to start. Teasing and tickling for a few moments. Coming back to reality before I crash.
And I do. We go to the couch, she wraps me up and holds me tight while the cold and shivers run through me. It's late though, so we're up again in no time, packing up and heading home.
So, why did I say I was beaten in/to submission? What do I mean? I was flogged while in my submissive state. I was in subspace, standing there half dressed at the cross. I was in subspace, offering him my back, as best I could, no matter where I was. I was in subspace, unaware of the rest of the dungeon unless it intruded quite loudly. I was also beaten to submission. To points when I didn't know if I could take anymore and let him decide. And eventually, to the point where I gave up completely, without any regret that I had not gone far enough. He even commented later that I'd given up. I agreed, he was tipping the floggers a lot and the sting became too much. But I was not disappointed in myself like I might have been other times. I went as long and as far as I could that night, and he stayed with me the entire way, taking every bit that I would give him.
Some people ask why I get flogged, more especially, why I sometimes get flogged like that. No long and gentle warm up, no tender cool down, no rhythmic six count to the music. Just rough and tumble, heavy strikes, sharp strikes, relentless strikes. Don't get me wrong, I enjoy the former, too. But the answer is because sometimes, I need it. I need a cathartic release so powerful and strong, that nothing else will do. I need the stress to be ripped violently from my body because I cling to it so tightly that I can't just let it go. I am so grateful that he is able to do that for me. And I love the marks and the residual pain that keep me glowing for days after.
So, readers, what do you do to relieve/release stress? Kinky or vanilla?
June 2nd, 2011
Who is The Perverted Imp?
I am a 30-something woman with a degree in creative writing. Except for a three year stint out west, I'm a MidWestern girl. During college, I traveled to Ireland, England and Australia, as well as all over the US. I work with books in the morning and computers in the afternoon. By night, I am a social butterfly, hanging out with my loved ones, gaming, and participating in a kinky stage show. I enjoy most music in which I can comprehend the lyrics, movies that are not full of senseless gore, and books with interesting characters. I love forests, meadows and rivers. I have rheumatoid arthritis, and allergies to Neosporin, mice, dust and cats, in that order. My favorite color is cobalt blue, and I adore watermelon, pizza and bacon.
Who are the other people mentioned here?
Hubby – is my husband of nearly seven years as of this posting. He is my Master, the love of my life, and my rock. He is the one I come home to, the one who supports me no matter what. He understands me, protects me and takes care of me every day of our life together. I am in love with him, forever and always.
Him/he – is my boyfriend of about a year and a half now. Rigger, Dom, Mentor, Teacher, Sir, and friend. He guides me and helps me and challenges me to go places I never thought I could go. He holds up a mirror and a light, showing me myself and the path I have chosen. I am in love with him, may it last forever and always.
Toy – is an amazing young woman that he and I have taken under our protection. She has agreed to be our toy, to play with us, learn from us, and teach us about herself. Through her, I am learning a lot about myself. I love her dearly.
Lover – is now an ex. He was my play partner, lover, or boyfriend for around two years. He taught me many things, about kink and poly as well as about finances, health and business. He made a great contribution to my life, though we are not together anymore. I will always have love for him.
Why am I blogging?
I hit two years recently. So, why am I still here? What brings me back every week? What fills my tummy with guilt if I don't get a post done each Thursday? I don't have a huge following. I don't have comment conversations running into pages. I do have a handful of loyal readers who know and love me. But I could just as easily talk to them about my life. Why blog?
I read, as a child, to escape. I wrote a young woman to escape as well, and to give others escape. Then I joined this kinky world, and I didn't need to escape anymore. My fantasies were real, my life was amazing. I wanted to share.
I wanted to let others know that they aren't alone. I wanted to let others know that someone else made the mistakes they are making. That someone else made bigger mistakes. That someone else in this wide world feels like they do. That someone else wants what they want. That someone else enjoys the unusual things they enjoy. I wanted to reach out, and touch someone's life, even if only for a moment, and even if I never knew. Occasionally, I get a note from a reader, letting me know I touched a life, and it makes me so happy. So here I am, and here I will be. Sharing for all who care to read.
How do poly and kink interact in my life? Would/could I be one without the other?
Poly is how I explore kink. No one person can be all. No one partner can satisfy every urge or desire or kink. I have different relationships, different dynamics with each of my partners. Every relationship I've ever had, has explored kink in a different way. Some had similarities, but they are all unique. I have a wide variety of interests, and I don't want to try to fit it all into a single relationship. Fortunately, I don't have to anymore. I have found poly to be part of who I am and am grateful to everyone who has helped me on this path. I have been kinky while being monogamous, but I don't think I could ever again not be kinky or poly in nature, if not in fact.
What are my top kinks?
Rope Bondage – Hemp, jute, cotton, suspension, box ties, hog ties, prisoner ties. The smell of hemp from his tub, found nowhere else. Rope rubbing on skin, rope around the neck, rope through the crotch. Rope squeezing and holding and pressing. Rope marks, rope burn, rope tails whipping around. The feel of it holding me tight, letting me find freedom. Drifting off into space, secure and safe.
Intense Sensation – Over the knee spanking, bare asses spanking, slaps, flogging, dragon tails, single tails, paddles, cricket bats, canes, wicked sticks, violet wands, TENs Units, stun guns, stingers, flyswatters, biting, pinches, pokes, pressure points, forceps, nipple clamps, Leatherman tool, clothes pins, fire, fear.
Power Exchange – Kneeling(for him, at his feet, in submission, in meditation), behavior control(carry the drink just so, speak only when spoken to, eyes on the floor), hair pulling(his hand in my hair, taking complete control, mind and body), commands(with just a single word or motion, I am his), service(boot blacking, taking care of him and his things).
Sensory Deprivation – A blindfold to take a way sight. A hood or earplugs or earmuffs to take away sound. Tape or a gag to take away taste. Mittens or straitjacket or plastic wrap to take away touch. A hood to block smell. How many senses will you have left? How many do you need? Sense what you can, listen, taste, touch, hear and smell. So easily taken.
Random List of Words I Have Used Recently and My Attempt at Defining Them
Kink – a deviation from conventional practices in sexual behavior.
Polyamory/Poly – many loves. The practice of having or accepting more than one loving romantic relationship at a time, with full consent by all parties.
Limits – boundaries in kinky play. Soft limits are things you do not wish to do, but may do with certain partners or under certain circumstances. Hard limits are things that you do not wish to do at all. Limits can change with time.
Space – an altered state of mind caused by particular stimuli. Sub space, rope space, pain space.
Masochist – a person who enjoys receiving intense sensations for sexual pleasure. Colloquially a Pain Slut.
Sadist – a person who enjoys giving intense sensations for sexual pleasure.
Bondage – the use of restraints for sexual pleasure.
Power Exchange – the giving and taking of control, physically and mentally.
Sensory Deprivation – the removal of any or all of the five senses for sexual pleasure.
TENS Unit – a medical device in which electric current is used to stimulate nerves for therapeutic purposes, often to relieve pain.
Violet Wand – a quack medical device, in which low current, high voltage, high frequency electricity is applied to the body in a variety of ways.
Nipple Clamps – small clamps that are attached to the nipples to cause intense sensation and restrict blood flow. They come in many sizes and shapes.
Flogger – popularly known as a cat o' nine tails, floggers can have any number of tails and be made of leather, fur, rubber or even rubber chickens. Uncle is made up of hard rubber conveyor belt cord.
Dragon Tail – a type of single-tailed whip, the Dragon tail is usually made by a wide piece of leather attached to a handle on one end and tapered to a thin tail on the other.
Bishop's Chair – a bondage chair that is comprised of a tall back which the torso can be strapped to, crossed horizontally by a long plank which the arms can be strapped to, and a seat comprised of two planks set at a V, usually with eyelets on the legs for the ankles to be strapped to, leaving the victim spread wide, bound and vulnerable.
If you have any more questions, please ask.