September 27th, 2012
Friends of mine have been talking/puzzling about their lives not being what they expected them to be. For some, this is causing great distress. So, I decided to take a look at the question.
Growing up, what did I expect out of life?
When I was little, I wanted to be an astronaut, doesn't everyone? The stars held me in thrall. Then I found out that astronauts didn't get to visit the stars, and sometimes their ships blew up, and I thought maybe I'd stay on earth til they got those things worked out.
Then I wanted to be a teacher. Until I found out that kids are cruel, and rude, and unmanageable sometimes. I thought maybe that wasn't the best place for me, and maybe I didn't even want to have my own.
So I turned back to the stars. I wanted to study them, from here on earth. Look out into them, and find the mysteries of the universe. Find other life. Figure out how life formed here. I was again in their thrall. But then I went to college, and calculus and E&M defeated me. So I turned away again.
To writing. I loved to read, it kept me entertained as a child, and I loved to write, to express myself in words, because my voice was so soft, and no one could interrupt me when I was typing or writing by hand. I could speak for myself in text, say anything and everything through writing. And I love it.
I work in a bookstore, because I love books. I love sharing knowledge, and helping people find the same joy in it that I did. I don't teach, but I help them get the information they want. I do not go to the stars myself, but can help other people get there.
But those are only jobs and vocations, those are what I do. What did I expect out of Life?
Growing up in the church, I expected to stay in the church. I expected to be a good little UM girl all my life. To get married to a nice UM boy, and worship every Sunday, and be a part of projects and work groups. And then I got older, and there were politics, and other view points, and intolerance, and hate. My faith became more personal, less contained in a building, less constrained by specific doctrine. I still consider myself a Christian, because I feel I live by Jesus's overriding message of Love. His words of love still speak to me, and I do my best to follow his example. I didn't marry a nice UM boy, or even a nice Christian boy. But I did get married to a very Loving man. And to me, that is what is important.
But where did all this poly stuff come from? Surely that wasn't "in the plan." No, growing up, I expected to have a husband, forsaking all other so long as we both shall live. It was even in our vows. Promised before family and god. But that doesn't seem very loving to me. To Forsake others? I didn't date anyone in High School, but my college relationships were rife with flavors of poly. Not my first, he was a good Christian boy. But most of the ones after that. I didn't have the understanding, let alone the language for it at the time, though. My second, still in love with his HS sweetheart, cheated on me and left me for her. I often played with him after that, even with a third friend sometimes, and still love him, though not in a romantic way. My third, had a 'zip code rule' that I always rolled my eyes at, but he and I had off and on things, despite his other relationships. My fourth, well, he was an odd bird, and I was trying to get back with others during that time as well. Hubby came into play that year as well, as someone I loved, but couldn't be with. Then my fifth and sixth, openly admitting to love for hubby while dating them. Playing with others while things with hubby went up and down and round about. But things were so messy, that when I got back with Hubby after college, I made the mono-demand.
Which lasted just over three years, until we both started falling for others. My experiment exploded, so I returned to a state of poly=pain, and agreed to swinging. That didn't go very well, either, and then we found the community here, and I softened and fell, back into poly, where I truly belong. This time, with resources, and language, and experienced people, who taught me to communicate, and to thrive in this lifestyle. Oh, it still goes up and down and sideways, but I am far better equipped to deal with it now, and far more able to accept the bumps and bruises, and keep on swimming.
That was the important lesson to me. It isn't about trying to keep my head above water, that's just a lot of thrashing around to keep from drowning, but you never move forward doing that. I've learned to keep on swimming, forward, through the waves, and tides. The only way up is forward, and it attracts fewer sharks if you swim fluidly forward than if you thrash around hoping to be rescued.
So, was this what I expected out of my love life? No. But it is certainly what fits me. Love, and plenty of it. To keep me going along my way.
But life is not just job and relationships. What about this kink stuff that fills my waking hours? What about the natural world and the stars I loved so much?
I grew up loving the outdoors. Going camping, going hiking, stargazing. Sitting by campfires, singing songs and exploring the woods. It is still my refuge. When things get too much. When I need to unwind. When I just need to get away. I go to the woods. I walk through the forest, I lie in the grass, I sit by the brook. Nature is still in my veins, but people now fill my heart.
I didn't have a lonely childhood, in my mind. I had friends, I enjoyed school. I went to parties. But I didn't have a Lot of friends, I didn't do the social butterfly thing. I had a couple best friends. That I would spend most of my time with. I never expected this to change, and it hasn't. I have kept my best friends, from HS and College, but they are far away. I have made a few more since, but not many. And it is with these friends that I spend my time. It is kink and poly that brought me to these new friends. And geekdom. I still do the geek-thing, gaming every week, and a group that goes to geek conventions and throws parties monthly. But the latter are also a part of my poly and kinky circles, too.
I've always had a kinky bone in my body, though, I didn't know it at first. Or at least not what to call it. I found it fairly fast, though, when I got old enough. Kink, I discovered, made sense to me, and was something I wanted in my life. It became part of my regular life with my second boyfriend, growing with my fifth, and really expanding when I met daddy online, and then in person, though I didn't find community until nearly a year after hubby and I moved back here, only just over four years ago. I tried once, just before we go married, but a missed connection kept us at bay for four years, due to moving out of state after the wedding. Kink, though, once I understood what it was, has always been an expected part of my life. And I am grateful for the people who have guided me, advised me, played with me, and taught me. Navigating the kinky community, and one's kinky self takes a lot of work and skills that are not necessarily the norm in regular society. And it has also given me an outlet for my early desires to teach and my later desires to write. These things are a part of me and kink keeps them in my life.
What about submission? How does that fit in with my life expectations?
Did I grow up thinking about how wonderful it would be to be controlled? How much I wanted a man to tell me what to do? How much I wanted to serve him? No. I grew up learning to be an independent, free-thinking, self-reliant woman. I went away to college, I went to Ireland alone, I went to Australia to meet daddy. I moved out of the house when I got back. I found a job, I supported myself. Sometimes I fell down, and needed some help, but I was mostly independent of my parents. I got married and moved away. No longer singularly independent, but still in control. In charge of my life, working now as a couple, to be successful. So, where did this submissive desire come from? How does it fit into my life expectations?
In my kink, it has always felt like the natural role for me. At first, it was a desire to be done to, as I think it usually is. I wanted to receive all these sensations, I desired to be spanked, to be pinched, to be bitten, to be held down, to be bound. So in control, so strong, so independent. I wanted it to be taken away. At first, I wanted to know that these things were okay. That I could still be strong and independent, and in control, even though I wanted and liked these things. I didn't have control over what turned me on, but I wanted to know that I was still in control of myself and my world. My body, my RA, took some of that control away from me, so I gained a desire to control the pain I experienced. I wanted to have the pain that I wanted, not that my body just threw at me. These things came first.
Then I met strong, dominant men, and it wasn't just about play anymore. It wasn't just about top and bottom. It was about Dom and sub. It was about being able to give up control, giving them control, and the freedom I found in doing so. Not just in giving to them, but in receiving as well. The give and take, the cyclical relationship, that requires love and trust and work to maintain. It feels good to submit to those I have chosen to submit to because they chose to dominate me in return. One-sided relationships happen, but they are not fulfilling in the long run. The joy and fulfillment I found in submission, blossomed from curiosity to expectation and is a part of my life I do not ever want to be without.
Expectations change as life changes us. But once we find those things that make our lives wonderful and whole, it no longer matters what we once thought we would be or do. It is what we are now, what makes us happy and fills our lives that matters most. No use worrying about what we thought would be, stay in the present, work for what you want now. Not what you thought you should have. If I'd stuck with my original plan, I'd be pretty much out off luck now, NASA's ended the shuttle program. Expectations are helpful, but don't let them stay stagnant while life changes all around you.
August 20th, 2012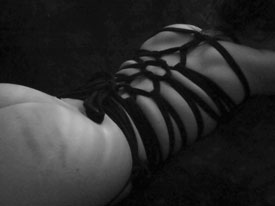 Photo courtesy of Ava Grace
Welcome to e[lust] – The only place where the smartest and hottest sex bloggers are featured under one roof every month. Whether you're looking for sex journalism, erotic writing, relationship advice or kinky discussions it'll be here at e[lust]. Want to be included in e[lust] #40? Start with the newly updated rules, come back September 1st to submit something and subscribe to the RSS feed for updates!
~ Top 3 ~
Never Pinch a Sadist: 50 Shades of Plaid – If you don't know kink, don't feel pressured into it. If you wonder what it is about, join Fetlife and find local event to teach you about it.
Collars & closure & owning myself – there is triumph in realizing that your paths are diverging, repacking your shit, and moving on with dignity and respect.
The Quarry – We agreed to meet up on the weekend and go out to the quarry. It was an old, flooded quarry. I didn't know it, but the queers had taken it over.
~ Featured Post (Picked by Lilly) ~
~ e[lust] Editress ~
"I can't orgasm without a vibrator" So What? – Embrace it. Bring it in to your partnered sex life. Be happy that you can achieve orgasm whatever way that works for you.

All blogs that have a submission in this edition must re-post this digest from tip-to-toe on their blogs within 7 days. Re-posting the photo is optional and the use of the "read more…" tag is allowable after this point. Thank you, and enjoy!
Erotic Writing
A Guest for Dinner
A Beautiful Need
A Purring Machine
A Hard Man is Good to Find
Chlorine Kisses
In a different world
I Crave You!
Lolita Twenty-Twelve, Part Four
Mojo Back
My 69th Orgasm
Owned Part 4
Sensual room service
Summertime
Tease Me
Travelling
The Space Between
The Text
The Wicked Wench of Wupert Stweet
The Desk of Power
Use Me
What I'm thinking about when I'm…
When Frederick Met Camille
Thoughts & Advice on Sex & Relationships
Living with an Alpha Sub
Make Her Cum
Restless
Swinging and safe sex
Talking with the Lights Off
The Promiscuous Bisexual
Why Do I Have More Respect For Men Than MRAs?
What not to do for anal sex
Wants, Needs & Poly
Wifi Sex?
Kink & Fetish
A Boot Scene
Consent as Torture
Mores and Behavior
Pursuit of Squirting
Playing With Lightning
Submissive men: A celebration of beauty
strapping on…my first time
Submission for a Femdom Facesitting Film
Steeped
rethinking warmup
September 13th, 2011
I got into this month's e[lust] digest, a selection of sex positive articles, stories and blog posts. Below is the digest, I hope you enjoy this month's selections. 🙂
Welcome to e[lust] – Your source for sexual intelligence and inspirations of lust from the smartest & sexiest bloggers! Whether you're looking for hot steamy smut, thought-provoking opinions or expert information, you're going to find it here. Want to be included in e[lust] #30? Start with the rules, check out the schedule and subscribe to the RSS feed for updates!
~ This Week's Top Three Posts ~
Evidence To The Contrary – If anyone out there ever tries to tell you that internet relationships and friendships are not real, point them in my direction and I will happily set them straight on the matter because I have proof, in fact I am proof, that they know not what they speak of.
Open Marriages Don't Work….– The only way I would agree with that statement is if you add: …..if you're marriage already has problems. But even that part is not universally true.
Love in the Age of Broadband – What happened to our ability to keep it casual? Why would we attach ourselves to someone who is (often) hundreds, if not thousands, of miles away? And, more to the point, why would we attach ourselves to someone we have never met?
~ e[lust] Editress ~
Ask Lilly – Open and Polyamorous: Why be married at all?
~ Featured Post (Lilly's Pick) ~
My apologies, everyone, since submissions closed I've been 100% consumed with personal family tragedy (the flooding in Central PA) so I didn't have time to read most of the entries this time or find a photo. The html code might contain a lot of blank lines for some of you, I didn't have time to "clean" it up, either, just throw up what I have.
All blogs that have a submission in this edition must re-post this digest from tip-to-toe on their blogs within 7 days. Re-posting the photo is optional and the use of the "read more…" tag is allowable after this point. Thank you, and enjoy!
Thoughts & Advice on Sex & Relationships
Ask Aunty Dee: Dental Dams
born this way…
Clit Truth
Condoms and Size
Lies & Infidelities
Misguided Dominance
Poly Language
Return to Decadence
Step Inside My Head
Who was the first person you told..
When Bad Things Happen To Good People – Warning Bells
Sex News, Interviews, Politics & Humor
To Be Out Or Not To Be Out
Want Sado-Erotic Horror Movies? Yes please! Films by Matthew Saliba
What I've Learned From E[Lust]
Kink & Fetish
A Much Needed Distraction
Another drink?
Caged
Facing Fear
Negotiation Win
Erotic Writing
As Long As It Lasts
Asking For It
Anticipation
Blow Job
Campfire
Debra's Gift
Feral
Fantasy
June's Caning
Please, Please, Please, Sir
Showers and Strawberries
slick
The Visitor
The Play Fight
September 8th, 2011
I'm working on a big project for friends this week, and I've got a deadline of tomorrow evening, so I brought home RedBull today. I've only had a few ounces so far, but I'm definitely feeling it. Bouncing and excited and far more awake than I have any right to be. So, cool things.
The fourth issue of Erotica Quarterly is now available to read online at Pill Hill Press for free.  My story, For Him is the third story in this issue. You can buy a hard copy of this issue from Pill Hill Press, or on Amazon in a few days. I'll be getting a one myself soon.
Next week, on Tuesday, I'll be posting an eLust digest of a bunch of posts – erotica and articles, that I'm included in, so look for that.
COPE this weekend here in Ohio. I'm looking forward to it, I haven't been to the last two Big events. Saturday's classes for me will be mostly presented by Two Knotty Boys and Douglas Kent. I'm thinking of going to a service class for the extra spot, not sure yet. Maybe I'll sleep in. Going to play with hubby, fire with a friend, and try out the sacred touch of the Scarlet Sanctuary.
Oh clothes! I haven't officially decided what I'm wearing this weekend, but I definitely think I'll be taking the bracelet toy got me with the Celtic bdsm symbol on it. I think part of the plan is to wear hubby's big sparkling shirts that are just a bit too small for him anymore. I think there's a dragon one I like. And probably the black silk pants that are just a bit too big, but fun anyway. Anyone local reading this anymore that Doesn't know who I am?
Ah, RedBull. I should stop now while I'm ahead. See you next week. Monday is going to be excellent, I can hardly wait.
July 21st, 2011
So, this extra post is inspired by a several things. One, it's my birthday on Sunday. Two, toy was giving me a hard time about not asking for things I want (for my birthday). And three, he made a comment the other day that a lot of our play has been about things that he likes(it's awesome and fortunate, that our kinks match up so well), and due to various things over the last week, he's curious to try some of the stuff that I like. Thus the straitjacket on Monday. So, without further ado, here's a short list of scene ideas that came to mind when I thought about my upcoming birthday… while at work… and bored… in the order they came to me.
Obviously, over the knee, barehanded birthday spankings. This one's just a given. It's tradition in all parts of life, to give birthday spankings. So, I want bare hand on bare ass and dear gods, please over the knee, but hey. Girl's gotta have something special.
Clothes cut off. I have had this in my head for a while now, but I never really thought too much on it. But when I was writing this list it was second to come to mind. I realized that Every kidnap fantasy I have, they cut off my clothes. This is one I've never indulged (it requires pre-planning or the sacrifice of cute clothes), but apparently is a huge turn-on for me.
Suspension. It's just all kinds of wonderful and always on my mind. He suspended me last week, quick and dirty, but oh so nice, and spacy. Lovely. So, I think this wish has been nicely fulfilled.
Sex. Oral. Masturbation. Well, duh, it's fun. (I'll get a little more creative further down the page.)
Intense rope scene. You know the kind. Tied up tight, rope after rope, losing freedom bit by bit. Digging in, dropping down, nothing but you, him and the rope. Eeling optional. The kind of eeling that when you get something free, he just ties it down tighter. And you're both exhausted by the time the last rope is removed.
Electric oral. I've been curious about this for ages. Since the first time he mentioned it. In that kind of terrified, but oh so curious kind of way.
TENS masturbation. I want to find the right places. I've played with TENS units on various occasions in various ways, but I've never found The Spots. Yeah, we've turned me all tingly and what not, but I hear stories of more and better. Of getting it to cross the clit. Of getting it to cause orgasms. So very curious.
Vibrator orgasms until collapse. Writing this made me laugh, then blush. There's nothing like a Hitachi going on and on until you've had so many orgasms that you're begging for it to stop. And then being forced to have more.
Clothespin challenge. I wrote this at work with ?'s around it because most of my thoughts were not around painful scenes. The idea popped into my head, inspired by Monday, and spurred on by memories of a game show. How many clothes pins would it take? How many is too many? I think lying down I could take more than standing up. I have this problem with breathing. And then what about taking them off? One by one? Or a big long zipper?
Sensual flogging or drumming. The rhythmic kind, meant for spacing out and massage. Not the pain of catharsis, not looking for tears or challenge. Just music and thumping and letting go.
Full body massage. This goes on the same line. Just soft sensation, of touching and caring and love.
July 7th, 2011
Been a busy time lately, sorry for not posting last week. Here's what should have gone up, a silly little post of lessons learned.
Had a good time at practice, and learned a few lessons. Let me share them with you.
The correct answer to "Do you think I can hit your nose with this Dragon Tail?" is "Yes, I do, but please don't." instead of nodding and standing very still, hoping he'll just snap it in front of you a few times.
Dragon Tail strikes to the mouth a) hurt like hell, b) are scary, and c) leave the area feeling indented. The first two made me cry instantly, the third was a very odd sensation.
I am not fond of the use of an extra large shoe horn as a paddle.
"For love and service" is a good phrase that I learned from hubby's girlfriend, to describe why one might still take the shoe horn even if one doesn't particularly like it. I agree with these reasons, but also tend to take things because the after affects are what I'm really after.
Keep still – Don't move the target he is aiming at. I (re)learned this rule, and also that I really can do it when properly motivated.
Canes on the top of the feet/toes hurt a helluva lot.
The toe next to my big toe acts as a fulcrum to a cane, and thus gets the most bruised.
This past weekend, I went home. Well, to the closest thing I have to "going home." I went to visit a few friends from High School. One who I still consider one of my best friends, and a couple that I still see/talk to on occasion, and their respective families and friends. Hubby and his girlfriend were going up, too, though they were going elsewhere the first evening.
The couple was hosting a 4th of July picnic. I didn't know who was going to be there, and spent the drive wondering if maybe some others from school would be. I was also pretty sure I had not spoken to them since I began this journey into kink and poly. I had some Dragon Tail kisses on my thighs and some bruises on my calves. It was warm out, but I decided that the marks were a little too much and wore jeans. Hubby and his girlfriend were just dropping me off, so I wasn't really worried about questions, but we did discuss that she was just a friend for the weekend in reference to anyone from home.
People didn't question my jeans, especially as the weather was rather windy and stormy, and no one asked about the random girl in the car. But I felt uncomfortable. I was careful what I said around everyone, but my best friend who was thankfully there, as well. I only made one poly-oriented comment, and no one took it seriously. As I stared into the campfire, later in the evening, I found my shoulders tensing quite badly. I was around a lot of people I didn't know and I was having to hide who I was. It was good to see my friends, but I did not like putting that mask back on.
That night and the next day were somewhat better. The marks had faded a little more, and I was only going to be around my best friend and her parents, so I could wear shorts while kayaking. Hubby and his girlfriend would be there, too, but though my best friend knows the truth, her parents easily accepted that she was just a friend. Her dad did ask once, possibly due to the high heeled boots in the car, but accepted the story I gave him. The crowd of strangers that were expected to canoe with us got ahead and we never caught them, so that stress stayed away. I was still wearing a mask this day, but it was less strenuous than the night before.
June 2nd, 2011
Who is The Perverted Imp?
I am a 30-something woman with a degree in creative writing. Except for a three year stint out west, I'm a MidWestern girl. During college, I traveled to Ireland, England and Australia, as well as all over the US. I work with books in the morning and computers in the afternoon. By night, I am a social butterfly, hanging out with my loved ones, gaming, and participating in a kinky stage show. I enjoy most music in which I can comprehend the lyrics, movies that are not full of senseless gore, and books with interesting characters. I love forests, meadows and rivers. I have rheumatoid arthritis, and allergies to Neosporin, mice, dust and cats, in that order. My favorite color is cobalt blue, and I adore watermelon, pizza and bacon.
Who are the other people mentioned here?
Hubby – is my husband of nearly seven years as of this posting. He is my Master, the love of my life, and my rock. He is the one I come home to, the one who supports me no matter what. He understands me, protects me and takes care of me every day of our life together. I am in love with him, forever and always.
Him/he – is my boyfriend of about a year and a half now. Rigger, Dom, Mentor, Teacher, Sir, and friend. He guides me and helps me and challenges me to go places I never thought I could go. He holds up a mirror and a light, showing me myself and the path I have chosen. I am in love with him, may it last forever and always.
Toy – is an amazing young woman that he and I have taken under our protection. She has agreed to be our toy, to play with us, learn from us, and teach us about herself. Through her, I am learning a lot about myself. I love her dearly.
Lover – is now an ex. He was my play partner, lover, or boyfriend for around two years. He taught me many things, about kink and poly as well as about finances, health and business. He made a great contribution to my life, though we are not together anymore. I will always have love for him.
Why am I blogging?
I hit two years recently. So, why am I still here? What brings me back every week? What fills my tummy with guilt if I don't get a post done each Thursday? I don't have a huge following. I don't have comment conversations running into pages. I do have a handful of loyal readers who know and love me. But I could just as easily talk to them about my life. Why blog?
I read, as a child, to escape. I wrote a young woman to escape as well, and to give others escape. Then I joined this kinky world, and I didn't need to escape anymore. My fantasies were real, my life was amazing. I wanted to share.
I wanted to let others know that they aren't alone. I wanted to let others know that someone else made the mistakes they are making. That someone else made bigger mistakes. That someone else in this wide world feels like they do. That someone else wants what they want. That someone else enjoys the unusual things they enjoy. I wanted to reach out, and touch someone's life, even if only for a moment, and even if I never knew. Occasionally, I get a note from a reader, letting me know I touched a life, and it makes me so happy. So here I am, and here I will be. Sharing for all who care to read.
How do poly and kink interact in my life? Would/could I be one without the other?
Poly is how I explore kink. No one person can be all. No one partner can satisfy every urge or desire or kink. I have different relationships, different dynamics with each of my partners. Every relationship I've ever had, has explored kink in a different way. Some had similarities, but they are all unique. I have a wide variety of interests, and I don't want to try to fit it all into a single relationship. Fortunately, I don't have to anymore. I have found poly to be part of who I am and am grateful to everyone who has helped me on this path. I have been kinky while being monogamous, but I don't think I could ever again not be kinky or poly in nature, if not in fact.
What are my top kinks?
Rope Bondage – Hemp, jute, cotton, suspension, box ties, hog ties, prisoner ties. The smell of hemp from his tub, found nowhere else. Rope rubbing on skin, rope around the neck, rope through the crotch. Rope squeezing and holding and pressing. Rope marks, rope burn, rope tails whipping around. The feel of it holding me tight, letting me find freedom. Drifting off into space, secure and safe.
Intense Sensation – Over the knee spanking, bare asses spanking, slaps, flogging, dragon tails, single tails, paddles, cricket bats, canes, wicked sticks, violet wands, TENs Units, stun guns, stingers, flyswatters, biting, pinches, pokes, pressure points, forceps, nipple clamps, Leatherman tool, clothes pins, fire, fear.
Power Exchange – Kneeling(for him, at his feet, in submission, in meditation), behavior control(carry the drink just so, speak only when spoken to, eyes on the floor), hair pulling(his hand in my hair, taking complete control, mind and body), commands(with just a single word or motion, I am his), service(boot blacking, taking care of him and his things).
Sensory Deprivation – A blindfold to take a way sight. A hood or earplugs or earmuffs to take away sound. Tape or a gag to take away taste. Mittens or straitjacket or plastic wrap to take away touch. A hood to block smell. How many senses will you have left? How many do you need? Sense what you can, listen, taste, touch, hear and smell. So easily taken.
Random List of Words I Have Used Recently and My Attempt at Defining Them
Kink – a deviation from conventional practices in sexual behavior.
Polyamory/Poly – many loves. The practice of having or accepting more than one loving romantic relationship at a time, with full consent by all parties.
Limits – boundaries in kinky play. Soft limits are things you do not wish to do, but may do with certain partners or under certain circumstances. Hard limits are things that you do not wish to do at all. Limits can change with time.
Space – an altered state of mind caused by particular stimuli. Sub space, rope space, pain space.
Masochist – a person who enjoys receiving intense sensations for sexual pleasure. Colloquially a Pain Slut.
Sadist – a person who enjoys giving intense sensations for sexual pleasure.
Bondage – the use of restraints for sexual pleasure.
Power Exchange – the giving and taking of control, physically and mentally.
Sensory Deprivation – the removal of any or all of the five senses for sexual pleasure.
TENS Unit – a medical device in which electric current is used to stimulate nerves for therapeutic purposes, often to relieve pain.
Violet Wand – a quack medical device, in which low current, high voltage, high frequency electricity is applied to the body in a variety of ways.
Nipple Clamps – small clamps that are attached to the nipples to cause intense sensation and restrict blood flow. They come in many sizes and shapes.
Flogger – popularly known as a cat o' nine tails, floggers can have any number of tails and be made of leather, fur, rubber or even rubber chickens. Uncle is made up of hard rubber conveyor belt cord.
Dragon Tail – a type of single-tailed whip, the Dragon tail is usually made by a wide piece of leather attached to a handle on one end and tapered to a thin tail on the other.
Bishop's Chair – a bondage chair that is comprised of a tall back which the torso can be strapped to, crossed horizontally by a long plank which the arms can be strapped to, and a seat comprised of two planks set at a V, usually with eyelets on the legs for the ankles to be strapped to, leaving the victim spread wide, bound and vulnerable.
If you have any more questions, please ask.
March 17th, 2011
What's really there is that I have an awesome boyfriend who loves me, who trusts me, and who wants to continue our journey together, in life and in kink.
What's really there is several new paths we are taking, one including an awesome woman who has decided to be our toy.
What's really there is stressful work and health situations that are not who we are, but simply things we are doing and dealing with.
What's really there is drama in our worlds and families that we need to deal with and solve together, supporting each other.
What's really there is amazing opportunities for love and companionship and play and fun together, that I never would have thought possible five years ago.
These sentences are currently written on my thighs. I wrote them in a chat yesterday, and we decided I ought to write them on myself for a little while. "Until the message sinks in," you might say. I need practice focusing on the positive. I need to not let the negative build up and build up, because "it's just a little thing," until it becomes a whirlwind of fear, doubt and crazy. I'm a writer, a good thing, but also bad. I write stories in my head, make assumptions, fill in the blanks. I live inside my head a little too much. I need to remember there are other people out there, often right beside me, who have the real answers, the actual truth of the matter, and sometimes, a far better grip on reality than the tangled mess I sometimes get myself into. Speculative fiction is awesome to write and sell and share, but reality is strange enough without me getting creative on it.
So, lesson of the week: Communicate!
How many times have I written about communication? And yet…
Things are far easier to deal with and discount and conquer when they are small. And nothing is too small to mention. A grain of sand creates a pearl, but a fleck of metal can blind you and a single spark can burn down a forest. He is good at noticing when something is wrong or off, but I am not always so good at realizing he is right. So, communication. Don't dismiss it when he questions, really look and try to shake loose the thought that is keeping me off balance by hiding in the corner. Life is always crazy and busy and stressful, but letting things bottle and build up is only going to make things worse. Explosions are far more damaging than a firecracker. Just don't hang on too tight, toss it up in the air and see what it looks like in the light.
I am loved. I am wanted. I am needed. I am worthy.
January 14th, 2011
How would you say real life BDSM/kink varies from fantasy BDSM/kink? If you haven't experienced real life BDSM/kink how do you think it might differ?
I am again on the path of it being the same as the rest of life. Reality is a lot harder, grittier and more dangerous than any fantasy. It takes more work, is never perfect, and does not always go the way you planned. On the other hand, reality is more fulfilling, more satisfying, and well worth the effort it takes.
January 13th, 2011
Ten pm on Thursday night. I'm going to a con this weekend, to relax, teach and drink with a good number of my chosen family. It is not a kinky convention, but there will be kinky classes. We are teaching electric(violet wands), flogging and rope this weekend. Short and fun classes, designed to introduce the topics and entertain the audience before we invite them to play with us. After play both nights, there will be drinking for those of us who choose to, and the pointing and laughing by the ones that don't. A chance to let go and not be responsible for a little while. While we generally work with a drinking audience, it is rare that we get the opportunity to put the toys down and drink ourselves. This is one of those weekends. My post today isn't going to go very deep, and will probably be very rambling, because I am tired from a day of running around and distracted by thoughts of the upcoming weekend.
So, what is on my mind? Poly, negotiations, lying, learning and secrets. An interesting list, let's see where it takes me.
Poly. This weekend, during the convention, I will be spending time with both my husband and my boyfriend. My husband will be spending time with me and his two girlfriends. My boyfriend will be spending time with me and his wife. Floating around all of us are friends, play partners, flirts, exes and all the various other distractions, not to mention new people that may grab our attention. All of us with different attachments and dynamics, needs and wants. It is supposed to be a relaxing weekend, and I have all intentions of staying drama free, even if it requires copious amounts of jet fuel.
Negotiations. I made a post about negotiating a few weeks ago. It is something that has been an ongoing lesson for myself and others in my circle lately. Remembering the details, always. Keeping in mind that you can say no. Knowing when to back down, or wait it out, or when to push for what you want. It's a careful balance to keep playing the game.
Lying and Learning. Interesting discussions lately around telling the truth and accepting consequences. I've said a few times lately that I only lie to my family these days. That may not be the entire truth. I probably still lie to myself as well. It is something to be aware of and try to recognize and correct within myself. I cannot be fully honest with others unless I am fully honest with myself. It goes hand in hand with remembering that things I want to talk about are important, too, because sometimes I tell myself that if must not really be important if I don't remember to bring it up.
Secrets. The world is full of secrets. From national and international secrets, to diary combinations. It is important to remember that sometimes, keeping a secret can do more harm than good. If something is wrong and no one is talking about it, then the problem cannot be solved. Secrets can sometimes protect, but they can also sometimes cause harm, or allow harm to continue. Be careful what you keep locked away.
The weekend looks bright ahead of me, I'll try to have a better post next week. Just some thoughts to consider for now, in between the meme posts. Coming soon: Bootblacking, Interrogation, Abuse and Family.