January 21st, 2018
And sometimes, I need for him to take care of me, when I'm striving too hard to take care of him. As per the last post, I was stressing myself out massively over the events this weekend, and more. I talked to him a bit about it after posting. And we both reminded me that, among other things I need to let go of attachment to a specific outcome, and everything being perfect. It isn't a failure if other people don't show up. We will make due.
So, the next night I took some time, Specifically, to Let Go. I sat down in my papasan of soft, and meditated and let go. This reduced my stress about the weekend, and I was able to let myself go with the flow. Things didn't go perfectly, not everyone showed up, and it was Okay.
On top of that, he offered me a scene on Saturday. I knew he had a lot lined up, so I went into it with no expectations, and, as usual, he knew what I needed and far exceeded any expectations I could have had.
He started with a warm-up spanking of my ass, and then some nice rhythmic flogging. Into harder flogging and faster, building up my moans to groans to occasional screams. I had side thoughts of my body being unused to this, and mild concern my skin would not hold out terribly long. But it didn't have to, after a song or two, he ran his fingers along my skin, making me shiver and moan. Then dragged me by the hair to the spanking bench.
Where we really got down to work. Hand spanking, foam bat, leather paddle, and a gods-be-damned hard plastic hot spoon. Spanking to the music, setting me into happy space. Foam bat was a nice transition, only becoming painful after a while. Leather paddle started the screams and writhing, as he used his free arm and chest to hold me to the bench. Then the spoon brought the tears, first of frustration, I knew he wasn't actually hitting me that hard with it, but DAMN it stung. "Let it out."  I hear him say, and the tears did flow.
Crying and screaming and legs writhing as my body is pinned and the hits keep coming. Until we settle a little bit into some spanking again. Then he comes and checks in. Am I good or do I want more. I don't think I managed to say anything, but he nodded, More.
And I'm screaming and crying harder than before. I hear someone comment they've never heard me make those sounds. It Has been quite a while… Sobbing into the bench. I hear them discuss how many big hits I should have to count. But I'm not there, yet. He continues to paddle and smack with the spoon, and spank with his bare hand until I'm able to make words again.
I've traveled through the catharsis fully now, and I try to count spoon strikes. He laughs, no, not that one. He picks up the paddle again, and I count. Up to Seventeen, I think, or was it Twenty. Screaming each number, but no longer crying. I have come through the pain, and cried out the stress, covering the spanking bench in my tears.
When I finish, he spanks me a little bit more, happy slaps on a very red ass. Then comes back to my head, where I thank him, so very much. And he counts me twice to orgasm to land me back in my body. Where I sit for a few moments before I'm able to stand and clean up, ready for the rest of the night.
August 25th, 2016
He decided we should play on Saturday. I'd offered on Friday, but we were all much too busy with the crowd.
He walked up to where I was sitting, and slapped me. I gasped and gazed up at him, and he leaded me over to the flogging station. The nice old mop floggers were his weapon of choice. Starting out low and slow, getting me nodding and rocking to the beat. Switching up to six-count to get my whole body moving. And then the heavy strikes, shoving me forward into gasping groans and screams. Riding up and down a few waves, to crest in louder screams.
"Are you awake now?" Yes. "What?" Yes. "What?" Yes, Sir.
Then he had me over his knee, pulling up the bottom of my fishnet dress, as I clutched the chair and balanced my toes. Spanking me, hard and stinging, solid and thuddy, punching and slapping, making me squeal and scream, and moan. Counting me up. Thank you, Sir.
Then he shoved me to the floor. And I lay there, gasping for breath. Looking up at his glittering eyes, and wide grin. I love you. "I love you, too."  Finally catching my breath, I reach out to clutch the toe of his boot. The cool floor feels good. Calming. He grins down, asking me questions I no longer remember. Then he mentions getting a paddle.
I whimper as he helps me up, and puts me back up at the rig. He grabs the sorority paddle we snagged from a thrift shop years ago. "That was for you, this is for me." His eyes are still sparkling as he lines up, and bends me over.
I clutch the cold metal poles, my dress falling back down, as he smacks into my ass. Screaming with every strike, rising up and then settling back down. Trying to keep my ass even instead of cocked to one side. He tries to imprint the Greek letters into my flesh. I scream louder and louder, flinching even when he doesn't strike.
"One. Two…. THREE!" I scream louder than ever, orgasming through the pain.
Thank you, Sir, I gasp out as I finish.
April 1st, 2016
I've seen a few amusing stories today, a few good memes, and the usual roundup of new, amusing products from ThinkGeek. I don't know that I've ever really taken this day to heart. I'm not a practical joker, I'm just sarcastic. But I noticed I haven't posted in a while, so I figured, day aside, why not?
The new job(s) are filling my weekdays, and starting Sunday, half my weekend, too. It will be very good for me, financially. But I'm still working on finding a work-life-food-sleep balance. This coming week will be my first full, six-day workweek. I've gotta do better at lunch.
On the kinky side of things. I keep having thoughts of stuff to write late at night, I try to put notes in my bedside notebook, but they don't make as much sense in the morning light.
We've got Wednesday nights again, and we've had some good flogging and whip practice here and there. I've had a balloon bondage scene on the burner ever since Wickedness, but the young lady and I haven't quite managed to sync up yet.
I had an awesome spanking/paddling with him this past FFF.  Another friend was down to visit and they played, and then he pulled me down over them both. It was a very good night. We had other friends come out, as well, and there were more snuggles and hair playing. Want more like that. 🙂
This weekend I'm up with the boy, for some nice naked time, relaxing, and orgasms. As we both work on convincing the other of his/her attractiveness. 😉
September 19th, 2015
It was a different event this year. A different crowd, a different feel, a different energy. He had a lot of requests, I was just planning on one scene with him. I demo-bottomed for one part of one class, attended one demo, and sat with him for part of a third. I did my usual service thing, cleaned his boots before opening ceremonies, got him drinks and food, lugged the gear, claimed furniture, and knelt/sat attentively for his scenes. It was a quieter weekend for us. The scenes went really well, for all of us. Four flogging scenes in a row Friday night, mine being the finale, and one more on Saturday. All very good and energetic scenes.
I usually do scene write-ups after big events, but I haven't really got it in me this time. It was a good scene, it was what I wanted and needed. Flogging, paddling, even a jolt of electricity. There were screams and groans and tears, by the end I was floating high. But I don't have the words for it. It wasn't a journey of distinctive parts. I could probably identify most of the tools he used – floggers, the new butt hammer, thumper and paddle, and the stun gun. I can't, however, remember the order, or the flow. It isn't a stream of consciousness like I usually get in my head. It is more like a nice, hot, comfortable whirlpool of love, emotion, and connection. Except for the cross we used… that was fucking awkward. 😉 But we made it work, together.
I had another scene-ish thing this week, too. At practice, which in the near future, will be more like old practice once again. He was teaching people six-count. One of them was doing really well, so he gave her my back, to test just how well. They took turns, her more than him, and her aim was pretty good. Trying different floggers for weight and feel. It was nice to be doing that again. He even had me turn around to show her breast flogging. Doing quite the number on my chest between them.
Then he pulled out the dragontail, and they traded that off for a while. I pointed out to her at one point that she was the only person other than him who I let him me with that thing. He was teaching her to watch body language, processing and reactions. I only let her do it because he was teaching. She, who had not wanted to "hurt me" with the floggers, really got into laying red lines and spots with the tail.
Then she got into another conversation, and he proceeded to go through the toy bag to hit me with other things. He grinned at me at one point, "Do you feel thanked enough for your service this weekend?" He had not left a lot of marks on my during our scene at COPE, but he sure made up for it that night. Even going so far as to lay Uncle grid marks on my thighs at the end. Gods, I love him so much. I even got in some snuggles after, while he surfed the net, and we waited for the night to wind down.

September 26th, 2013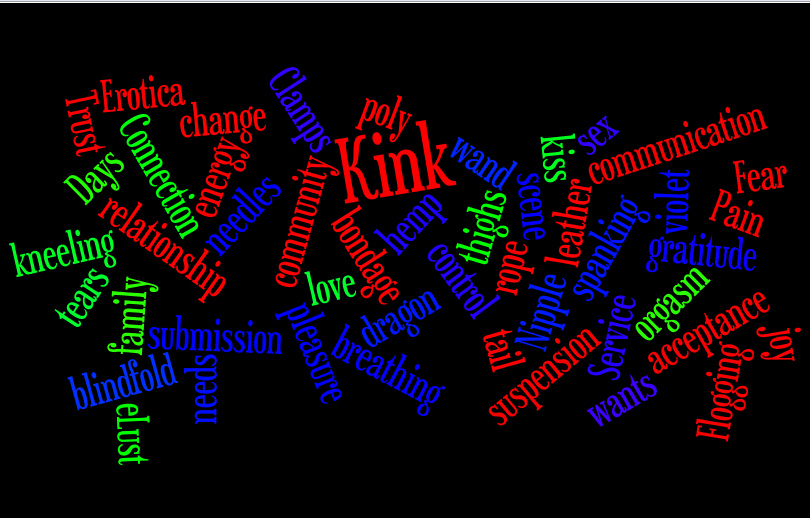 I was introduced to a new website by one of my classes this week… Wordle.net so I made this pretty picture of my Tag Cloud for you. Yes, my brain is that stumped tonight.
I'm not sure why. I had a really great weekend with him and the engineer. We had an awesome night of metal bondage, poking and amazing flogging scenes(well, I don't know if hers was amazing, but mine was). And then a different kind of party the next night, with brand new hot tub, which managed to hold 13 people at once, and then some very nice sleepy cuddle time. Not to mention the drive up and back with each other, and a nice dinner Monday night with the whole polycule together. I told my best friend all about it, and now I'm telling you, because it was all very lovely, but not the kind of lovely I want to share in minute intimate detail. Maybe there will be some of that coming up in October and November, we'll see.
I heard a poly song on the radio today. If Loving You is Wrong, I Don't Want to be Right – which has been sung by a great many people over the years, and is actually fairly good. Most songs are about cheating and trying to take the husband from the wife. This song makes no mention of leaving either relationship. It acknowledges that the other partner's needs are just as great. It talks about disapproval from family and friends, but the singer stands up for their own right to love. It even mentions the troubles of time management. I am not convinced this message was what the writer was trying to convey, but as with most art, we take from it that which we want to.
On another random note, why does a pasta company care about sexuality? Seriously, Barilla, your pasta's not even that good.
July 27th, 2013
So, life it is a-changing. Moved into my first, by myself apartment last week, it took until last night to get the internet up and running, sorry about the late posting this week. Still waiting on a new fridge and the exterminators. Joys of cheap housing.
Lots of LGBTQA news on my mind today.
First, from Africa, Archbishop Desmond Tutu speaks out against homophobia, saying he would not worship a homophobic God, nor go to a homophobic heaven: http://www.bbc.co.uk/news/world-africa-23464694. In counterpoint, Zimbabwe's president calls for the beheading of gays: http://www.lgbtqnation.com/2013/07/zimbabwe-president-calls-for-the-beheading-of-gays/. One step forward, one step back. In Russia, President Putin signed a law against homosexuality: http://www.lgbtqnation.com/2013/06/russian-president-vladimir-putin-signs-anti-gay-measures-into-law/, but promised it would not apply to the Winter Olympics: http://www.lgbtqnation.com/2013/07/olympic-committee-russia-says-athletes-fans-exempt-from-anti-gay-laws/. Closer to home, Ohio is stepping closer to equal rights, thanks to a federal judge: http://www.lgbtqnation.com/2013/07/federal-judge-orders-ohio-to-recognize-terminally-ill-mans-same-sex-marriage/.
In more personal thoughts, I've been listening to a lot of Broadway lately.
First, Book of Mormon the Musical. I only have the soundtrack, and have not yet seen the play, but it brings several things to mind. I've actually become quite curious to read the book, it seems like it could be quite the entertaining read. If you've seen/heard the musical, you know the message gets all twisted around, so I'm curious what it actually says (though apparently it's not free on nook). On a less personal note, the play does bring up some of the very important issues facing Africans. Violence, poverty and disease is highlighted in a way that is poignant without being confrontational to an audience who is mostly there just to have fun.
Second, Avenue Q. The song about Purpose just played. Discovering your purpose, and most things in life being "just for now." I'm heading towards a new purpose – grad school in library and information science. I am very excited about that, and the opportunities that will be available when I finish. I know I will have to be very active in pursuing these opportunities both while I'm in school and when I graduate. Everything one step at a time, and looking forward.
In kink news, I've joined a local booblack group and have been enjoying getting together with other bootblacks. The last meeting included learning to fill gouges in his steel-toed boots. Coming up are several events with cigars(and maybe chocolates) and bootblacking. I'm not so keen on the cigar thing, or the public bootblacking, but it's great that there is more local activity.
Had a few really great electric scenes with brand new people (mmm cherry-popping) at a recent Friday event and introduced a few more people to Fetlife. Looking forward to more interesting classes and fun events coming up. I finally got a copy of Story of O from work, will have to read that soon. Debating leaving The Claiming of Sleeping Beauty on my bookshelf when the family comes to visit or not. It's shelved with Rice's other books, but still. Ethical Slut will be put away. Ah, hiding from family, what fun. Still have some light scabbing from the awesome flogging a week and a half ago, must not scratch, must not scratch. Such a good birthday flogging it was. 🙂
So, life is good and exciting and I'm moving forward happily.
July 18th, 2013
Had a great night last night. There was some passing around of the stun gun because one of the girls wanted it, but didn't want to do it to herself. Had my shoulders rubbed and some snuggles from a friend. Then was the demo bottom for him and his girl, while my boyfriend took random shots to show them what to do. He, of course, was using the rubber floggers to pound into me. It was the girl's first time flogging, but she was gaining accuracy by the end. The guy is already pretty accurate, but my small back was a challenge. Then my boyfriend decided to six-count with the rubbers, and I shrunk away, grumbling that he can't do that when I'm not allowed to scream. He let them go back to practicing until they were both tired out.
There was some chatting and he asked me how my back was. I said it was alright, and he asked if I wanted some more. I said sure, he said he wasn't going to be nice, and I asked if he had a gag in the tubs. He came back with a Japanese washcloth which he knotted up and a leather strap to hold it in place. I choked a bit and he backed off one knot then strapped me in. I slowed my breathing, bit in and confirmed I could spit it out when I needed to.
Then up on the wall, and out came the rubber floggers again, well, off my arms, really, because he had me holding them from earlier that night (don't let them fall). He was having a lot of fun with the tips last night. I screamed and swore into the gag, pounding the wall, stomping my feet, spinning in circles to see his grinning face and shining eyes, and dropping to the ground. Always to climb back up and put my face back to the wall. Well, almost always, once, I turned and had him hit my breasts for a few strikes, just to give my back a break. Tears fell, I ran headlong into pain space and there was some growling, and breathing. Sometimes I'd end up on the ground and he'd just keep swinging. I'd try to keep my back to him until I could get up again. Eventually, he told me to stop turning around and I curled up on one foot, the other against my chest, and breathed through the pain, til he tipped me something fierce and I started stomping my feet again.
I choked on the gag a few times, collapsing to my knee and spitting it out to catch my breath. I didn't have any panic moments this time, only some choking. Crying and breathing on the ground, he asked my if I was done, I said no, and stood up again, and he got out the dragontail.
I turned to face him, eyes wide, hands behind my back. Oh really? I nodded, my back was so tender already. He took about five or six shots at my breasts before he really nailed a nipple and I screamed and turned around again. He was stuck on tips, still. Getting the super sting of just the tip. I screamed and cried, jumped and pounded, collapsed and bounced back up. He found a new favorite, super painful spot – hitting as close to the armpit as you possibly can from the back. Fucking hell, that hurts! A few stray snaps to the ass, the arms, the calves, the thighs and shins, as I spun dropped and danced around to the strikes.
I collapsed to a little sitting ball, and he tapped my forehead and I rolled back flat to the ground. He snapped my thighs a few times, whipping my skirt up higher and higher. I hardly responded. You done? I nodded and grabbed his ankle for physical contact while I lay there, just breathing and floating. He pulled my skirt down a bit and let me relax for a minute or two. When I let go, he picked up the stun gun, and I suddenly felt stabby metal bits in my legs. I writhed and squirmed, pushing it away time after time, until he pinned me a bit more and zapped me a few times while I screamed into the gag. I covered myself back up this time, relaxed for a few minutes until I started choking on the gag again. Somehow, I'd maintained a hold of on of the rubber sets of floggers this whole time, so I sat up cradling them. You alright? Yes. Happy grinning floating the whole rest of the night. Back all beautifully marked and tingly still today.
May 9th, 2013
Itchy, twitchy, brain all messy. Linkin Park on the mind. It's hot and work has been rough this week. Lots of heavy lifting and rearranging of entire sections of the store. I can't get my brain to settle down to write. I posted a couple poems other people wrote on my other blog. I watched Gone in 60 Seconds with my dinner and fell asleep during the final car chase. Woke myself back up to blog and my brain doesn't want to cooperate.
So, what am I up to these days? Let's start there. I have completed my application for grad school in Library and Information Sciences. Just waiting on the last transcript to be processed. I'm still trying to edit my erotica anthology, but my friends' lives are all super busy, so editing is bogged down. I'm transcribing my journals and printing out blog posts, to work on a long nonfiction piece about poly, D/s and S&M. And I'm looking for a library job and a new apartment, with W/D hookups.
What else? I had a really nice flogging scene with him last night. The space rules kept it from being an all out cathartic screaming breakdown of a scene. But I stood up well, breathed through, found some good space. When I sat down to clean up, I had a nice cry, and a snuggle and grin from him. My back is all pretty and tender today. Had some trouble when he went after my breasts, I couldn't keep my hands behind my back, they were so tender. I was either grabbing at his hands or trying to cover my mouth. He brought me to tears just pinching down solidly on a nipple for a half a minute or so.
Having personal space issues. Don't want to be touched unless I want to be touched, if that makes sense. I don't usually have personal space, but with some people I do. People I don't like, people who creep me out, people I don't know, or people I'm having a problem with. It's my body, I don't have to let you touch it just because you want to. Ask.
Still haven't decided about COPE. It seems an odd thing to be considering without a partner going. Why not just save the money for something else? I probably will, but I do have friends going, and the classes are fun, usually. I don't even know who's going to be presenting this fall. Wonder if they'll announce any before ticket sales. Probably some of the names, I imagine. In a weird place in life. So much changing.
Busy month ahead. Hanging with friends this weekend for geekery and birthday party. Next weekend is FFF with a class on Rape Play, then an Izzard themed party. The weekend after that is camping. I haven't gone camping since high school. Need a sleeping bag, still. And lots of early morning working on the weekdays. Wohooooo…
October 27th, 2012
Two nights of fun, friends and insanity. Trauma is always a great time, with great shows and (mostly) good music. This year was no exception. We had a crew of 20+ each night up in our side of the balcony, running suspension, drumming, flogging, violet wand, and fire cupping scenes all night long.  Over the course of two nights, we had nearly 350 sign ups to play with us. And for the first time in my tenure at Trauma, all our violent wands stayed alive for both nights, all night. Thank you to our fearless leaders who fixed them all up Thursday afternoon. Also, big thanks to the four people we recruited just a couple weeks ago to help out electric, I would have been sorely overwhelmed without them. The club even gave us our very own security guard this year, to mind our roped-off entrance. They were both incredibly helpful and freed us up to do our thing, and not worry so much about the surging crowd, or the drunk assholes.
I don't watch many of the performances, but there was the usual mixed bag of tricks. Anna and the Annadroids were amazing as always. The crowd loved the flesh-hook suspensions. Even Magic Nate was entertaining with his slight of hand. The DJs always end the night with a good dance mix, though I could do without the heavy smoke. I didn't make it to the other rooms this year. Not one for navigating crowds while wearing high heels, unless I have to. Though, I will say, the stairs were far less of an issue this year than they have been in the past.
Thank you to everyone who works hard each year to put on this incredibly event. I hope everyone had as much fun as we did. I'll see you all next year.
December 30th, 2011
I need to read more Heinlein. An illustration Wednesday night included a reference to a character in Stranger in a Strange Land, who is apparently the best kisser because he completely focuses on the person he's kissing. That kind of complete focus is something I both yearn for and strive for. I play in public a lot, so there are always other people, movement, sounds that distract either myself or my partner. In private play, life can be the distraction. Thinking about other people, or the bills, or the things I have to do today. But when all that goes away, in moments where our attention is completely focused on each other, it is amazing and powerful.
This is something hubby and I are starting to work on, as we try to build intimacy. Spending time just being with each other, focused on each other, touching each other, but not having an agenda beyond connecting. I had a hard time with it this morning. My brain kept going to my To Do list. But I kept dragging it back. Yes, I had a lot to do today, but it was more important to stay in the moment with him. Doing that, staying there, with him, opens us up to each other. Allows for letting down walls and being vulnerable with each other. We had good discussions today that we might not have ever had otherwise.
Other suggestions that were given this week were to create cues to reinforce this. Lighting, music, perhaps even clothing or a symbol to focus intent. I think candles might be good for us, we both enjoy fire and light scents. Incense sounds too heavy for me, though I know hubby likes it. Music will have to be careful about, I get distracted by words too much sometimes. But things to think about.
Another important discussion of this week has been about communication and trust. Specifically, when hubby asks me what I'm thinking, and I shrug or say nothing. I do this because I think the things that are on my mind are either unimportant, or inappropriate to the moment and in either case, I don't share them. I found out that, to hubby, this comes across as, I don't trust him with my thoughts. Or even further, hubby creates a list of possible thoughts, and picks the worst one as what I'm really thinking. So, I've agreed to work on that, and try to be more open with my thoughts.
We also talked about how open communication can lessen jealousy, fear and insecurity. When hubby watches me scene, he sometimes feels negative emotional reactions, but if I talk to him about the scene afterward, it makes him feel better. For me, I thought that seeing and hearing would create the same reaction, and so tended towards not really talking about such things. Sure I blog about them, and hubby says that helps too, but for him, verbalizing helps him process the most.
This discovery came about as I talked about my flogging on Wednesday. While hubby was doing other things, he had been randomly flogging or paddling me, but then grabbed me by the hair and tossed me up on the cross. I thought to myself, oh awesome, he's going to beat me into a puddle of tears. The flogging started out light, nice leather mops to work me up into it. Then he moved onto rubber mops to really pound into me. At one point there was a rubber massage ball pounding at my shoulders and neck. I screamed and pounded my foot on the floor to the beating, but I was determined to stay on my feet until I simply couldn't anymore. I wanted beaten hard and I didn't want to give up.
So we kept going and going, until he grabbed a long rubber flogger, said Goodnight and dropped me with two strikes. I raised a hand towards the cross, but dropped it when he hit me again. He hit me a few more times with it as I sat on the floor, and then switched to a dragon's tail. I was able get up to kneeling with those strikes, but I couldn't stand back up, I was afraid the flogger would come back and I couldn't stand up to it.
And then he walked away. I felt him go, I wondered for a bit if he was coming back. I wasn't sure what was going on. I wasn't crying, I wasn't a puddle, but I was happy and inside myself. So, I let my hands fall from my chest. He still didn't come back, he was off behind me to the left, but I couldn't hear him. I put my hands on my thighs, knelt properly and went further inside myself. Meditated on my body and my mind and how the flogging had made me feel. I meditated on nothing but my contentment. Until the world started coming back, I started to hear his voice again, I started to feel the people around me aside from him, I came back out again. Stood up and rejoined the world.
Talking about this last night, helped hubby to understand what I had gone through. How it had made me feel. He was able to see the scene with my eyes and feel compersion for my happiness. So, I will work sharing with him more so that compersion is easier. And I will trust him to tell me when he wants more or less sharing.
It has been a very good week, with lots of good discussions, sharing and time with my loved ones. Very happy holidays indeed.