April 26th, 2012
A good number of changes currently happening in my poly life and in the community I'm a part of. A new space has been acquired by some community leaders and a lot of groups are moving their meetings there. This includes my weekly Wednesday group. We are moving away from the space we have occupied for three years now, to a new place, a new space. And with high hopes that it will work for us and allow us to reach even more people.
I have also stepped down from being the little d with toy, back to a more comfortable s. I had a great time last year, learning and experiencing new things in this role. But this year, with a lot of upheaval in my life, it just didn't feel comfortable anymore. We are examining our dynamic and determining how best to continue. It will take a bit of adjustment, but I think we'll all come out happy in the end.
We said our fond farewell to our usual Wednesday night space in the best way we knew how. With friends, family, food and screams. He lined us up, his toy, myself and the engineer and tore into our thighs and chests. We started with the big dragon tail, then the little, then a nice blue rubber ball on a flexible rod, and ended with a round of the flyswatter, by their vote. I voted for more dragon tail because it's not a fear response for me like the flyswatter, but it was just too much sting for them to want another round. We followed up with water and cuddles.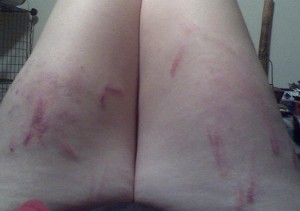 His toy called the noise the four of us made a strange symphony so I named this picture: Final Symphony.  Such lovely bruising and delightful kiss marks.
New and busy times lay ahead. I am grateful for what we've had and look forward to what is coming.
April 22nd, 2012
I asked to be tied up and tossed in a corner. I wanted to fight the rope. I wanted to sit and struggle and soak in it. So I asked him, and he said we'd see. The club can often make that impossible.
The night started with a new bit of metal from our blacksmith friend. A flat bit of metal with a double cuff piece folded over. Nice new hinges. He pins my wrists in and then hooks it up to a suspension point. I think I can slip my hand out, but I just hold on. I'm in socks, so up on my tiptoes. Then he pulls out his flyswatter. Oh god oh god oh god. I scamper and whimper as he grins.
Zap.
Zap. Zap. Zap.
Squeak, spin squeal, spin.
Zap. Zap. Zap.
"The perfect dress for this."
Fuck. Ow. Shit.
Spin, Spin, twist.
Zap. Zap. Zap.
Yip. Squeak. Spin.
"Just think, when you're tied up in the corner… and I'll have your socks off, too."
Whimper. Zap. Zap. Zap. Zap. Squeal.
"I have to have my fun, too."
"Yes, sir."
Zap. Zap. Zap. Zap.
Squeal and spin.
"Feel better?"
"Yes, sir."
He takes me down, shows off the toys and then its time for class.
A young woman has traded him flogging for service. He gives her to us. Twenty minutes of massage a piece for his women. I sit in front of her, shoulders please. Her hands are soft, my knots are hard. But she does a very nice job, rubbing and working some of them out. I count the songs. Four and I let her know she's met the time. Thank you, very nice. Toy is next.
He grabs the bag of 6mm hemp and sits down, smiling at me. It's time. I step over in front of him and put my glasses in the roses. He looks up at me, considering, and I smile back nervously eager. Wondering what kind of tie he has in mind. Turns me around and starts on my wrists. Box tie.
Strange people in front of me, I drop my eyes to the ground, my focus back to him. Rope, delicious rope going around my arms and chest, through the armpit to lock it down. Second rope, lower arms, lock it down, pull in tight. A third rope, around the waist, tightening further, no movement at all in the arms. My elbows wobble and I can move my fingers, but that's it.
"Look what I brought."
Red clips. Oh god. Seven little red clips in a bundle.
"I have to make it fun for me, too."
I whimper and scamper back a bit, a look and I come back. He reaches up to a nipple. Whimpering and squeaking as he puts it on. Left. Right. Left. Right. Squealing and swearing and breathing hard. Left. Right. Three on each, a line across each. I gather my control as they sink in. He waves the last one at me.
"Where do you think this one goes?"
I whimper as he lifts my dress and pinches in on the front. Shit. Fuck. Oh that pinches. Breathe. Breathe. Ow!
"Which one hurts most?"
"That one."
"How's your head?"
"Light?"
"From what?"
"Not breathing."
I kneel down, drop my head and focus. I cannot fail so quickly. I can do this. Breathe slowly. Deeply. He moves away. Breathe. Focus. Okay, better now. I can't fight the rope. I can barely move, but I can fight the pain.
A blindfold comes down. Tied around my head. He pulls me to my feet. Forward between tables and chairs, to a cubby. A couch. Down, lays me down, gets me a pillow and adjusts my dress. He sits opposite for a moment, someone else, too. Toy, I think. Then he wanders off. I can feel him in my feet, out past my feet.
I can hear everyone. Talking and walking, playing and screaming. I shift my legs, I feel my socks on my feet and I shiver, remembering. My feet, oh god, the flyswatter. I twitch for a moment, and then settle in. I can hear him talking in a group nearby.
Settle in, feel the rope, relax. Uncomfortable arms. Shift. Pillow moves a bit. Settle. Shoulder. Shift. Better for a while. I can feel him moving. Hear his keys. Hear his boots. Arms still annoyed. Okay, sit up. Feet against the other couch, a person there.
Much better. Sink back into the rope. I can feel him in front of me.
Zap! Zap zap zap.
Squeal and squirm. Twist and yip.
Fuck. Shit. Twisting against the lower clip. Ow!
Zap. Zap. Zap.
Squeal. Turn. Scramble.
Zap. Zap. Zap.
Fuck. Ow. Squeal. Twitch.
He zaps toy and I can hear her try to be quiet.
I twitch in fear. A few more shots on both sides. I think the engineer is nearby, too. Squealing and squirming. Legs up on my couch. He wanders away, but I keep twitching. I can feel him in my forehead, moving. Breathing hard, trying to relax. I can't, yet. He's right out there.
Settle in. Find comfortable again. Breathe. Keep track of the people. Listen to the electric booth. Listen for him. Move with the music.
He's back. Zap. Zap. Zap.
Scream and squeal and squirm.
Zap. Zap. Zap.
Scramble. Squirm. Swear.
Zap. Zap. Zap.
Squeal. Yip.
Fingers. Fuck. Ow. Ow. Ow. Wrist.
It's okay, fine now.
Zap. Zap. Zap.
Squeal. Squirm.
Twitch when he switches to toy. Back and forth.
"Oh, I know what I want."
He grabs and foot and I whimper and fuss.
"Stop."
I freeze, focus on breathing. Hold still.
Zap. Squeal. Zap zap zap. Scream.
Zap. Zap. Zap. Squirming but trying to hold my foot still.
Zaps the heel. Not so bad, the whole foot, not too bad. Toes!
Ow! Squeal and squirm. He lets it go and wanders off again.
I curl up, twitching. Trying to calm again. He comes back, sits across. Forehead towards him, twitching.
"Not really abandonment if I keep coming back is it?"
"No, just makes me paranoid."
"Why?"
"Because the last two times you had the flyswatter."
He wanders off and I sink back in. My left pinky is going numb, I shift and rock and enjoy the music. Cross legged and sinking in relieves the pressure. Rocking to the music, settling in to the rope. I feel him come back again and twitch my head slightly. Afraid.
"Look at her head. Are you almost done?"
"No, Sir."
Wanders off. I can track him with my forehead. The music keeps me moving. Sinking. Back again, Smack.
My thigh.
Smack. Smack. Smack.
Groan. Moan.
Smack. Smacking to the beat.
Groan into a scream and he stops.
"How you doing?"
"Good. Pinky was numb, better now."
Something with the toy and she comments how hard it is not to talk.
Gone again. Sinking in, music, beat, rocking in circles. My nipples catch fire. They are suddenly awake and hurting like he just put the clips on. Stabbing pain. I rock harder and snap my teeth. Wanting to bite down on something for the pain. Shaking my head, swearing, rocking, snapping. Breathe. Don't get light headed again. It's just pain. Breathe, rock, snap, moan.
He's back.
"The clips hurt so much, but I know they are going to hurt more when you take them off."
"Do you want to orgasm?"
"Not without permission."
"I could take them off and put them on toy."
Oh god, I don't want them off.
"Toy, don't you want to help Miss?"
"Yes, oh god."
"Toy, toy, toy, no, it'll hurt so much, Toy, that's not helping, toy."
But he has her distracted and she's agreeing. Back to me, and I'm lying back against the couch.
"Ready?"
"No, Sir."
"1, 2, 3!"
Off comes the lower one and off I go, screaming orgasm, kick someone at the end of the bed, not sure who. Thank you, Sir.
"1, 2, 3!"
The first nipple clamp on comes off. Screaming, kicking orgasm. Thank you, Sir.
"1, 2, 3!"
And again, trying not to kick this time. Thank you, Sir.
"1, 2, 3."
He waits for me to orgasm before he pulls the clip and I scream and arch.
"1, 2, 3."
Again. Orgasm, pain, scream. Thank you, Sir.
Oh god oh god oh god. The last two are going to hurt so badly.
"1, 2, 3."
Orgasm, and no pain. Thank you, Sir.
He grabs both, and I whimper and press back against the couch.
"1, 2, 3."
Orgasming, fear, pulls, Pain. Screaming, screaming, swearing, crying. Riding the wave higher and rocking and sobbing. Gasping breath. Thank you, Sir. Breathing. Calming, settling back. Whimpering from the other couch. Toy.
Breathing, relaxing, He moves away and I sit back up. Rocking, weaving to the music. Sinking deep into the rope. Leaning forward to release pressure on arms. Rocking in circles, enjoying the music. Sinking, spacing. Gone.
Back again.
"How are you doing?"
"Arms hurt a bit, lower arms, wrists."
"Are you done?"
"No, spacing."
"So we should take you out while you're still spacing?"
"Probably."
Up and out. And the ropes come off, inch by inch. The pull of the rope on my skin sending me higher. Shivering, thrilling at the feel of it. Pressure releasing. Breathing and flying. Slowly lower my arms, raise them up to stretch. His hand on the small of my back, gently pushing me forward, to the opposite couch. Sits me down, dumps the rope in my lap.
Rope. Hemp. Oh gods hemp. I pull it up to my face, breathing it in. Lift my legs to brace my arms, bury my face in the hemp. Breathing, smelling, Shifting my head whenever my breath overwhelms the scent. I think toy has left the couch, sitting opposite now. I want to lie down.
I slide a hand over, no one there, just my sock. I lie down, curl my legs up on the couch. Rope still in my face. So far gone. I can still hear, but I no longer care. Rope. Glorious rope. So lucky, so blessed, so loved. Mind just floats. A blanket over me, fleece. I wasn't cold, but it contains me. Keeps me inside myself. Rope and comfort and wonderful.
"Is she still asleep?"
"Not asleep, didn't sleep."
He pulls the blindfold off.
"It's bright out there."
"Yes."
"You still have all the rope."
"MmHm."
"You have to put it away, you know."
"Yes, sir."
"Is that what you needed?"
"Yes, sir. Thank you, Sir. Thank you, so much."
I grab his hand. Kiss it. So grateful.
The lights come on. Time to clean up. I sit up on the couch and take care of the rope. Coming the rest of the way down slowly as everyone else takes care of the gear.
I thank those around me, for taking care of me, of everything. So lucky to have such friends, such family. The world comes back and we load out and head to breakfast. Such an wonderful night.
September 30th, 2011
So, Thursday's story sent my brain off into more dark directions. It decided I was being too nice. That scene was made up of things I would do and enjoy (for the most part). My brain decided That for better fear and helplessness, the bondage chair should be removed. That somehow, the girl should be suspended in the air, touching as little as possible, but without the restraints causing undo strain or sensation. I ran through several scenarios, even drawing some out, until I decided the best I could come up with (between helping customers at work, I haven't stopped thinking), was to tie someone standing up, spread eagle in the center of the room.
The blindfold stays, but not the headphones. For the specific reason that all the tortures needed to be upgraded. And all the upgrades required sound to have the greatest impact. Instead of the TENs, start with an electric flyswatter. The high pitched whine of its charging, and sudden jolting shocks. Move on to a stun gun instead of a violet wand. The crackling sound can make me cry faster than the pain it inflicts. The clothespin zippers being replaced by a dragontail or single tail. The crack makes me twitch even when it's used on someone else. The final straw – well, needles terrify me, sure enough, hard to top that. But if we're going for sounds, it would have to be sparklers.
Ah, the brain of a masochist. It also pondered a snake to top it off, they hiss and all. But then the animal brain kicks in, forgets it's a fantasy and says, no way, that's just too much at the end of a hard scene. And tosses the masochist in a cage.
She just tried to escape again. Talking to toy about make up and it being too messy. Masochist brain tried to grab that and run off to design an torturously gooey scene with my dislike of messiness. I quickly slammed the cage shut and decided to write this to keep it quiet.
September 15th, 2011
Nervous anticipation. We have Plans, it'll be alright. We've gone shopping and have everything we need. Packing, checking, dressing, checking again. Don't forget it at home! Go back, get the food out of the kitchen. Okay. I'm there. Need to calm down. Kneel on the wooden floor til toy arrives. It only takes her a few minutes, still bubbling over. Cleaning first. Put away dishes, wash up a couple. Floors, sweep and vacuum. Toy does the tables, couches and garbage. What else? Spot check the house. All looks good.
Okay, clothes. Latex panties first. Ah, Mother Nature, why do you hate women so? All shined up, but for how long? Stockings, not too bad considering their age (they got progressively worse as the night went on). Okay, corset-y thing. No support at all, but it's cute and lacy and it has garter-y things. Toy, help, I can't get the top hooks closed. Okay, now for those garter-y things. Strangest clothing accessory ever. What's so sexy about suspenders for stockings? Success. Okay, dress. Toy, need your help zipping it up. Shoes and it's too hot for the sweater.
Out to the kitchen, it's nearly six, hurry hurry. Aprons on. Coffee, toy. I fiddle with the oven and we decided 350 will just have to do. Coffee, toy! She starts cutting up the chicken. Can you do the coffee, Miss? Okay, 8 scoops? Can't get it to turn on… oh, hey, what's this piece? There, that works. Coffee. And the cookies go in. What else? Steam the broccoli. Won't that ruin the coffee/cookie smell? Oh well. He isn't on time, thank gods, hurry coffee! Pans found, chicken wrapped. Cookies done. Wait, not long enough, falling apart. Wait. Better. Coffee done. Plate two cookies, mug of coffee, robe. It's way too hot for a robe. And here he comes.
She with his coffee, me with cookies. He comes in, and takes us in, all grins. Hug and a kiss, hug and a kiss. We flutter a little over a spill and then head down to the couch. Sweater on now I've cooled off. Pulling off his shoes and socks, toy cradles his feet and we snuggle and talk about our weekends. Quite a lot to talk about, and then it's late and dinner isn't cooking, yet. Where's my dinner, toy? Not cooked yet, Sir. And she's over his knee for a spanking. He lets her up to go cook and I stand to follow, and follow I do, right over his knee for my spanking. Ah, the echo of smacking latex mixed with moans, delicious. Ass warmed, I head upstairs.
Turn the oven back on, cut the bread, garlic butter it and pop it in. Apron, Miss? Oh, yeah. Salads next,lettuce, tomatoes, cheese and croutons. Dressing on the table so they don't get soggy. Stir the boiling pasta, make the sauce/chicken/broccoli mixtures. Toy is minding all the pots on the stove. Five minutes, Sir. Set the table, plate the pasta, put out the bread. Toy sauces their plates and I sauce mine. Marinara to their Alfredo. On the table, aprons off and call him up.
We begin discussing work, and toy drips something. Napkins! I realize and get up to get them as he realizes their lack as well. I return and toy is looking upset. Why're you upset, I was the one that set the table. But he misunderstands, thinking it was her job. Out by the hair and over the couch he takes her for another spanking. She returns, fidgeting with her dress and garters, and distracting, forgetting to Sir him. He offers me a chance to help her and I try to give her a hint, but it doesn't get through, back to the couch for another and he leaves her there a moment.
Deciding the spanking isn't enough deterrent, he gets the flyswatter. We both whimper and twitch as he brings it to the table. Is this the thing he owns that makes me most skittish? Those weren't the words, but they got lost in the following conversation and I can't remember them exactly now. Yes, Sir. But, Miss, what about needles? No, toy, those take time, preparation. This he can just whip out and hit me with. But he catches the thread and runs. Hey, an idea. You both roll a d6 and whatever number toy rolls, Miss takes that many needles, and whatever number Miss rolls, toy takes that many. I'm shuddering, but game. Toy, however says no, Sir. He goes on about increasing the die each week, eventually getting to doubles. Toy just keeps saying no, until she finally says it's upsetting her stomach to talk about it, so he stops, reminding her that if she tries to throw me under the bus, she's falling, too.
Finished with dinner, we don our aprons again to clean up. He decides they would definitely be enough coverage alone. I agree, but toy just keeps cleaning. We get the food put away and the dishes done again, and then head downstairs. He has cotton ropes and red silk strips laid out on the couch. I sit down by them. Toy takes his shoes upstairs and then we wait for him to reappear, with more ropes. He starts with ankles, one rope a piece and then pulls us to our feet. Time to play a game.
"Toy, what's Miss's birthday?"
She stares and stutters, as he counts down on his fingers from five. She cannot remember. Off comes my sweater.
"What was my previous nickname?"
Oh, I know I've heard this story, but I can't remember either. Off comes toy's belt.
"Okay toy, who is my kink hero?"
"The Insex guy…. JD?"
Nope, off comes my dress. He very much likes what he finds beneath, and realizes that's as far as I've got without ruining the look, and ties my arms behind my back.
"Do you know?"
"PD." I answer and he nods, my question next.
"How did I get my rank?"
I toss out a couple things, all wrong, and toy loses her skirt.
"What year did I meet my wife?"
"1995?" She tries.
"No. You?"
"2001?" I think.
"Nope." And her shirt came off, to finish her under outfit.
Our underclothes revealed, he stops to enjoy the view and pulls us together for hugs and kisses. Blindfold next, he picks up a strip of the red silk and ties it around my head. I close my eyes behind blindfolds, so I don't know how effective it is when he asks. It's keeping my eyes closed, good? They murmur appreciatively at the site of white, black and red. Doesn't she look sexy? Yes, Sir. He puts another strip over my mouth, but then decides to knot it up to make a gag. I panic for a few moments, coughing and gasping and he grabs my throat as I bite down on the gag.
"Are you going to panic anymore?"
"o, ir." I mumble through the silk.
"Is the gag on top of your tongue?"
"o, ir."
"Under it?"
"o, ir. I uh uhh." I'm trying to say in front of, but the gag takes away vowels. I never let my tongue get trapped by a gag, I always pull it back and that was super easy to do with the silk knots.
He lifts me up and lays me out on the couch. Comfy? Yes, Sir.
And then goes to tie up toy. I hear the rustle of ropes, occasionally a tail tossed over my legs, dragged across the stockings. I relax, listening to the music and to him tying her up. Eventually I feel pressure on the cushion at my feet, she must have joined me on the couch.
The rattle of the plastic drapes and he returns with a cane. Swatting thighs, I squeal and squirm. Up to breasts, yipping with tender nipples. He pulls them free for better aim. Shrieking and whimpering. He moves down again. Shoes come off and he hits the soles of my feet, much better. Then he canes toy for a bit, and then back and forth. Kisses and caning. Shrieks and squealing. Squirming and writhing.
Silence and more drape-rattling. I hear something click open. I think it's a TENS, but then zap. I squeal at the unexpected shock of the Violet Wand – paintbrush attachment. He paints up and down my legs and breasts. I squirm too much, and he takes firm hold of my right breast, painting the nipple, I can barely feel it over his grip, and then the left. I moan and squirm happily as he moves back down to my legs, again and holds my feet to tickle them while I squeal. Then over to toy. I listen to her whimpers, he goes back and forth a little and then puts that away, too.
I hear the rustle of a bag, oh god, my nipples are so tender. He attaches clips, they're too strong for the cloverleafs, I don't even register that there isn't a chain against my chest. I scream and squeal and thrash, shaking my head, kicking my feet. They hurt so much, oh god they hurt so much. Gasping and crying and screaming, trying to process. Growling at myself because I feel like I can't, because the rational side of my brain is screaming red, and the pain slut side is saying no way, not like last time, I will get through this pain. Toy's done something. I hear her say she was worried about me and didn't know where he was. She must have peeked. Really, toy? He can hear my screams just as well as you, he didn't go far. Silly, worried toy. He comments about leaving them on longer. I squeal in panic. I start coughing on the gag and spit it out. Able to draw a full breath, I calm down. Breathing deeply, I stop screaming. My legs still swaying to process the pain, but not thrashing anymore. I try to get the gag back. Sticking out my tongue, no good. Pressing it against the couch, nope. He isn't commenting or shoving it back in. Must be okay. I certainly appreciate the breath, so I don't ask for it back either.
I focus back on them, a vibrator, he's using a vibrator on her. Leaves her with it and comes back to me. Rubbing the latex with his fingers, whispering appreciatively. Toy, are you going to orgasm? Miss won't get to unless you do. I'm tormenting her, but she can't unless you do. You better convince her to. I beg and plead, to no avail. He goes back over to her to try to help, but she can't, too much pressure. He adds another clip to each nipple. I scream and shake and breathe deeply to get it under control again. Toy, please, toy, please. I beg, it's not working, he tries to help, but she's not quite there. A third clip and I keep it under control, this last one only adds a little to the pain already blooming there. I change my tact. Reminding toy to think of the ropes and the (is she?) blindfold and the vibrator. He goes over again to help, asking her what she needs. She just moans, unable to answer. Toy, please answer toy. Apparently the clips aren't enough, he gets the flyswatter and I scream. Toy, oh god, please toy, answer his question. He zaps me a couple times before she blurts something out. He goes to her, and together they figure out where she wants the vibrator and what she needs. She has two and then one more powerful to save me.
He returns to me, asks if I can have six. Yes, Sir. One after each clip? Yes, Sir. He pulls four off, one at a time, an orgasm and thank you, Sir apiece. Shaking and curling and gasping with the pain and pleasure. Two left. You enjoying this. Yes, Sir. I should do this more often. Yes, Sir. Are you telling me what to do? I mean, please, Sir. Please, Sir. Which one hurts more? The left, Sir. So that one last. Yes, Sir. Please, Sir. Right one, off and orgasm, thank you, Sir. So, any 10s for you? No, Sir. What then? 7's, Sir. So what gets you to 10? Usually oral, Sir. So, if I was licking you? Yes, Sir. He repositions, grabs the last, rips it off as he licks. I scream and gasp, writhing against him. Thank you, Sir. Thank you, Sir. Thank you, Sir. Thank you, Sir. I am nearly in tears as I keep thanking him, shaking and riding the wave back down.
I hear him cleaning up, putting things away. He unties toy first. I feel the ropes across my legs again. Then it's my turn, ankles first, then sitting up for my arms. Gag off my neck and then the blindfold. I blink in the light, looking at toy relaxing by my feet. He finishes cleaning up and sets up the massage table. Toy fetches her lotion. We join him and work his tired muscles, back, arms and legs. He turns and we go for chest, arms and thighs. Then snuggle in together, holding him and him holding us, before getting dressed and heading back to the couch for aftercare cookies, cuddles and chatting.
June 16th, 2011
They tell me that I don't let things go. I don't like letting things go. I've let too many things go already. Not Things – hubby will tell you I purge junk from our home far more than he approves of, usually followed or preceded by moving, which he also thinks we do too much of. But I don't let of of people very easily. I don't let go of negative feelings very easily – I tend to bury them if I don't get them out quickly and they come back to haunt me. I do this with stress, too. I have very wonderful support and help solving problems and rectifying situations, but I hold onto the stress. I can't solve other people's problems, but I hold onto the stress created by the problem. Occasionally, it becomes too much. I am set adrift by my own emotions and hormones and I start drowning in the stress. At times like these, I run to the woods, I yearn for campfires, I want to cry, I want someone to draw the stress out of me, I want to be beaten to a pulp or tied too tight into a little ball.
Last week, I ran to the woods. I found quiet in the trees. But it was cold, and there was marching band practice nearby, and an organ and a piano. So, after watching some black-winged damsel flies for as long as I could stand it, I went for a drive in the country. Going a little too fast, but not dangerously so, and enjoyed the sunshine and the peace of having nowhere to be.
This week, I was beaten in/to submission.
When I was meditating early in the evening, my brain was wandering. Should I be Miss? Aren't toy and I fairly equal come down to it on Monday night? Does Miss disrupt my subspace? Where do I find my submission to him these days? In my meditation, in the rubber bands, in my clothing choices, in my service to him. And lately, in our Monday nights, it has been a growing opportunity for subspace again. Something to talk about when renegotiation comes up.
He, toy and I played a bit. Seeing if I could keep a rubber mallet type thing going on her ass while he smacked us both with various things. Dragon tails kissing our flesh as we squealed. An electric flyswatter that had us whimpering before he even got near. A wicked stick. A paddle. Even the cricket bat that I immediately knelt up to receive. Then the order to snuggle while he had a conversation elsewhere.
Hubby's girl was practicing flogging while hubby worked on my laptop. He was watching and called me over to be a practice bottom for her. Shirt off, bra off, glasses off, hold the cross. Show her where her aim was. A few strikes, she was nervous, he showed her his strikes, and they practiced a bit more. I love watching him teach. This is one skill I haven't tried to pick up yet, as a top, anyway, though I occasionally ponder it's physical benefits, if not my ability to top a flogging scene. Then he leaves her to her own devices and turns to me.
He struck hard and fast, just heavy, short leather floggers, though I could have sworn he'd grabbed the rubber mops. I clutched the cross and screamed and groaned and gasped and moaned. He dropped me fast, and I pulled myself back up the first few times. In tears so quickly. He changed rhythm, backed off, came on. Then I dropped to my knees and he kept going, so I curled up, offering my back, but unable to stand and he kept going. I worried that he would stop because I wasn't standing, but he kept going.
I knelt, I crumbled, I twisted, turned and cried. He backed off for a moment and I dragged myself back up the cross. On he came, three strikes and I was down again. And he kept going. This time I managed to kneel properly a few times, between curling up into a ball and sprawling on the floor. Always conscious of where he was and trying to keep my back offered to him. I could not stand, but I did not want him to stop.
Toy was being teased for wanting to rescue me, just a little.
"Do you want rescued, Miss?"
"No, Toy!"
"Well, if you want more, you have to get up." He chimed in. "If you fall again, we're done."
I got to my knees, not good enough, up onto the cross. Clutching it for dear life as he tore back into me. Screaming and shaking the cross, I don't know how many I lasted, it was more than three, but not by much. I fell again, in tears, but not disappointed. Toy was there, against my side. I caught a breath, thanked her and asked for a moment alone. She went to get water, and I cowered for a moment longer, and then knelt properly, before the cross and just let myself cry. Just tears, no remorse, no upset, just tears.
I notice hubby's girl didn't stop the entire time. With all my screaming and thrashing right beside her, she kept on practicing. Good on her.
"Is that what you needed?"
"Yes, Sir. Thank you, so much." Hugs and kisses.
Toy is nearby, with water. I go to her, snuggle and stroke her hair. I won't go to the bed yet, I'm not ready to collapse. Stubborn, I drink the water, waiting for the shaking to start. Teasing and tickling for a few moments. Coming back to reality before I crash.
And I do. We go to the couch, she wraps me up and holds me tight while the cold and shivers run through me. It's late though, so we're up again in no time, packing up and heading home.
So, why did I say I was beaten in/to submission? What do I mean? I was flogged while in my submissive state. I was in subspace, standing there half dressed at the cross. I was in subspace, offering him my back, as best I could, no matter where I was. I was in subspace, unaware of the rest of the dungeon unless it intruded quite loudly. I was also beaten to submission. To points when I didn't know if I could take anymore and let him decide. And eventually, to the point where I gave up completely, without any regret that I had not gone far enough. He even commented later that I'd given up. I agreed, he was tipping the floggers a lot and the sting became too much. But I was not disappointed in myself like I might have been other times. I went as long and as far as I could that night, and he stayed with me the entire way, taking every bit that I would give him.
Some people ask why I get flogged, more especially, why I sometimes get flogged like that. No long and gentle warm up, no tender cool down, no rhythmic six count to the music. Just rough and tumble, heavy strikes, sharp strikes, relentless strikes. Don't get me wrong, I enjoy the former, too. But the answer is because sometimes, I need it. I need a cathartic release so powerful and strong, that nothing else will do. I need the stress to be ripped violently from my body because I cling to it so tightly that I can't just let it go. I am so grateful that he is able to do that for me. And I love the marks and the residual pain that keep me glowing for days after.
So, readers, what do you do to relieve/release stress? Kinky or vanilla?
May 25th, 2011
Chores done. Dressed and ready. He comes home, quick chat about the day and the state of things. The fly swatter is already out as he grabs a snack. Popping sparks. Toy backs away and is called forward, she still shies and is put on her knees. Earplugs, and headphones. Can you sign to her? But her glasses are off, I have to sign quite close. Can you hear him? No. He sends me for a blindfold. Blind and deaf now, I lead Toy downstairs.
Holding Toy's hands in the playspace. I step away to put my glasses on a shelf, she reaches out for me, not quite frantically. He sets the music, I can't tell if she hears the beat or is just fidgeting. The movements irregular. He gets on the leather ankle cuffs for her, and then the bondage mittens. Drags her to the cage and sets her in it.
Toy looks Hot!
She does, but there's a frown on her face. I never fully enjoy it when they frown. But Toy does look hot, all bound and sensory deprived.
He gets out some hemp, 8mm. Starts to tie.
You know, it's going to be your turn to be ignored first soon.
Yes, Sir. I'm okay with that.
Especially if it includes sense dep, I can sink into that, into whatever senses remain, spacing out the others. Delicious.
He gets an evil idea and grabs the TENs to distract Toy. Her breathing changes, but she stays fairly quiet. He returns to the rope, starting a drum tie. Slight panic in me as I realize I'll be upside down. It's been a long time, will I have the stamina? The tie is tight, secure. Rope burns as it passes. I can't quite space, Toy is too distracting in her predicament.
He pauses between ropes to change up the TENs, we watch her reactions. She's still quiet, not sure if she's enjoying it or not. She's not saying anything. It takes quite a few turns before we get any moans or whimpers.
Would I rather be in Toy's place or mine? Mine, I like leather and sense dep, but here I have rope. He points out that when I'm upside down, certain tender bits will be quite open to Uncle. I panic a bit more. Gasping and whimpering slightly. Oh gods, that'll hurt. The 'biner is put in place, not as painfully as I'd feared. Then comes my blindfold.
Panic. Space. Floating. I won't be able to see what's coming. Fear. Breathe quickens. The blindfold is tight around my forehead. My eyes close automatically. I feel myself floating away, still standing. Calm down. But I'm gone, sub space take me away.
I feel him get the lift rope. He drops me to the mats and threads it, pulls and I am up. I fidget for a moment with my arms, settling for my hands on my head. He spins me. Focus, breathe. My hands are the solid point. I'm not really spinning, I tell myself. My hands are the solid point. I am stationary in regards to my hands. Keep breathing.
He goes to Toy and I hear rhythmic flogging. I hear her, too. Whimpers and moans. I think there were a couple swipes with Uncle then. Louder moaning.
I can hear metal tinkling. Nipple clamps, I think, later I find out how wrong I was. He bring some to me, too. Sharp, tiny stabbing pain. I think it's the ones he used last time, but it hurts so much more. I squeal and gasp, curling upwards and grabbing the bottoms of my breasts. the usual reaction to keep nipple clamps from dropping, but useless in my upside down state. I dare not touch them. So much pain, my gasps turn to tears. I can't do it, I am going to fail so soon, I am going to yellow. Oh gods, it hurts. But he takes them off before I am completely overwhelmed. And I hang, hands back on my head. Focus and breathing take longer to find. My hands are the solid point. I am not spinning. Breathe and listen.
Uncle returns, slapping the undersides of my breasts. More squealing and curling. Forcing myself to drop my hands back to my head, exposing myself for more strikes. Promised strikes on exposed flesh, keep my legs where he puts them. Hits on the feet, solid, comforting.
Toy squeals too, but mostly I'm just listening to her for hints of new implements. A paddle, not the speed hole paddle, this one is longer and thinner, more solid. More like being hit with a big stick than a paddle. I'm at such an odd position for corporal.
I feel him untying the lift line, spinning it out. Focus on my hands. I am not spinning, my hands are the solid point. Breathe, relax. And I am in his arms and then on the ground. Gasping for breath, and toy squeals as he tosses her down behind and on top of me. Her arms and head over mine. Both of us gasping and ragged, he leaves us to recover.
The headphones are painful, but I do not protest. I twitch and she moves after a while. Thank you, Toy. But she cannot hear me. Finally, our breathing is calm. She readjusts for her own comfort, too. He returns, sits on the bishop's chair silently. Leaves again. Returns this time with the flyswatter.
Up! Get up! He smacks us with the flyswatter.
I struggle off the floor. Toy gets up, behind me.
Kneel! Kneel properly! Show her how to kneel!
Smacking me with the flyswatter, I grab her knees, push them apart and place her mittened hands, then return to my own position. We kneel. I feel him sitting on the trunk in front of me. I can hear him stroking the flyswatter.
She's fidgeting!
He pops me again, and I grab her hands in panic to stop her.
Is she kneeling properly?
Another pop and I grab her knees and push them apart again. Really, Toy? What are you doing?? But I say nothing and return to kneeling.
We stay there, it isn't long, but I'm in a state of panic that she wills start fidgeting again. She doesn't, and he takes off my blindfold.
Look up at me. Untie each other. Come meet me at the massage table.
Scene done, now for clean up and aftercare.
March 24th, 2011
It started with a cage. A dog kennel set in the middle of the room. All lonely by itself until he ordered me into it. I crawled in, shut and latched the door behind me. The locks were there, but not needed. A small crowd began to gather, sitting on the couches, as I settled in. He was setting up Godzilla, the lovely, long-corded violet wand, casting about for just the right straight rod, which ended up being a ball-chain set. And begin.
He dragged the chains across the cage, setting of sparks to make me cower and the crowd grin. The cage does not carry the current very far, but I whimper anyway, and keep my head down. He dangles the chains through the bars and I curl up into a ball. The chains dance across my back and I squeal, trying to condense more, but there isn't room. He giggles above me, and then pulls them back. Legs! He goes for the sides of the cage, spinning the chains in to zap my calves and thighs. I squeal and move to the far end, squirming and writhing to the audience's delight. Feet! He aims for my toes, but I hide them quickly. He gets lower, snaking the chains on the floor of the cage, zapping my ass as I squirm away. I have too much room, something must be done. Cattle prod?
Someone says they have one, and returns with a stun gun looking thing, that makes no noise. Odd, but I don't want to touch it to find out, so I stay at the door end of the cage. He opens the door and flails me with the chains. I scream and yip, but stay still. The unknown of the other toy keeping me at bay.
Time for a break. He lets up and I relax. She comes and sits in front of me, plopping down like a little kid to see how I am. He sees us talking and thinks she might be taunting me or something, and orders her to join me. She only puts up a little resist, and climbs on in. We settle together, comfortable for the moment, and he returns with Godzilla.
Less room now, squirming and squealing and yipping, and shoving and squeezing and pushing. We collide with each other and he dances the chains down through the top. We compress as much as we can as he attacks one end or the other. The crowd laughs and cheers him on. He grabs hold and spins us around, show us to everyone in the room. Another attempt at a cattle prod, this one a modified flyswatter. He takes hold and pokes us. Thighs and backs, he goes for the toes but we hide them. He opens the door and herds us to the far end. Squished against the bars, I can get no smaller.
He gives us a break, going after a third victim, and she takes off her high heels to give us more room. I'd forgotten my laces at home, so I'm already barefoot. The third victim doesn't want to play so he returns to tormenting us. Her hair gets pulled through the bars and attached to the cage by helpful members of the crowd. She can't move her head now, but she squirms just as much. Godzilla dances around the cage and through the bars. Squeaking and squealing, we writhe and contort for his pleasure.
Another break and he wanders about. We keep eyes on him, every time he goes by, but hands are empty. She likes the cage so we stay. Relaxing together. He moves on to other scenes. Her friends decide to have a bit of fun, and now I'm part of the audience, though inside, as I watch them play with her, untouched.
Then we snuggle together, spent and happy. Finished with other scenes, he comes and lets us out. He directs me to take a break and wait for our table. He has tighter plans for me.
A little while later and a massage table has replaced the cage in the center of the room. He snaps, and my dress comes off. A sheet on the table and another snap, and I'm lying naked on my back. The leopard print sheet is wrapped around me and tucked in nice and tight. Ah quarters. He pulls out three quarters and the duct tape. The sheet is reopened and the quarters are placed over tender bits, one for each nipple and one above the crotch. Rewrapped and away we go.
He has red duct tape and starts at the feet, wrapping tightly and quickly. The room is dark and the energy is high. Tonight is not about clean and comfortable, but quick and dirty. I shift my feet, offsetting ankle bones, and he wraps quickly up to my calves. Flexing my thighs to keep my knees from being crushed too tightly together as he lifts my legs. She is helping with the wrapping and lifting. My ass is difficult, lift higher, bend up, more tape. Can I sit up yet? No, not quite, lift again, pass the tape. There we go.
Propped up on the end of the table to do the torso. Someone is bracing it, but not well enough. I'm sliding, panicking. My ass is sliding too far down, I tell him, I'm tipping. He braces and laughs and keeps wrapping, then tosses me back up on the table to sit. Chest is covered, now for the throat. He wraps more carefully, but still quickly. I have no brace, so he avoids direct wraps. Breath is still quickening, and then he is to my face.
Top of the head first, difficult, but tight, over the eyes and nose, and down to the mouth. Panic! Can't breathe! Well, I can, but barely. Please. Please can I breathe? Please? He cuts a hole for my mouth and I gasp my thanks. Finishes up and tosses me flat on the table. The head end is tilted up a little and I relax into the position, joints settling into the tightness. Spacing now that the frantic energy of wrapping is complete.
Now, where were those quarters? Left one first. Tap, pinch, poke. Ah, there it is, he slices out the coin and yanks the nipple through. Right one next. Pull it out. Pinch, poke squeeze, slap. She wants the whole breast, but it's a small hole. He pulls and yanks, pulling them all the way out. I scream and writhe and gasp. But they are free and she is happy.
Electricity returns, the modified flyswatter. Zapping, I yip and squeal and struggle. Ow. Hurting my nose. He cuts the mouth hole a little bigger, freeing my nose. Much better, thank you. Zapping and squealing and rolling. They stand on either side to keep me from falling off. Oh Toes!
He scurries down to my feet and cuts another hole, carefully, pulling away the cloth to find my feet. Ohhh, this little piggy goes to market! Zap! I scream and curl up my legs and slowly put them back, whimpering and squirming in my bonds. Where does this one go? The porn store? The strip club? This little piggy goes to the strip club. Zap! My whole leg spasms and I struggle. What the fuck was that? Hey, what was that? What did you hit me with? What the fuck was that? She checks in, but doesn't answer. Yes, I'm okay, but what the fuck was that? He zaps once more, but I barely notice.
There's another quarter, we should get that one. He comes back up to my side and pokes around for the crotch quarter. Finds and cuts it out. Zap, squeal, zap, yip. Three holes to poke and play with now. Where's the sparkly cock? My hands are completely numb now, just so ya know. He cuts them free and I can't feel my thumbs, but feeling returns quickly. Might as well, he keeps cutting and my chest is now free, breasts to crotch. My head hurts, it's tight on my temples, but not enough to complain about. Keep your hands down. I grab the cocoon by my thighs. Pinching and smacking and zapping. Squealing, yipping, screaming, writhing, squirming, gasping.
Someone offers new electricity and shows her how it works. Gel and probes, zapping around the breasts. Full contact feels good, Spark gap is zappy. I writhe and moan and squeal. I can feel him chatting away at my feet. The hips are interesting and nerves run spasms down my thighs.
Hey, everyone wanna see something fun? Who wants to count with me? He calls to the crowd, ready for the finale. One, Two, Three. I orgasm and writhe on the table. One, Two, Three whispered in my ear. You're orgasming in front of all these people. One, Two, and another girl whispers in my ear Three, three, three, three three. I arch and moan and orgasm to his delight and her voice. And done.
He cuts away the tape, quick and easy with the rescue hook. And I am free again, but not moving. I grab his hand and get a hug. Thank you. Thank her, too. Breathing, someone gets water. He tosses my dress over my body. I am still, coming down, looking up at him. Happy, satiated, satisfied, loved.
July 8th, 2010
Last night was an wonderful scene. It started out as teaching a new person about how we flog. He dragged me up from kneeling by the hair and asked if this piece of meat would do. She agreed and I was tossed up on the cross, shirt pulled up and targets drawn on my back. She had very light flogs and he had a set of heavy rubber ones. It was a good warm up, heavy hits between teaching and light swings. Hands as well as flogs. I enjoy helping teach new people, even if I don't have the skill myself, I've learned to give feedback as a bottom. She went out to smoke and he took back the scene.
He used his hands, the heavy flogs, the really big deerskin flog(mmm… oh how I've missed that one), some slappers and paddles and a cane, the dragon tail, the stun gun and the electric fly swatter and a leather strap – on my back, my ass, my legs, my breasts, my feet, my arms, my crotch. It was a heavy scene, but not a full throttle flogging. He let me react to the hits – scream, jerk, fall, twitch – however I wanted to. He waited for me to return to position. I love that, I love holding myself on the cross, and getting back up to offer my body to him again and again.
He often came around in front of me, behind the cross to look at my face, to smile at me, and ask if I was crying yet. I was almost always smiling. He commented on it, he was not hurting me enough, I was still smiling. Where were the tears? It was such a joyous scene for me.
I was happy. I was not looking for a cathartic release, it had been a good week. I wanted to play with him, I wanted to submit to him, to give him my body for our pleasure. I did not need to be moved to tears, beaten to a pulp so I could relax. I always enjoy our scenes, find joy in our scenes. But last night it made me smile from start to finish. The kind of smiles that once drove a photographer crazy.
Even when I cried, triggered by a painful strike and continued by fear of the stun gun, it did not last very long. I was too happy and the energy was not the kind for tears. At the end, when I Sir-ed him, and said I wanted to please him by pleasuring his cock, and forgot the Sir. I was, even then, grinning and happy and full of joy and love for him.
May 27th, 2010
Last week's post marked one year exactly, of this blog being published. It also was the first post directly posted here.
A lot has happened in a year, and I am working on pulling all my blog entries, journal entries, emails, chats, and random ramblings together into one work. I have come a long way, and there is a long way yet to go. I have grown and learned and done so much more than I ever thought I would even have the opportunity, courage or ability to try.
Last night, I asked him to flog me. I wanted some stress relief from the week to purge and prepare me for the convention we are attending this weekend. He started with the thin tailed rubber flogs, moved on to a dragon tail, Uncle, a quirt, slapping, smacking, punching, drumming, caning, an electric flyswatter and a taser. He took me into object space and attacked me mentally as well. I was in tears nearly the entire scene. It was wonderful and painful and incredible and brutal. When he was done, when he had broken me down to the single thought of "maintain the position," he picked me up and carried me to the bed. He took care of me with a blanket and two women to stroke me. He left me in object space for a while, before he asked for his girlfriend back, and I served and took care of our things. Afterward, we talked about the scene on the drive home.
One year ago, I would not have taken half the beating, and probably none of the electricity. One year ago, I would be a tired, worn out, droppy mess today. But as I write this, I am about to head to a hotel for a weekend long convention and I am feeling great. One year ago, I would not have been able to talk about the scene so quickly nor say I would have been happy staying in object space had he so chosen to leave me there. One year ago, I was in a very different place in my journey, and I am grateful to everyone who has helped me get to where I am now. Thank you, Husband and Master. Thank you, Lover and Top. Thank you, Boyfriend and Dominant. Thank you, friends and family.