November 24th, 2016
I am thankful for my families. My parents for being supportive in all the ways they can. My brother for being the best brother he can, and a good father to my nephew and nieces. My boyfriend and his wife, for making me a part of their family. My crew family, for coming together, working together, and taking care of each other. My other crew family, for very much the same things, and for fighting together, for a better future.
I am thankful for my friends. Living all over the globe, we still are connected. We still share each other's joys and sorrows. And when we meet up, there is no space between us. I am thankful for all the love, support, advice, stories, and pictures that we share.
I am thankful for my community. We are like a family. There are still squabbles, and not everyone gets along. But we have built an awesome community anyway. We are strong, we are varied, and we are full of acceptance for one another, and opportunities to share with each other.
I am thankful for my boyfriend. Who has seen me through thick and thin. Who has stuck by me even in the darkest of places. Who has brought a light, and a mirror, to help me see. Who brings me love and joy, and shares the load of sorrows and pain. Who knows just how to make me scream or cry or laugh or fly. Who always makes me feel heard, appreciated, and cared for. And who trusts me to give all these things to him.
I am thankful for my label-less partner. Who brings his own brand of care. Who shares his heart and his mind with me. Who helps me feel attractive, desirable, and unashamed. Who introduces me to new authors, new movies, and new shows with such unbounded enthusiasm, even when they are heartbreakingly unfinished. Who, though not certain about poly, is still eager to share some of his time and life with me.
I am thankful for the life that I lead, the opportunities I have been given, the love, support, and joy that surround me. I am thankful to live in this place, at this time, with so much ahead of us all. I am thankful to you, my dear readers, for making me part of your lives.
Thank you.
September 4th, 2015
COPE next week. And I haven't a thing to wear. 😉
I haven't even begun to think about what I'm taking with me to COPE this year. Friday is a comic theme, I think I'll be skipping that again, as usual. Have not really made any plans, either. It has been a really busy summer, what with the extra big event in August, and finishing up classes. He and I will have a scene or two, but no plans to play out for me. We shall see, may just hang out with folks.
Changes coming soon to the community, new space some time this fall. Not sure when yet. But it should prove interesting for all. Looking forward to seeing what comes of it.
Pretty quiet beginning to September, all about to start getting busy again soon.
April 25th, 2013
I'm not a political person, but I've been watching a lot of West Wing dvds lately, and paying a little more attention to the news. You might have noticed from the last few weeks of links to articles, and the odd political rant or two. Maybe I'm just growing up. Maybe intolerance and hate has boiled to a point where I just can't stand to be quiet any more. To let others do the talking for me, because I don't like to talk. But I like to write, so why not write? So I've been writing, and linking to other peoples' writings. I'm not an activist, but basic human dignity is something worth standing up for. The right to love, the right to live, the right to learn, and the right to truth. The right of everyone, to walk down the street unmolested, no matter their gender, sexuality, ethnicity, or clothing choices. How much more basic can we get? People bemoan the lost promises of the Jetsons, but if we can't even treat one another with dignity, how are we going to come together to create the future?
We point fingers and blame easy targets. Westboro, Al-Qaeda, KKK, neo-nazis, fundamentalists of all shapes and sizes. But it isn't just the big, organized hate groups that are the problem. It's the jock bullying the recently outed gay kid. It's the divisiveness in the LGBT community. It's the false superiority of "twue doms" and "twue subs." It's the religion major standing on campus holding a "You Deserve to be Raped" sign. It's abstinence-only "educators" who shame teenagers for having sexual urges at all. It's a teacher being fired for her partner's name being published in her mother's obituary. It's vigilantes going after peaceful Muslim communities after a tragedy. It is everyone who paints a community based on a single member.
Last night we talked about Leather. We talked about exclusiveness and inclusiveness. We talked about how protocols helped people feel like they had earned a place in the group. We talked about the other members feeling like that person cared enough to put in the effort. It takes work for a group of people to become a community, and for a community to become a family. But inclusiveness is good, too. Being open to new people, new ideas, is how we grow, and remain strong. If you try to keep people out, or set the bar too high, the group will grow old and die, with no fresh blood to keep it living. It is good to have like-minded people together, to support one another, just remember that other groups, other people, have just as much value. It isn't about being better than, it's about making everyone better, and the a world better place.
December 3rd, 2012
"Behind every great man, there's a great woman." Or reverse that, if you're the other way around. I'm not a leader. I don't play the politics game. I am a follower, an organizer, a communicator and a peace-maker. I stay behind the scenes, quietly helping things run as smoothly as I am able.
This community of ours is large and quite diverse. I am lucky to be a part of a local community with so many active groups that I'm not sure I can even name them all. And in a kink community, with so many alpha(Dom) personalities, it really takes something to be a leader. It takes something I don't have, and I'm very grateful to those that do.
It isn't even just about running one of the many group meetings or parties. These leaders bring together people from all walks of life, with kinks as varied as the stars, and they create community. They create spaces where everyone can be their true selves without fear. They lead by serving, always active in their events, and in the events of others. They also mediate disputes, with fairness and understanding. They stay true to themselves and their agreements with the community at large, to keep everyone safe. Even when doing so makes people unhappy. You can't make everyone happy all the time, especially if you're a leader. Sometimes you have to put the group above the individual. Even if you care for the individual very much. I couldn't do it, and I'm so very grateful for and proud of those that do. And do so with discretion and care for all involved.
Well, that was not what I had intended to write. But since it's what came out, it probably needed said. I was going to write about community. What does community mean to me, was the question I was asked. So, let's go from there.
Community is a group of people with a common interest (most dictionary definitions stop there, but I go further), who come together to support each other and share with one another. In the context of this blog, that common interest is Kink. We are a group of people whose sexual expression is outside the societal norm. We come together to learn and share and protect each other. Not to mention meet each other, it is harder to be kinky alone, though not impossible. Self-love, after all, can be quite fun, too.
So, what about this community I call home?
I love it. We have big groups that host amazing events. We have little groups that have dinner together. We have a couple groups that focus solely on rope. We have groups that teach a wide variety of topics. We have groups that throw parties. We have a group that goes to hookah bars. We have a group that goes bowling. We have a group for littles, groups for FemDoms, and one for photographers. And as mentioned above, I'm sure I'm forgetting some others. (Oh, yeah, there's a poly group, too.) It is amazing the wide variety of options available here.
And yet, we are still one big community. People can attend nearly every single one of these groups, and quite a few do try. Most days, you can find a kinky gathering going on, and often, if you can't, someone creates one, even if it's just a movie night or a game night or a thrift store trip. Weeknight events can gather 30-40 people, play parties upwards of 100, and the big events 300+ (often limited only by the space available). It is incredible the joy, energy and caring that comes together in this community. And once again, a shout out in gratitude to the folks who make these groups and events happen.
So, what does the local community mean to me?
It means acceptance, understanding, strength, growth, learning, sharing, and caring. It means a place where I can be myself. Where I can serve and love, learn and teach, scream and cry, giggle and chatter, fly and space out. It is a place where dreams come true, and reality is even more exciting than fiction (and yes, stranger, too). It is also a place of humanity. Where people make mistakes, where bad things happen, where relationships don't always work out. Where people fight, spread rumors and believe half-truths or all-out lies. But it is also a place where people can learn from the bad, where we can grow beyond our mistakes, where the end of a relationship, doesn't have to mean the end of a friendship. Where truth can cut through the rumors, and bring healing, in time. Because we are here together, to share and support each other. If we didn't, it'd be a pretty poor community, and we would not have anywhere near the strength that we do.
October 11th, 2012
Some unusual (for me) conversations this week. It started on Monday, when I was accused of making light of rape culture and slut shaming because I was joking about my rape fantasies. Having never heard the term "slut shaming," I gave the person opportunity to explain it to me, and after a bit of agreeing that society is full of stupid people, we let the matter drop. Tuesday there was a discussion about the differences in age of consent and what actually qualifies as statutory rape, and the double standard between men and women. Yesterday, there were conversations about gender inequality, repression of women, sexism and dressing sexy. I say unusual conversations, because I'm not a particularly politically active person. These are not the types of discussions I normally get into, I'm not a great debater of social issues. I generally think society can go fuck itself, and I stick to having friends who are not idiots. But with all the discussions, and some of the stupidity this week, I am feeling a bit ranty.
Let me start at the top and work my way down. I tend to avoid discussing rape fantasies in public. The horrible reality of rape is a dividing line for many people. Some of us have the fantasies, others find it unthinkable. For me, it took me a long time to admit to having the fantasies. It felt shameful, wrong and terribly inappropriate. But they were there, from my earliest fantasizing, they've always been there. To deny them, is to deny a part of myself. Coming to be a part of this community, has involved a lot of getting to know myself and getting comfortable with myself. Learning to stop denying who I am and what I like. And I still find it hard to admit at times. But Monday, I felt I was in a safe place, and was a little offended by the accusation that I didn't take the issues of rape culture and slut shaming seriously just because I was talking about my rape fantasies. They are power exchange fantasies, not an actual desire to be violently violated by a stranger. And certainly nothing that supports sexual violence against anyone.
So, let's move on to those things. UpsettingRapeCulture.com defines rape culture this way: In a rape culture, people are surrounded with images, language, laws, and other everyday phenomena that validate and perpetuate, rape. Rape culture includes jokes, TV, music, advertising, legal jargon, laws, words and imagery, that make violence against women and sexual coercion seem so normal that people believe that rape is inevitable. Rather than viewing the culture of rape as a problem to change, people in a rape culture think about the persistence of rape as "just the way things are."
I take very seriously, the problem of sexual violence, and find it abhorrent that even some of our laws are written in a way that casts blame on the victims. That "she was asking for it" is ever an acceptable response to rape, is disgusting. That not only men, but some women believe that we shouldn't wear short skirts, because that only tempts men to rape us or exploit us, is insane. That's going down another point that I'll catch back up to later. The point for now, being that rape is one of, if not The most horrible crimes a person can commit upon another person, and it's terrible that society as is stands, generally accepts inappropriate sexual advances as normal. That sexual violence of any kind is acceptable, is something we seriously need to change if we ever hope to be an evolved and enlightened society.
The FinallyFeminism101 blog defines slut shaming this way: Slut-shaming, also known as slut-bashing, is the idea of shaming and/or attacking a woman or a girl for being sexual, having one or more sexual partners, acknowledging sexual feelings, and/or acting on sexual feelings.
This concept is not new to me, Americans live in a society that was founded by Puritans. Women are socialized to be chaste virgins until they marry, and then be faithful to that man forever. Naming the problem slut shaming or bashing, seems to me, to only perpetuate the problem, but then, that's a matter of linguistics, and focus. We are socialized to be ashamed of our sexuality, I am still fighting my way past that ingrown shame. And negative comments only make it all that much harder. But it's once again a matter of being able to say fuck society, I am strong, and healthy and my desires are natural. This is not an easy thing to do, but we in the kink community do it all the time. This is just one more step, don't make it harder for those around you, just because you're jealous of their confidence or partners. And if you see others doing it, stand up for each other, show them how strong, confident and sexy we really are.
So, age of consent and statutory rape. The discussion Tuesday began with a relationship between a 17 year old boy and his 27 year old teacher. Obviously, a pairing that violates the ethical code of said teacher's contract, and all the things that go along with it. In whatever state this was, the age of consent is 16, and the parents of the boy approved of the relationship. However, the teacher was still being charged with rape, among the other counts against her. It was the general consensus that some case-by-case common sense should be shown and the rape charged left out of the legal proceedings. The conversation then moved on to a discussion of the double standard that older teenaged boys don't need protection against older women, but girls of the same age need protection from older men.
As I understand it, every state sets their own age of consent, to me, this is the first problem. As I said, I'm not big on politics, but it seems to me that a national standard would serve everyone better than a different standard every few hundred miles. Some common sense wouldn't hurt in setting it either. High-schoolers having sex with each other, in many states could lead to a rape charge and that person will be stuck on the sex offenders registry. I'm not even going to pretend I have the answer, or the perfect age, or the right rules for this, but it just seems something we ought to be consistent about. And I think, once we figure out what age we are all comfortable with, consent should matter. Charge the teacher with breach of contract, take her license, whatever, but if the 17 year old is old enough to consent to sex with her, do Not charge her with rape. And, as a woman, who honestly feels that women biologically mature faster than men, let's not have a double standard for consent. If a 16 year old boy can consent to sex, you better believe a 16 year old girl has the same ability. But girls need protected from predatory men? Then prosecute them for rape if she's said no and he didn't stop. Protect them from the predators, but not from their own freedom of choice.
On to the last bit, the wearing of sexy clothing and the objectification and exploitation of women by sexist men. Dude(tte), you need to get out more. A lot of women wear sexy clothing because they want to, because it makes them feel good. Because they enjoy receiving compliments from men who appreciate their beauty. None of this means that the woman is objectifying herself, or that the men giving the compliments are objectifying her. It is about feeling good about yourself, and loving yourself, and not being afraid to be who you are, if that's a sexy girl in skin tight latex, or a stunning woman in a business suit. If you're only being viewed as an object, you need to get new friends, get out in the community where the delicious mind is appreciated inside every body. The enjoyment of sexy clothes does not detract from the desire for intelligent conversation. Yes, there are sexist assholes in the community, too, they're everywhere, but we don't put up with them for as long as the general public. Deciding that women should wear long skirts so that men aren't tempted, is sexist in both directions – repression of a woman's choices and sexuality, and lack of faith in men.
Part of these conversations came out of discussion of women in the media, on tv, video games, movies and the like. And some of that is a problem, when the woman is only there to be pretty and do nothing else. To be the damsel in distress who must be rescued, because only men can do things in life. Yes, this is a problem, so don't watch those shows, don't go to those movies, don't support those products. Watch the ones with strong female characters, buy the DVDs with the intelligent men and women working together to save the day. Buy the products that show women as powerful. But judging a show by how a character is dressed, and not by how she acts/is presented, is just sexist. Isn't that what you accuse men of doing?
April 26th, 2012
A good number of changes currently happening in my poly life and in the community I'm a part of. A new space has been acquired by some community leaders and a lot of groups are moving their meetings there. This includes my weekly Wednesday group. We are moving away from the space we have occupied for three years now, to a new place, a new space. And with high hopes that it will work for us and allow us to reach even more people.
I have also stepped down from being the little d with toy, back to a more comfortable s. I had a great time last year, learning and experiencing new things in this role. But this year, with a lot of upheaval in my life, it just didn't feel comfortable anymore. We are examining our dynamic and determining how best to continue. It will take a bit of adjustment, but I think we'll all come out happy in the end.
We said our fond farewell to our usual Wednesday night space in the best way we knew how. With friends, family, food and screams. He lined us up, his toy, myself and the engineer and tore into our thighs and chests. We started with the big dragon tail, then the little, then a nice blue rubber ball on a flexible rod, and ended with a round of the flyswatter, by their vote. I voted for more dragon tail because it's not a fear response for me like the flyswatter, but it was just too much sting for them to want another round. We followed up with water and cuddles.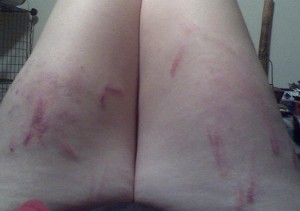 His toy called the noise the four of us made a strange symphony so I named this picture: Final Symphony.  Such lovely bruising and delightful kiss marks.
New and busy times lay ahead. I am grateful for what we've had and look forward to what is coming.
January 26th, 2012
It has been a rough few weeks. Relationship and communication issues on both sides of my poly family. But I don't really want to talk about that stuff here. So, what shall I talk about? I could rant about the importance of talking about problems. I could fume over folks encouraging deception and dishonesty. I could lament the damage to friendships caused by miscommunication. Or I could talk about how a community is a big set of dominoes. This all feels quite passive aggressive though, and that does not become us. So, what shall I write about this week?
Oh feck it, let's be ranty. It's my blog. If you want positive, happy thoughts, take a look at my 31 Days of Gratitude posts.
First things first. If you have a problem with someone you Care About. Tell Them. (Yes, it's going to be a capital letter day.) If you don't like their behavior, avoiding them won't fix it. If you talk to them, you can help them. Or they can help you. Depending on what is needed. If you just ignore the problem, how are they supposed to know it Is a problem? We do not have the luxury of being able to observe our own behavior from the outside. Sometimes we need the insight of others to see the truth. If you love someone, share with them what you see. And be open to hear how they feel, or to hear why they are doing something. What you see may not be their truth.
Next. If you are having a problem, you don't have to deal with it alone. Ask for help. Tell the people who love you. Or more importantly, if they ask you, don't lie about it. Don't hide the problem so that when it comes out, it expands into multiple problems. Obviously, you don't need to tell Everyone your problems, but the people you love will feel cheated and lied to if you keep important information from them.
Oh, and to all those people who think it's okay to contribute to lying and breaking promises and then just cut and run. Fuck you. Where the hell is your respect for friends and community? For trust and communication? Take some fucking responsibility for your actions and agreements and man up when you do something wrong. Or at the very least, don't discourage other people from doing the right thing.
And let's all remember that we're a pretty interconnected community. What you say to one person not only gets around to everyone else, but it can also affect everyone else. If you hurt your play partner, you're also causing pain to all his other partners, and their partners in a nice big ripple effect. Don't expect everything to be fine and dandy just because it wasn't her you said things to.
Well, that was far more ranting and cursing that I usually do. Like I said, it's been a rough couple weeks. I'm sure I could go on, but I think that is plenty for one day. Writing this did encourage me to send out a couple emails explaining my feelings to people. I'd also like to thank the communications presenter from last night, excellent points were made about positive and negative communication behaviors. I think I've got a couple negative behaviors in this blog post, but in the personal communications, I think I stay with positive behaviors.
December 10th, 2011
Finally move to my new webhosting company so I can post this week's post. 🙂
I read Emotional Blackmail by Susan Forward this week, and while there is a lot to it, and a lot that does not apply to my own situation. I found myself realizing that while I don't let others blackmail me, I may be doing it for them. I have hot buttons from my past, that I use against myself to control my current behavior. I scare myself into behaving certain ways, even though I don't want to. So here they are, and my attempts to disarm them.
Fear of anger or raised voices. There was hardly ever any yelling in my house as a child. Occasionally, my brother or I got yelled at, but mostly when we were too young to remember or doing something dangerous. But there was a single instance where my father yelled at my mother, called her a bad name, and she left the house. I heard the yelling, I still don't know what it was about, and I saw her drive away. She came back, I don't remember how long it took, but that set a hot button in my developing mind. Yelling and anger equals a loved one leaving. I struggle with that one, I fear raising anger, I fear conflict. I have become a peacemaker, which is not bad, unless it is at the expense of my own needs or wants. I blackmail myself – don't do that, it'll make them angry. You don't want to see them angry. What if you make them so angry they just leave? Which is unfair to the other person, I'm not giving them a chance – to react to what I want, or to show that it doesn't make them angry. And unfair to myself – I am not being true to who I am.
Emotional responsibility. I know I've talked about this before. Especially in the Ethical Slut posts. But I find it hard to not feel responsible when my partners are sad/upset/depressed. Or at least responsible for making them feel better, or to avoid causing those feelings. Obviously, none of us wants to upset our partners, but I can also take this too far, into blackmail. Don't say that, you'll only upset him. It's not really that important, you don't want to make him feel bad. Look at how miserable he is, how could you do that? But I am not the gauge of what will make a person sad. I am not responsible for how they react and deal with things. I should not avoid things because they're uncomfortable to talk about. It only leads to deception and bottling, which is way worse than a few tears before things get worked out. I can offer to help, and keep talking through things. But I should not try to stop someone else feeling their own emotions and reactions.
Self worth. I've often struggled with replacement fears since becoming poly. I've always struggled with my self image and self esteem. Those things have been growing by leaps and bounds since I found a community here that loves and supports me for who I am. But there's a hot button left over from college and my second boyfriend. I tried to date him a second time(or was it a third, I had an odd dating record), late in my sophomore year. He told me, he didn't need the ego boost that dating me gave him anymore. He was popular now. What a strange thing to say, and even odder still to internalize. What it wrote in my head was, I'm only needed by guys who aren't confident or popular, I'm just an ego boost until someone better comes along. This has played a major role in my replacement fears – worrying the new girl is better than me, so I won't be needed anymore. It took a much stronger sense of self, this last time, to not go there. I am finally fully confident in my worth, and did not feel that I even Could be replaced.
December 1st, 2011
A journal entry from earlier this week:
The longer you've been around, the more you have to lose. As wife, before girlfriends exist, you have everything. All the love, time, attention, interest. Then comes girlfriend, and love multiplies, but time and attention are divided, and if you're lucky, interest gets multiplied by the extra energy. Sometimes, though, NRE can make it feel like she gets more and you get less. It can take time to rebalance.
The cycle continues for girlfriend. You get all you can until second girlfriend arrives. Then, by the needs of reality, time and attention are further divided, love is multiplied, and interest fluctuates, hopefully ending up in the positive direction. As more partners are added, balance gets harder to maintain, and needs and wants are weighed more carefully.
One ripple causes waves throughout, and if it starts as a wave, storms can appear. Tidal pools of spiraling emotions, pulling everyone down until someone catches a life-preserver and pulls the rest back up.
So, how do you survive the divisions? By enjoying that which is multiplied. By believing the benefits outweigh the cost. By being heard, even when you don't get everything you want. By being gracious, compassionate, compersive and by compromising. Life is a state of constant change, you have to keep up and ask for the love and support you need to do so.
This is relevant in two, completely opposite directions in my life right now. One, hubby is down to just me. This makes the time he has to spend with me greater, though my availability has not truly changed. It may, if needed, or as schedules naturally morph over time and situation. But he and I must find a new balance, as he will be home for time I've previously spent alone, and he may find a desire for more of my time than he currently has.
Two, he is up to a wife and four girlfriends, and his wife is changing to day shifts next week. For a while now, most of the time divided by him, has been time she is usually at work. Now, though, it won't be, and I imagine she is feeling the sting sharper for the amount of time she now has available and the huge chunks of it already scheduled with us. So, we look for balance, not only of time between the five of us, but of place, to give her space in her home.
We don't have answers for any of this, yet. But we are all committed to making it work. For the love we all share, and the community we are creating together, makes us all stronger and better, and fills our lives with incredible joy.
May 19th, 2011
Wow, I've been blogging for two years as of tomorrow. Two on WordPress, and one cross-posting from PervertedImp.com. That also means that I've been part of my local community for three years. What a ride it has been. Honest poly relationships, real community, play parties, limits being found, crossed and offered. Learning from classes, from mentors, from friends and from experiences. Journals, blogs, emails, chats, stories, tweets and threads.
I have posted about scenes, relationships, love, polyamory, social networking, wish lists, family, failures, and successes. I have had a couple flash fiction pieces published, and posts reblogged on other sites and did one meme for silly fun. I created an informational section on clothing care, and started a group about it on FetLife.com. I started out completely anonymous, and then sharing it with loved ones, my kinky family, and then friends.
I have an amazing life, a wonderful husband, and awesome boyfriend and a incredible toy. I have tons of people surrounding me, caring about me, teaching me and supporting me. I am part of groups that meet weekly, sometimes more than once a week, and have more opportunities for play parties and learning experiences than I even begin to have time for.
I made a silly post once about the numbers on my blog and the top posts and all that. Today I wanted to see how people were getting to my blog. Some are coming from Twitter, some from Fetlife, some from email subscriptions. But the part that amuses me the most is the search terms that land people on my blog. So I looked at the top terms. Both sites, of course, have Perverted Imp and other permutations in the top of the list. Over at WordPress, we the other top three terms are Shibari (Complete Shibari, or Shibari blog), Resistance Play, and various permutations of Straitjacket. PervertedImp.com is a little more varied, though with (Complete) Shibari still in a lot of the upper slots. The next two amuse me more, though: Consensual Feminization and Masochist Turn Ons. I am definitely becoming more and more a girl in this community, and my masochist turn ons have increased by leaps and bounds. Painslut also features heavily in my most searched terms.
This is a pretty bland post, without much substance. For substance, see the earlier post this week and I promise more fun next week, too. But today, my head is full of vampires and LARPing. For now, Thank You to everyone who contributes to this absolutely amazing life I lead.