February 5th, 2014
This was my project for today: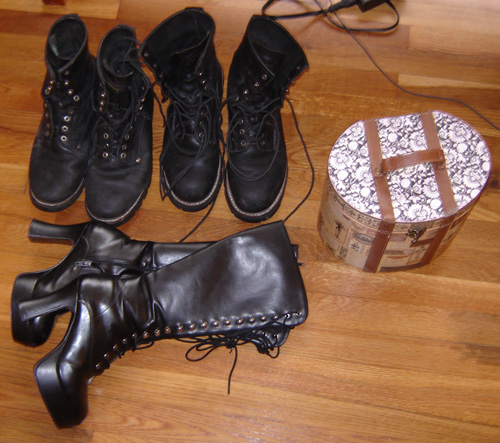 This is my Kit: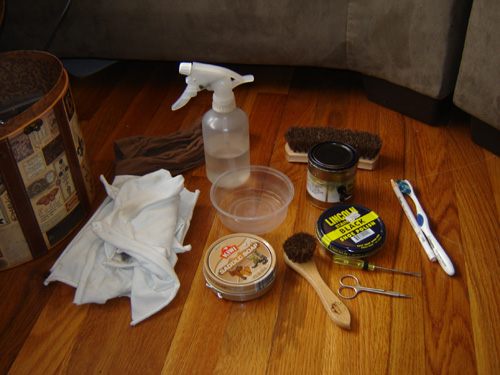 This is Before and After of his soft-toed boots: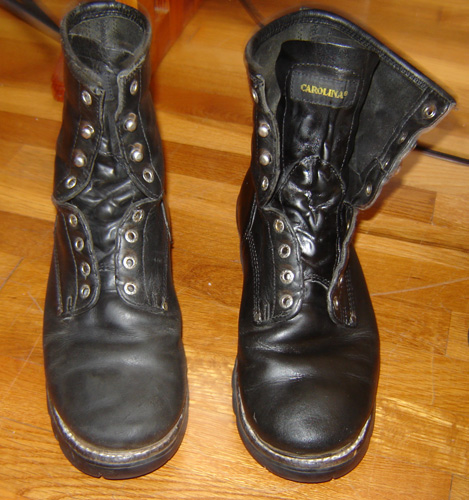 This is After and Before (did the other boot first on this set) of his steel-toed boots: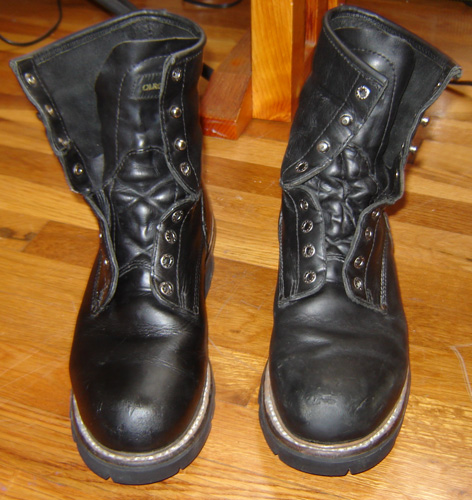 This is the Before and After of my cheap, but shiny boots: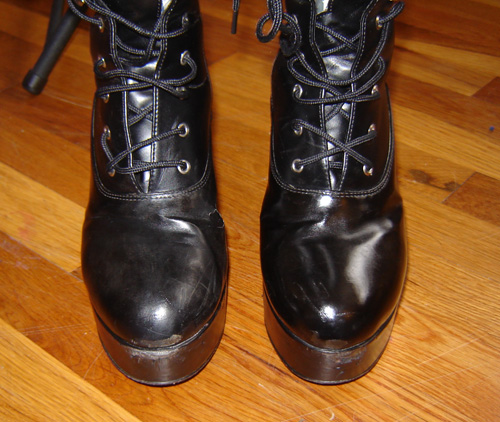 And last, but not least, the whole set of finished boots: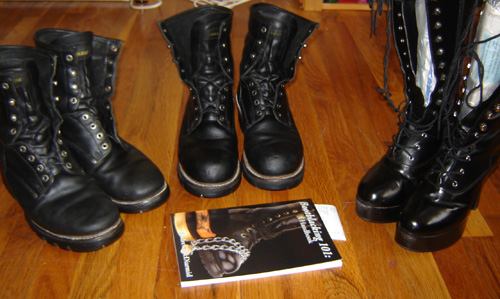 Next savings goal(after my UK trip) is getting myself real leather boots.
November 7th, 2013
I hate being ill. It has felt like someone trying to dig my throat out through my ears all week. Does not do well for the creativity centers when the rest of the body just wants to sleep til it's over. I did have an odd vision of a vampire seduction gone terribly wrong as the woman tries to eat the vampire's heart through his chest. I blame watching Alien last night for that, though.
Had a great time at Trauma, though I didn't get many scenes, what with the running around keeping things moving. We had a great crew who worked the asses off to do almost 300 scenes in two nights. Not bad for about 20 folks. There was cupping and violet wands and drumming and flogging and suspension. Our resident electricity craftsman brought out a lot of new toys, too. Including his new stun baton, yes I ran the hell away from that thing. There was also the usual burlesque lady with her snakes. I ran away from her, too. But other than that and a few other hiccups, it went really well. The shows were mostly awesome, too. From high-flying suspension (JEALOUS), to arial work, to dancing, to flesh-hook suspensions (no, didn't watch that either). A great time had by all.
He got new boots. They're not lineman boots this time. They're… like boot-shaped tennis shoes. The leather is soft and squishy. Not sure what, if anything, I can do with them. The instigator promises another bootblack meeting soon, so we'll see what the others have to say. The steel-toes were just killing his feet.
Tickets have been purchased for Winter Wickedness. Very excited to go to that. Many good presenters will be there, and much fun will be had by all.
October 19th, 2013
He wore his kilt! Finally! In public even. And he looked awesome. I wore my old prom dress, bright red, sleeveless and down to my ankles, with black thigh-high stockings and the old red heels. The engineer in a pretty sprarkly blue dress finished out our trio. I wore mine because he promised to cut it off, I'd been trying to plan that kind of scene for years, and it was worth the wait.
I was sitting with a group, to the side of the stage when he came over, big knife in hand. He grabbed some fabric in my lap and sliced it down through the hem. I must have move, because his finger slipped over the hilt and he cut himself on the back corner of the blade. Not bad enough to stop the scene, mentions of the first aid kit were made, but he dragged me up and out to the middle of the stage.
Circling like a shark, he grabbed bits of cloth and slice through. A shoulder strap fell to the floor, the other was sliced, but still lay across my shoulder, keeping the dress in place. Back cleared, the knife tip made a few light passes on skin. Delicious. Down to the skirt again. Stockings, too? Whatever you want. And the knife slid through nylon and tore through elastic. Bit by bit, the dress and stockings were shredded. Until it finally slid to the floor, and was tossed aside.
Still circling, he spoke to the crowd of another thing he loved about his big knife. Smack across my ass. Yelping and he continued to smack. Spinning because I had nothing to brace against, he kept circling for a bit. Then grabbed hold, braced himself and pulled me over his knee. I flailed and squirmed and squealed, trying to find balance and he paddled my ass. Finally giving up and slumping over his knee, he paddled harder, til I slid to the floor.
Kneeling now. He continued to circle, and I lose continuity. He cut loose a bit of remaining stocking, grabbed me around the throat a moment and then tied it round my right breast. Then beat on it with the knife while I screamed. Smacked my inner thighs a few times for good measure, too.
He tore up my dress with his hands, making a long strip and gagged me with it. Holding me still, he drug the knife across my back, in slow stripes. I whimpered after he finished each one, afraid to move while the blade touched me. Then he pulled me backwards, held me tight and cut the gagging strips away.
He was up again, grabbing bits of the dress, circling around behind. Nervous, but not moving, I waited. He tried snapping a piece, like a whip, but it was too light and not shaped right. So he knotted it instead, and it made a nice bludgeon. Far heavier than I thought that dress could become. He beat my back while I arched happily into it. Then around to my thighs. More screaming and squirming. Ow! Wooden floor hurts the top of my feet.
There was also the kicking. Booted feet, kicking my thighs further apart, kicking my crotch and my inner thighs. He pointed down at his boot once, and I kissed it and then moved forward to kneel on it, not sure which he intended. Then there was more kicking, and grinding of the boot heel into my thigh.
He grabbed me by the hair and dragged me to the wall, pulling me up, he had to give a verbal command to get me to my feet. Then he pinned me to the wall, spanking my ass while I yelped and writhed. 1. 2. 3. Orgasming in sudden stillness. I barely mumbled Thank you, Sir, before I was tossed back to the ground.
Kneeling again, dizzy and breathless. He knelt behind me, grabbing me tight, and I think there were a few more scratches across my back. Then he bent my head back and kissed me. I smiled up at him and kissed him again. So happy.
I cleaned up and discovered I had put the bodice with garter straps in the wrong bag, put on my red fishnet thigh-highs anyway, and wandered for a bit. He asked if I needed anything, and I said when I got cold, I'd probably want to borrow his jacket. He gave me his black button-up shirt instead. Perfect. About the time he started negotiating with the engineer for her scene, he tossed me into the circle shackles to keep my buzz going all night long.
Edit: There was also face slapping during this scene, but I still can't remember where it fit into the rest, not that the last few paragraphs are in very good order, but still. I kinda lose my brain when he slaps me, right down into subspace in an instant. So very, very tasty and lovely, but it wreaks havoc on my memory and sense of time.
September 17th, 2012
What an amazing weekend! I didn't get to do everything I wanted to do, but that's the nature of life, and what I did get to do, more than made up for anything that we didn't manage to squeeze in. The best plan falls apart upon encountering the enemy, and that was the case for several of my friends, but for me, this time, nearly all my plans survived, and some of them far better than I ever anticipated. A lot of people are saying it was the best COPE yet, for me, this is entirely true. I have never had so many scenes, I have never stayed at the hotel, let alone with my partner during the event, and I've also never been so well fed at an event. About the only thing that was "on par" for my other experiences, were the classes. They always bring in great presenters to teach really fun classes. I had an incredible weekend.
What happens at COPE stays at COPE, they say, no outing other people by talking about their scenes. But that's not what I do here, as you all know, I talk about what I did, and my experiences. So let's begin at the beginning.
Our con began with meeting up with friends, helping out, and getting registered. We found quite a lot of our usual crew and gathered up for a nice dinner at Buca di Beppo. We even got to sit in the Pope Room, because there were so many of us. We talked about crew and the con ahead and even about the upcoming Trauma. Enjoying time together as a family, and then we took food back to feed the rest of our family who couldn't make it out. Being a group with the volunteering spirit, many were working the con, too.
Back to the hotel, I had a scene right up front, so I didn't even change, but went and found my ex-Lover, and we took our place for my requested "challenging, transitional suspension." That, will be a post later on. Afterwards, I went back to the room, got on my shiny kimono and boots, and went in search of him. He was bringing down a suspension, so I knelt nearby, helping clean up rope until he was done. The engineer was nearby scening, too. After that, we sat with friends for a time, until he retrieved us, stun gun in hand, to go back to the main room for our suspension scenes with him. Another post to come. He tormented us both with the stun gun while we waited for the high point, but the battery died out as he tried to keep tormenting me as he began to tie her. We played on the rig in the corner until they turned the lights on that night, and then headed back to our room to take care of each other, with massage and orgasms, and cuddling to sleep.
Morning dawned quietly, but I was awake early. I really wanted to attend class right from the start, so I was up, rinsed off and dressed in a sari while they were still gaining consciousness. They said they'd catch up, so I headed out, grabbed an apple(I was too late for bananas), and found a seat in Bondage for Punishment and Pain. They joined me sooner than expected, but before the class changed rooms in favor of a high point, and we knelt beside him, as much as we could manage, for the entire entertaining class. I found myself able to manage for 15 minutes or so at a time, not wanting to distract myself too badly from the presentation. 4mm rope, a high point, and a flexible bottom, made for quite the class. Stopping by the vendors on the way out, he found some great new toys to buy, a dragon tail and three leather "cocks." The latter being woven leather cylinders of various widths, with rounded ends, that work great to bludgeon your partner with. We headed back to the room to test them out, and were quite happy with the results.
We then headed off to brunch at First Watch. The second class session not holding our interest more than finding food did. Waffles, bacon, pancakes, eggs and coffee later, we were satisfied and heading back to the afternoon classes. I did wear my bratty shirt, and very short skirt, but I took my sari as a wrap to stay warm, as well. Extreme Bondage was up next, with more kneeling from us, though the presenter invited folk to come close and watch, so he was up in front away from us most of the class. This time, I found the tops of my feet beginning to hurt much faster than I was losing circulation. The class itself was quite interesting and entertaining in its own right, with a handful of really restrictive ties. The next class period, the engineer headed off to a latex class while he and I wandered back to the vendor area, this time picking up a book, a new suspension ring, swivel and two hanging straps. The final class of the day, Predicament Bondage, was the same couple as our first class, we all sat in chairs this time, and had a blast watching (and helping with) the crazy stuff the presenter came up with. Electricity, water, rope and weights and everything else he could grab from his bag of toys. Such fun.
We headed off to dinner, then, Fish Market our destination. Got a seat quickly in the bar portion and, though it was noisy there, we had quite a nice meal together. We he asked us if we'd seen anything that day that we'd like to try, we grinned and said all of it. I took my leftovers back to the event, but couldn't find anyone in need this time. We attended closing ceremonies, complete with lube-tossing, auctions, NCSF and gratitude. And then the final play party began.
We headed back to the room to get dressed, the engineer donning her blind contacts and me my straitjacket over lacy bodice with garters to red fishnets and shiny boots, he even wrapped my pleather skirt around my waist. I was to be her eyes, and her my hands. We headed back to the dungeon, all grins and giddiness. He showed us off down the hall, through the social area and all around the dungeon. Then we headed to the back rig for him to do his scenes and assist in others. I tried to keep her informed of the things going on around us, and once he sent us to fetch water and candy from the adjoining room. After his scene, she wrapped up the rope for him and I returned it to his bag. When these scenes were complete we headed back to the room for more private fun.
Back in the privacy of our own hotel room, the engineer and I stripped down, but she kept in the contacts. We rearranged some furniture, and sat down side by side, facing him, for an incredible needle scene. Post to come. How I didn't freak out or pass out, I'm really not sure, let's just say I'm stubborn, and they were incredible in supporting and encouraging me. We thanked him with massage and curled up for a well-deserved, good night's sleep.
The engineer had to head off early the next morning for school, and we hung around to help tear down and load out the dungeons. After many good conversations and goodbyes, I headed home to check on the internet, crash for a couple hours and then went out to dinner with hubby and friends. Home again for the last two episodes of BSG, some Lactaid ice cream and then crashed out completely for at least twelve hours. Amazing weekend of awesomeness. Thank you to everyone who made it possible and who made it great.
September 14th, 2012
COPE is today, it starts in just 8 hours! I've packed my suitcase, my toybag and my purse. I'm ready to go. Okay, not entirely ready to go, I'm still naked, but my bags are ready to go. Super excited and happy! The corset may not work out, health and postal issues have delayed the work, so I've had to change some clothing plans. But it doesn't really matter, it's COPE! I could run around with just a short skirt and no one would care. Though, I think he has some straitjacket ideas in his head. At least that's warm. I've mostly given up the idea of being warm. I have one long skirt in the bag, and my saris. But I'm not too fussed about what I end up wearing. Go with the flow and just enjoy.
The class schedule is up and all crazy. Four rope classes the first period! WTF, guys? Ah well, so many good classes, so little time. I think it'll work out anyway, not to many periods where there's two classes I'm dying to see.  Looking at Extreme, Predicament, and Painful bondage classes. Maybe a latex, a foot care, a single tail class. We'll see how things go.
So bouncy and happy, I've gotta hit sub-mind when I get to the hotel. I can still be bouncy and happy, and all, but we've set up some protocol fun, too. Gotta keep my head in the game. 🙂 Such a great weekend ahead! Boots, and rope, and private things, and shiny things, and pain and pleasure, and learning. So Excited!
See you on the flip side.
September 6th, 2012
Last night was a new experience for me. One, I'd been expecting to have at some point in the last couple years, but it took a class for it to happen. Yes, my first waxing for hair removal experience happened with an audience. I generally trim my pubic hair, but shy from shaving it due to a tendency for infected in-grown hairs. Waxing, I was told, should be safer on this front. We shall see. The cosmetologist, licensed, but no longer professional (she both no longer gets paid to do it, and also enjoys it way too much), spoke to the class about proper procedure, cleanliness, ways to reduce the pain (most of which she didn't do, as the class was called waxing for sadists), and proper techniques, as she applied and ripped the wax(and hair) off.
It was an odd experience, to say the least. Not excruciatingly painful, though a few of the strips reached a 7 or so on my pain scale. But the pain was fleeting, gone almost as quickly as it came. The harder ones were when the wax or hair didn't come and she had to do the same spot repeatedly in quick succession. The first few strips had me arching off the table, until I got accustomed to the ripping. Some of the lower strips had me cursing (or propositioning, depending on your view) my friend, and eventually she asked me to stop screaming so one of the audience didn't have to keep plugging his ears. The poor dear. Looking down at what she was doing was also a strange sensation. The first few times, expecting to see red, angry skin, I saw only smooth whiteness. Apparently my skin objected less than the hair follicles and the associated nerves. When she finished, it was the first time since puberty that I've been hairless, another unusual sight for me, and hubby. Several asked how I was doing, I was fine by then, but told them to ask me after COPE if it was worth it.
There has also been some preparation for COPE on the relationship side of things. He, the engineer and I had a group chat just the other day, to talk about expectations for our first major kink event together as a group, and their first time at COPE at all. It was a very good, and very long discussion, ranging from play, to protocols, to packing. We talked about scening together both publicly and privately. There was discussion of what "reasonable use" of Sir meant to each of us. We talked about appropriate behavior and communication, including bringing cloaks in case we are roomed on the vanilla side of the hotel. And we talked about having protocols that were natural and easily met. This weekend isn't about trying to trip us up, but rather, about having a time to be together, play together and to take care of each other. I am very much looking forward to spending a weekend in his service.
And then I get to the clothes part of the packing. What to wear, what to wear. So many choices, and changes to be considered. Sleeping without Pjs has been decided upon, so I can at least not worry about that set of clothes. But let me ramble on the sets I think I might need: opening ceremony outfit, after play outfit, Saturday classes outfit, leave the hotel to eat lunch/dinner outfit, closing ceremony outfit, after play outfit, Sunday go home clothes. One might wonder why an after play outfit. Well, it depends on the ceremony outfit, but one of them will certainly be my new corset, and after a heavy scene, I just don't see it going back on. So, what about just walking around nude after? Well, if it's what he wants, that's fine with me, but he tends to like outfits a little bit more.
So, I've got one outfit decided upon, probably the opening ceremony – make a good first impression, without having to wear a brand new corset for too long. I was thinking of bringing my saris for easy, toss and tie it on. Those might work really well for after play outfits. Easy on, easy off. I should really run them through the wash and hang them up so they aren't so creased from being folded for years. Saturday class time? It's always so cold in the hotel, but warm clothes aren't generally conducive to practicing new rope work, and I do imagine most of our class time will be rope. My SAM tank top and a long sleeve jean shirt for easy cover up of arms or legs? If I wear that tank top, I'll have to wear the "apology skirt" with it. Sunday and go out for dinner are the easiest, just a skirt and cute t-shirts. But what about that second ceremony/make an impression outfit? (I don't think I've ever put this much thought into the clothes I wear to COPE.) I've got a lot of fun things these days, and less opportunity to wear them. I'll have to put some more thought into this last choice. At least these days, I have appropriate footwear. The girls always used to tease me about going about in sexy dresses while barefoot, even at the start of the night. Some day I'll have to dig my old prom dress out, and have it cut off me. If my high school peers could see me now…
A week and a day until COPE, so excited!!!
June 7th, 2012
He came in and sat down with his dinner. Tells me he's really done a number on his boots, with camping and bartending, they're a mess. I glance down and nod, indeed. Go get your kit. There's not a lot of time. Oh we have half an hour. Hey, you wanna help? The engineer has been asking for a lesson for a while now. Sure.
So, I get my kit, get some water and set down at his feet. Me on his left foot, her on his right. I begin the lesson. Gotta get new soap. I have a bare ring left in the tin and the edge is all rusted. I get the rust on my hand and onto a spare rag. Gotta keep it off the boot. We make lather and start in. Wiping off a lot more than I usually have to, for all the gunk on them. Even the soles get work this time. We get a few stray comments from the peanut gallery and he comments on how good a massage it is. Then they are clean and I'm about to grab the grease, but I look up at him first.
"Now, this is the time to lick them." he tells her.
I explain that some people lick after the grease, but that creeps me out, especially with the black dye in mine, but my heart is beating just a little faster. Did he really want us to?
"Guess what I read?" he says to me.
"My blog." I answer, starting to blush.
"Yep, I got all caught up before I came out tonight."
I'm blushing harder and mumbling to her, but she hasn't read it yet. He really means it, he really wants me to do it. She's a bit in shock to, as he tells her to as well. And then we begin.
I'm scared and nervous and embarrassed and excited all at once. I've never done this before, oh I've wanted to. Dreamed about it. Went to classes on it. But, but, but. Just do it.
And I do, and it tastes like clean leather. And it's his boot. His boot. Those Carolina boots I've been staring down at for nearly four years now in this form or the other pair. These are the steel-toes I've been cleaning and caring for since he bought them. I'm holding his boot and running my tongue down the leather, from toe to heel.
And I can hear him appreciating it. I can hear people around him saying how hot it is. My face is burning, so I bury it in his boot. Kissing and licking. Pressing the sole against my chest and my shoulder as I turn my head to one side then the other. He says it's a mix of warmth and pressure, and I'm glad he can feel it. I glance occasionally over at her and she is just as happily involved as I am.
So happy, and excited. Arousal has replaced all fear and is chasing embarrassment into a corner. I'm gasping against his boot, kissing and catching my breath. Enjoying the sensation of the tread against my chest. Loving the taste and feel and smell of the leather. I don't want to stop,
I can hear them getting ready for class. We'll have to stop then, we are far too distracting and distracted. Not yet, please not yet. I ignore the sounds and keep licking.
The arch of the boot is my favorite, a sensitive spot on my own foot, but hard to get to. I remember what Bootpig said about speaking to the person through bootlicking. I thought I understood it then, watching. But I really understand it now. I pour my love, gratitude and yes, arousal, out my tongue and onto his boot. And it is amazing. I never thought it would feel like this.
And I'm glad the engineer is on the other boot. There wouldn't have been time for this if I'd had to do both. And while we are separate in our licking, together, we are making him happy.
When class does finally start, I have no idea how long we were licking, but we come up grinning like mad, and curl up, arms around his legs, happy with our first taste of bootlicking.
December 22nd, 2011
A silly little story for the holidays.
"Come here, young lady, sit on Santa's lap."
He didn't look like any Santa she had ever seen before. Sure he was dressed in a fur-lined red hat, and black fur-lined boots, but that's where the similarities stopped. He had on tight red leather pants and an unbuttoned red leather vest. And his short trimmed beard was far from white. Oh, his eyes twinkled with merriment, but his stomach certainly did not resemble jelly.
She walked forward slowly, chewing on her lower lip, eyes darting from the floor up to him and back down again. What was he playing at? She sat down on his knee, tugging belatedly on the hem of her very short red silk dress.
"There now, have you been a good little girl this year?"
"I…" She looked into his eyes, crinkling with laughter and made a decision. "I've been good at it."
"Oh-ho-ho. Have you, now?"
"Yes." She sat up straighter.
"Good at what, precisely, little girl?"
"At being naughty, Santa. Isn't that why you're here?" She grinned at him as he laughed again.
"Yes, yes it is. You're right at the top of the naughty list, and I thought a personal visit might be in order."
"I'm flattered. The top of the list, you say? Very flattered." She wrapped an arm around his shoulders and pressed herself against his chest.
"Yes, I'm sure you are." He snaked one hand up her back and settled it on her neck. "But I haven't come for a demonstration." He spun her around and over the knee she had been sitting on, and lifted her skirt. "I didn't think coal would quite get the message across this year."
She squirmed and spluttered, but he held her fast with his left hand as his right lifted the back of her dress and then pulled down her black silk panties. The first smack sent shivers through her body and she yelped. He did not pause, but when straight to his work, spanking her harder and harder, til her yelps turned to moans and her moans turned to tears. She writhed in his lap, not daring to put her hands behind her, crying as her ass turned as red as his clothing.
"Oh, and I must not forget your present." He paused and reached into the sack beside him, pulling out a wooden paddle. Engraved on one side was the word Naughty and on the other, Nice. "Just so you remember."
He flipped the paddle so that Nice was facing her already bruise bottom and brought it down hard. She screamed and flailed, but he held her tightly and brought it down again, in exactly the same spot. Over and over, creating a purple outline of Nice in the reddened flesh. She slumped in his lap, sobbing but accepting as he took a couple more shots, just to make sure it would last. Then he let her slide to the floor, and kneel with her eyes on his boots.
After a few minutes, she collected herself and looked up at him. "Thank you, Santa."
"You're welcome, young lady. Now, which list will you be on next year?"
"With that paddle, Santa, I think I'll try and make the top of Both lists."
He laughed and scooped her up into a hug and a deep kiss.
Merry Christmas, Happy Yule and whatever other holidays you may celebrate, may they be filled with love, laughter and kinkiness.
August 21st, 2011
It was the night. Finally time to fulfill our bargain for a 50 cent pair of scissors. Time to face the music and dance, literally. Bag packed, ready to go. He calls, needs help with the gear. We get it all loaded and head to the club. Wait for the owner and then lug it up and set the stages. The instigator is all bouncy and excited, she says she's going to explode. Casting about, we finally decide everything is ready and drag toy off to the bathroom to change for the evening.
We can't remember if there was any exact wording on the shirts, so we do our best with buttons, bras and tying. My skirt is even shorter than I remember. Instigator helps us both with our hair, pig tails for me, hello kitty barrettes for toy. Fidgeting and fussing, and we're ready to go. Out the door and into the back corner where he sits with hubby, to show off our outfits and drop our bags. The grin in his face matches the light in his eyes as we stand before him. And only intensifies as he has us each turn and bend over to check for appropriate skirt length. Approval is granted and then the fire class begins and we gather to listen.
Class comes to a close, and our performance is announced, massage tables are cleared and instigator's laptop is set up at the edge of the stage. I drag toy up as he explains what is happening to the curious crowd. There are a lot more unfamiliar faces than I expected, but I'm not really looking at them. Finally, it is ready, we take our places and press play.
The song is ridiculous. Japanese that toy and I have barely learned to pronounce about falling in love and seeing the world in a whole new way. We have macarana-esque parts, and kick lines and spins and air guitars. Everyone is laughing and his smile is huge. I try to look up from the screen when I can, but I'm terrified and don't manage it nearly as much as I wanted to. But we got through the whole thing, and all fell down together at the end. Then curled up into a cuddle pile around toy, laughing our heads off. I don't even know if they clapped.
Once we pulled ourselves together, we gathered our things for the bootblack competition. Now, earlier in the evening, instigator had asked if she could borrow my china marker for this, and I, feeling snarky for having to sing and dance, told her, but it's a competition, aren't you prepared? To which she replied did I want one boot to not look as good as the other? And I, feeling more snarky, said, don't worry, I'll fix it. So, still teasing a bit, we find a quiet space in the back to set up our supplies, turning a couch so the light is better, if not great.
He finished his conversations and came back with toy. Sitting down, he offered us each a foot and pulled toy down next to him for his entertainment while we worked. I'm not sure I'm a real bootblack, I just love his boots. Instigator's far more inclined to clean up any boots that pass her way with a polite request for service. So we set in, scrubbing and rubbing. I start noticing some strings, but my scissors were broken. Instigator is burning the strings off her boot with a lighter. Hm. Hey, can you do that on this boot and you can use my china marker? She agrees, I can't even just ask to borrow it, I'm phobic of sparks. She has a little extra fun making it spark to watch me twitch, burns her thumb and my arm on the hot metal as we are working in very close quarters. Then we oil and shine and whiten. Making them as shiny as we can for an oil tanned boot. Re-laced and done, he sets off to the front room for judging with toy, leaving us to clean up and drink some water toy has brought.
Returning a short while later, he says the reviews are mixed. Mine is a better shine, but speckled. Hers is more consistent, but duller and there are some buff lines in it. Toy just can't decide who won and lost, so we give it up as a tie, both wishing we'd had better light.
Next up, massage, and there's just the thing, a king-sized padded table nearby. Toy fetches her massage lotion and he drops his shirt and lays down. We surround him, them on his back and me on his legs. Their hands are stronger and his back is always the most knotted. In silence, we put all our focus on him, working his back, neck, legs and arms, circling around him, doing our best to pull out his stress. He turns over and we continue, upper chest, shoulders, arms, hands and legs. About the time my hands have given out completely, he looks up and smiles
Now it's his turn to have fun. He grabs me in one hand, toy in the other, and pins instigator with his legs. I lose track of what is happening to toy at this point and only hear her moans and whimpers and Thank you, Sirs. Instigator is pinned by one leg and the other is being used to kick, poke and prod her. A boot-spanking, if you will. Me, he has by the throat to start, eyes closed, one of my hands clutching his arm and I gasp and squirm in his grip. He holds me close, turning to count occasionally, sending me spiraling into orgasm. Kisses and I love you were interspersed with numbers, the moans of the others, and the sound of his boot hitting flesh. He moved his grip to my hair, less of a fear reaction, rocketing up arousal and sensation. Still the round robin of pleasure, he raises me up to see his boot on instigator's throat. Beautiful.
There was a moment, his grip maybe slackened or I opened my eyes a little too wide. I saw what was happening to the others, and I had a shot of envy for the physicality of what he was doing to them. Before I could process it much further than that, his hand tightened in my hair, and he counted to three. I buried my face in the mat and orgasmed through tears. When I came up again, the energy and reality of the moment reclaimed me, and the negative feeling was gone. I was in his grip, against his body, two of my best friends were sharing in this wonderful scene of pleasure, pain and orgasms with a man we all love in our own way. Just incredible.
I loved the sounds. The slap of his boot, the screams and moans and gasps, the words from his lips: I love you, 1-2-3, fucking your brainto go, taunting instigator as he found new places for his boot . The sound of his breathing as he took a moment for himself. Toy's thanks.
We cuddled up together, me, instigator, him and toy. All lined up and snuggling. Still occasionally handing out orgasms, playing with programming, appreciating all that we had. Not someplace I ever really pictured myself ending up, but it was just right in that moment. The four of us together.
Time to rejoin the rest of the party. We gathered our stuff and headed back out to the front room. Put away our gear and gathered around in the electric area. His boots are "dirty" from kicking instigator. She offers to lick them clean again and starts to work. Toy and I look on, not really boot lickers ourselves. Then he grins and points me to the nearby violet wand. A straight rod and turned on. I hand it to him and he zaps her a few times, insisting she keep working. Tormenting her until he gets a better idea. Handing me back the wand, I'm to shock her at his direction. She stays more focused on his boots when the rod is coming from the other direction, but it's still fun to make her jump.
Boots shinier. What else haven't we done from the agreement? Bondage. He takes instigator's tie and secures her hands, tormenting her with one hand and holding her other until he finally hands the tie off to me, wanting both hands free. He puts a mask over her head and we are all impressed that it fits over her hair. Then moving me around the wall to hold her hands above her head so he can return to using his boots. His tool of choice on her for the evening. He asks if anyone wants to take her place? Absolutely, I reply, unable to see what exactly he's doing, but not really caring, her moans are delicious. He finishes her off, and sets her free after she starts squirming her hands as though the tie has become uncomfortable.
Then orders me down on his boot. It's been a long time since we've done that. I kneel on his boot and he goes to work, rubbing and kicking as I moan gasp and writhe, focusing on staying on my knees with hands on my thighs. Alright, time for your favorite part, you have permission to get yourself off on my boot. Thank you, Sir. I ride the boot more intentionally now, moaning and arching into an orgasm. One more. He moves with me a little and I curl up, my head against his leg as another orgasm washes over me.
We are interrupted then, and he has to go move his truck. I sink into my position. Knees wide, hands on thighs, palms up, back straight, head down, eyes closed. Calm, satiated, joyful. I sink hard. I'm aware of instigator beside me, and only barely of toy curled up on her lap. He is only gone for a few minutes, but he doesn't come right back. I hear his voice throughout the room. I sneak glances beside me, I can still feel instigator, but I want to see that toy is still there, too. His keys jingle louder and he returns, standing in front of me, a single kick to the crotch and I'm awake. How are you feeling? Aside from the eyelets digging into my left foot, I am very good. He motions me up and we all settle in, curled up and relaxing waiting for the club night to end.
December 17th, 2010
"Do you want to go a round?"
"Yes."
He had the jute in his hand and on his belt. He let me smell it, natural smell – not hemp, but not synthetic or horses, either. Holding it, he looked me up and down, considering. Turned me to face away and put my arms into a box tie.
"How are your shoulders?"
"Right's a little pinchy, but much better than they have been lately."
Tie the wrists, the bite of the natural fibers makes me happy, smiling as he warps it around me. Two lengths of eight meters around my arms and chest, wrapping, cinching down, tight, but so very comfortable.
A bit of a length left when he has me secure, and up between the legs, catching the skirt to protect the rope. Yelping as he yanks and then led around the room.
"Keep up, that's my bad shoulder. Is it in the right place?"
"Yes!"
The grin as he yanks a few more times and then lets it go, finishing it off in the back. Turning me to inspect and show off the work, he stops in front of me. A hand to the throat and he pushes me quickly back into the other room and tosses me on the couch.
"Feet up, prisoner tie."
I scoot back on the couch, cross my booted ankles, trying to balance and get comfortable for what is sure to be a long tie. The third and final piece quickly secures my ankles to each other and then around to my neck. A comfortable bend for the moment, the jute biting into my skin. So delicious.
Off he goes again, returning with a Japanese washcloth to blindfold me, covering most of my face. And a leather gag to go underneath. The gag is small and flat so my moment of panic is minimized as I adjust, digging my teeth into it.
And here I lose coherent time line. I remember sinking into the rope, into the darkness, listening to conversations around me. I remember changing positions for more comfort, for legs, for back, for neck. I don't remember how the nipple clamps arrived, but they did. I don't remember how the other girl came to be tied, but I think it was after the nipple clamps were handed off to another girl to tug on. There was talk of envy of my position. There was talk of requests to be made. And there was tugging and pain and squeaking from me as he tied the her beside me.
I was unbalanced on the couch, squirming to try and move back, my hips were getting strange pressure. When he got her done, he lifted and shoved me further back onto the couch. Gratitude mumbled through the gag.
The tied one wanted to help pull the chain. Something caught his attention from the outer room. He left me, I heard him walk away, his voice leaving the room, but still audible. Panic, kept in check, but bubbling, as I strained to keep his voice in my ears while the first assistant continued to torment my nipples. The one beside me wanted to help, but her hands were tied. Someone else got involved and they moved her into position, got her head in my lap, so she could pull on it with her teeth. His voice returned.
"I was only gone a couple minutes and look at this…"
Multiple people were involved now, a chain of torment starting at my nipples and ending with his amusement. Blindfolded and squealing I had no clear picture of what was going on. It was a writhing mass of energy in front of me, I could identify the players, but not the actions. I knew only that the tied girl was delighted to have the chain in her teeth.
Positions changed and people moved, and there was a slip. I caught a shoulder in the throat. Instant panic and pain, but not the pain I expected. He was there, his voice breaking through my coughing, making sure I was alright. Yes, but still coughing, still panicking, fighting for control. He grabbed it, shoved me back into my place and helped me find my control again.
Camera flashes now. Our photographer capturing the scene. Teeth on chain, both of us squirming and writhing, squeaking and squealing from me. They encourage her to pull harder. I think she was the first to pull one off. The other is yanked free, and they are reset while I whimper.
He sits beside me, landing on a joint and I cringe at the bad pain, but he drops me back into the good pain and rope once more. Her phone rings and her time is up. The first one takes back the chain as he unties.
She sets back to it, testing what sounds she can cause. Enjoying the squeals and the screams. I fall into pain space and breathing and she frowns. She wants squeals. It takes sudden yanks, but she gets what she wants. He hears where I am, and leans in close.
"Watch this…"
And he counts for me, very quietly, right in my ear. She yanks at his direction, sending me higher. Surprised by my command performance. He counts several times, and I focus and use the pain.
The clamps are yanked and twisted and ripped off and replaced a few more times. I shake and gasp when they are removed.
"Did you just orgasm from pain?"
I shake my head, my fingers spelling out "not without permission," but no one sees. The shaking is the release of energy so as not to orgasm. She pulls and twists some more. My screams grow louder, the gag slides most of the way out at the harshest of the screams.
"Get that back in! You're not done yet."
He grabs me by the hair as she twists and pushes. Tears begin to form.
"Go on, cry."
He holds tight and she presses harder. I scream and gasp and bite down on the gag, trying to keep it in and breathe and cry. The pain swells, and they push, and I tip over the edge. Tears falling freely and they let me go. Leave me to my release.
I cry myself out and then curl up on myself. He is sitting in front of me while they talk, I curl up my head on my own knee, but touching his shoulder. Spacing out again, in rope and darkness.
They return to the couch, either side of me after short while. Conversation continues, but my hips are starting to protest strongly. I get his attention and mumble through my gag until he understands the problem. He frees my legs, and it is enough. She holds and pets me while they continue to talk.
I shift positions, not ready to give up, but with my legs free, I can now lean back and this puts pressure on my arms. I lean forward and back, and into her and away. Finding comfort in different ways for a while longer.
Eventually, it is enough. My wrist is in too much pain. I lean forward and turn my head towards him, waiting. He asks if I am done. I nod. He asks if my arms are numb. I shake my head. He asks what the problem is, and I try a few times, but I really am done, so I spit out the gag and tell him my wrist hurts too much, from its own swelling combined with the pressure of the rope.
He asks me to stand and I try, but am still unsteady so he has me kneel instead. The ropes come off, then the blindfold and discarded gag. The last trappings of the scene gone, I begin to shake. I take the blanket, which was covering my legs through the scene, to wrap around my shoulders. He invites me back to the couch and I snuggle back into her until the shaking passes while he puts away the rope. It is still cold and I stay snuggled between them until he has to attend to other things, another girl takes his place andI am kept warm while I come fully awake. He returns and I thank him for the wonderful scene.
Warmer clothes and breakfast, bits of teasing and discussion. I am still high and spacy, but awake and aware, and so very happy. A great scene that kept us all entertained on a cold, slow night. I felt like his canvas again. Used for his art – for his rope art, for his sadism, his instigation, and his use of mental control. Given the gifts I enjoy – tight bondage, teethy rope, nipple clamps, intensity, pain, pushing boundaries, control, hair pulling, orgasms, and release to the point of tears. Incredibly grateful for the gift of that scene.