April 19th, 2015
As a service sub, I have generally only served one person. I serve him in a variety of ways, at varying levels of protocol, depending on the situation and event. I have served him in combination with his other partners or alone, in his home, at kink events, and even at vanilla conventions.
Recently, he gave me the opportunity to serve a small group which included himself, at a vanilla, but kink accepting, gathering. The small group was all aware of our relationship and had observed my service to him at various levels. We discussed my wearing a uniform – which was up to me to decide on, clothing selection being limited, and having to be wearable outdoors at points. We discussed the protocol – I would kneel beside him unless performing a specific task. He asked if there was anything I needed, as I would be kneeling for quite some time, and I suggested a pillow might be useful. And we discussed my service – I would perform tasks requested by any person at the table – mostly fetching of drinks and food. There was also a challenge – one of those at the table was quite used to serving his partner himself, though not in as formal an arrangement as mine, and I was to do my best to not allow this.
When the gathering began, he informed the group of my service to them. I retrieved a pillow from the couch, and initial drink requests. During the event, I discovered that putting the pillow between my calves and thighs was a much better use of it than trying to kneel on it – much like a kneeling bench, and was able to keep feeling in my legs the entire night. The service went fairly well for him and the couple used to service – even the one used to serving was entertained by being served. The other couple, however, was much more self-sufficient and for the most part, did not ask me for things.
How did I feel about all of this? What did this experience mean to me? The group was playing a boardgame that I would have otherwise not participated in, and therefore it gave me an excuse to attend, and be near to him. It was a good way to have connection with him after missing a few of our usual nights together. I enjoyed serving the other couple, too, as a way to show my appreciation for what they have contributed to my life. They often invite me into their home.
He asked me if I was aroused by this service. I said no, but it is a bit more complicated than that. I am not usually aroused by service – I am fulfilled, I told him. Now, certain parts or types of service are arousing to me – bootblacking for him, kneeling for him. So, I was aroused by spending so much time kneeling by his side. But, serving the other couple and him, by bringing them drinks and food, or performing tasks for him, was not arousing, but fulfilling for me.
This was a new experience for me. We are not a high-protocol couple, and as such, have never attended high-protocol dinners or tea services. But it was interesting to me that I found fulfillment in serving others alongside himself. Not surprising, per se, I am service oriented in my everyday life, too, but not in such a direct way as this.
These thoughts led me to actually consider a recent call for bootblacks at an event. I enjoy service and bootblacking, could I enjoy it at a "public" event? Fear and inexperience spoke up and shouted me down, but there are other reasons that I did not respond to the call. Yes, I enjoyed serving the group, but he was a part of that group, and directed my service. Bootblacking is a joy for me, but mostly in my service to him. Blacking his boots is arousing to me, and I feel awkward about the thought of blacking boots other than his (or ones I'm practicing on, because yay for learning skills). I don't play with strangers, and am uncomfortable making myself vulnerable to people I don't know in this way. Or even people that I do know, but don't have that kind of relationship with. Especially without him there.
April 15th, 2015
Bring lots of homework and busy times. Sorry I haven't posted yet this month, and this isn't going to be much of a post, either. I do have things I want to write about, and I will be getting at least one post up by the end of the weekend. Current topic list includes: Fear, New Relationships, Group Service, Event Bootblacking.
So, for now, take a look at this video about International Ms Bootblack:
February 5th, 2014
This was my project for today: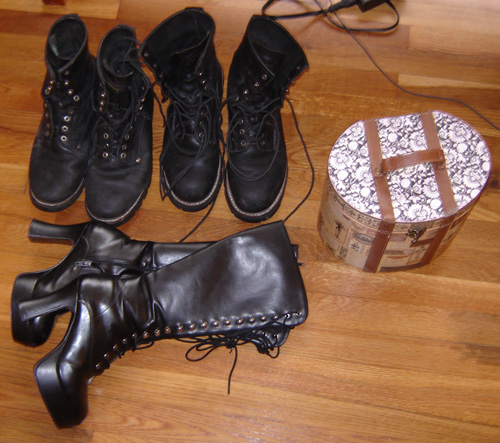 This is my Kit: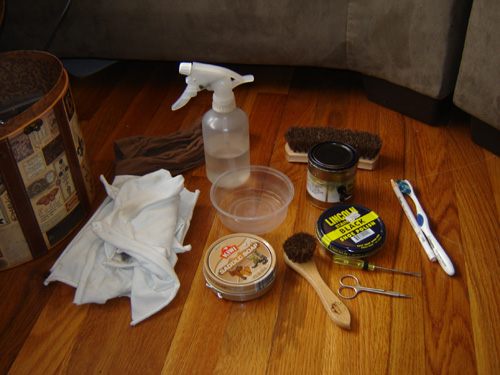 This is Before and After of his soft-toed boots: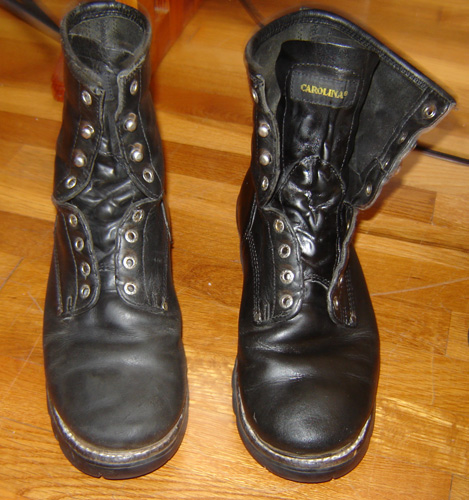 This is After and Before (did the other boot first on this set) of his steel-toed boots: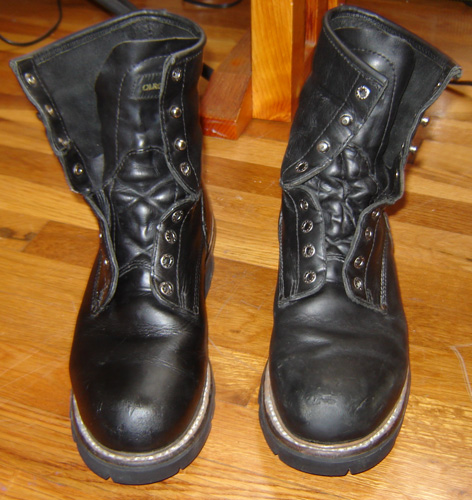 This is the Before and After of my cheap, but shiny boots: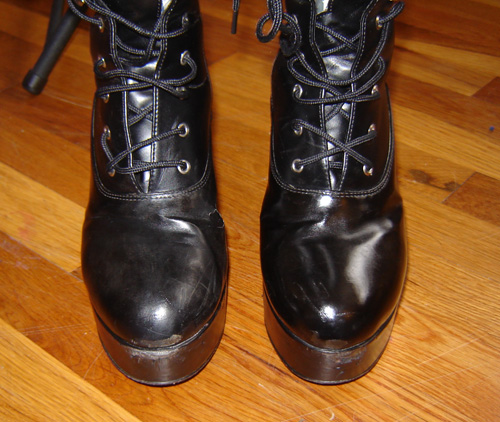 And last, but not least, the whole set of finished boots: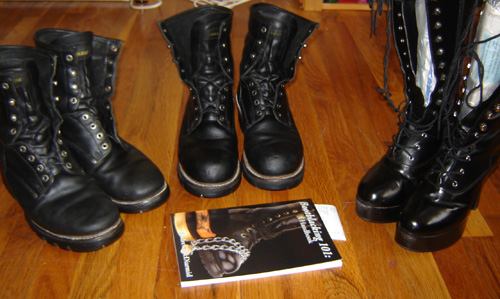 Next savings goal(after my UK trip) is getting myself real leather boots.
January 30th, 2014
Today when I logged in I had over 1600 comments in the spam folder. Wouldn't it be nice if that many people had actually visited my blog in the past week? But no, I average around a 100 a week, 200 if I've been posted to e[lust] recently. Ah well, the spam machines are busy, and Akismet does its job.
So, in 2011, I did 30 Days of Kink in January. In 2012, I did 31 Days of Gratitude in January. Last year, I was just surviving. This year, I was slacking. 😉 So, I'm going to make up for it in February. I'm going to do 28 Days of Lists. I've only come up with 12 so far, so if you have ideas, drop me a note, a comment, a tweet, whatever. They tell me lists are a good form of blogging, so I hope you enjoy them.
Next weekend is Winter Wickedness. I am very excited. There are so many great presenters coming, and so many interesting classes available. Not to mention the parties and the fun. It's going to be a great weekend. He actually made a clothing request this year – skater skirts. So we each got one and are creating an outfit around it. I'm not sure what I'm wearing the second night. More thrifting may be needed. I ordered a new dress off Amazon, but they say it won't arrive til the end of February, so that's not going to work. I'm sure I'll come up with something fun and shiny.
Been reading Bootblacking 101 by Andrew McDiarmid. Finding I like his talking about the experience more than his initial instructions. It is old school leather, so very much the boy in the leather bar, but the mentality is still something I can relate to. "You are a Bootblack."
I also decided to step out of my shell a bit and bought a ticket for a service intensive. Not that service is out of my shell, but going to a kink 'event' without a partner, and taking steps to spend a day with like-minded individuals bettering myself as a service submissive. I've never even gone to a submissive roundtable before. But I know I will be surrounded by friends from this community and friendly new people I have yet to meet. It isn't until April, but I'm looking forward to it very much.
Speaking of bettering myself and lists, my best friend made a really good suggestion to me today, that she uses in her own life. When stressing out, write things down in a list. Things That are Stressing Me Out, for instance. Acknowledging things so they are less scary is what I use my journals for. Getting it out of my head so I can see it. But the next step she suggested is important, too: look at those things and see if you can do anything about any of them. Make the things you can do into a To Do list. Do those things, or if you are already doing those things, realize that you are doing all that you can (and stressing isn't going to help). And if there are things that you can't do anything about, stop fretting over them (again, stressing isn't going to help). That's the simplified version, but it is definitely something I need to do more often.
There was also an article about asking better questions which caught my eye this week. While I found some of her questions strange, the point of the article held true. "How was your day?" or "How are you?" rarely get informative answers. Asking more personal questions, that have direct relevance to their life, will facilitate better answers and more communication. Something to keep in mind as you go about your day.
August 29th, 2013
I attended a class last night on service and ritual and, as good classes do, it got me thinking. I carelessly commented, after, that 'we have no rituals.' He quickly corrected me, handing me his bottle as he did, which I instantly balanced on my palm. I struggled to clarify my meaning, acknowledging that he was correct, but I was referring to 'something we do every time I see him.' We don't really do protocol, mostly because I haven't asked for any. There are things I always wear for him: my skirts/dresses and my rubberbands. But, we stay away from formality and protocol for the most part. The ritual of serving him a drink from the palm of my hand is the only thing I would call an exception.
The class focus, however, wasn't necessarily about that, though. There was a bit about creating rituals, and there was a lot of the use of the word. Which is why it got stuck in my brain. But the parts that I took away from the class, were about service. A stage performer and instructor, the presenter talked a lot about mindfulness and awareness of your task. Being aware of your body, your eyes, your movements, your attitude, and your top. She talked about knowing your motivation, and goals, for every act of service.
I found these things speaking to me. I do serve him his drinks on an open palm, but unless it is hot, heavy, or very full, I usually pay little mind to the act. If I am not just serving it, but holding it between sips, I am find I am more attentive to the task, because it is not 'here you go, and done.' But that's not an excuse, just an observation. It is a simple thing, but it is one that makes him happy. A little more attention and mindfulness could serve me well.
His boots. One of my favorite forms of service to him is taking care of his boots. I guess you could say that this is a ritual, though it has quite a bit of variance. Sometimes I share the task with another, sometimes they are on his feet, sometimes not, sometimes I have taken them to a meeting or to my own apartment. But, when he is wearing them, there is a bit of formality, in that I kneel or sit at his feet in a submissive posture while I complete the task. I am very mindful, in this situation, too. I want to not just clean his boots, but also make him feel good. The goals are two-fold when he wears them. When he is not, I lose the formality, but it is still an act of service where the goal is to please him, and take care of him. I feel like I do stay fairly mindful, whether he is present or not, this is one task that takes my full attention.
Other acts of service, things I do because he asks, or because they are needed. Domestic services, group organizational services, editing services. All these are places where I could bring more mindfulness of not just why I do them, but how I do them. The why is usually straightforward – because he asked, and because I want to please him, help him, and reduce his stress load. Keeping these things in mind could help when I'm feeling stressed out about doing something(usually the group organization). The how could be improved as well, by just being more aware of myself while I am completing the task.
All in all, a very interesting class, which has left me with many good things to think, and act on.
March 14th, 2013
What to write tonight? It's after 11 and I really have to go to bed, the next 36.5 hours are going to be rough. Work early in the morning, then rush around to get ready, pick up gear, set up for class and party, run electric scenes, clean up, go to work just a few hours after I get home, and then hopefully still be awake enough to drive home at 11am. The writing group is really not helpful for actual writing. Every week I've gone, I've taken something with me to write on, but nothing useful ever gets written. I wrote a few notes last week, an author's name this week. One week, I wrote a tiny flash of a stun gun scene description, but it wasn't much of anything. Damnable stun gun makes my brain go all wibbly. Did I mention he got one at WW? And there was much rejoi… whimpering. And cursing. And shaking and crying. Mmmm tasty.
Bootblack class last night. I really need to get some leather dust and acetone for my kit. I also really need to kidnap his boots so I can fix them up properly. I should probably work on my own boots soon, too. They're all scuffed up and stuff. Oh, yeah, need the sole stuff, too. Make all the boots pretty again.
New projects in my head. Making the anthology into a real ebook, with proper editing, formatting and all that. I don't do a whole lot of editing of my posts, especially scene descriptions, but I think I can really make some decent improvements if I just put my mind to it, with a little (lot, probably) help from my editorial friends. And format it a lot better instead of squishing it all together to make it fit in the least amount of pages, let alone taking them out of the chronological order of how they was posted. I only grouped them by topic, but I really think I could do it more cleanly with a little time and effort. Make it into an ebook people would actually want to share with friends.
Also thinking about putting together some of my more useful posts into an advice/poly/bdsm beginner ebook. Again, with the editing and adding to, and maybe even just taking the ideas, and fleshing them out into good chapters. That one is going to take a lot more work, and effort, but I think it could still be fun. Not a "here's how you should do things" book, but more of a "what did I learn from the mistakes I've made" book. 😉 I sometimes feel like my blog posts aren't… serious enough.. journalistic enough…? I'm not sure the right word. I just go off and ramble, and rarely stay strictly on topic enough that I would consider any of the quality that could be submitted to one of the many community-focused informational sites. So, I'd like to do a bit more focused writing for this project.
Third project in my head is a creating a fantasy novel with bsdm elements. But I feel like I need to read more of what is already out there, or at least become more aware of what is already out there, so I'm not just rewriting what everyone else has already written. I've only ever created one novel-length manuscript, and when I think of "romance" it always feels fake and false in my head. Not to mention, I have no idea what kind of plot I want to build it around. So that project is the furthest off in my head, but hanging around with the writing group has a least put it more solidly in my head as an idea.
Not to mention trying to get a real(full time) job, so I can finally achieve financial independence. And taking the time and space to be on my own and take care of me. It's going to be an interesting year. I intend to make it an upward swing.
January 31st, 2013
I wrote a bucket list for 2013, of things that I haven't tried yet. But what about things that I've done before, to one degree or another, that are just fun. I don't mean another list of what kinks I enjoy, but fun thoughts of what to do inside those kinks. Ideas for upcoming parties, scenes or what have you. If you try anything, let me know how it goes. With WW this weekend, I've been thinking on and off about clothes. So, I'll start there.
Clothing Ideas
Wearing nothing but rope. I've run around with rope on before. He even put rope under my clothes once. I'm not talking about a rope scene tied up and immobile, but to be dressed in only rope is fun and can be quite beautiful. Lots of different things one could do. Rope corsets, bracers, anklets, decorative boots, rope dresses of various designs, even full body wraps. And you get three "scenes" out if it – putting it on, wearing it around, and taking it off.
Liquid latex. I've only played with liquid latex a little bit, but it seems fun. I need to do more research on it. I know that complete body coverage is a bad thing, you have to leave space open so your skin can breathe. But it would be a fun way to dress up or decorate the body, putting it on can be half the fun. I also like the peeling of removal.
Speaking of removal. That's something I really like no matter what I'm wearing. Having my clothing gently removed can be very sensual. Having it forcibly removed is very arousing. Having it ordered off speaks happily to my submissive side. Having it cut off is something I haven't done yet, but sounds like a lot of fun in the same sense as the forcible removal. It isn't always about wearing clothes, sometimes it's about taking them off.
Rope Ideas
Mummification. Everyone knows I enjoy mummification, but how about with rope? I believe I tried it once, but I'm also pretty sure we didn't go full-hog on it. I'm talking head to toe, wrap every inch of the body in rope. Now, naturally, as with any mummification, the top may want to play with various parts of the bottom, so you'll have to strike a balance between fully covered and secure and the ability to move ropes out of the way to access the desires bits. This would take quite a lot of rope, but as they say, you can never have too much rope.
Rope races. I've talked about eeling often, and I've written about various scenes. But what if you have two rope bunnies? Why not tie them both in the same tie and have a race to see who gets out first? Or, if they're aspiring rope tops themselves, have them each tie the other in turn, and see whose tie holds out the longest. If they're not a competitive pair, you could do cooperative eeling instead. Tie them both up and set a time limit for them both to be completely untied by, rewards for how much under time they come. Predicaments are also fun to add to any of these ideas, or for extra challenge, pit the top against the eel, can the eel get out while the top keeps tying?
One rope scene. What can you do with just one rope? Try making a scene out of a single piece of rope. Use it to restrain, to gag, to whip, to tickle, to choke. Come up with as many different uses as you can think of and incorporate them all into a single scene.
Service Ideas
Be the furniture. Sometimes dungeons just don't have all the furniture your dom needs. You can offer service by standing in. Whether it's being a drop table for his toys, an ottoman so he can put his feet up, or a cross to restrain his current victim. There are a lot of ways you can be of service by standing in as that missing piece of furniture.
Leather care and worship. I enjoy bootblacking and licking very much, but you don't have to stop there. All leather needs taken care of, and it can be fun to do so while your dom is wearing it. Make a scene out of it. Get him in a comfortable position and go to town.
Body service. I love brushing his hair. But it doesn't have to end there. Showering together can be quite enjoyable, just remember you're supposed to be getting clean… but the end, at least. Massages are also a wonderful body service to provide, and happy endings are good for everyone. Take care of your dom's body so he can take care of you.
Electric Ideas
Electricity for everyone. It is easy to zap your bottom with electricity, and sometimes easy to get them to zap themselves. But there are a few ways to take the ease out. For me, the flyswatter and the stun gun are the way. I am far less a fan of the sudden muscle spasms, and also the sound of them both makes me twitch. So, I'm not keen on hitting myself, or anyone else with them. Sometimes the violet wand is all you need, if your bottom doesn't like hurting other people, and insisting he or she zaps another bottom(who may or may not be fond of it), or yourself. Some subs will have a harder time zapping their top, while the more bratty among them will do so gleefully. If this is the case, maybe a tit for tat game with it.
College experiment. Do you remember those videos of psych students being paid to zap other students? Why not give it a try? Without the money, of course. Set up a scene where folk can drop in and zap the obviously suffering bottom. See how many sadists you can attract. See if you can guilt any other bottoms to take your bottom's place. Up to you how much is theater and how much is real. Another way to do this, if you've got a mobile unit, order your bottom to go around inviting folk to zap him or her. Maybe have a pad they have to sign after participating so you can see how many played.
Metal bits. Something fun to do is to find new metal objects that will work for electric play. Maybe there are some things in your toybag already that you haven't even tried with electricity. Try everything out. Find new bits of metal to play with. See how conductive those needles are, that set of sounds, those hooks or cuffs or shackles and chains. Do be a bit more careful if your are restraining your bottom in hard bondage before zapping them, it's easier to get hurt when the restraints have no give.
Corporal Ideas
Target practice. Want to practice your aim? Grab a sharpie and draw targets on the bottom, then see if you can keep all your strikes within the target. Alternatively, give each target a point value, and keep score. This game can work for multiple tops or multiple bottoms. Depending who you have available. It can also be fun if the target is suspended, or able to turn, making it trickier to find the target you want. Blindfolds only encouraged on the targets. This has also been done with clothespins, set them up and knock them off, but once it's off you don't have a target anymore.
Pick three. Always one of my favorites. Have the bottoms pick the implements of their destruction. This can be a lot of fun, especially if you don't use the tools the way they expect them to be used. As we always say in our classes, a single flogger can provide many different sensations. Make sure you give them a few surprises along the way.
Practice communicating. So, you've seen people count their birthday spankings – I've done it in multiple languages. But what about answering questions, too? How about both? Can the bottom keep track of a number, and answer questions at the same time? What happens when the number or answer is wrong or missing? Make sure the rules are stated at the beginning to increase the pressure. Communication is important – practice, practice, practice.
Other Ideas
Childhood games. There are so many games you can pervert. TENs Unit Jenga. Strip can be added to just about anything with a score, and even some without. Naked Twister is ever popular. I've even played a perverted cross between Pictionary and Twenty Questions, using a sharpie and a willing back. Or Tic-Tac-Toe on skin. Just have fun!
Be a lazy dom. Let your submissive do the work. It's Simon Says with a kinky twist. Sit back and have your sub do the tying, or the attaching of clips, or the zapping or whatever. Just relax and lead the scene verbally. See what all you can get him or her to do to him or herself while you watch.
Surprise me. Put the bottom into sensory deprivation. Blindfold, earplugs/headphones, what have you. Then take them somewhere to play. If you can have them stand in the middle of a room with no furniture, even better. Just stand there vulnerable while you plot their doom, I mean gather your toys. So many sensations you can provide, that will be heightened by the sens dep and anticipation.
June 7th, 2012
He came in and sat down with his dinner. Tells me he's really done a number on his boots, with camping and bartending, they're a mess. I glance down and nod, indeed. Go get your kit. There's not a lot of time. Oh we have half an hour. Hey, you wanna help? The engineer has been asking for a lesson for a while now. Sure.
So, I get my kit, get some water and set down at his feet. Me on his left foot, her on his right. I begin the lesson. Gotta get new soap. I have a bare ring left in the tin and the edge is all rusted. I get the rust on my hand and onto a spare rag. Gotta keep it off the boot. We make lather and start in. Wiping off a lot more than I usually have to, for all the gunk on them. Even the soles get work this time. We get a few stray comments from the peanut gallery and he comments on how good a massage it is. Then they are clean and I'm about to grab the grease, but I look up at him first.
"Now, this is the time to lick them." he tells her.
I explain that some people lick after the grease, but that creeps me out, especially with the black dye in mine, but my heart is beating just a little faster. Did he really want us to?
"Guess what I read?" he says to me.
"My blog." I answer, starting to blush.
"Yep, I got all caught up before I came out tonight."
I'm blushing harder and mumbling to her, but she hasn't read it yet. He really means it, he really wants me to do it. She's a bit in shock to, as he tells her to as well. And then we begin.
I'm scared and nervous and embarrassed and excited all at once. I've never done this before, oh I've wanted to. Dreamed about it. Went to classes on it. But, but, but. Just do it.
And I do, and it tastes like clean leather. And it's his boot. His boot. Those Carolina boots I've been staring down at for nearly four years now in this form or the other pair. These are the steel-toes I've been cleaning and caring for since he bought them. I'm holding his boot and running my tongue down the leather, from toe to heel.
And I can hear him appreciating it. I can hear people around him saying how hot it is. My face is burning, so I bury it in his boot. Kissing and licking. Pressing the sole against my chest and my shoulder as I turn my head to one side then the other. He says it's a mix of warmth and pressure, and I'm glad he can feel it. I glance occasionally over at her and she is just as happily involved as I am.
So happy, and excited. Arousal has replaced all fear and is chasing embarrassment into a corner. I'm gasping against his boot, kissing and catching my breath. Enjoying the sensation of the tread against my chest. Loving the taste and feel and smell of the leather. I don't want to stop,
I can hear them getting ready for class. We'll have to stop then, we are far too distracting and distracted. Not yet, please not yet. I ignore the sounds and keep licking.
The arch of the boot is my favorite, a sensitive spot on my own foot, but hard to get to. I remember what Bootpig said about speaking to the person through bootlicking. I thought I understood it then, watching. But I really understand it now. I pour my love, gratitude and yes, arousal, out my tongue and onto his boot. And it is amazing. I never thought it would feel like this.
And I'm glad the engineer is on the other boot. There wouldn't have been time for this if I'd had to do both. And while we are separate in our licking, together, we are making him happy.
When class does finally start, I have no idea how long we were licking, but we come up grinning like mad, and curl up, arms around his legs, happy with our first taste of bootlicking.
May 31st, 2012
So, let's say someone new came up to me and asked, "Hey Imp, what do you like to do? And could you tell me why? What about those things interests you?" How would I respond, at this point in my life?
Hey, random person. Welcome to the community. I like to do a lot of different things, for a lot of different reasons.
Well, Imp, that's not very helpful, could you be more specific?
Sure, random. I like bondage, sensation, deprivation, fear, pain, suspension, sexuality, dressing up, fire, electricity, corporal punishment, erotica, mind fucks, new experiences, serving, bootblacking, learning, teaching, submission, power exchange, biting, sucking, cuddling, challenges, sub space, and a whole host of other things.
Wow, Imp, that's a lot. Could you tell me about all those different things?
Sure, random, let's start at the top.
Bondage. I love bondage. Always have, always will. Cuffs, shackles, stocks, straitjackets, rope, saran wrap, or just mental. I love it all. But some for different reasons than others.
Cuffs, shackles and stocks. These are the stuff of erotic fantasies for me. Prisoner fantasies, slave fantasies, and the like. These are things for "bad girls" and as such, turn me on to that mindset. They are solid and secure and sometimes painful. They are a solid reminder that I am in bondage to the one who holds the key. I am at his mercy until he sets me free.
Straitjackets and saran wrap or mummification. These are the all encompassing, all enclosing, complete restriction of movement. They can be comforting, a big huge hug from the one who put me in it. A place to sink into myself with the outside kept at bay. Or they can be complete vulnerability. I am trapped, only allowed that which he gives me. Whether that's simply air or pleasure. Only free when he allows it. And oh so helpless and available to whatever he wants to do. An excellent power exchange.
Rope. Glorious rope. I didn't know how much I would love rope until it was used on me. I didn't know I would fall in love until I first smelled hemp, and then he suspended me. And I was done. Forever a rope slut. Rope is a multitool. It can be used for sensation, for decoration, for bondage, for suspension, for pain, for pleasure, for service, and if you have enough, even for mummification. Rope makes me incredibly happy. The bite of the rough natural fibers on my skin. The taking of my power bit by bit as each limb is confined. The sense of freedom when I am held in its complete thrall.
Sensation and pain. So many different types of sensation. Floggers, whips, paddles, canes, drumsticks, clamps, clips, clothespins, slapping, spanking, body punching, kicking, biting, pinching, pressure points, scratching, knives, violet wands, stun guns, TENs, massage, wax. I'm sure I'm forgetting some.
Corporal punishment. Spanking, floggers, whips, paddles, canes, punching, kicking and drumming, all excellent examples. Let's start with rhythmic fun. Floggers, canes, and drumming can all be used to beat someone to music, to a rhythm. This can take us both into space. Feeling connected as one as we flow and move with the same beat. Relaxing and soothing, it can also send me into the most incredible high. Spanking and paddles, also belts, are in the fantasy category for me. They send me into that "bad girl" headspace that I find so arousing. Pain space. This is where whips, body punching and kicking come in. They don't fit in the first two categories for me, but if I want intense sensation for the purpose of going into pain space, they are added to the list of all these other tools. Pain space, for me, is a place where I fall into the pain, and enjoy both the pain and connection to the one causing it. Catharsis is another part of corporal for me. All these tools can be used to cause me such intense sensation that I am pushed through pain space into an emotional release.
Body manipulation. While I'm talking about spaces, and body punching and kicking. Let me go quickly to pressure points, biting, pinching and massage. These, for me, are direct, personal intense sensations. Biting goes into arousing fantasy, vampires and the like. Pressure points and pinching and focused intensity. He is close up, exploring my body and reactions. Some of them are painful, some of them are pleasurable. But they all make me want to kiss his hands afterward. I like the closeness, I like the personal intensity. The direct energy exchange. Massage has this, too. The closeness, the energy. It also has the element of service that I enjoy when I'm giving it. Or when I'm receiving, it makes me feel cared for and appreciated.
Sexuality. We are sexual beings. And we all express our sexuality in different ways with different people. Depending on my mood and my partner, I enjoy kissing, hugging, cuddling, nibbling, licking, orgasm control, masturbation, oral and sex. Physical connection, intimate connection, can be soothing, energizing, or just plain crazy fun.
Deprivation. On the opposite end of the physical, is the lack of input. Sensory deprivation. Sensory deprivation makes me depend on whatever I'm left with. I sink into my body away from the senses that were taken away and if I have anything left, all focus goes to that. If it has all ben removed or reduced, I'm often able to just float away deep inside. It's incredibly relaxing. And can also be used to intensify whatever sense is left. Touch becomes so much more intense when you cannot see, hear, or smell. You are focused on the only thing you have left to sense the world around you. Pain in such a state is so much more intense for me.
Clips, clamps and clothespins. I'm not even sure how to categorize those. Pinchy things, I guess. These can be great fun and are usually a test in endurance. Last night, he showed up with two bags. One of 50 teeny tiny clothespins, and one of 24 two inch long clothespins. He decided our faces were his canvas, and went back and forth between all three of us, putting clothespins all over. It was crazy and intense and fun. I had to walk in place and keep touching him to ground, so I would keep breathing properly. These are an interesting category. They are intense sensation, and it just ramps up as you go along, without even having to do anything. And when you're done, the fun isn't over. You still have to take all those little things off. Which hurts a heck of a lot more in an instant than they have the whole time they've been on. This is why zippers are such great fun. Taking a whole line of them all off at once, can send me into such a great pain space high. This is one time when orgasms are especially appreciated for me, as a way to channel the energy created.
Electricity. Ah, electrical energy. In this category we have TENs, violet wands, electric flyswatters, and stun guns. TENs is a lot of fun. It can be therapeutic to tense or sore muscles. It can be silly giving over of control. It can be used to make Jenga a hilarious game. And it can be used to cause intense sensations and pain. Violet wands are one of the few things I top, for the crew. Anywhere for gentle vibrations of a massage, to sharp jolts of pain. Happy tickling sensations, to skin burning zaps. So versatile and fun. Electric flyswatters and stun guns are the next step up. Sharp, painful sparks when there's a gap. Muscle jolting when held tight to the skin. For me, just the noise of these sends fear shooting through my body. Sends adrenaline racing, and depending on what he's threatening, can drive me straight to tears. Delicious.
Fire is another of those adrenaline rushes. Someone is lighting you on fire FFS. It's a nice warming sensation, which can also be slightly painful, but the fire is generally gone before the pain really starts. I'm not into burning/branding of the skin. But the fear. The primal fear response to being light on fire, is intoxicating. It brings my focus in to just that. Nothing else matters when you're on fire. Then there's sparks. Not electrical sparks, those don't bother me. Fire sparks. A lighter, a sparkler, a log popping in the fire. Terror. Pure terror for me. This will bring me to tears faster than a stun gun, if I'm forced to be close for more than a couple sparks.
Fear. Oh yeah, fear. Sparks, needles, snakes. Fire, stun guns, flyswatters, gags, being in pain and helpless and abandoned. Fear is delicious. Adrenaline rushes are great. Phobias will bring me to tears and panic and breaking points. So they are dangerous to play with, but so far, have all gone well. Being brought to the point of panic, and then pulled right back to keep going can be an amazing power exchange, as well.
Power exchange. Submission, serving, mind fucks. All the mental stuff. To take me out of my head, to give up control. To take care of him and his boots. To dress up for him. To just simply be for him. To challenge myself. To be forced to think and use my brain. To be turned around so hard and fast that I don't know where I am. To be scared and aroused and dropped all through the power of his voice. So many different head spaces and power exchanges. It can be absolutely amazing.
New experiences. Learning something new. Teaching someone something new. Trying something new. Helping someone else try something for the first time. There's nothing like it. The joy, the excitement, the energy of new is unique and incredible.
And then there's this. There's writing about it. I love writing about it. Writing erotica about it, blog posts about it, journal entries about it. Sharing, processing, explaining. Teaching, learning. Writing it down gets it out of my head and into a place where I can look at it. Where I can share it with others. Where I can learn about myself and really see my own thoughts and reactions. Down on paper or screen, it's not all jumbled up anymore. It's clear and it's wonderful. I hope you all think so, too.
May 24th, 2012
He's going away for the long weekend, and may not even be home for an extra day after that. So, I was thinking, what can I do while he's gone? I'll be spending some of that time with hubby, but not all of it, he still has his girl and friends to take care of. Sometimes I want to ask him "What can I do for you while you're away?" but most of my service for him is in person stuff. So figure I should come up with my own things. Then I remembered the GRUE and all those people teaching their passions. And I realized what was odd to me, I didn't go to the classes, except bootblacking. Was there nothing there that interested me? Nothing I wanted to learn? I don't even know what all the classes were, so intent was I upon my purpose, so I'm going to say no, it was just I had other things in mind. But that leads me to my point. What do I want to learn?
Heading into the GRUE, I had some rope questions I wanted answered. How to tie thin hair? How to tie a Solomon bar cuff? How in the world all these random knots I learned can actually be used in bondage, as opposed to rock climbing/sailing? So, that's a place to start. One of the hair tie suggestions at the GRUE was hemostats in the hair, and then tie to those. Others I've seen are tie into buns, or behind ponytail wraps. The Solomon bar has lots of good examples online, I just need to practice. And get the correct length ropes to do the cuffs with (11′ and 6′ I think). The knots? Well, that's something to research.
But what else? What haven't I tried that I want to? What scares me? What intrigues me? What do I not understand? What have we had a class on that I still want to do? What haven't we had a class on yet? There is so much out there, I know there will always be more to learn. (And I have just learned that Fetlife fetish lists are a little annoying to edit if it's not on the bulk list.) So, research project number two for this weekend: a curious about fetish list, with any necessary research on the hows and whats, with notations on the type of interest: scary, intriguing, confused, or aroused.
Brain just ran off in an odd direction. If you're a regular reader, you know that an interrogation scene is one of those someday dreams I have. But I was just thinking about Strangeland, and the thought occurred to me: What's worse than an interrogation scene – a torture scene. It's like an interrogation, but there is no way to end it. They aren't after anything, there's nothing you can give them to make them stop. You can't give the right answer, or tell them the secret, they are just doing it because they enjoy it. They might have some end in mind, or a set of things they want to do, but you never know. And none of it is being done for your enjoyment, only theirs. That's the biggest kicker, I think.
Anyway. So, learning and trying new things. I think that would be a good way to spend my weekend, finding out about all there is yet to learn and try and do. And maybe also make a list of all the things I already enjoy and why. I like lists, but I like writing even more.