November 7th, 2016
I've talked about my masochism many times before. About how it's not just about pain, but "intense sensation." Especially controlled, intentional, intense sensation. I've talked about my RA, and how that pain is unwelcome, unsexy, and uncontrolled. I've talked about pleasurable stimuli, as well as painful stimuli.
Sometimes, though, it doesn't even have to be intense. Light fingertips on my skin. Warm hands stroking my body. Whispers of breath on my neck. Lube rubbed over latex clothing. Rope pulled across skin, or wrapped around limbs. I like sensations.
But not just sensations. I, like most people, am far more complex than a single kink, or even two, or three.
I like power exchange. The way he can just look and point. Or grab me by the hair. Or smack my face. And I'm there, reeling into subspace.
I like roleplay. School girl, vampire, predator/prey. Fulfilling deep hidden desires as someone, something, else.
I like sex. Teasing, toying, hands, mouths, bodies, hours long sex.
I like bondage. Take down ties, corsets and clothing, prisoner ties, eeling, transitions, suspensions, flying, experimentation, encasement. With leather, metal, ropes, saran wrap, duct tape.
I like fear. Playing with breath play, needles, stun guns, sparklers.
And many more.
Sure, some of these things have the intensity in them, too. Though, not all, not always. Sometimes it's about relaxing, spacing out. Letting go of the "real world" and delving into yourself, or each other. Making those connections that keep us grounded, secure, and happy. Or making connections that send us soaring into the sky, if only in those moments.
There's no reason in this world to be just one thing. Be everything you want to be, everything you can dream.
February 8th, 2016
Went to three classes this year. One about Accepting the Demon Within. Which turned out to be more about rewriting the stories of your upbringing. Turning the guilt and shame of our unconventional turn-ons into good things. Accepting that which makes us happy and horny, and that which makes our partners happy and horny. By creating "new intentions." It was taught by a life coach, and as such, was very much like all the other life-coaching classes I've been to. Not a bad thing, just not a new thing. I think my nugget from that class was taking the fear of admitting to a fetish and turning it into a more easily spoken fetish by talking about why it is a fetish. The example given was admitting enjoying tickling as a fetish, because he liked reactions. My example might be admitting enjoying rape-play as a fetish, because I like having control taken from me by force.
The second class I went to was Balloon Bondage. It was fun and silly and loud and educational. I learned that I cannot blow up long, balloon art balloons. 😉 He tried to teach us how, but only a few folks could do what he described. I was not one of those few. However, my partner in class was, and we quickly decided we should do a balloon bondage scene at our next event together. Though, she's still going to bring a pump for ease sake.
The third class I went to was about connection through rough body play. He talked about the three factors: Attention/Focus, Contact, and Tension. Giving your partner your attention and focus, as well as capturing their attention and focus. Contact, even if it's not physical. Eye contact, energy contact, physical contact. Creating tension through fear or expectation. Hitting in a rhythm then pausing before hitting again. Making them face forward while you are behind them. He showed great examples with his demo bottom. He even called another play partner out of the audience, with whom he has a different dynamic. The focus, contact, and tension was created and displayed almost instantly. Beautiful.
I intended to go to other classes, but lunch and chatting got in the way of that. Lunch did net me an extra scene for the weekend, though.
October 19th, 2013
He wore his kilt! Finally! In public even. And he looked awesome. I wore my old prom dress, bright red, sleeveless and down to my ankles, with black thigh-high stockings and the old red heels. The engineer in a pretty sprarkly blue dress finished out our trio. I wore mine because he promised to cut it off, I'd been trying to plan that kind of scene for years, and it was worth the wait.
I was sitting with a group, to the side of the stage when he came over, big knife in hand. He grabbed some fabric in my lap and sliced it down through the hem. I must have move, because his finger slipped over the hilt and he cut himself on the back corner of the blade. Not bad enough to stop the scene, mentions of the first aid kit were made, but he dragged me up and out to the middle of the stage.
Circling like a shark, he grabbed bits of cloth and slice through. A shoulder strap fell to the floor, the other was sliced, but still lay across my shoulder, keeping the dress in place. Back cleared, the knife tip made a few light passes on skin. Delicious. Down to the skirt again. Stockings, too? Whatever you want. And the knife slid through nylon and tore through elastic. Bit by bit, the dress and stockings were shredded. Until it finally slid to the floor, and was tossed aside.
Still circling, he spoke to the crowd of another thing he loved about his big knife. Smack across my ass. Yelping and he continued to smack. Spinning because I had nothing to brace against, he kept circling for a bit. Then grabbed hold, braced himself and pulled me over his knee. I flailed and squirmed and squealed, trying to find balance and he paddled my ass. Finally giving up and slumping over his knee, he paddled harder, til I slid to the floor.
Kneeling now. He continued to circle, and I lose continuity. He cut loose a bit of remaining stocking, grabbed me around the throat a moment and then tied it round my right breast. Then beat on it with the knife while I screamed. Smacked my inner thighs a few times for good measure, too.
He tore up my dress with his hands, making a long strip and gagged me with it. Holding me still, he drug the knife across my back, in slow stripes. I whimpered after he finished each one, afraid to move while the blade touched me. Then he pulled me backwards, held me tight and cut the gagging strips away.
He was up again, grabbing bits of the dress, circling around behind. Nervous, but not moving, I waited. He tried snapping a piece, like a whip, but it was too light and not shaped right. So he knotted it instead, and it made a nice bludgeon. Far heavier than I thought that dress could become. He beat my back while I arched happily into it. Then around to my thighs. More screaming and squirming. Ow! Wooden floor hurts the top of my feet.
There was also the kicking. Booted feet, kicking my thighs further apart, kicking my crotch and my inner thighs. He pointed down at his boot once, and I kissed it and then moved forward to kneel on it, not sure which he intended. Then there was more kicking, and grinding of the boot heel into my thigh.
He grabbed me by the hair and dragged me to the wall, pulling me up, he had to give a verbal command to get me to my feet. Then he pinned me to the wall, spanking my ass while I yelped and writhed. 1. 2. 3. Orgasming in sudden stillness. I barely mumbled Thank you, Sir, before I was tossed back to the ground.
Kneeling again, dizzy and breathless. He knelt behind me, grabbing me tight, and I think there were a few more scratches across my back. Then he bent my head back and kissed me. I smiled up at him and kissed him again. So happy.
I cleaned up and discovered I had put the bodice with garter straps in the wrong bag, put on my red fishnet thigh-highs anyway, and wandered for a bit. He asked if I needed anything, and I said when I got cold, I'd probably want to borrow his jacket. He gave me his black button-up shirt instead. Perfect. About the time he started negotiating with the engineer for her scene, he tossed me into the circle shackles to keep my buzz going all night long.
Edit: There was also face slapping during this scene, but I still can't remember where it fit into the rest, not that the last few paragraphs are in very good order, but still. I kinda lose my brain when he slaps me, right down into subspace in an instant. So very, very tasty and lovely, but it wreaks havoc on my memory and sense of time.
September 26th, 2013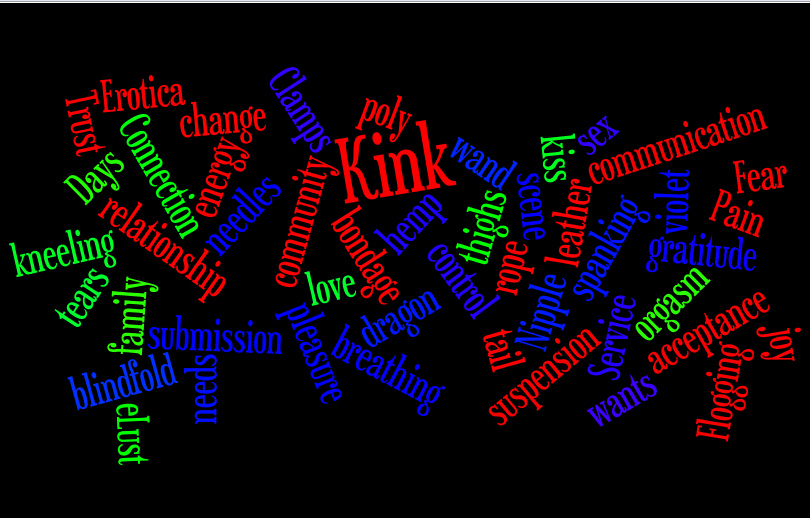 I was introduced to a new website by one of my classes this week… Wordle.net so I made this pretty picture of my Tag Cloud for you. Yes, my brain is that stumped tonight.
I'm not sure why. I had a really great weekend with him and the engineer. We had an awesome night of metal bondage, poking and amazing flogging scenes(well, I don't know if hers was amazing, but mine was). And then a different kind of party the next night, with brand new hot tub, which managed to hold 13 people at once, and then some very nice sleepy cuddle time. Not to mention the drive up and back with each other, and a nice dinner Monday night with the whole polycule together. I told my best friend all about it, and now I'm telling you, because it was all very lovely, but not the kind of lovely I want to share in minute intimate detail. Maybe there will be some of that coming up in October and November, we'll see.
I heard a poly song on the radio today. If Loving You is Wrong, I Don't Want to be Right – which has been sung by a great many people over the years, and is actually fairly good. Most songs are about cheating and trying to take the husband from the wife. This song makes no mention of leaving either relationship. It acknowledges that the other partner's needs are just as great. It talks about disapproval from family and friends, but the singer stands up for their own right to love. It even mentions the troubles of time management. I am not convinced this message was what the writer was trying to convey, but as with most art, we take from it that which we want to.
On another random note, why does a pasta company care about sexuality? Seriously, Barilla, your pasta's not even that good.
June 27th, 2013
Last night, I was introduced to a new way to view things. I have talked before about wants and needs, but this is a different way to look at them. We were talking specifically about scening, and broke it up into Needs, Wants, and Desires. We were talking about Role Play, and the presenters set forth that if you know what you need, want, and desire, then you can find creative ways to do have good scenes. I found this concept very interesting to think about narrowed down to just scenes/play.
I will be addressing these, first, as a bottom, which is my preferred place in a scene.
Needs. What do I need in a scene for it to work for me? Without what, is a scene just pointless and flat? First, connection. I need to feel an emotional connection to my scene partner. That can be friendship, love, or even just attraction. Second, power exchange. I need there to be some giving and taking of control. This necessitates the third, trust. Without trust, there is no scene.
Wants. What do I want out of a scene? What, if I don't have it, will make the scene feel off afterward? Bondage. Mental or physical. Rope, leather, chain. Stay there. Don't move. Don't let go. Keep quiet. Hands behind your back. Hands on the wall. I want the power exchange to result in control of my physical being in some manner. Intense sensation. I'm a masochist, I love intense sensation. Pain, pleasure, adrenaline, endorphins. If I'm blacking his boots, I don't need him to grind the sole into my leg, but I certainly want him to and I feel like I missed something if he doesn't. If I'm flying through the air, I want to feel the bite of the rope, and the adrenaline of the flight, and the pull when I spin. Floating can all soft and comfy just isn't the same, fortunately hemp is good at biting in even in floaty scenes. Not to mention the feel of it sliding over my skin going on and off.
Desires. What are the figurative cherries on top? What makes a scene extra special? Spacing out. Reaching rope space, pain space, sub space. Often in that order. I love pushing through pain space to bliss out in subspace. Or using rope space to get to one of the others. Break down. Sometimes pushing through pain space doesn't get me to sub space, it leaves me in a puddle of sobbing goo, and that can be awesome, too. Sexual intimacy. Orgasms, hand jobs, blow jobs, boot licking, sex. Even just cuddling up naked after a scene. That skin on skin contact to ride the waves back down.
So, how do these things play out. Let's take last night's play as an example. A dragontail and paddle scene.
Needs: connection, power exchange, and trust. He and I are very connected, in a loving relationship for over three years, and a friendship for even longer. I am submissive to him, and when he comes at me with that dragontail, it is definitely me giving up control to him to let him hit me with it. And I trust him absolutely, to not slice me open or hit me in the face.
Wants: bondage, intense sensation. When he comes at me with the dragontail, my hands go instinctively behind my back. When we play in that venue, I have to control my volume, or cover my mouth. When he's hitting me, I have to try my best to be still. Pain? Oh hell yeah. Dragontail stinging and paddle smacking, awesomely intense sensations.
Desires: Last night, the cherry was pain space, into sub space. After a while, I was squeaking less and breathing more with the strikes. When I was done, I was all cuddling dopey sub spaced out for a few minutes. And I got some hugs and kisses to top it off, too.
Needs, wants and desires met.
September 17th, 2012
What an amazing weekend! I didn't get to do everything I wanted to do, but that's the nature of life, and what I did get to do, more than made up for anything that we didn't manage to squeeze in. The best plan falls apart upon encountering the enemy, and that was the case for several of my friends, but for me, this time, nearly all my plans survived, and some of them far better than I ever anticipated. A lot of people are saying it was the best COPE yet, for me, this is entirely true. I have never had so many scenes, I have never stayed at the hotel, let alone with my partner during the event, and I've also never been so well fed at an event. About the only thing that was "on par" for my other experiences, were the classes. They always bring in great presenters to teach really fun classes. I had an incredible weekend.
What happens at COPE stays at COPE, they say, no outing other people by talking about their scenes. But that's not what I do here, as you all know, I talk about what I did, and my experiences. So let's begin at the beginning.
Our con began with meeting up with friends, helping out, and getting registered. We found quite a lot of our usual crew and gathered up for a nice dinner at Buca di Beppo. We even got to sit in the Pope Room, because there were so many of us. We talked about crew and the con ahead and even about the upcoming Trauma. Enjoying time together as a family, and then we took food back to feed the rest of our family who couldn't make it out. Being a group with the volunteering spirit, many were working the con, too.
Back to the hotel, I had a scene right up front, so I didn't even change, but went and found my ex-Lover, and we took our place for my requested "challenging, transitional suspension." That, will be a post later on. Afterwards, I went back to the room, got on my shiny kimono and boots, and went in search of him. He was bringing down a suspension, so I knelt nearby, helping clean up rope until he was done. The engineer was nearby scening, too. After that, we sat with friends for a time, until he retrieved us, stun gun in hand, to go back to the main room for our suspension scenes with him. Another post to come. He tormented us both with the stun gun while we waited for the high point, but the battery died out as he tried to keep tormenting me as he began to tie her. We played on the rig in the corner until they turned the lights on that night, and then headed back to our room to take care of each other, with massage and orgasms, and cuddling to sleep.
Morning dawned quietly, but I was awake early. I really wanted to attend class right from the start, so I was up, rinsed off and dressed in a sari while they were still gaining consciousness. They said they'd catch up, so I headed out, grabbed an apple(I was too late for bananas), and found a seat in Bondage for Punishment and Pain. They joined me sooner than expected, but before the class changed rooms in favor of a high point, and we knelt beside him, as much as we could manage, for the entire entertaining class. I found myself able to manage for 15 minutes or so at a time, not wanting to distract myself too badly from the presentation. 4mm rope, a high point, and a flexible bottom, made for quite the class. Stopping by the vendors on the way out, he found some great new toys to buy, a dragon tail and three leather "cocks." The latter being woven leather cylinders of various widths, with rounded ends, that work great to bludgeon your partner with. We headed back to the room to test them out, and were quite happy with the results.
We then headed off to brunch at First Watch. The second class session not holding our interest more than finding food did. Waffles, bacon, pancakes, eggs and coffee later, we were satisfied and heading back to the afternoon classes. I did wear my bratty shirt, and very short skirt, but I took my sari as a wrap to stay warm, as well. Extreme Bondage was up next, with more kneeling from us, though the presenter invited folk to come close and watch, so he was up in front away from us most of the class. This time, I found the tops of my feet beginning to hurt much faster than I was losing circulation. The class itself was quite interesting and entertaining in its own right, with a handful of really restrictive ties. The next class period, the engineer headed off to a latex class while he and I wandered back to the vendor area, this time picking up a book, a new suspension ring, swivel and two hanging straps. The final class of the day, Predicament Bondage, was the same couple as our first class, we all sat in chairs this time, and had a blast watching (and helping with) the crazy stuff the presenter came up with. Electricity, water, rope and weights and everything else he could grab from his bag of toys. Such fun.
We headed off to dinner, then, Fish Market our destination. Got a seat quickly in the bar portion and, though it was noisy there, we had quite a nice meal together. We he asked us if we'd seen anything that day that we'd like to try, we grinned and said all of it. I took my leftovers back to the event, but couldn't find anyone in need this time. We attended closing ceremonies, complete with lube-tossing, auctions, NCSF and gratitude. And then the final play party began.
We headed back to the room to get dressed, the engineer donning her blind contacts and me my straitjacket over lacy bodice with garters to red fishnets and shiny boots, he even wrapped my pleather skirt around my waist. I was to be her eyes, and her my hands. We headed back to the dungeon, all grins and giddiness. He showed us off down the hall, through the social area and all around the dungeon. Then we headed to the back rig for him to do his scenes and assist in others. I tried to keep her informed of the things going on around us, and once he sent us to fetch water and candy from the adjoining room. After his scene, she wrapped up the rope for him and I returned it to his bag. When these scenes were complete we headed back to the room for more private fun.
Back in the privacy of our own hotel room, the engineer and I stripped down, but she kept in the contacts. We rearranged some furniture, and sat down side by side, facing him, for an incredible needle scene. Post to come. How I didn't freak out or pass out, I'm really not sure, let's just say I'm stubborn, and they were incredible in supporting and encouraging me. We thanked him with massage and curled up for a well-deserved, good night's sleep.
The engineer had to head off early the next morning for school, and we hung around to help tear down and load out the dungeons. After many good conversations and goodbyes, I headed home to check on the internet, crash for a couple hours and then went out to dinner with hubby and friends. Home again for the last two episodes of BSG, some Lactaid ice cream and then crashed out completely for at least twelve hours. Amazing weekend of awesomeness. Thank you to everyone who made it possible and who made it great.
September 14th, 2012
COPE is today, it starts in just 8 hours! I've packed my suitcase, my toybag and my purse. I'm ready to go. Okay, not entirely ready to go, I'm still naked, but my bags are ready to go. Super excited and happy! The corset may not work out, health and postal issues have delayed the work, so I've had to change some clothing plans. But it doesn't really matter, it's COPE! I could run around with just a short skirt and no one would care. Though, I think he has some straitjacket ideas in his head. At least that's warm. I've mostly given up the idea of being warm. I have one long skirt in the bag, and my saris. But I'm not too fussed about what I end up wearing. Go with the flow and just enjoy.
The class schedule is up and all crazy. Four rope classes the first period! WTF, guys? Ah well, so many good classes, so little time. I think it'll work out anyway, not to many periods where there's two classes I'm dying to see.  Looking at Extreme, Predicament, and Painful bondage classes. Maybe a latex, a foot care, a single tail class. We'll see how things go.
So bouncy and happy, I've gotta hit sub-mind when I get to the hotel. I can still be bouncy and happy, and all, but we've set up some protocol fun, too. Gotta keep my head in the game. 🙂 Such a great weekend ahead! Boots, and rope, and private things, and shiny things, and pain and pleasure, and learning. So Excited!
See you on the flip side.
July 21st, 2012
She stood very still as he circled her. Looking over her body, head to toes. The smile on his face predatory, hungry. He stopped behind her, close. She could feel his breath on her neck. The cloth came fast. Covering her eyes and tied tightly around her head. He brushed by her and grabbed her hands, quick loops and her wrists were secured. Lifted above her head and tied off to the beam. She shivered in anticipation as he stepped away.
Back. His presence large in front of her. Metal at her throat. Tugging, ripping, he cut through her shirt and bra in one quick pull of a rescue hook. The straps were gone in two sharp tugs. She was topless. He grabbed the top of the skirt and pulled her against him. Kissing her hard, he tore the skirt away with one hand and one hook.
He stepped back, and she could feel him pacing around her again. Eyes closed behind the blindfold, she tracked him. Excited, aroused, scared, shivering with cold and energy.
His fingers snaked up into her hair, pulling her head back tight, and a knife was at her throat. She gasped, then froze. He dragged the blade down the center of her chest, eliciting a whimpering moan. She fought to remain still as the tip traced her hips bones, trying not to gasp too hard.
"Be still."
He let go of her hair, and dragged the knife around her hip to the base of her spine. She clenched her fists, a focus for her energy. He drew the knife up her spine, and back down, teasing. Moaning softly, she clenched her jaw. He slid back around in front of her, drawing the knife across her belly and up to her breasts.
Taking a tight hold on one, he pressed the tip of the knife against the nipple. She gasped sharply, and let it out in a sharp squeal. He pressed harder and her head dropped back, breathing hard. He made large X's across the nipple with the blade, pressing in with the length, first one way then the next. She thought for sure he would draw blood.
"I can you know." he answered her unspoken thought. "No one here to see."
Dropping that breast as her head came up in a snap and a whimper, he moved to the other breast. Dragging the knife from top to nipple and then around underneath. Lifting it with the flat of the blade, he dropped it and slapped the nipple. She squeaked and jumped a tiny bit.
"I said, be still."
"Yes, Sir." She gasped, tightening her fists and her resolve.
"This knife is very sharp, when I cut you, and I will, I want it to be my decision."
"Yes, Sir." She bit her lower lip.
He set the tip at her shoulder and pulled it fast down to her opposite hip and before she could finish gasping, did it again in from the other shoulder. She clenched her jaw to keep from shivering too hard as she moaned.
Then the knife was at her wrist, trailing down her arm, sharp and tickling, she tightened her fists, jaw and squeezed her eyes tighter to maintain control. Barely breathing, until he reached her chest, and catching it again as he started up the other arm. When he pulled away, she let it out in a hard gasp, and a few whimpering moans. Cut short by the knife blade pressed against her throat, his hand in her hair, his body pressed against hers. He kissed her roughly, pulling her lip away with his teeth as he disengaged.
She felt him crouch down in front of her. The tip of the knife on the side of her heel. He drew it up the inside of her leg, the pitch of her moan going up as the knife rose. She nearly lost it as he dragged it over her labia and barely regained control as he continued down her other leg. She wanted to shake and jump and orgasm, but she held still.
He dragged the knife in short horizontal lines on the insides of her thighs. She gasped with every one. Then he sank his teeth in to replace the knife and she screamed. She could hear him snickering when he pulled away as she gasped for breath.
"Now then, I think I want some blood." He stood up in front of her again. "But where to start?"
He dragged the blade lazily from shoulder to nipple to sternum to nipple, down to her belly, around her hips, to her back, up her spine and in figure-8s around her back. Slapping her ass with the flat of the blade, she could hear him hmming in contemplation, as she struggled to control her body, breathing and fear.
"Breathe!" He commanded her. "Don't you pass out on me, I haven't even cut you, yet."
She took a deep, steadying breath. She trusted him. It would be fine. She wouldn't even see the blood. She trusted him. He wanted it. It would make him happy. She wanted it. It would be fine. Breathing, concentrate on breathing. She settled into her body, into her lungs, into the ground. Solid. His presence, warm, strong.
The knife tip was still exploring her body. Her ass, legs, back, sides, belly, breasts, arms, neck, throat, hips. Dragging, poking, sliding easily over her flesh. She focused on the feeling, the arousal, the cool metal on her skin. Moaning softly, breathing deeply, holding herself still for him.
"That's better. Good girl."
He lifted her right breast in one hand, and she felt the blade on her skin. Harder, sharper than before. She felt him cutting the straight lines of his first initial into her flesh. Then he set it down and lifted the other, cutting the first initial of his last name into that one. He let it down and she let out the breath she had been holding. The cuts stung as he wiped them with alcohol, and she was concentrating so hard on breathing and not panicking that she barely noticed him untying her hands.
He was behind her, lowering her to the ground, pulling her into his lap, her back against his chest. Wrapping his arms around her waist, kissing her ear and neck.
"Good girl, such a very good girl. All done now, it's okay you can let go."
She collapsed into his arms, every muscle relaxing at once. She burst into tears, and burrowed back against him, as he continued to hold her and reassure her. She mumbled her thanks over and over, shaking and crying and gasping. Slowly she melted, and relaxed, a puddle in his arms, calm and so incredibly happy. He pulled off the blindfold, lifted her chin, and kissed her tenderly.
Thank you.
June 7th, 2012
Abandonment was mentioned last night when talking about fear play. A very valid form of fear play, but it got me thinking about my own relationship with abandonment. I'm not afraid of scene-abandonment, as such. I mean, tie me up and leave me somewhere? I'll happily fall asleep, or meditate, or just glow happily in bondage. Tie me up and tell me to escape? Sure! I'll wiggle and squirm free, and then curl up happily with the rope.
It's when pain enters the picture that the abandonment means something to me. A very long time ago, long before kink, I wrote a diary entry about fear. In it I listed the things I was afraid of: snakes, needles, sparks. But I got a little more introspective after that. I noted that being in pain and being unable to do anything about it scares me a helluva lot, too. My phobias are flight responses. This one is a bit more complicated. This one leads to a different kind of break down of my psyche.
I am a masochist. I like pain. I enjoy it. I can get off on it. But I also like control. I like someone to be in control. Of me, of the scene, of the pain. Random, uncontrolled or unintentional pain is not cool. If you know me well enough and long enough, you'll see me break down over my RA pain on occasion.
To be put in a painful bondage and then left, abandoned, causes the adrenaline rush. I'm in pain, I can't stop the pain. No one is there to stop the pain. What if it becomes too much? What if I can't take it anymore? What if I pass out from the pain? What if I panic? Am I already panicking? And on and on.
Near the beginning of the life of this blog, I posted Abandoned and Rescued. In that scene, I knew my white knight was coming to save me. I knew he would come and stop the pain. So I was left in a bigger predicament, his arrival had the chance of causing More pain, excruciating pain. And unless I could call out loudly enough and warn him, I would have no way to stop it. Later, I was threatened with being left in a similar situation, without the trap, with no one coming to save me, except maybe the hotel's housekeeping staff, who I'm pretty sure would have just run away. Terrified, I begged my way out of it.
So, for me, abandonment works as a form of fear play, but it has to be painful. Otherwise, it's just a happy bondage scene, which can also be fun.
May 31st, 2012
So, let's say someone new came up to me and asked, "Hey Imp, what do you like to do? And could you tell me why? What about those things interests you?" How would I respond, at this point in my life?
Hey, random person. Welcome to the community. I like to do a lot of different things, for a lot of different reasons.
Well, Imp, that's not very helpful, could you be more specific?
Sure, random. I like bondage, sensation, deprivation, fear, pain, suspension, sexuality, dressing up, fire, electricity, corporal punishment, erotica, mind fucks, new experiences, serving, bootblacking, learning, teaching, submission, power exchange, biting, sucking, cuddling, challenges, sub space, and a whole host of other things.
Wow, Imp, that's a lot. Could you tell me about all those different things?
Sure, random, let's start at the top.
Bondage. I love bondage. Always have, always will. Cuffs, shackles, stocks, straitjackets, rope, saran wrap, or just mental. I love it all. But some for different reasons than others.
Cuffs, shackles and stocks. These are the stuff of erotic fantasies for me. Prisoner fantasies, slave fantasies, and the like. These are things for "bad girls" and as such, turn me on to that mindset. They are solid and secure and sometimes painful. They are a solid reminder that I am in bondage to the one who holds the key. I am at his mercy until he sets me free.
Straitjackets and saran wrap or mummification. These are the all encompassing, all enclosing, complete restriction of movement. They can be comforting, a big huge hug from the one who put me in it. A place to sink into myself with the outside kept at bay. Or they can be complete vulnerability. I am trapped, only allowed that which he gives me. Whether that's simply air or pleasure. Only free when he allows it. And oh so helpless and available to whatever he wants to do. An excellent power exchange.
Rope. Glorious rope. I didn't know how much I would love rope until it was used on me. I didn't know I would fall in love until I first smelled hemp, and then he suspended me. And I was done. Forever a rope slut. Rope is a multitool. It can be used for sensation, for decoration, for bondage, for suspension, for pain, for pleasure, for service, and if you have enough, even for mummification. Rope makes me incredibly happy. The bite of the rough natural fibers on my skin. The taking of my power bit by bit as each limb is confined. The sense of freedom when I am held in its complete thrall.
Sensation and pain. So many different types of sensation. Floggers, whips, paddles, canes, drumsticks, clamps, clips, clothespins, slapping, spanking, body punching, kicking, biting, pinching, pressure points, scratching, knives, violet wands, stun guns, TENs, massage, wax. I'm sure I'm forgetting some.
Corporal punishment. Spanking, floggers, whips, paddles, canes, punching, kicking and drumming, all excellent examples. Let's start with rhythmic fun. Floggers, canes, and drumming can all be used to beat someone to music, to a rhythm. This can take us both into space. Feeling connected as one as we flow and move with the same beat. Relaxing and soothing, it can also send me into the most incredible high. Spanking and paddles, also belts, are in the fantasy category for me. They send me into that "bad girl" headspace that I find so arousing. Pain space. This is where whips, body punching and kicking come in. They don't fit in the first two categories for me, but if I want intense sensation for the purpose of going into pain space, they are added to the list of all these other tools. Pain space, for me, is a place where I fall into the pain, and enjoy both the pain and connection to the one causing it. Catharsis is another part of corporal for me. All these tools can be used to cause me such intense sensation that I am pushed through pain space into an emotional release.
Body manipulation. While I'm talking about spaces, and body punching and kicking. Let me go quickly to pressure points, biting, pinching and massage. These, for me, are direct, personal intense sensations. Biting goes into arousing fantasy, vampires and the like. Pressure points and pinching and focused intensity. He is close up, exploring my body and reactions. Some of them are painful, some of them are pleasurable. But they all make me want to kiss his hands afterward. I like the closeness, I like the personal intensity. The direct energy exchange. Massage has this, too. The closeness, the energy. It also has the element of service that I enjoy when I'm giving it. Or when I'm receiving, it makes me feel cared for and appreciated.
Sexuality. We are sexual beings. And we all express our sexuality in different ways with different people. Depending on my mood and my partner, I enjoy kissing, hugging, cuddling, nibbling, licking, orgasm control, masturbation, oral and sex. Physical connection, intimate connection, can be soothing, energizing, or just plain crazy fun.
Deprivation. On the opposite end of the physical, is the lack of input. Sensory deprivation. Sensory deprivation makes me depend on whatever I'm left with. I sink into my body away from the senses that were taken away and if I have anything left, all focus goes to that. If it has all ben removed or reduced, I'm often able to just float away deep inside. It's incredibly relaxing. And can also be used to intensify whatever sense is left. Touch becomes so much more intense when you cannot see, hear, or smell. You are focused on the only thing you have left to sense the world around you. Pain in such a state is so much more intense for me.
Clips, clamps and clothespins. I'm not even sure how to categorize those. Pinchy things, I guess. These can be great fun and are usually a test in endurance. Last night, he showed up with two bags. One of 50 teeny tiny clothespins, and one of 24 two inch long clothespins. He decided our faces were his canvas, and went back and forth between all three of us, putting clothespins all over. It was crazy and intense and fun. I had to walk in place and keep touching him to ground, so I would keep breathing properly. These are an interesting category. They are intense sensation, and it just ramps up as you go along, without even having to do anything. And when you're done, the fun isn't over. You still have to take all those little things off. Which hurts a heck of a lot more in an instant than they have the whole time they've been on. This is why zippers are such great fun. Taking a whole line of them all off at once, can send me into such a great pain space high. This is one time when orgasms are especially appreciated for me, as a way to channel the energy created.
Electricity. Ah, electrical energy. In this category we have TENs, violet wands, electric flyswatters, and stun guns. TENs is a lot of fun. It can be therapeutic to tense or sore muscles. It can be silly giving over of control. It can be used to make Jenga a hilarious game. And it can be used to cause intense sensations and pain. Violet wands are one of the few things I top, for the crew. Anywhere for gentle vibrations of a massage, to sharp jolts of pain. Happy tickling sensations, to skin burning zaps. So versatile and fun. Electric flyswatters and stun guns are the next step up. Sharp, painful sparks when there's a gap. Muscle jolting when held tight to the skin. For me, just the noise of these sends fear shooting through my body. Sends adrenaline racing, and depending on what he's threatening, can drive me straight to tears. Delicious.
Fire is another of those adrenaline rushes. Someone is lighting you on fire FFS. It's a nice warming sensation, which can also be slightly painful, but the fire is generally gone before the pain really starts. I'm not into burning/branding of the skin. But the fear. The primal fear response to being light on fire, is intoxicating. It brings my focus in to just that. Nothing else matters when you're on fire. Then there's sparks. Not electrical sparks, those don't bother me. Fire sparks. A lighter, a sparkler, a log popping in the fire. Terror. Pure terror for me. This will bring me to tears faster than a stun gun, if I'm forced to be close for more than a couple sparks.
Fear. Oh yeah, fear. Sparks, needles, snakes. Fire, stun guns, flyswatters, gags, being in pain and helpless and abandoned. Fear is delicious. Adrenaline rushes are great. Phobias will bring me to tears and panic and breaking points. So they are dangerous to play with, but so far, have all gone well. Being brought to the point of panic, and then pulled right back to keep going can be an amazing power exchange, as well.
Power exchange. Submission, serving, mind fucks. All the mental stuff. To take me out of my head, to give up control. To take care of him and his boots. To dress up for him. To just simply be for him. To challenge myself. To be forced to think and use my brain. To be turned around so hard and fast that I don't know where I am. To be scared and aroused and dropped all through the power of his voice. So many different head spaces and power exchanges. It can be absolutely amazing.
New experiences. Learning something new. Teaching someone something new. Trying something new. Helping someone else try something for the first time. There's nothing like it. The joy, the excitement, the energy of new is unique and incredible.
And then there's this. There's writing about it. I love writing about it. Writing erotica about it, blog posts about it, journal entries about it. Sharing, processing, explaining. Teaching, learning. Writing it down gets it out of my head and into a place where I can look at it. Where I can share it with others. Where I can learn about myself and really see my own thoughts and reactions. Down on paper or screen, it's not all jumbled up anymore. It's clear and it's wonderful. I hope you all think so, too.