February 8th, 2016
First-time partner.
So, whatcha wanna do?
I dunno, whadda you wanna do?
I dunno, whaddya like to do?
Let's go ask my wife.
Hey, what should we do?
Pressure points and pain.
So, off we go to try to find a spot. Quiet dungeon full. Main dungeon full. Side dungeon full. Wet and Warm dungeon has a few open tables. Sure, why not. We grab a table away from the fire players.
I start sitting up. We starts with some light touches and smiles. Wraps an arm around my neck, I turn my throat into the crook. Pokes become a bit more insistent. Kisses the back of my neck. Soft noises and shivers.
Lie down, face down. I turn and settle in, forehead on my hands. Rubs my shoulders, squeezes the tight muscles. Hard pokes, and nails dragging on skin, pulling moans from my throat. An occasional strike, a gasp and a groan. Trying not to tense, tense muscles hurt more. Lifting the leg he isn't hurting, groans of mixed pleasure and pain. Fingers clenching as his dig into my flesh. He lifts my head gently by the hair and presses into my sternum, hard. I groan and try to fight a bit and he presses me back down.
Turn over on your back now. I smile up at him as he works my chest. Pressing strong fingers into tight points of pain. Groaning and arching my back as he works from shoulders to chest to sides. He pokes the top of my hand, because it's me. Poking my arms, finding the points and then light slams of his fist. I flex my tingling fingers and grin up at him. He works down to my hips, eliciting deeper moans and more arching. Down to my thighs, strikes coming more often. Feet? Yes, they are just ticklish. He presses into my arches, exquisite pain. Back up to my thighs.
Now he is drumming. The strikes coming fast and hard. Arching, moaning, so intense. I grip the table, shaking and moaning, lost, almost flailing with the power of his strikes. Gasping as he stops, and pulls me gently back to sitting. Teeth find the back of the side of my neck, biting not-too-gently, as I cling to his arm, moaning softly, happily. When he's done, I lean against him, breathing. Thank you.
February 8th, 2016
It started in the social area. Friends with a stun baton. She's negotiating, afraid. Wants to see someone else be hit with it first. He of course, volunteers me. Zapping my leg, making me scream and squirm away, and scream some more. Her face in shock. His eyes light up.
Grab it. He holds it out. Grab it. Tears streaming down my face in an instant. Hand making grabby motions six inches above it. Grab it. Crying harder, more grabby motions. 3. Put your hand around it. 2. Do I need to give it back to him? 1. Grab it. More grabby motions and crying. Counting doesn't overcome my fear, that's not wired into me strongly enough. That Voice: Are you going to grab it or should I give it back to him. I look at his eyes, crestfallen. That'll do it. Should I give it back to him. no… I couple more breaths and I wrap my fingers around it. Keeping my thumb on top, so I don't get stuck clenching it.
Now, he says, turning to her. You have to push the button. I'm still twitching, and she's shaking her head. You have to push the button, or I'll hold it down much longer. I can't, she says, I don't hurt people. You got her into this, you have to push it. Do you want me to hold it down, I'll do it much longer than you. I didn't mean for it to be her, she looks terrified. Maybe you should ask her if it's okay. She does, I tell her yes. If you don't press it, I'll hold it down for at least three seconds. Okay, she agrees, but she's still twitching almost as much as me. Do it, come on, press the button.
She does, and I scream, and jerk my hand away, shaking it rapidly. She covers her face, aghast at what she has done. He pulls me against his chest in a tight hug. You okay? Yeah. I squeeze him tight. I shake my hand a bit more. Hey, it's okay, it really is, I tell her. And now it's her turn to play with her partner at it.
This gets his energy up and we go get dressed and bring the toybag up from our room.
What are you up for? I asked you to beat the stress out of me. Okay.
He grabs me from kneeling and pulls me over his lap and starts pounding on my upper back. Still chatting with those around us. Drumming with his hands. Punching the persistent knots. Knocking the breath out of me more than once. By the time he's done, I am more than warmed up. Grinning up at him. Alright, now we're ready to go.
We head to the dungeon, looking for a good piece of furniture. He sends me to the other one, to find the ladder he likes. I find the wrong one, in the right spot and wait. The right one is being used. I stretch and bounce, and he arrives with his other scene. I set out the floggers while they prepare, then kneel to watch and guard for unwary walkers. They have a good scene together, and I clean up while he escorts her back to her partner.
My Turn.
He starts with the soft pair. Thumps and rhythm, florentine. It feels good, rewarming my back. I bob my head to the music, but its strange in this space. We up to the next set of floggers, heavier. Still trying to bob to the beat, but he seems to be hitting on the up while I nod on the down. I sync up with him, groans of happy when he slams down hard. Florentine is sharper now, leading to louder moans. Floggers pounding me into the ladder.
Next pair, some long rubber ones. Sharp and stingy, have me screaming quickly. Writhing on the ladder. Squirming and dropping with screams of pain. He switches up again, to the thinner ones, he can make good thumps with these, but the florentine is so stingy I am screaming again. And too quickly, my back is bleeding, a small scab pulled off by the tips. He bandaids it and notices my bare ass, neither of us ready to be done.
Grabs up a Malaprop multi-layered stick. Strikes having me screaming and dropping, and standing up again. Double thumper, less stingy, but still pulls screams. Hold onto the ladder, don't let go. Then he finds the devil pop, and lays about my ass and thighs, leaving its very distinctive marks with every scream. Next he pulls out a paddle, Five. Okay. Tap, tap, tap, tap, SMACK. Screaming and dropping, he motions me back up. Tap, tap, tap, tap, SMACK, scream, SMACK! Scream, tap, tap, SMACK, SMACK! He giggles as he digs for another toy.
Dragon tail! His grin is as wide as my rueful smile, as I face him, and hold on to the ladder. Snapping and screaming and twisting, and dropping. He motions me up every time I fall. My hands tight on the ladder instead of grabbing the places he hits, pulling myself up. Legs coming up protectively instead, and he just snaps them, too. Breasts and thighs and hips, and a few right down the middle. How's my aim? Very good, Sir. Every snap pulling a scream or a squeal. Alright, turn around. Ass, and shoulders, and back and thighs. Snapping and cracking and screaming and squirming.
And then he is standing by my side, happy and hot. I lean over and kiss him. I love you. I love you, too. I reach for him and kiss him again. Thank you. He smiles, all bouncy and happy, and I clean up our toys.
We head back to the social area, find friends to sit with. He pokes around in his bag showing off some toys. Then comes up with the Irish 8s. Snaps them on my wrists as I smile. Oh, how I've missed these. A bit more chatting and he digs around some more. Comes up with the gas mask, shows it off a bit, and then onto my head it goes. Shows how it works. Then grabs some ear plugs, plops them in my ears. Then ties a blindfold around the eyes of the mask. Can you see? Only the lights if I look at the ceiling. He chats, and I can hear his voice clearly, but not the other ones around me, he is the only one right in front of me. Occasionally cutting off my airflow. Tightening the mask when it gaps. I have to keep my head down or the chin gaps when I breathe. So tight on my forehead. Chatting and playing with my air. Waiting til I just start to panic to let me breathe. The cuffs keep me mindful and I don't reach up to stop him. Occasionally, though, I rub my forehead.
It gets late, and he asks if I'm done. Yes. He pulls off the blindfold, out the earplugs, and off the mask. I rub my forehead and work my jaw back into place. Take the bag back to the room, and bring the keys back with you. I stand and he pulls my dress down for me, and I set off. Halfway back to the room, my dress is back around my waist. Silly shiny thing. I get some compliments from a few in the hall. Thanks, I call back. Drop the bag, grab the keys, I can't get the cuffs off to put on a robe, so I just throw it over my shoulders and head back, keys and robe edges in my hands in front of me.
I get back to where he was, but he's gone. I head down to Cookies and Cocoa, but he's not there, either. So, I head back to wait for him. Realizing he's outside, in the cold, with the smoke. I wait for a while, listening to the muffled chatter and laughter. I can hear him. Eventually I get bored, and head back down for chocolate. He arrives a bit later, and I get him cocoa, only spilling a bit of water with my cuffed hands. We hang out and chat some, until we're ready to go.
He grabs me by the hair, dragging me up onto tiptoe, pulling me down the hall beside him. Mouth open, moaning with pleasure. 1. 2. 3. Orgasm. Thank you, sir. He drags me up the stairs, through the halls, down the stairs and through another hall to our room. Groaning and squealing with pleasure and pain at the tightness of his grip as he pulls me along by the hair. Pushing me into the room. I gasp and shake for a moment, before he removes the handcuffs and we head to bed.
Amazing night full of pleasure and pain and love.
December 16th, 2015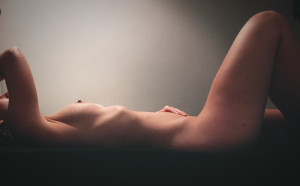 Photo courtesy of The Other Livvy
The only place where the smartest and hottest sex bloggers are featured under one roof every month. Whether you're looking for sex journalism, erotic writing, relationship advice or kinky discussions it'll be here at Elust. Want to be included in Elust #78? Start with the rules, come back January 1st to submit something and subscribe to the RSS feed for updates!
~ This Month's Top Three Posts ~
What becomes of the broken hearted…
~ Featured Post (Molly's Picks) ~
You can hear it in my voice.

Fingers – Please Fuck me With Just Them
~ Readers Choice from Sexbytes ~
*You really should consider adding your popular posts here too*
Don't tell me sucking dick is easy
All blogs that have a submission in this edition must re-post this digest from tip-to-toe on their blogs within 7 days. Re-posting the photo is optional and the use of the "read more…" tag is allowable after this point. Thank you, and enjoy!
Erotic Fiction
FFC #7 – TIME TRAVEL : STOCKINGS
Climbing The Corporate Ladder
A Love Letter From The Rebound Champion
Virgin Traffic Stop
A Desire To Be Watched
It's just sex…
His Gift
Like Blue
Thoughts & Advice on Sex & Relationships
Virginity
V for *ahem* not me
The Lost and Found
Woman in Repose

Sex News, Opinion, Interviews, Politics & Humor
Amy Schumer's: Sex Acts for Girls
James Deen, rapist?
The Trouble With "Lady Parts"
Erotic Non-Fiction
Camming On Halloween
Fresh From The Shower
Story Of Endless Love, or Just A Cold Cure?
Strap-on Fun
The moment
Bookends (side one)
"Ropes? There are ropes on this bed?"
Gawan: hands and mouth
Tremble
Poetry
Orchestral Manoeuvres In The Dark
"Longing" – From Coming Together: In Verse
Denial Denied
Thoughts & Advice on Kink & Fetish
Jessica Jones and Choice (Spoilers)
I want to be your submissive slut (sort of)
Memories of wax
Getting Stuck In a Rut and …
Primal Hunger. Owning It!
Blogging
Writing About Writing
November 12th, 2015
Trauma went well. Three nights of costumes, shows, rope, and kink. We did over three hundred scenes in our balcony. Serving something like 500 people. It was a great time. We had a lot of fun, and some really boisterous dinners after each night. It was great to have new crew join us and old crew reappear. Fortunately, we have another year before we have to do it again.
Our usual weekday meeting is off this month, but we have all the rope. Two rope meetings so far, and one more to go. Hoping to catch all the new folks that met the rope crew at Trauma. We had some really good attendance at the first two, hoping it holds for the next.
Two more parties left this year. Some holiday fun yet to have. Looking forward to relaxing a bit through the end of the year. And then we start all over again. 🙂

August 27th, 2015
This past weekend was a really good one. We had our usual monthly Friday party, two rope intensives on Saturday, a Saturday party, and our monthly rope gathering on Sunday. It was so much fun, and educational, and we did the thing!   Both parties went really well, more attendees the first night, but that was to be expected. We had whip classes and bottoming classes and a superb performance to watch from our wonderful presenters.
The intensive that I attended on Saturday was really good and fun. We started out with a running man suspension, which I'd never done before, to learn a new way to attach to the point. The attachment was designed with vertical suspension in mind, and had three points on the chest harness, to keep the bottom from tipping over in one direction or the other. It worked really well. Then we worked on a particular style of 3-rope TK for the rest of the morning. The presenter joked that he tricked us all into yet another TK class, but this one focus a lot on the third rope, and the WHY's more than the how.
After lunch we split up, the tops working on up-lines, and the bottoms having kind of a round-table on bottoming. Our presenter had some topics she wanted to discuss, and so we bounced around on them. She gave us some good stretches for rope, and a strengthening exercise for shoulders. We talked about choosing good rope tops, and safety, and Why we all choose Rope. It was a really good discussion.
Lastly, we all came back together to try a transitional suspension. One that began with the TK we'd been working on all morning, rigged into a side suspension. Next, each ankle was rigged in a single column tie, first going out to the side, and then up behind the bottom nearly all the way to the ring. This led to the next position, which was hanging by the ankles, by dropping the chest line completely. The finally position was re-rigging the chest from behind and bringing the bottom up into a face-down suspension. Getting down was a simple matter of dropping the ankles back to the floor. Only about half the class managed it after having spent the entire day working hard. We didn't even fully get to the second position.
Sunday, however, was a new day. A decent amount of rest was had after the Saturday party, and we were ready to try again:
We worked on the TK first, getting it into place, the third rope on, and the bottom wraps not-too-tight. The previous day this had been our biggest difficulty, but we got it down better on Sunday. Once sorted, he rigged me up to the ring, left side down.
Then came the ankles. Single column ties, loose, but not too loose. I have small heels, and my left kept slipping out the day before. Right leg up straight out to the side and a little up. Left leg up behind it. Not so bad, a little rough without a waist line.
But now it is time to go the rest of the way up. Pulling my ankles up behind me to the ring seems like a simple thing, but my body doesn't normally bend that way. Right away it becomes uncomfortable. Soon, it becomes painful. My lower back is confused as fuck – what the hell do you think you're doing, you crazy rope bunny, we are not made of Gumby stuff. Oh god, I can't breathe, what the hell? Shut up brain, we can breathe, see, we are moaning in pain, that's totally breathing. He checks in. Yeah, I'm surviving, tie the ankles quickly please. I'm sweating and shaking and moaning, but he gets them tied off.
He checks in again, have you ever hung by your ankles? No. He calls in a nearby rigger to be a spotter in case I red out. I just want this awful pressure off my chest and back. He lowers my chest.
Oh dear gods, sweet sweet air. I'm am hanging upside down by my ankles. but my chest is free. Well, okay, I'm still in a TK, but the pressure is gone and I can breathe. My left hand is even getting feeling back again. So Much Better, I gasp. I don't even care the my head is resting on the ground, I can breathe again. I am sure that I'm spacing out as they chuckle at me.
Ready to go back up? I take a few more breaths, and curl my head, going from resting on the back of it, to resting on my forehead, so he can pull me straight up again. He grabs the lift line and drops to the ground, zipping me up into the air. He tells the spotter we're alright now, but I ask him to stay, upside down was easy, upright is the hard part.
You okay? Yeah, but my lower back thinks I'm crazy, I don't bend into a V quite as well as younger folk.
Careful breathing as he lifts me fully up and ties me off. Oh dear gods the pain and pressure are back. Not Nearly as bad as the sideways twist, but my body really thinks I've gone insane. Almost there, I tell it, just a little longer.
He unties the line of one foot, our friendly spotter offers to do the other one, so both come down at the same time. Nah, he says, I want to fuck with her. We all laugh, and I groan a bit, as he lets one leg down slowly. I let out a soft curse as he gets that one all the way down and it can't quite touch the ground. But he is quick with the second and I'm back on my feet in no time. Gasping for breath, grinning from ear to ear.
We did it! We did the thing! Thank you! So happy to have completed the challenge we set for ourselves. We're both in a better mood, and I am bouncy the rest of the afternoon.
Such a good way to wrap up a great weekend.
July 16th, 2015
She fidgeted with the hem of her short skirt. Too short, by strict reading of the rules, but no one ever bothered her about it. No one minded that she showed a bit too much leg, kept her shirt unbuttoned a little too far, flirted a bit too easily. Not until today, that is. Today she had been called to the headmaster's office of this private, all-girls college, that her parents had shipped her off to last fall. She would be safe there, they had thought, safe from the temptations of boys, and the dangers of alcohol. She wondered sometimes, if her parents had any clue about the real world.
"Excuse me, Miss." The sharp tone pulled her out of her thoughts and she glanced up. From the thin, tight lips and the narrowed eyes, she was certain it was not the first time the secretary had tried to get her attention.
"Sorry." She mumbled and stood up, as the woman motioned her towards the office.
"Close it." The headmaster did not look up as she entered, and she pulled the heavy wooden door shut behind her, cutting off all sound from the outer offices.
She hesitated by the door for a moment, then straightened her shoulders and walked forward to stand before the large wooden desk. He still had not looked at her, his eyes focused on the computer screen on the right side of the desk. She clasped her hands behind her back to keep herself from pulling at her skirt again, and waited.
She focused on the edge of his desk, not wanting to stare at him, needing to keep her mind from wandering too far afield again. Why was she here? The professor had not said. He had been given a note in the middle of his lecture, and, when it was over, had told her she was to report here immediately. She had not broken any rules today, nor yesterday. Sure, she had broken a few over the weekend, but why summon her today, then? It wasn't like she had done anything new last weekend, and she did not remember being seen sneaking back into the dorm. Had someone else gotten caught? She hadn't heard about it. Did someone rat her out? Who would…
"Miss Gruenwald." She managed not to jump when he finally spoke, startling her out of her ever deepening spiral of thought.
"Yes, Sir." She raised her eyes to meet his.
"Do you know why you're here, today, Katherine?"
"No, Sir."
"Are you sure?" He arched an eyebrow, a smirk playing at the corner of his mouth.
"No, Sir. I mean, I don't know why, today, Sir. I mean…" She stopped short and took a breath.
"You mean that you've broken so many rules over the last six months, that you're not sure which one has brought you here today?"
"Yes, Sir. I mean, no, Sir. I…" She flush bright red and dropped her gaze to the floor as he laughed.
"Katherine, you don't seem to know what you mean. But I do, I hear things, you know, all sorts of things. Being the headmaster of an all-girls college, I'd wager, is the best place to hear the most interesting stories. Most of them I ignore, girls out on their own for the first time, having harmless fun. But sometimes, Katherine, it goes over the line, and I have a responsibility to the parents who pay my salary, to protect their daughters from themselves. To correct certain behavior, and yes, sometimes to… punish… the girls under my care."
The way he said punish, with a pause before, and again for a breath after, sent a shiver down her spine, and her flush deepened. He had stopped speaking, but she could not bring herself to look at him. Not yet. She closed her eyes and took a deep breath, let it out slowly. Then lifted her gaze back above the desk, to his thick hands clasped before him, his tie, his collar, up to his face, and then met his eyes.
"That's better. Now, why don't you tell me about last weekend? Ah! Don't drop your eyes. Look at me, and tell me about Saturday night."
"I… Yes, Sir." She cleared her throat, and began again. "I went into town to see a movie, Sir. Alone."
"Alone?"
"I mean, I left here alone, Sir. I was meeting someone, a boy, Sir." He nodded and she went on. "We met up at the theater, had popcorn and soda, and after he walked me most of the way back to campus. It was late, so I climbed up the fire escape and in the window to get back in."
"I know all of that, Katherine. Tell me what I don't know." The flush had been receding, and now came back full force. "Yes, that's it, those thoughts are what I want to know."
"The movie was boring, and there were only a couple other people there, all the way at the bottom row. We were up top. So, we made out some…" She trailed off, glancing away.
"Look at me, Katherine." She pulled her gaze back to his. "Go on…"
"Yes, Sir. We, I mean, he… I…" She stopped and took another breath. "The movie was really terrible, Sir. We did more than just kissing. Eventually, I even went down on him."
"You sucked his cock in the middle of a movie theater, Katherine?"
"Yes, Sir." She clenched her jaw to keep from looking away.
"Say it."
"I sucked his cock in the movie theater, Sir."
"Did you swallow?"
"Yes, Sir, what?" She was so flustered, she answered without thinking about what he had said.
"Good girl."
Her mouth fell open, but she could not think what to say, so she closed it again.
"Then what?"
"He…uh… we left after the movie to come back here." He nodded, and she was glad he did not want any more details of their movie make-out session.
"What happened on the way back here?"
"We… he… He wanted to thank me for the blow job. So, we stopped for a bit in the softball dugout on the edge of campus."
"And…" He prompted.
"And… first he put me over his knee, and spanked me, Sir."
"Spanked you?"
"Yes, Sir."
"Why?"
"Because I like it, Sir."
"Tell me about the spanking, Katherine."
"He pulled me over his knee, lifted my skirt up, and yanked my panties down. Told me I was a very naughty girl for sucking his cock in a public theater. And that I needed to be punished. Then he spanked my bare ass with his hand. He spanked me until I begged him to stop."
"If you like it, why did you beg him to stop?"
"Because I wanted him to fuck me, Sir. And he did, Sir, we had sex on the dugout bench."
"I see. Well, he was right, you are a very naughty girl, and you definitely need… punished."
He did it again, that pause for emphasis that made her shiver, this time it also made her a little wet.
"Yes, Sir."
"Say it."
"I'm a very naughty girl, Sir, and I need to be punished."
"Good girl."
"Would you like it if I punished you, Katherine?"
She bit her lip, not sure how to answer, but nodded anyway.
"I won't fuck you like your boyfriend did, but I do want to spank that bare ass of yours." He stood up and pointed at the front of his desk. "Bend over and brace yourself. Count for me, and say thank you." He came around the desk and she spread her legs for balance and bent over.
He lifted her too-short skirt, laying it over her back. Then hooked his fingers in the sides of her panties and pulled them halfway down her thighs. Placing one hand on the small of her back, he left out a soft noise of appreciation.
"Ready?"
"Yes, Sir."
Smack.
"One. Thank you, Sir."
Smack.
"Two. Thank you, Sir."
Smack.
"Three. Thank you, Sir."
Smack.
"Four. Thank you, Sir."
Smack.
"Five. Thank you, Sir."
Smack.
"Six. Thank you, Sir."
Seven, Eight, Nine, Ten… on and on the smack of his hand against her bare ass. She counted and thanked him for each one. Moaning out the numbers by the time he reached the teens. Dripping wet by the time he got to twenty. Desperate by the time he got to thirty.
"Oh, please, Sir."
"Please, what?"
"May I orgasm, Sir?"
"No."
Smack.
"Thirty-one. Thank you, Sir."
Smack.
"Thirty-two. Thank you, Sir."
Smack.
"Thirty-three. Thank you, Sir."
Smack.
"Thirty-four. Thank you, Sir."
Smack.
"Thirty-five. Thank you, Sir. Please, Sir."
"No."
Smack.
"Thirty-six. Thank you, Sir."
Smack.
"Thirty-seven. Thank you, Sir."
Smack.
"Thirty-eight. Thank you, Sir."
Smack.
"Thirty-nine. Thank you, Sir."
Smack.
"Forty. Thank you, Sir."
He stopped, pulled her panties back up, and her skirt back down. Then went back around to his chair and sat down.
"Miss Gruenwald, you will return to your room now, you will not masturbate or orgasm for a week, and you will not leave campus again without permission, is that clear?"
"Yes, Sir." She reeled away from his desk, stopping at the door to gather her balance and her composure. "Thank you, Sir."
June 13th, 2015
I keep having all these thoughts about what to blog about when I'm not sitting at the computer nor able to write them down. Then it is several days before I get to a place where I have the time to blog, and I've forgotten what I wanted to write about, or I've lost the spark of the idea.
Ideas I can remember having lately:
lupaste – the wolf in me honors the wolf in you
I am not an alpha, don't want to be an alpha, or is that just fear? I like being the beta, not in charge, but able to help, and step up temporarily when needed. I am the support staff to his leadership. And I like it that way.
Animal attraction – monkey brain just doesn't listen
Is there someone in your life, that while a relationship never worked, or would not work – but that it takes real conscious focus to avoid curling up naked with? Who, when left alone with, you forget the rest of the world, if you're not careful? Where the physical attraction is blinding to consequences? An addiction that never goes away.
body hair – natural, trimmed, shaved, or waxed
Why is important? Why do people care what others do? Why do we put hot wax on our tender bits and then rip the hair out by the roots? Who decided that was the thing to do?
Poly – labels and primaries and secondaries and time and money and commitment
Change is a constant, we like to say. Relationships change over time, people change over time, priorities change over time. There is so much grief in trying to hold anything in a static state. With placing a label on something in the hopes that it won't ever change. But we are always changing, always growing, and the labels don't have to define you. You can define them.
Fear in new relationships –
So much fear involved when a new relationship starts – fear of replacement, fear of not being accepted, fear of being accepted and then rejected. Fear of unequal interest. But it is so worth stepping through the fear. Accepting your feelings and going forward anyway. Love is worth some pain, even if you're not a masochist.
Spanking – it's not about the pain
I've had this conversation several times in the last few months. Yes, I'm a masochist. Yes, I like intense sensation. Yes, I like hard and heavy spankings. But that's not the only thing that turns me on about spanking. Spankings for me are a huge Mental turn on. The Idea turns me on. Thinking about being spanked, thinking about being naughty and therefore spanked. It's the naughty schoolgirl fantasy that turns me on. It's that fantasy that I masturbate to – I don't spank myself, I just imagine about it. Sometimes part of the fantasy includes imagining telling someone about it, and that turns me on just as much. So, yes, if you smack my ass because I'm being naughty, it will turn me on no matter how hard or light you hit my ass.
May 17th, 2015
Sometimes, it is really nice to go back to the beginning.
We had a whips class Friday night, with a very entertaining teacher.
Through the entire class, I sat watching the presentation on a massage table, while he stood behind me, flicking the whip across my back. Making my hair flick back and forth to find his range. Coming up beside me now and then, to runs his fingers over the welts, and check out a technique being shown. A class is going, so I keep my mouth shut, trying to keep the squeaks inside. Twitching at every sharp crack. He's picked up a whip now and then over the last few years, but we've really not done much with them since that first club. Gods, I've missed that.
Every major event that has had a vendor with whips, we've looked at them. He knows which one he wants. But the expense… I even considered finding the money and having daddy bring one up when he was coming to visit, but neither the money finding, nor the visit ended up happening.
Later in the night he ordered me back up onto that table, hands and knees, and flicked the whip across my ass and thighs. I squirmed and shrieked and threw him dirty looks. Until he ordered me to stillness, and I hunkered down, head between my arms. Still screaming, but staying far more still, though not completely- it's a whip for godsake.
Then the tears came. The fighting to be still, the sharp stings. Over and over in the same spot. And they burst free. He checked in a couple times, grinning, as I sobbed. Whipping them out more and more. Then he came to the head of the table and kissed me.
How'd that feel?
Good. But not so good on my shoulders.
I collapse down flat on the table. He grinned and ordered me to sit up on my ass, now covered in whip kisses, as well as the bite marks he'd left earlier. Wincing, I comply. And he returns to flicking the whip against my skin, this time the outside of my thighs, with an occasional arm-shot.
I am covered in whip kisses. This weekend. And we still have a rope class to go. So grateful for this wonderful life I live.
March 8th, 2015
The night started out fairly normal. I'd asked to spend time bootblacking, and he'd even brought an extra pair of boots. He was wearing his new knee-high boots, still fresh and mostly clean. I I just did a basic saddle-soap clean. Rubbing his feet and calves with brush and fingers and micro-fiber. A massage to get him relaxed and shiny for the night. He had things to do, so he left me with his work boots. These got the full laces-out, saddle-soap, and Black Gold treatment. He took them out to the truck when I was done, they were not needed tonight. I was spending the night in service to him, but when he got back, we would have a scene first.
"Pick out a piece of furniture for me to beat you with this." He handed me the burlap/bamboo stick of awesome.
I walked about a bit, there were a couple open benches and crosses. I hovered near the larger of the two benches, with an eye on a cross, not sure of his intentions. When he returned, I motioned to the bench and pointed to the cross.
"Bench."
So, I knelt on the bench, legs only having just recovered from the bootblacking, but this was kneeling up instead of down, so I'd be fine. I lay forward and he pulled out a piece of rope. Happy surprise. I haven't been tied down to a bench in years. Left wrist first, pulled it down to a good place for me to grip and tied in through one of the holes, then over to the right wrist, down to another hole. Then he pulled out the short bit of bamboo.
Damn, bamboo gag, alright, I tell myself, don't forget to bite down while he's tying. In it goes and I grab it hard with my teeth, he ties it in good and tight, and then pulls the rope down my back. What the? Interesting. I keep my head down, not wanting to strain my neck and throat by having my head tied back. He takes it down to my waist, knots it and then splits the ropes, effectively tying my waist down to the bench. Nice.
I'm drooling already. Ugh! Stupid gag drooling. Ah well, nothing to be done about it. And it makes him happy to take that control from me. Time for the beaty stick.
Gods that burlap wrapped bamboo feels awesome. He beats my ass a few times, lands a few blows on my back. As long as I remember to breathe out when he hits my back, it's all good. Otherwise it knocks it out of me anyway. I arch my ass up, keeping tailbone clear as he swings. Moaning happily around my gag.
Then he puts it down for a moment, and starts in with his bare hand. And I'm soaring, heart and body. I love spanking, I've been wanting a spanking. On a spanking bench even. But it is one of those things, one of those very sexual things for me, that I am still very embarrassed to ask for. Oh, but he knows me so well.
Some more beating stick, some more spanking, his hand sneaks up and slides under me, grabbing a nipple and making me scream. I'm writhing and moaning and soaring, and drooling. So much drooling. He comes round in front of me and just grins. More beatings and spankings. He grabs me by the hair, lifting my head back, using his free hand to wipe up my drool and smear it all over my face. Ugh, so messy. And then he's beating my ass again. Gods I love him.
Spanking and beating, and nipple pinching. I'm moaning and screaming and writhing and drooling and dripping.
He pulls out a paddle, pulling louder screams and harder writhing. He wipes my drool all over my face again and again. There is more bare-handed spanking and more beaty stick. One hand reaches under me and lifts me up by the throat. I don't even know what he's hitting me with at this point, as I soar higher and higher.
The devil pop is out. He is in front of me, grinning that huge grin.
"Time for your penance. What do you think? Twenty?"
My eyes grow wide and all I can manage is whimpering. I owe him, for not being prepared, for not having a skirt the night before. Fuck. Yes. Anything, for all he has given me. I twist my hands around so I am now grabbing the rope instead of the bench. Digging the fibers into my hands, anchoring. But I cannot speak, I nod.
"Twenty?" I nod again. "You can't say no to this grin can you?" I shake my head. "You better hold on. Ten for each cheek." I whimper, laying my head down in my puddle of drool, clinging to the rope. "Ten on the flat side and ten on the rounded." He goes back behind me.
The devil pop lands and I am screaming. He alternates cheeks and I alternate kicking my legs straight out. The first ten go fairly quickly. Five on each cheek, I barely have time for individual screams. The creator of the pop is called by my screams and they laugh above me.
The next ten are slower. Each hit pulling a scream all its own. Writhing and arching, until I can calm and reset myself. He waits for each one. Letting me scream it out.
Twenty strikes complete. I am pushing the gag forward with my tongue so I can swallow and get a breath. I don't even remember if he spanked me any more after that.
Then he was untying the gag and I almost forgot to bite down. Put my jaw back in place as he untied my wrists.
"You're such a mess." We're both grinning at each other. "Dripping wet at both ends. You good?"
"Very good, thank you!" I am flying high all night long, as I kneel or stand ready with the beaty stick, helping with or just observing his other scenes. So very grateful for all we have together.
February 15th, 2015
So, I went to see the premiere with 150+ members of the local community. And it was awesome. Not the movie, of course, but the experience. An entire theater of kinksters laughing, joking, and cat-calling our way through this terrible piece of writing turned B-movie.
And honestly, the movie wasn't nearly as bad as I feared. I've never read the books, though I keep thinking about it. I have so much going on in my life, that I just don't feel like taking that much time out to read them.
People were going on and on, all over social media about how terrible it is, and how abusive and rapey it is, and all of that. Given that it came out of Twilight fandom, I was not the least surprised by the obsessive stalkerness of Grey. But at least he was focused on having her consent to do things in the movie. That was nice. And while we made fun of his "flogging" and his "rope skills" and his choice of implements, the movie did a fair job of showing the 'sensual side of kink.'  (Has 'softer side of Sears' in my head as I typed that.)
I do agree with one of the articles I skimmed today – presenting Grey's kinkiness as him being "broken" and a result of his abusive early childhood does a great disservice to the idea that this lifestyle is healthy expression of our sexuality.
I was also a bit annoyed that a segment of the group I was sitting near seemed overly concerned with Ana's body hair. So what if she doesn't shave her pubic hair? Not everyone likes that look or feel.  I have waxed once or twice a year for the last couple years, but only for special events, and I'm not likely to do it again. Just seemed like an oddly judgmental thing for people to be focused on in an open-minded group focused on acceptance of all.
Ana's character was hard to get a bead on. She wavered from clumsy, blushing virgin to strong, stand up for herself woman, to coy brat. Not that anyone is simple, but with all the other cliched one-dimensional characters in the movie, it was hard to figure out who she really was. I hear her inner monologue in the book was even worse, and am guessing that it was a very good thing it was left out of the movie. (Unlike Hunger Games, where it would have been very helpful for character development.)
So, not a terrible job, Hollywood. Given what you had to work with, you could have done so much worse.