September 16th, 2012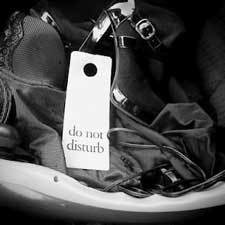 Photo courtesy of @iSlut_ of A Slut's Memoir
Welcome to e[lust] - The only place where the smartest and hottest sex bloggers are featured under one roof every month. Whether you're looking for sex journalism, erotic writing, relationship advice or kinky discussions it'll be here at e[lust]. Want to be included in e[lust] #41? Start with the newly updated rules, come back October 1st to submit something and subscribe to the RSS feed for updates! I'd like to also direct your attention to a new Editor's Letter that's up.
~ This Week's Top Three Posts ~
The Bitch is Back – The temperature at the table drops several degrees. Like that?, I say.  Is that what you want?
On Women Who Like Sex – I like sex as much as any man I know. I am not a weirdo, I am not a slut, and I am not in any excessive danger.
Secret Secretary – There she was in the reception room on my couch, lying on her back, legs spread, skirt hiked up over her torso, her hands frantically feeling between her legs.
~ e[lust] Editress ~
Street Harassment: It's everywhere, all the time
~ Featured Post (Lilly's Pick) ~
Thoughts: Regarding Limits In BDSM
All blogs that have a submission in this edition must re-post this digest from tip-to-toe on their blogs within 7 days. Re-posting the photo is optional and the use of the read more tag is allowable after this point. Thank you, and enjoy!
Thoughts & Advice on Sex & Relationships
Begin rant
Communication Breakdown
Family Planning
Great Expectation
My Fantasy
Rituals, Symbolism, Kink, and of course ME
Sex News, Interviews, Politics & Humor
How You Know You Are On The Rag
Intersecting
Kink & Fetish
Anal Slut
Belted
Flogger Use and Safety from a Beginner
Janet's Magical Toybag
Protest Much?
Property of Seven
Playing With Fire
Please
Tonight I am going to fuck your (slave) ass
The Long-Anticipated Gangbang Post
Welcome To The Club
Erotic Writing
Almost Broken
Alive
A Bad Habit
A Sinner Sits for Sacred Sunday Service
BBQ & Beer
Birthday Sex
Cap D'Agde -spit roast with a stranger
Dirty Talk
Lolita Twenty-Twelve, Part Five
Matched
Oral at a Sex Party
once in a while
Revelation
Random memories: First love
Saturday Morning Pussy
Stress Reliever – Lubed Fingers
The shopping assistant
The Sting of the Crop
You
September 6th, 2012
Last night was a new experience for me. One, I'd been expecting to have at some point in the last couple years, but it took a class for it to happen. Yes, my first waxing for hair removal experience happened with an audience. I generally trim my pubic hair, but shy from shaving it due to a tendency for infected in-grown hairs. Waxing, I was told, should be safer on this front. We shall see. The cosmetologist, licensed, but no longer professional (she both no longer gets paid to do it, and also enjoys it way too much), spoke to the class about proper procedure, cleanliness, ways to reduce the pain (most of which she didn't do, as the class was called waxing for sadists), and proper techniques, as she applied and ripped the wax(and hair) off.
It was an odd experience, to say the least. Not excruciatingly painful, though a few of the strips reached a 7 or so on my pain scale. But the pain was fleeting, gone almost as quickly as it came. The harder ones were when the wax or hair didn't come and she had to do the same spot repeatedly in quick succession. The first few strips had me arching off the table, until I got accustomed to the ripping. Some of the lower strips had me cursing (or propositioning, depending on your view) my friend, and eventually she asked me to stop screaming so one of the audience didn't have to keep plugging his ears. The poor dear. Looking down at what she was doing was also a strange sensation. The first few times, expecting to see red, angry skin, I saw only smooth whiteness. Apparently my skin objected less than the hair follicles and the associated nerves. When she finished, it was the first time since puberty that I've been hairless, another unusual sight for me, and hubby. Several asked how I was doing, I was fine by then, but told them to ask me after COPE if it was worth it.
There has also been some preparation for COPE on the relationship side of things. He, the engineer and I had a group chat just the other day, to talk about expectations for our first major kink event together as a group, and their first time at COPE at all. It was a very good, and very long discussion, ranging from play, to protocols, to packing. We talked about scening together both publicly and privately. There was discussion of what "reasonable use" of Sir meant to each of us. We talked about appropriate behavior and communication, including bringing cloaks in case we are roomed on the vanilla side of the hotel. And we talked about having protocols that were natural and easily met. This weekend isn't about trying to trip us up, but rather, about having a time to be together, play together and to take care of each other. I am very much looking forward to spending a weekend in his service.
And then I get to the clothes part of the packing. What to wear, what to wear. So many choices, and changes to be considered. Sleeping without Pjs has been decided upon, so I can at least not worry about that set of clothes. But let me ramble on the sets I think I might need: opening ceremony outfit, after play outfit, Saturday classes outfit, leave the hotel to eat lunch/dinner outfit, closing ceremony outfit, after play outfit, Sunday go home clothes. One might wonder why an after play outfit. Well, it depends on the ceremony outfit, but one of them will certainly be my new corset, and after a heavy scene, I just don't see it going back on. So, what about just walking around nude after? Well, if it's what he wants, that's fine with me, but he tends to like outfits a little bit more.
So, I've got one outfit decided upon, probably the opening ceremony – make a good first impression, without having to wear a brand new corset for too long. I was thinking of bringing my saris for easy, toss and tie it on. Those might work really well for after play outfits. Easy on, easy off. I should really run them through the wash and hang them up so they aren't so creased from being folded for years. Saturday class time? It's always so cold in the hotel, but warm clothes aren't generally conducive to practicing new rope work, and I do imagine most of our class time will be rope. My SAM tank top and a long sleeve jean shirt for easy cover up of arms or legs? If I wear that tank top, I'll have to wear the "apology skirt" with it. Sunday and go out for dinner are the easiest, just a skirt and cute t-shirts. But what about that second ceremony/make an impression outfit? (I don't think I've ever put this much thought into the clothes I wear to COPE.) I've got a lot of fun things these days, and less opportunity to wear them. I'll have to put some more thought into this last choice. At least these days, I have appropriate footwear. The girls always used to tease me about going about in sexy dresses while barefoot, even at the start of the night. Some day I'll have to dig my old prom dress out, and have it cut off me. If my high school peers could see me now…
A week and a day until COPE, so excited!!!
August 30th, 2012
While sitting in the theater, waiting for Avenue Q to start, hubby turned and asked me about expectations. Hubby felt that my boyfriend and I had a good handle on setting expectations and asked how we did it. Or more specifically, how He had done it with me. I jokingly said that when you tell a girl for a year and a half that you are a sexually satisfied man, and then start dating her, expectations start out pretty low. In all seriousness, though, he and I usually played three times a week during most of the year prior to dating, and had already started conversations on expectations and happiness.
One of those conversations began with him asking me if I could be happy without him suspending me for a whole year. I had passed through most of my newbie sub-frenzy by that point, so I could actually consider the question. It took a little back and forth before I understood the intent of the question. It wasn't about him denying me what I wanted, it was about expectation crashing with reality. What if he got hurt (which happened)? What if we lost our suspension point (which has happened repeatedly)? What if I got hurt? The real question was did my happiness depend on suspension, or could I be happy without it? This started the thought process in my brain that expectations have to mesh with the reality of the situation.
Another set of conversations we had was him asking me if I Deserved to be suspended. At the time it felt like a trick question, given the dynamics we were involved in. But it was really about suspension not being a think I could deserve or earn. It was a gift, given because he wanted to. Not because I deserve it or expect it. Giving affection only because it is expected or only when someone has "earned" it can lead to abusive situations. For me, affection must be given because both parties want to give it. But beware putting expectations on what defines affection.
Back to the question that I started with. When he asked if I could be happy without suspension, he wasn't asking if I would be happy not seeing him for a year, simply without one form of play. In our relationship, I expect to see him fairly regularly and I expect affection. Sometimes that means a hug, sometimes a text message, sometimes a flogging and sometimes it means dinner and a movie. When it's been a long day, it can simply means his arm around me while he falls asleep. He shows me affection in whatever way he is able, mentally, physically and emotionally. As I do him.
Another way we have set expectations in our relationship was to write them down. In our contract with toy, we wrote out what all the expectations were. What we all did before play, what types of play there would be, and what could preempt or prevent play. It was very clear what we could all expect, and even then there were surprises.
So, what do we do then? What happens when expectations are not met? No matter how clear you think you have been, or how mutual you think your expectations are, you will still face disappointment occasionally. The important thing to do, of course, is to talk about it. What were my expectations? Were they the same as his expectations? What happened that caused them not to be met? Was it reasonable? Were the expectations reasonable to begin with? Was it just a special case that won't happen again? How can we prevent this situation from repeating itself? Do the expectations need revised, or does one party need to be more conscious of meeting the expectation?
For me, another good conversation to stay on top of is wants and needs. My needs tend to be where I set my expectations, so I have to communicate that those things are needs. And I have to set reasonable expectations of where I'm going to get those needs filled. Being poly, they don't all have to be filled by one person. Wants are things I would like to have, and I have to communicate them, too, else they won't have a chance to be fulfilled. But the important thing to remember is that I cannot expect all my wants to be fulfilled all the time. Life isn't that simple. But I can work on getting them filled through expressing them and making plans. And sometimes my needs aren't met either, at which point we return to the previous paragraph of questions to have another look.
As always, the most important part of setting expectations has been clear communication. Second to that is acceptance that we are human and life isn't perfect. Talk about your expectations. Unspoken expectations Cannot be met. Understand that life gets in the way, even of needs sometimes. Be flexible, accepting, and keep talking. And while you are talking, offer solutions. Once the problem has been stated, clarified and understood, move forward and find ways to avoid future disappointment from that source. During your conversations, if the other person has expectations that you cannot meet, have a conversation about why and about what can be done instead, or how to change that expectation. Expectations are a two-way street, both parties must be actively involved in setting, meeting and revising them. Everything changes, keep talking.
August 23rd, 2012
Stuff and things and more stuff. Car accident today. My brain is a bit scattered… well, even more scattered than usual, I guess. Got rear-ended. Her fault. Head and back ache, but not severe injuries of any kind. Car needs a new bumper. Supposed to be getting an estimate on the repairs soon. Well, technically, should already have gotten that estimate. Ah well. Posts have been a bit odd lately. Lists and things. Even less substance last week, but some good stuff in the digest this week. Added The Perverted Negress to my blogroll, too. Not sure why I didn't have her there yet. She's a pretty awesome lady.
This month has just been so busy, and it isn't letting up any time soon. Anniversaries, birthdays, conventions, parties. The works, all the way through into October and then the holidays hit. Halloween, Thanksgiving, Christmas (and all the other December/winter celebrations), and New Year's. And this past week, what do I tell my parents? That I spend my time working at the store. Twice, my mother asked why didn't I take the rubber bands off my wrists. I told her they help me keep from scratching (he smacks my hand when I scratch). When she asked again, habit, was my only response.
I don't like lying to my parents, but it doesn't bother me as much as it bothers the Engineer. I know that even if they could handle it, my brother wouldn't, and his kids are far too young for me to be cut out of their lives already. They're part of the reason we moved back here, and found this amazing community. Wouldn't that just float his boat?
The rubber bands are important to me. A thing he asked me to do. Being able to do what he asks makes me happy. Having something to look at and think of him makes me happy. I wear two on each wrist now, he only asked for one. But when one breaks, I'd be left with nothing, and they used to break all the time. So, two became my habit, so that I would always have at least one. I hardly ever take them off anymore, except to bathe, or to switch them out for new ones. I feel slightly naked without them, missing something. It might be silly to be attached to something so flimsy and replaceable as rubber bands, but it's not the bands themselves that I'm attached to. It is the fulfillment of his request that makes me smile.
The same goes with the skirts. I have negotiated away wearing pants in his presence unless I'm leaving the house to go to work, or he specifically gives permission for pants/shorts. Recently, on our theme park trips, he told me I could wear pants or shorts so the skirt wouldn't get caught in things. I chose shorts, both for the heat, and because I just couldn't fathom purposefully wearing full length pants around him anymore. Not to say pants haven't happened, they did just the other day during a slightly panicked situation, and I apologized with a short short skirt a few days later.
My reasons have shifted over the last few years, along with our relationship. Initially, he requested skirts or shorts, for ease of access to whatever he wanted, as my boyfriend and Dom. Later, when we were discussing my partner in crime's restriction to just skirts, it was decided that even shorts went against this ease of access rule and if she couldn't have them, neither could I. Some of that has fallen by the wayside, though the theory is still sound. He may still have access to whatever he wants, and skirts facilitate that, and so I am happy to wear them for him.
But for me, the bigger part of it, is the confidence in my body that I have gained. Yes, I still wear long skirts, because they're fun and flowing, or warm, but my legs are still visible, to varying degrees, depending on what I'm doing. In short skirts, my legs are definitely visible, as well as the shorts I wore to the parks. He enjoys legs, and he enjoys confidence. So, my wearing skirts, or short shorts, makes him smile. I balked, hard, when he first requested this of me. My legs were the biggest part of my body that I wanted to hide. Especially my thighs. But, in the last four years, he has helped me to stop being ashamed of my legs, and to be comfortable in my skin. I am quite grateful for this, though my favorite light skirts are wearing quite thin these days. Good thing we're heading into fall soon.
It's the little things. The simple requests. The things that bring a smile to the lips, and joy to the heart. Being able, when so many things are spinning out of control, to do the little things you can do. To give what help you are able. To have some stability and sameness to cling to. To grow and share, and show gratitude. We are busy, and time is so limited right now. But I look down at my wrists and think of him. When he does see me, I'm wearing a skirt, for him. These little things give me comfort, even when we cannot be together, and joy when we can.
June 7th, 2012
He came in and sat down with his dinner. Tells me he's really done a number on his boots, with camping and bartending, they're a mess. I glance down and nod, indeed. Go get your kit. There's not a lot of time. Oh we have half an hour. Hey, you wanna help? The engineer has been asking for a lesson for a while now. Sure.
So, I get my kit, get some water and set down at his feet. Me on his left foot, her on his right. I begin the lesson. Gotta get new soap. I have a bare ring left in the tin and the edge is all rusted. I get the rust on my hand and onto a spare rag. Gotta keep it off the boot. We make lather and start in. Wiping off a lot more than I usually have to, for all the gunk on them. Even the soles get work this time. We get a few stray comments from the peanut gallery and he comments on how good a massage it is. Then they are clean and I'm about to grab the grease, but I look up at him first.
"Now, this is the time to lick them." he tells her.
I explain that some people lick after the grease, but that creeps me out, especially with the black dye in mine, but my heart is beating just a little faster. Did he really want us to?
"Guess what I read?" he says to me.
"My blog." I answer, starting to blush.
"Yep, I got all caught up before I came out tonight."
I'm blushing harder and mumbling to her, but she hasn't read it yet. He really means it, he really wants me to do it. She's a bit in shock to, as he tells her to as well. And then we begin.
I'm scared and nervous and embarrassed and excited all at once. I've never done this before, oh I've wanted to. Dreamed about it. Went to classes on it. But, but, but. Just do it.
And I do, and it tastes like clean leather. And it's his boot. His boot. Those Carolina boots I've been staring down at for nearly four years now in this form or the other pair. These are the steel-toes I've been cleaning and caring for since he bought them. I'm holding his boot and running my tongue down the leather, from toe to heel.
And I can hear him appreciating it. I can hear people around him saying how hot it is. My face is burning, so I bury it in his boot. Kissing and licking. Pressing the sole against my chest and my shoulder as I turn my head to one side then the other. He says it's a mix of warmth and pressure, and I'm glad he can feel it. I glance occasionally over at her and she is just as happily involved as I am.
So happy, and excited. Arousal has replaced all fear and is chasing embarrassment into a corner. I'm gasping against his boot, kissing and catching my breath. Enjoying the sensation of the tread against my chest. Loving the taste and feel and smell of the leather. I don't want to stop,
I can hear them getting ready for class. We'll have to stop then, we are far too distracting and distracted. Not yet, please not yet. I ignore the sounds and keep licking.
The arch of the boot is my favorite, a sensitive spot on my own foot, but hard to get to. I remember what Bootpig said about speaking to the person through bootlicking. I thought I understood it then, watching. But I really understand it now. I pour my love, gratitude and yes, arousal, out my tongue and onto his boot. And it is amazing. I never thought it would feel like this.
And I'm glad the engineer is on the other boot. There wouldn't have been time for this if I'd had to do both. And while we are separate in our licking, together, we are making him happy.
When class does finally start, I have no idea how long we were licking, but we come up grinning like mad, and curl up, arms around his legs, happy with our first taste of bootlicking.
May 31st, 2012
So, let's say someone new came up to me and asked, "Hey Imp, what do you like to do? And could you tell me why? What about those things interests you?" How would I respond, at this point in my life?
Hey, random person. Welcome to the community. I like to do a lot of different things, for a lot of different reasons.
Well, Imp, that's not very helpful, could you be more specific?
Sure, random. I like bondage, sensation, deprivation, fear, pain, suspension, sexuality, dressing up, fire, electricity, corporal punishment, erotica, mind fucks, new experiences, serving, bootblacking, learning, teaching, submission, power exchange, biting, sucking, cuddling, challenges, sub space, and a whole host of other things.
Wow, Imp, that's a lot. Could you tell me about all those different things?
Sure, random, let's start at the top.
Bondage. I love bondage. Always have, always will. Cuffs, shackles, stocks, straitjackets, rope, saran wrap, or just mental. I love it all. But some for different reasons than others.
Cuffs, shackles and stocks. These are the stuff of erotic fantasies for me. Prisoner fantasies, slave fantasies, and the like. These are things for "bad girls" and as such, turn me on to that mindset. They are solid and secure and sometimes painful. They are a solid reminder that I am in bondage to the one who holds the key. I am at his mercy until he sets me free.
Straitjackets and saran wrap or mummification. These are the all encompassing, all enclosing, complete restriction of movement. They can be comforting, a big huge hug from the one who put me in it. A place to sink into myself with the outside kept at bay. Or they can be complete vulnerability. I am trapped, only allowed that which he gives me. Whether that's simply air or pleasure. Only free when he allows it. And oh so helpless and available to whatever he wants to do. An excellent power exchange.
Rope. Glorious rope. I didn't know how much I would love rope until it was used on me. I didn't know I would fall in love until I first smelled hemp, and then he suspended me. And I was done. Forever a rope slut. Rope is a multitool. It can be used for sensation, for decoration, for bondage, for suspension, for pain, for pleasure, for service, and if you have enough, even for mummification. Rope makes me incredibly happy. The bite of the rough natural fibers on my skin. The taking of my power bit by bit as each limb is confined. The sense of freedom when I am held in its complete thrall.
Sensation and pain. So many different types of sensation. Floggers, whips, paddles, canes, drumsticks, clamps, clips, clothespins, slapping, spanking, body punching, kicking, biting, pinching, pressure points, scratching, knives, violet wands, stun guns, TENs, massage, wax. I'm sure I'm forgetting some.
Corporal punishment. Spanking, floggers, whips, paddles, canes, punching, kicking and drumming, all excellent examples. Let's start with rhythmic fun. Floggers, canes, and drumming can all be used to beat someone to music, to a rhythm. This can take us both into space. Feeling connected as one as we flow and move with the same beat. Relaxing and soothing, it can also send me into the most incredible high. Spanking and paddles, also belts, are in the fantasy category for me. They send me into that "bad girl" headspace that I find so arousing. Pain space. This is where whips, body punching and kicking come in. They don't fit in the first two categories for me, but if I want intense sensation for the purpose of going into pain space, they are added to the list of all these other tools. Pain space, for me, is a place where I fall into the pain, and enjoy both the pain and connection to the one causing it. Catharsis is another part of corporal for me. All these tools can be used to cause me such intense sensation that I am pushed through pain space into an emotional release.
Body manipulation. While I'm talking about spaces, and body punching and kicking. Let me go quickly to pressure points, biting, pinching and massage. These, for me, are direct, personal intense sensations. Biting goes into arousing fantasy, vampires and the like. Pressure points and pinching and focused intensity. He is close up, exploring my body and reactions. Some of them are painful, some of them are pleasurable. But they all make me want to kiss his hands afterward. I like the closeness, I like the personal intensity. The direct energy exchange. Massage has this, too. The closeness, the energy. It also has the element of service that I enjoy when I'm giving it. Or when I'm receiving, it makes me feel cared for and appreciated.
Sexuality. We are sexual beings. And we all express our sexuality in different ways with different people. Depending on my mood and my partner, I enjoy kissing, hugging, cuddling, nibbling, licking, orgasm control, masturbation, oral and sex. Physical connection, intimate connection, can be soothing, energizing, or just plain crazy fun.
Deprivation. On the opposite end of the physical, is the lack of input. Sensory deprivation. Sensory deprivation makes me depend on whatever I'm left with. I sink into my body away from the senses that were taken away and if I have anything left, all focus goes to that. If it has all ben removed or reduced, I'm often able to just float away deep inside. It's incredibly relaxing. And can also be used to intensify whatever sense is left. Touch becomes so much more intense when you cannot see, hear, or smell. You are focused on the only thing you have left to sense the world around you. Pain in such a state is so much more intense for me.
Clips, clamps and clothespins. I'm not even sure how to categorize those. Pinchy things, I guess. These can be great fun and are usually a test in endurance. Last night, he showed up with two bags. One of 50 teeny tiny clothespins, and one of 24 two inch long clothespins. He decided our faces were his canvas, and went back and forth between all three of us, putting clothespins all over. It was crazy and intense and fun. I had to walk in place and keep touching him to ground, so I would keep breathing properly. These are an interesting category. They are intense sensation, and it just ramps up as you go along, without even having to do anything. And when you're done, the fun isn't over. You still have to take all those little things off. Which hurts a heck of a lot more in an instant than they have the whole time they've been on. This is why zippers are such great fun. Taking a whole line of them all off at once, can send me into such a great pain space high. This is one time when orgasms are especially appreciated for me, as a way to channel the energy created.
Electricity. Ah, electrical energy. In this category we have TENs, violet wands, electric flyswatters, and stun guns. TENs is a lot of fun. It can be therapeutic to tense or sore muscles. It can be silly giving over of control. It can be used to make Jenga a hilarious game. And it can be used to cause intense sensations and pain. Violet wands are one of the few things I top, for the crew. Anywhere for gentle vibrations of a massage, to sharp jolts of pain. Happy tickling sensations, to skin burning zaps. So versatile and fun. Electric flyswatters and stun guns are the next step up. Sharp, painful sparks when there's a gap. Muscle jolting when held tight to the skin. For me, just the noise of these sends fear shooting through my body. Sends adrenaline racing, and depending on what he's threatening, can drive me straight to tears. Delicious.
Fire is another of those adrenaline rushes. Someone is lighting you on fire FFS. It's a nice warming sensation, which can also be slightly painful, but the fire is generally gone before the pain really starts. I'm not into burning/branding of the skin. But the fear. The primal fear response to being light on fire, is intoxicating. It brings my focus in to just that. Nothing else matters when you're on fire. Then there's sparks. Not electrical sparks, those don't bother me. Fire sparks. A lighter, a sparkler, a log popping in the fire. Terror. Pure terror for me. This will bring me to tears faster than a stun gun, if I'm forced to be close for more than a couple sparks.
Fear. Oh yeah, fear. Sparks, needles, snakes. Fire, stun guns, flyswatters, gags, being in pain and helpless and abandoned. Fear is delicious. Adrenaline rushes are great. Phobias will bring me to tears and panic and breaking points. So they are dangerous to play with, but so far, have all gone well. Being brought to the point of panic, and then pulled right back to keep going can be an amazing power exchange, as well.
Power exchange. Submission, serving, mind fucks. All the mental stuff. To take me out of my head, to give up control. To take care of him and his boots. To dress up for him. To just simply be for him. To challenge myself. To be forced to think and use my brain. To be turned around so hard and fast that I don't know where I am. To be scared and aroused and dropped all through the power of his voice. So many different head spaces and power exchanges. It can be absolutely amazing.
New experiences. Learning something new. Teaching someone something new. Trying something new. Helping someone else try something for the first time. There's nothing like it. The joy, the excitement, the energy of new is unique and incredible.
And then there's this. There's writing about it. I love writing about it. Writing erotica about it, blog posts about it, journal entries about it. Sharing, processing, explaining. Teaching, learning. Writing it down gets it out of my head and into a place where I can look at it. Where I can share it with others. Where I can learn about myself and really see my own thoughts and reactions. Down on paper or screen, it's not all jumbled up anymore. It's clear and it's wonderful. I hope you all think so, too.
May 21st, 2012
Today, I want you to do whatever is your passion. That was the start of the GRUE this weekend. People were invited to put their passion, in the form of a class title up on the wall, and to lead classes all day to teach/discuss their passions. I'd had a few ideas to put up on the wall until that was said, then I had nothing. Instead, I went and put up his passion instead, he wanted to fly people, and to teach his favorite tie. So, that's what we did.
He taught the drum tie, with me assisting. It was a big class, so I went around and helped those who were having trouble. I pointed out where they had gone the wrong way, or I showed them what to do next when they got lost. I helped with the tricky knots. It was great, and he often praised or thanked me for it. Once folk were tied, I helped guide their heads off the ground and back down again. In between, I got to watch them Fly.
Oh, did they fly! So many new faces, so many first times. Such joy and amazement. And him, bouncing and running and grinning so wide. The onlookers staring and laughing, all of us enjoying the moment and the energy. And when they came down, and I cradled their heads in my lap. They were still glowing so brightly. It was incredible.
And he didn't stop. He helped put up everyone from the class that wanted to go up. And then he kept going. People kept coming and asking to go up. He had quite the queue. We didn't even get halfway through it. All day he kept going. And people came by to learn, as well. He taught the tie at least three more times throughout the day.
I was so full of energy, I couldn't stay still. Often, when he was tying, I would wander off. I wandered off to a bootblack class for a bit. Talking with one of the bootblacks that I learned with, and discussing technique and products with the others that showed up. I cut out halfway through to see if he needed help when I saw him lowering someone, but her boy was catching her. He did have me run out for his gloves then. I went back to bootblacking after that for more discussion. I learned a lot about high polish boots, that being the side I don't work with at all right now.
I wandered in and out of a lot of other demo classes. Fire, paddles, floggers, cigars, another couple suspension classes. But never for very long. I was curious, but not focused on them. I wanted to keep an eye on everything going on, but I kept coming back to him. Kept checking in. Bringing him water, making his sandwich after another friend insisted on getting us both food. Fetching things from the truck. Cleaning up the ropes between scenes. Keeping track of the queue. Basking in the energy each and every suspension created.
People kept asking if I was having fun. Some concerned that I wasn't getting suspended. I told every single one of them yes. I was having a great time. Didn't they See the huge grin on that girl's face? Didn't they see how awesome a time everyone was having? It was so great to see so many people have their first experience flying. I had an amazing day.
At the closing circle, my emotions were on a rollercoaster. I was so very near to tears then calm then up near tears again, all joy, full with the energy of that room full of people. Leaning against him, his arms around me. When he spoke up, he said how great a support I had been to him all day. Several people thanked him for his passion. I couldn't speak, afraid I would cry and be unintelligible. We went to dinner, buzzing about the day, chattering, happy. It was a great day. I'm so glad I decided to go.
I began to wonder though, as he talked about having done his passion all day. What had I done? What was my passion? Had I fulfilled my purpose at the GRUE? Had I followed the rule? I fluttered around all day. Did that mean I didn't have a passion?
No. No, I did indeed fulfill the purpose of the GRUE. I lived my passion. I spent the entire day serving him. Even my fluttering. To learn more about bootblacking. To keep an eye on who was using the other point. To check on everyone around and see what was happening and that everyone was happy and safe. To help him teach. To help him suspend new people. To share his joy and theirs. I spent the day fulfilling my passion of service to him. And it was wonderful.
April 26th, 2012
A good number of changes currently happening in my poly life and in the community I'm a part of. A new space has been acquired by some community leaders and a lot of groups are moving their meetings there. This includes my weekly Wednesday group. We are moving away from the space we have occupied for three years now, to a new place, a new space. And with high hopes that it will work for us and allow us to reach even more people.
I have also stepped down from being the little d with toy, back to a more comfortable s. I had a great time last year, learning and experiencing new things in this role. But this year, with a lot of upheaval in my life, it just didn't feel comfortable anymore. We are examining our dynamic and determining how best to continue. It will take a bit of adjustment, but I think we'll all come out happy in the end.
We said our fond farewell to our usual Wednesday night space in the best way we knew how. With friends, family, food and screams. He lined us up, his toy, myself and the engineer and tore into our thighs and chests. We started with the big dragon tail, then the little, then a nice blue rubber ball on a flexible rod, and ended with a round of the flyswatter, by their vote. I voted for more dragon tail because it's not a fear response for me like the flyswatter, but it was just too much sting for them to want another round. We followed up with water and cuddles.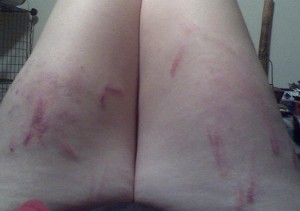 His toy called the noise the four of us made a strange symphony so I named this picture: Final Symphony.  Such lovely bruising and delightful kiss marks.
New and busy times lay ahead. I am grateful for what we've had and look forward to what is coming.
March 19th, 2012
Very late posting, sorry about that. I was busy and sleepy the last few days. And well, three posts the previous week, I hoped would tide you over until I got down to work. Several things running around in my head today. Might get a couple posts again.
I'm trying to get myself back on track. Getting back into my exercise and meditation routine, this time with music to keep me going. Music without words so I don't get distracted. I'm going to do a bit of research on meditation as well. I want to make this a sustainable, healthy habit. Not get stuck in my head running circles like I did last time. That wasn't the intent and I want to do better now.
Working on eating better as well. I've been slacking in my own shopping, and while I do enjoy eating regular meals with him and with hubby, I have to at least eat more alkaline on my own. Healthier imp means happier imp means better able to do relationship work means healthier and happier relationships. Everyone wins.
The engineer asked me a good question the other night that I want to ramble about. She asked my why submissives get such joy and fulfillment out of kneeling and/or sitting at their dom's feet. I answered her saying, it gives me a feeling of being in my place, of being below and looking up to him. So, where does this come from? Old systems of government where you knelt to your sovereign? Slaves kneeling before masters? It has always been a symbol of a power exchange. The one kneeling giving up power to or acknowledging the power of the one standing or sitting above them.
My mind wanders now, to kneeling for him. As a symbol of the power I give to him. Even when he is not there, in front of me. It was the reason, originally. To think of him and what we had, when he wasn't there. I warped and twisted it as things got difficult. Used it as time to dwell instead of internally reconnect. I get so lost inside my own head sometimes, but that was not a healthy way to explore it. Kneeling is about the exchange between us, not about the problems or the confusion or even about communication. It is a symbol of my submission to him, given freely.
I have gotten a lot of joy from blacking his boots. I put my kit together specifically for his boots, with just a extra tin of polish just in case. I found a fun box for it at work, and soon the engineer will be letting me borrow a headlamp so I can do better in the dark club. My boots this Saturday and the angles I was at even allowed me to remain kneeling the entire time, which I haven't managed often lately. That made me extremely happy. As did his playful rocking of his boots on my thighs that caused quite delicious pain. I still have a couple happy marks from it.
Through all the ups and downs, and busy times, and changes in schedules, this has been one of the constants. Taking care of his boots has been one way I can serve him regularly. It is something I can do at any of the venues the crew gets together at and it is something that is regularly needed. And I can do it while he works, observes or holds other conversations.
I am very grateful that I found bootblacking and that our local title holder was an open resource to me. She helped me and taught me when I first started out, and showed me how happy I could make him with such a simple service. As well as the joy I could get out of it. I have been called a baby bootblack, but really, it is more personal than that, I am his baby bootblack. And it makes me very happy.
January 16th, 2012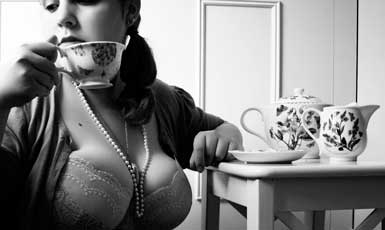 Photo courtesy of Lady Grinning Soul
Welcome to e[lust], the sex blog round-up- The best posts from the hottest and smartest sex bloggers all in one place! This edition highlights topics such as libido, fake orgasms, teenage lust, voyeurism, BDSM consent and so much more. Want to be included in e[lust] #33? Start with the rules, come back in February to submit something and subscribe to the RSS feed for updates!
~ The Top Three Posts ~
Assent Matters by SherynB – Find your emotional power to recognize and say "no" to what you don't want BEFORE you get naked and tied up and give up your actual physical power to walk away to anybody.
Forever The Night – 'Why the hell shouldn't I listen? This is my home, my bedroom after all'. So I do listen and I do feel myself twitch at every minute sound on the other side of that fucking wall.
Hands. Fingers. Pleasure. – This was the first time a boy's fingers had such unfettered access to my pussy. Prior gropings under and through clothes had never been like this.
~ e[lust] Editress ~
The Fake Orgasm: You think you know, but you have no idea – I am 34 and I have faked orgasms. There ya have it. But I have never and will never qualify doing so as "I did it for him".
~ Featured Post (Picked by Lilly) ~
Sadie Says… Awake – In the haze of my missing libido I also lost myself. I began to wonder if I remembered who the hell I was?
All blogs that have a submission in this edition must re-post this digest from tip-to-toe on their blogs within 7 days. Re-posting the photo is optional and the use of the "read more…" tag is allowable after this point. Thank you, and enjoy!
Kink & Fetish
Connection, Intimacy & Trust
DQ Earns a Pass from Chasity
Five Little Words
Naked and kinky in a busy sex shop
Sharp Tongues and Good Pain
Sexual violence
The Duke Story
'Twas the Night Before Kinky
The Pink Elephant
Who I Am
Who Are You to Change Us?
Waking You
Thoughts & Advice on Sex & Relationships
Busy Writing
Help! My Vibrator Won't Work
Men and Visual Stimulation
Slippery and sticky and covered in lube
The Safe Zone – Giving Yourself Permission To Screw Up in Non-Monogamy
Until Death Do Us Part
Sex News, Interviews, Politics & Humor
Interview With Senior Sexuality Advocate Joan Price
Erotic Writing
21
A Read to Remember
Aurelia (A Dirty Kind Of Grace part 1)
A Fistful
banana bread
Christmas Day
Last night in Cap D'Adge
Later On In The Evening
Meat Hooks & Butcher's Twine
Reside
Sugarbutch Star: blckndblue, The Pink Dress
she and he and me…
Surprise Orgasm
wind