April 26th, 2012
A good number of changes currently happening in my poly life and in the community I'm a part of. A new space has been acquired by some community leaders and a lot of groups are moving their meetings there. This includes my weekly Wednesday group. We are moving away from the space we have occupied for three years now, to a new place, a new space. And with high hopes that it will work for us and allow us to reach even more people.
I have also stepped down from being the little d with toy, back to a more comfortable s. I had a great time last year, learning and experiencing new things in this role. But this year, with a lot of upheaval in my life, it just didn't feel comfortable anymore. We are examining our dynamic and determining how best to continue. It will take a bit of adjustment, but I think we'll all come out happy in the end.
We said our fond farewell to our usual Wednesday night space in the best way we knew how. With friends, family, food and screams. He lined us up, his toy, myself and the engineer and tore into our thighs and chests. We started with the big dragon tail, then the little, then a nice blue rubber ball on a flexible rod, and ended with a round of the flyswatter, by their vote. I voted for more dragon tail because it's not a fear response for me like the flyswatter, but it was just too much sting for them to want another round. We followed up with water and cuddles.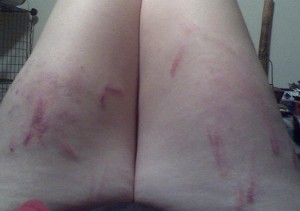 His toy called the noise the four of us made a strange symphony so I named this picture: Final Symphony.  Such lovely bruising and delightful kiss marks.
New and busy times lay ahead. I am grateful for what we've had and look forward to what is coming.